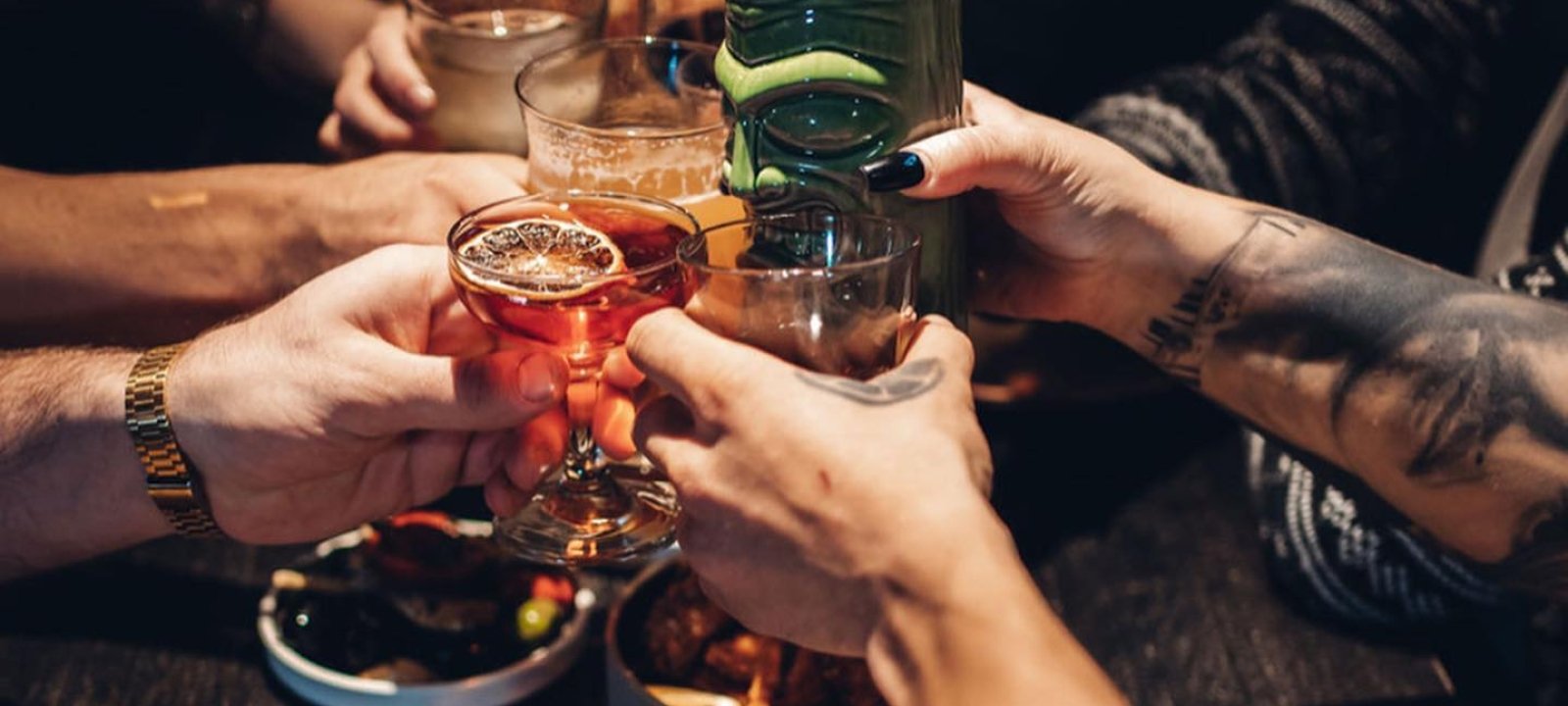 Your guide to YXE's best cocktails
As Saskatoon's local food scene has grown in recent years, so too has its cocktail scene. From restaurants with fully curated beverage programs to those that showcase Saskatchewan-made spirits on
As Saskatoon's local food scene has grown in recent years, so too has its cocktail scene. From restaurants with fully curated beverage programs to those that showcase Saskatchewan-made spirits on their menu, the YXE cocktail scene is very much alive and well — and I'll certainly raise a glass to that.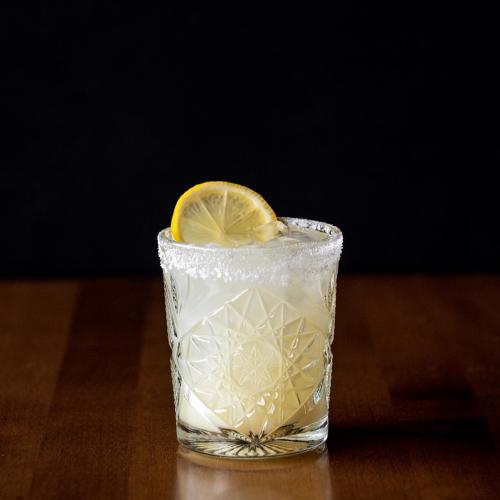 Photo via Chad Reynolds at Golden Media
Like their name states, Picaro's intimate setting is ideal for spending the evening enjoying cocktails alongside Latin-inspired eats. For your tequila fix, be sure to try one of their hand-crafted margaritas, like the Betty White (pictured). My personal favourite Picaro cocktail is the Royal Blush — with empress gin, lillet, lemon juice and lavender simple syrup, it's heavenly.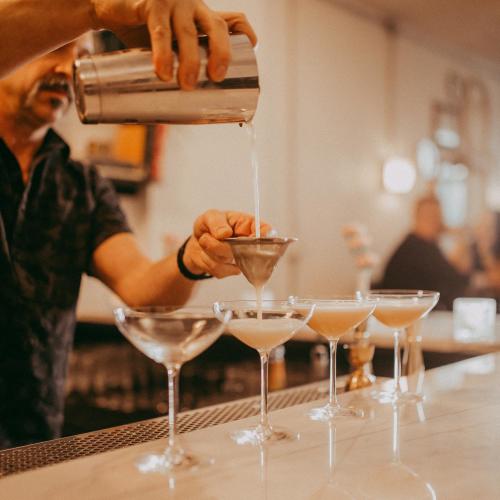 Photo via Karyn Kimberly
Parlor has quickly become a Saskatoon cocktail staple, and with good reason. Tucked on the second floor of the St. Tropez Bistro building on 2nd Ave, this speakeasy has an extensive and well-curated cocktail menu. And if you think Sunday evenings aren't for cocktails, you're wrong — Parlor does happy hour all night on Sundays.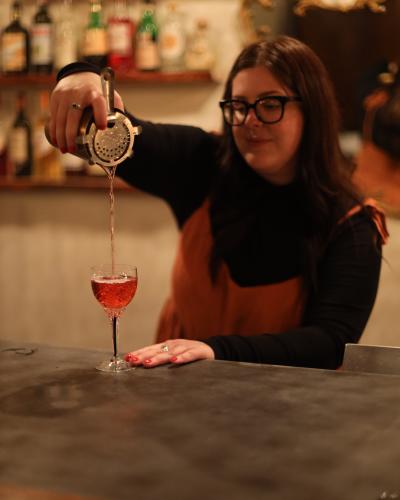 Photo via Thayne Robstad & Beth Rogers
Credit for Hearth's cocktail program goes to general manager and bar manager, Kelly Klebaum. She's created a simply divine cocktail menu, with plenty of Saskatchewan ingredients and distillers featured throughout, including sea buckthorn, rhubarb, Stumbletown Distilling, and Black Fox Farm & Distillery.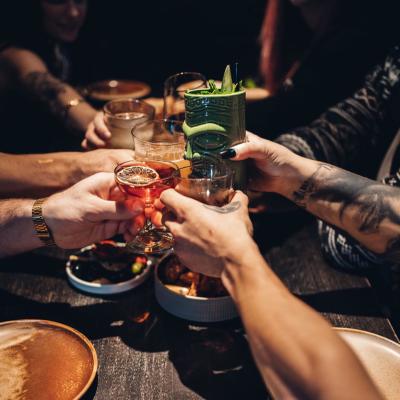 Photo via King Rose Visuals.
If pizza and strong cocktails sound like an ideal combination to you, then Thirteen Pies is your new favourite place. Manager and mixologist Jake Grasby's drink menu features many house-made elements — including house-made ginger beer and house-made syrups in unique flavours like honeydew matcha, raspberry sage, and salted guava.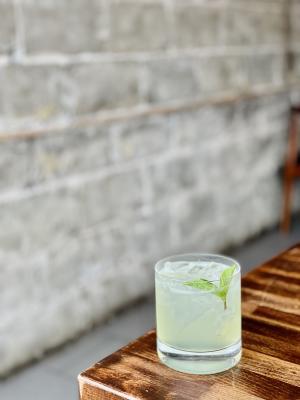 Photo via Rachel Kong
Odd Couple is an absolute Saskatoon favourite, known for their delicious food, but their cocktails deserve a nod, too. Try the Thai Basil Gin Sour (pictured) featuring Black Fox Farm & Distillery gin, or the Ginger Ninja (my favourite!), with bourbon alongside fresh ginger and lemon.
Ayden Kitchen & Bar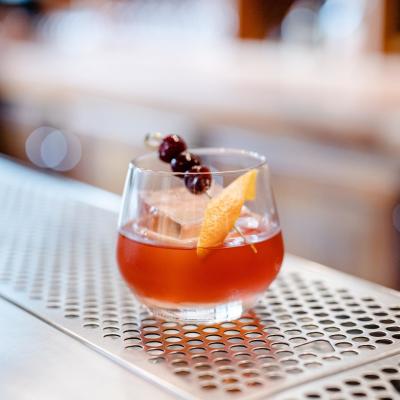 Photo via Bob Deutscher
Part of Grassroots Restaurant Group, Ayden Kitchen & Bar is one of several Saskatchewan restaurants created by Top Chef Canada winner chef Dale MacKay and acclaimed mixologist Christopher Cho. At Ayden, the drink features change regularly meaning there's always something new to try, and many of their house-made syrups, cordials and shrubs feature local ingredients too.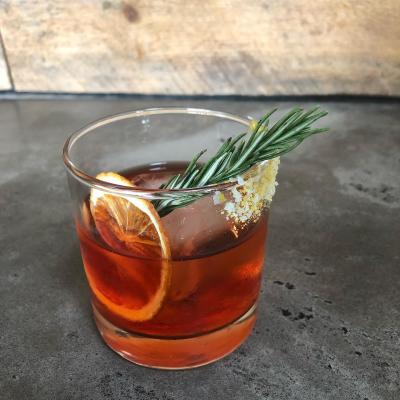 Photo via Odla
Odla is known for their strong commitment to showcasing seasonal Saskatchewan ingredients, and their cocktail menu is the perfect accompaniment. Their unique offerings include cocktails like the Celery Sipper — mustard-infused Aquavit, Tio Pepe Fino, celery juice and lemon — and their take on the Espresso Martini, which features a walnut syrup.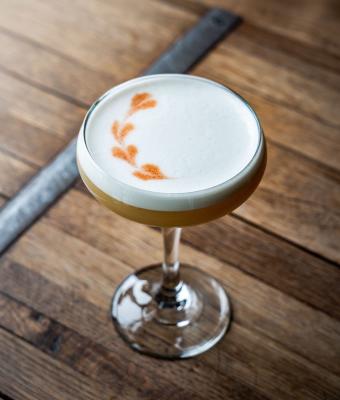 Photo via Bon Temps
At Bon Temps, the cocktail menu centers around New Orleans classics, like the Mint Julep and Bourbon Milk Punch (bourbon, vanilla, and Angostura, along with cream and sugar). Their house cocktail menu is also Southern themed, including the Bourbon and Blackberry Lemonade, or their version of an old fashioned — the Southern Fashion.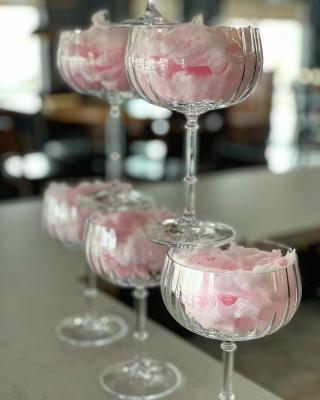 Photo via Cortland Dean Laidlaw
Since Filosophi opened in early 2021, they've gained a steady following. One cocktail making waves is the Cloud, which features vodka, rosé, white wine and fresh lime juice, poured over cotton candy (pictured). They also have orange, grapefruit and guava mimosas to go along with their weekend brunch menu.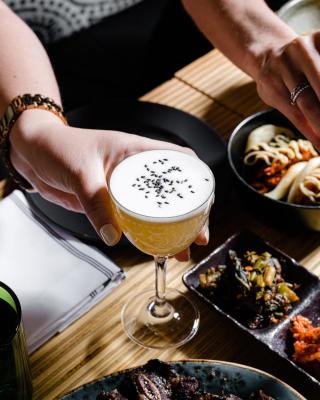 Photo via Bob Deutscher
Another one in the Grassroots collection, Sticks and Stones offers Boozy Boba (bubble tea) in fun flavours like Lavender Lychee, Coco Colada and Matcha Mango. They also make a house Sake, served hot or cold, which is featured in some of their cocktails, too.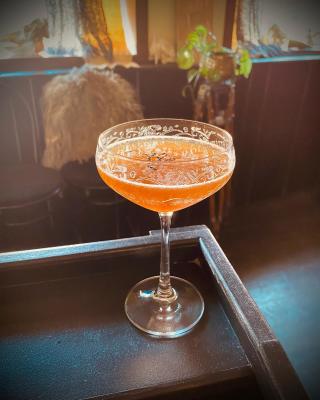 Photo via Michael Spencer
Handmade pasta and wine deserve to be capped off with a handcrafted cocktail — which is exactly what you'll find at Primal. Try the Primal Martini or their spiked iced tea, which is made with house-brewed iced tea and rotates flavours regularly.
Photo via Flint.
Last but certainly not least, Flint is a downtown staple that's been popular for years. They have an extensive martini menu and are also known for their mason jars (pictured), which come in fun flavours like creamsicle and spiked citrus punch. As a bonus, Flint doubles as Poached Breakfast Bistro during the day, which is perfect for brunch after a night out.