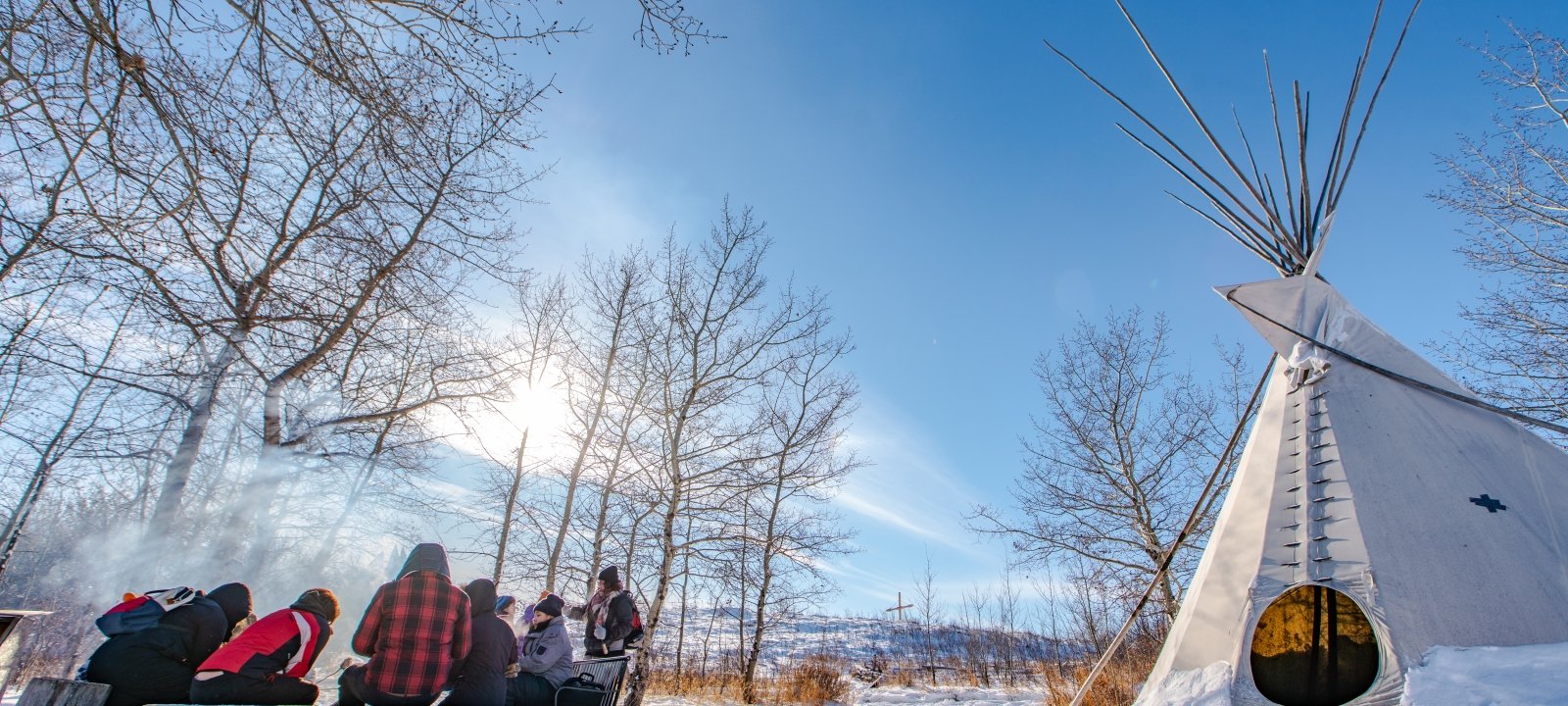 Trekking Our Way Through The Snow: A Guide to Enjoying Saskatoon Winters
Families
,
Outdoors & Adventure
We all know that Saskatchewan's winters are cold. Sometimes unbearably so (I'm looking at you, Alberta Clipper). But it can also be quite pretty and fun — if you bring the right gear and willingness
We all know that Saskatchewan's winters are cold. Sometimes unbearably so (I'm looking at you, Alberta Clipper). But it can also be quite pretty and fun — if you bring the right gear and willingness to explore along with you.
Every winter is kind of the same for us. Although we typically spend a few nights a year skating by the Delta Bessborough, tobogganing down our local hill, or walking/running by the river, we still get stuck in a rut and usually spend much of our time looking for sunny corners indoors.
This year we wanted to be different. This year we wanted to actually enjoy the season. We wanted to get outside, pick up a few new skills, and try something unique. Here's what we did.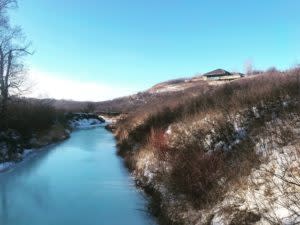 If you've never been out to Beaver Creek Conservation Area, then what are you waiting for?! Beaver Creek is officially a part of the Meewasin Valley Trail and a hidden gem for Saskatonians and visitors of all ages. Upon arrival, you can head into the Interpretive Centre to find cool interactive games and stations that your kids will enjoy, or straight outside to explore the valley on one of the many beautiful trails.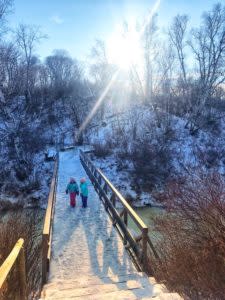 The day we went out was almost perfect. It was early enough that the Alberta Clipper hadn't hit us yet, so the weather was mild and the sun was shining brightly. Right after we arrived we headed into the Interpretive Centre to explore the (man-made) beaver den, build a puzzle, and tour the space.
After that, we spoke to the friendly interpreter and grabbed some bird seed and headed out onto the trails to feed the chickadees. If you're still and calm enough, the birds will come to you and eat right out of your hand. It's a pretty unique experience!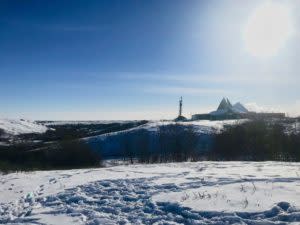 On another sunny, but chilly, winter day, we ventured out to Wanuskewin Heritage Park. At the newly renovated site we explored the indoor Interpretive Centre and gallery, ate bannock at the restaurant, and watched a couple of fiddlers perform.
After heading outside, we made our way down to the traditional tipi before venturing out on our hike. Wanuskewin boasts 6kms of connected trails (and 3km of cross-country ski trails) where you can see anything from a bison kill site, tipi rings, medicine wheel, or camping sites. Even though the day that we visited was biting cold, once we got down into the trails the wind didn't bother us and we were able to explore for a while.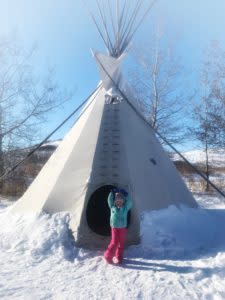 What we love about visiting Wanuskewin is the blend of culture, history, and nature that immerses you in a truly unique experience. Since there's so much to see and do at Wanuskewin, every time that we visit, we get to explore something new at the park. We have a young kid and love taking her to Wanuskewin because there's so much to do both indoors and outside.
Activity Number Three - Snowshoeing
I knew when I started working on this blog that I wanted to try a new winter activity with my family - and that new activity was snowshoeing. Luckily for us, Escape Sports rents snowshoes to both adults and kids. Also great for us, Black Fox Farm & Distillery allows individuals to bring their snowshoes out to use on their farm! Talk about a win-win winter experience.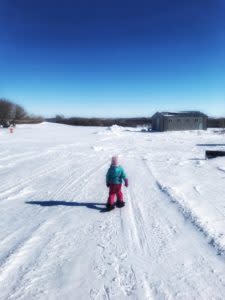 So, we layered up and headed to Escape to rent our snowshoes, then drove the quick 10 mins out to Black Fox to explore their stunning grounds on one of the coldest and windiest days of the year. Even though we only lasted for about 30 mins (hey, can you blame us?), once we reached the top of the hill, the view and the peaceful tranquility of the deafening cold was worth it. The sprawling hills and variegated plants produce an array of colour that transforms the winter landscape.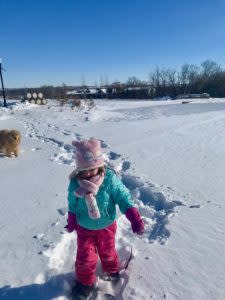 We loved getting to explore the country while still having a warm place to head into once the wind got to us. After spending enough time outside, be sure to head into the Black Fox tasting room for some gin. This was such a fun and unique experience that we'll be sure to do it again.
Did you know that The Observatory at the University of Saskatchewan is open to the public every Saturday evening? Open year-round, the public can visit the Observatory for free to gaze through the telescope at seasonal objects. One of the great things about visiting on a mild winter evening is that, since the nights are longer, you don't have to keep your kids out too late to catch a glimpse of Mars. Additionally, the small museum in the basement offers exhibits of the solar system and the history of astronomy. Perhaps the best part? There's hot chocolate that's provided to all visitors! This is an easy win for those evenings when it's too dark to get outside, but you're feeling cooped up from being inside all day.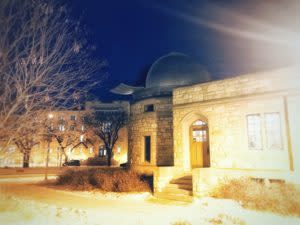 There are so many great activities to do in our winter city and it doesn't have to cost you a lot of money. Most of these activities were either free or cost a small donation or fee to rent equipment. What we learned from this winter is to embrace our climate and to try something new. Even though some weekends were still too cold to leave the house, challenging ourselves to experience new activities got us outside and going to places that we either have never been or rarely make it to. The biggest takeaway for my family? Winter doesn't, in fact suck, you just have to prepare for the elements and embrace it.
Remember to use the hashtag #saskatooning or tag us as you go along your Winter adventures!