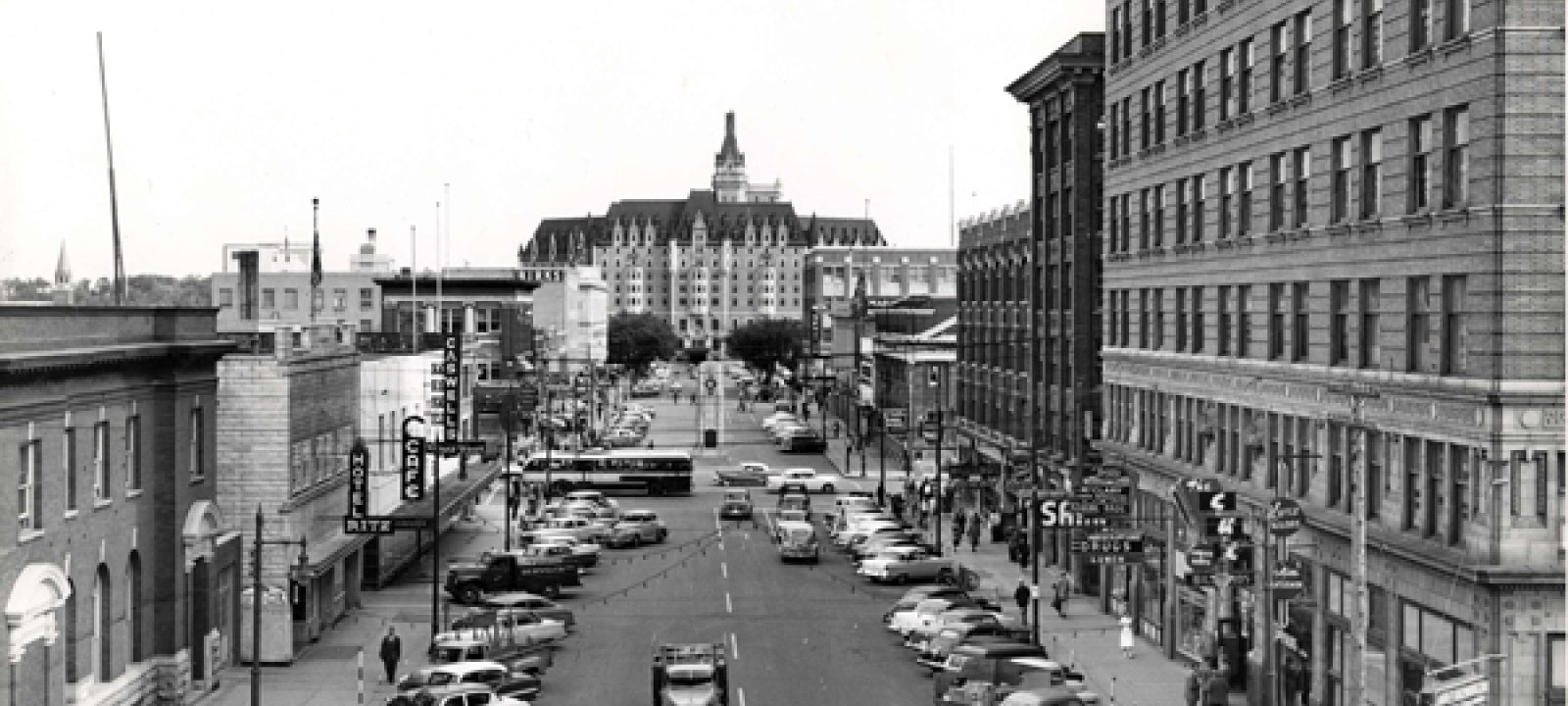 Stroll through time: Walking tour of downtown Saskatoon's historical buildings
Saskatoon officially became a city in 1906, which means we have 100 plus years of history and heritage under our belts. If you think history is boring, think again -- Saskatoon has a rich past
Saskatoon officially became a city in 1906, which means we have 100 plus years of history and heritage under our belts. If you think history is boring, think again -- Saskatoon has a rich past complete with interesting architecture and fascinating stories. Whether you're a visitor or resident, take a walk through the downtown and see some of the buildings and landmarks that have been here since Saskatoon's beginnings.
Vimy Memorial - Kiwanis Park, 501 Spadina Crescent East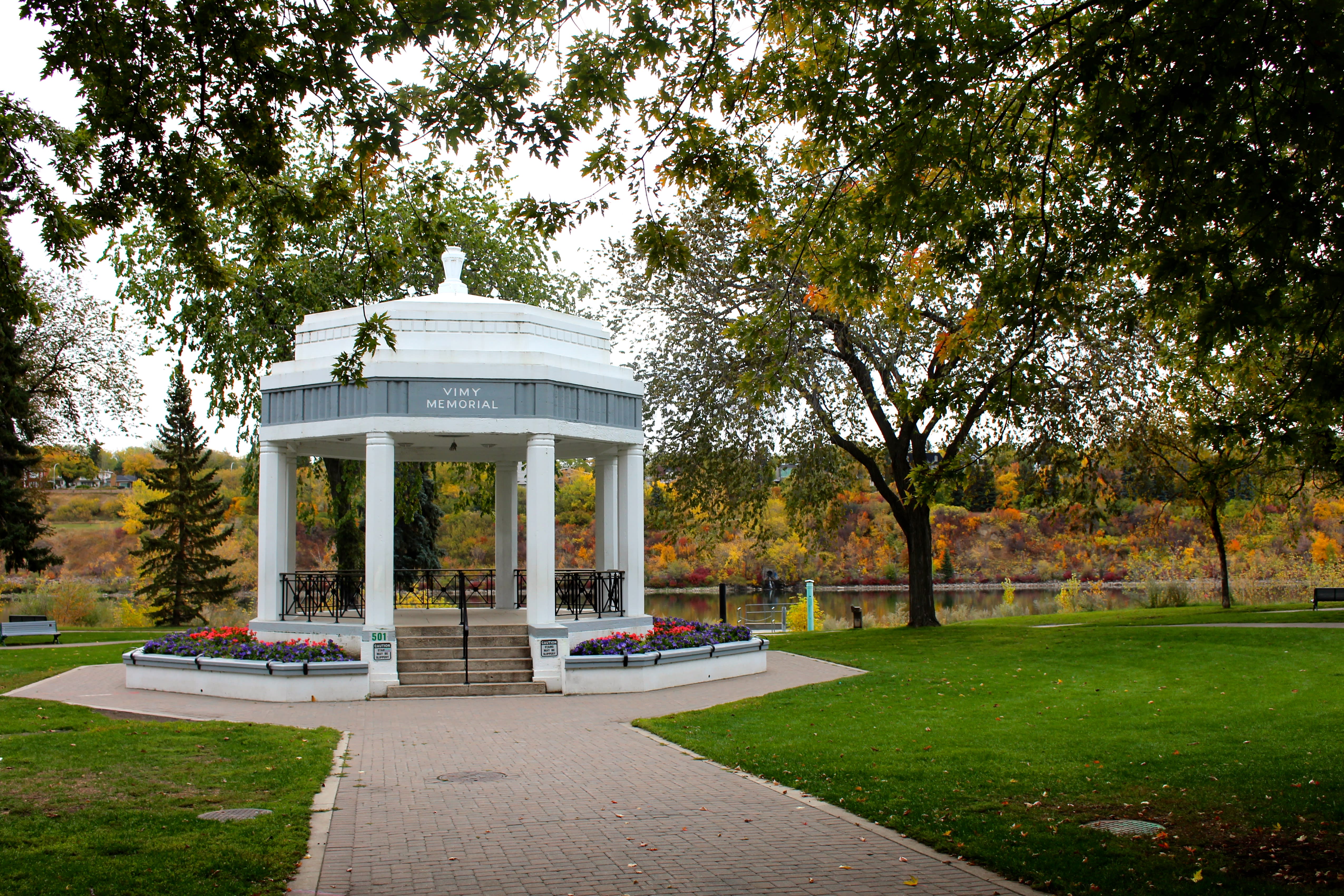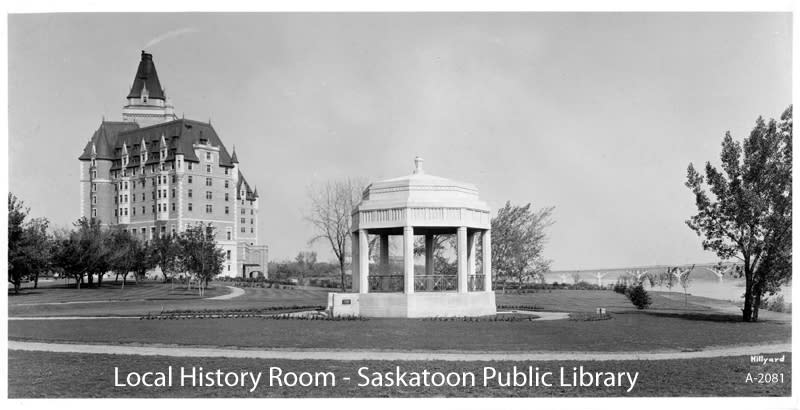 Start with the Vimy Memorial, which is also a great location to take some stunning photos by the South Saskatchewan River. In 1935, Kiwanis Memorial Park opened to the public, and then in 1937, the Vimy Memorial was built in honour of Canada's participation the First World War at the 1917 Battle of Vimy Ridge. Vimy Ridge was a significant moment for Canada, as it marked a victory that Canada had achieved on its own for the first time without Britain.
Second Photo: View of the Vimy Memorial Bandstand with the Delta Bessborough in the background, in 1945. A-2081, Courtesy of Saskatoon Public Library.
The Delta Bessborough Hotel - 601 Spadina Crescent East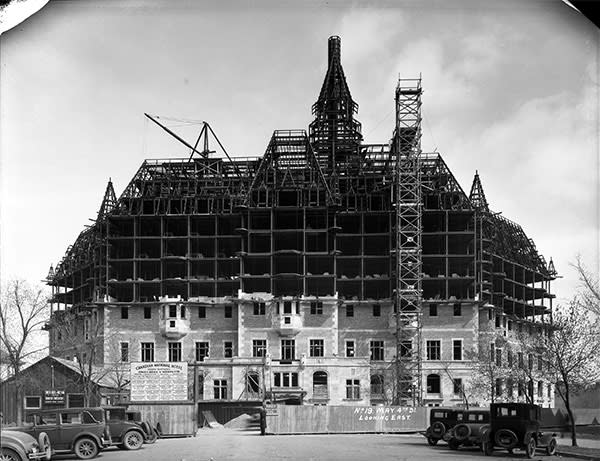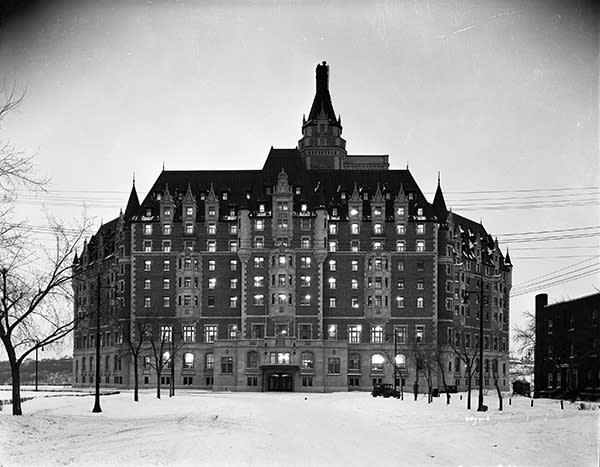 Head north on Spadina Crescent and you will see Saskatoon's most iconic hotel. The Bessborough was built by the Canadian National Railway, with construction beginning in 1930. It was designed to resemble a Bavarian castle and named after Sir Vere Ponsonby, the 9th Earl of Bessborough, who was also the Governor General of Canada. Although construction was completed in 1932, it did not open until 1935 due to financial difficulties from the Great Depression. The Bess underwent renovations in 1999 to restore many historical elements, with more planned to begin in 2019.
First Photo: Construction of the Bessborough Hotel in May 1931. A-1351, Courtesy of Saskatoon Public Library.
Second Photo: Front view of the completed hotel in 1935. A-1762, Courtesy of Saskatoon Public Library.
Knox United Church - 838 Spadina Crescent East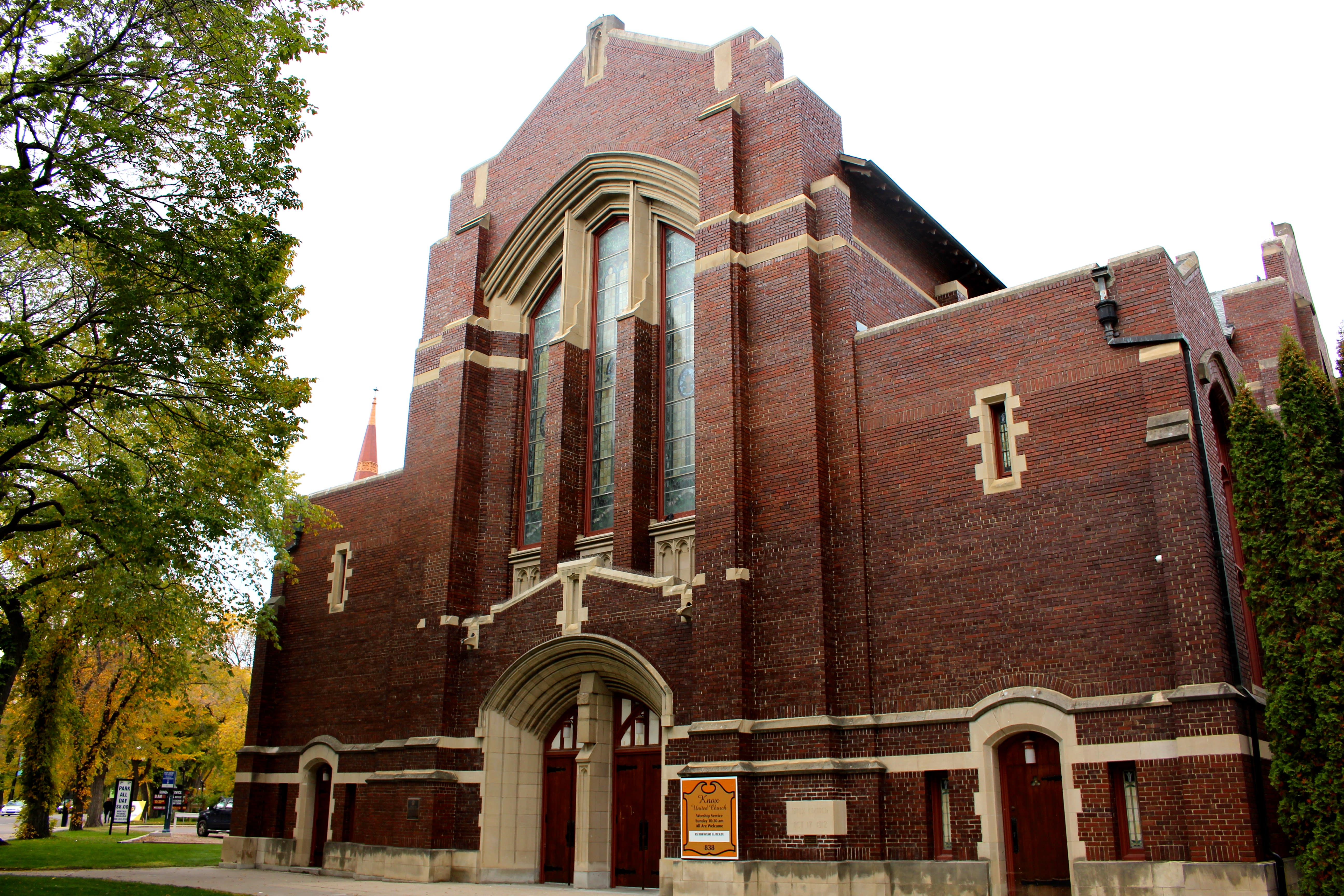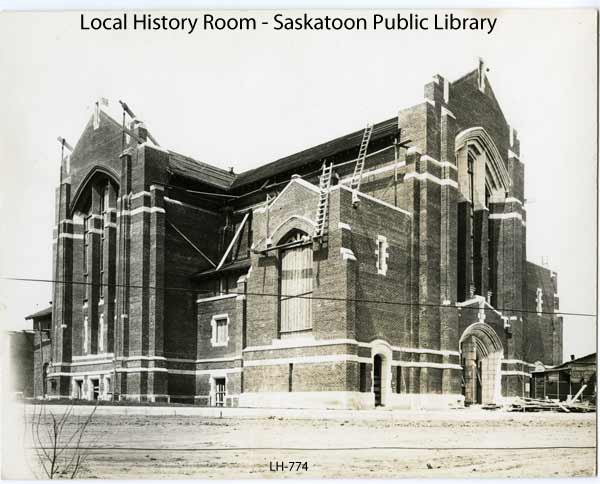 Continue north on Spadina Crescent and you will come to Knox United Church, which was designed in Collegiate Gothic style by the Montreal-based architectural firm, Brown & Vallance, who also designed many of the buildings at the University of Saskatchewan. The construction of Knox began in 1912 and features many arches and stained glass windows. On your way, you will also pass St. Paul's Co-Cathedral (720 Spadina Crescent East). The cornerstone of St. Paul's was actually laid by former Prime Minister Sir Wilfrid Laurier in 1910.
Second Photo: Knox Presbyterian (later United) Church under construction in 1913. LH-774, Courtesy of Saskatoon Public Library. 
Third Avenue United Church - 303 3rd Avenue North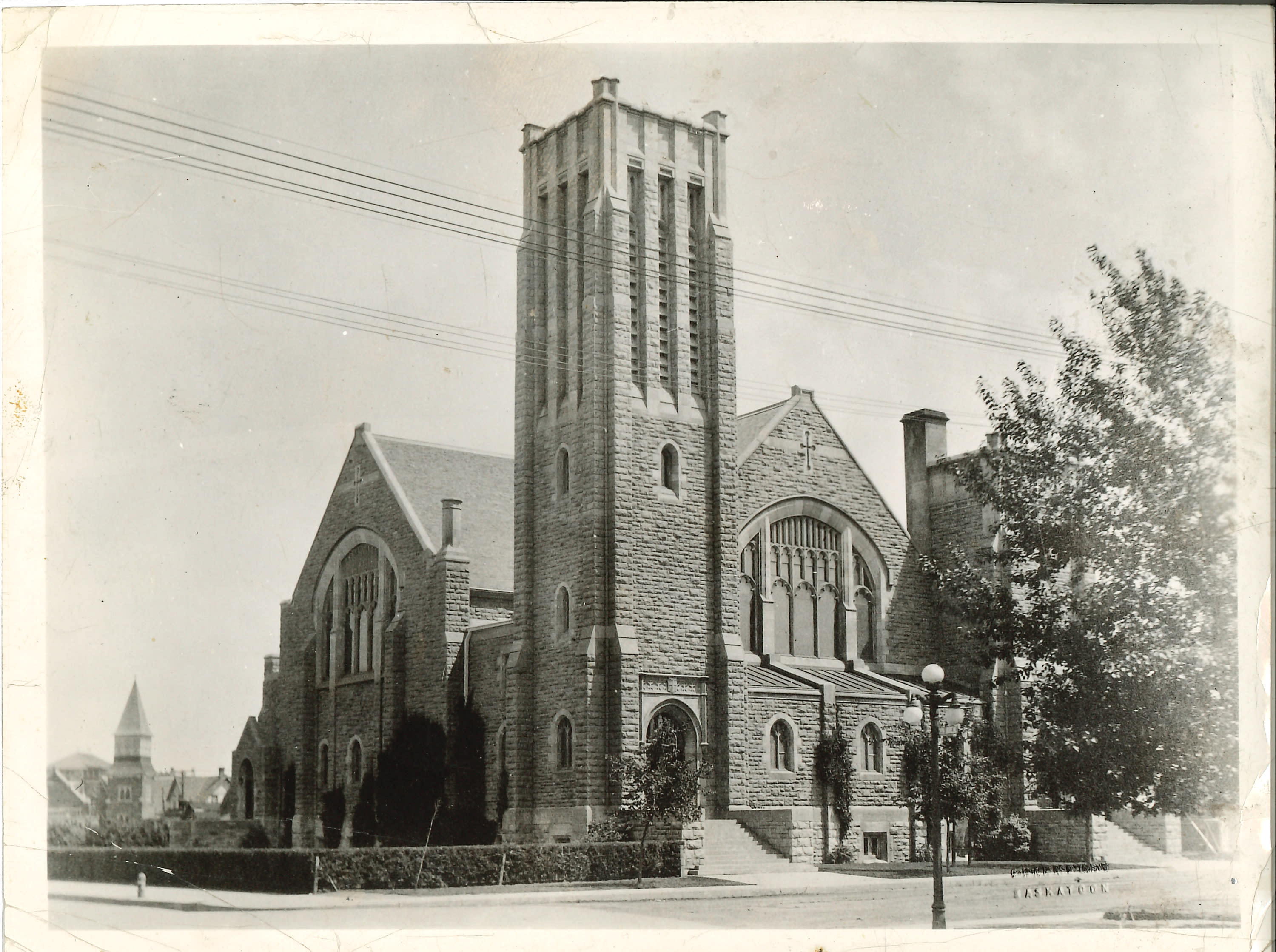 After Knox, turn left onto 24th street and continue walking until you come to 3rd Avenue -- the church will be on your right. Third Avenue United Church was constructed in 1911 and is based on English Gothic architectural design. Over the years, it has also functioned as an auditorium and a place for events and community gatherings.
Photo: Third Avenue United Church in 1940. City of Saskatoon Archives - HST-131.
The Drinkle Building - 115 3rd Avenue South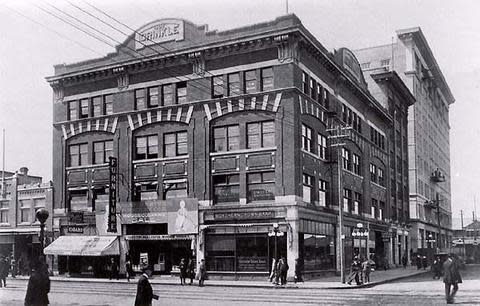 Head south on 3rd Avenue and you will see the Drinkle Building No. 3, which was originally built by and named after J.C. Drinkle, one of Saskatoon's pioneer developers. Drinkle actually built three Drinkle buildings, but Drinkle No. 1 and No. 2 both went up in flames in 1925 and 1986, respectively. The Drinkle Building was the first brick office building in the city and from 1909-1910, it played host to classes for University of Saskatchewan before the campus was built. 
Photo: The J.C. Drinkle Building in 1909. University of Saskatchewan, University Archives & Special Collections, Photograph Collection, A-289.
The Hotel Senator - 243 21st Street East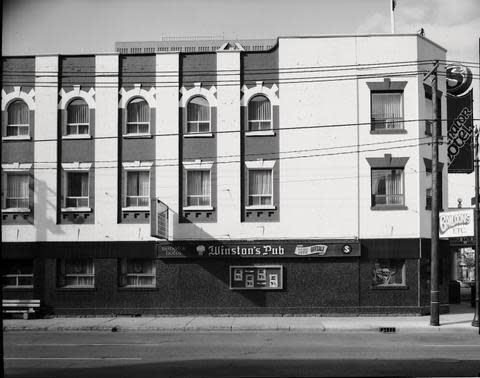 Continue south on 3rd Avenue and you will see the Hotel Senator, which opened in 1908. At the time, it was considered a symbol of the modernity and attracted travellers and businessmen. Built by James Flanagan, it was called the Flanagan Hotel until a renovation in 1945, when the cupola was removed from the top of the building. Today, the Senator's restaurant is called Flanagan's Steakhouse, and the building is also home to Winston's English Pub and Grill, which is a great place to stop for a drink along your walk.
First Photo: Then called the Flanagan Hotel, this was taken between 1910-1920. This is actually a postcard, which would have been taken in black and white and then coloured afterwards. City of Saskatoon Archives – Acc. 2018-009-01.
Second Photo: A side view of the Hotel Senator and Winston's Pub in 1990. City of Saskatoon, Leisure Services, 1003-218.
The Midtown Plaza - 201 1st Avenue South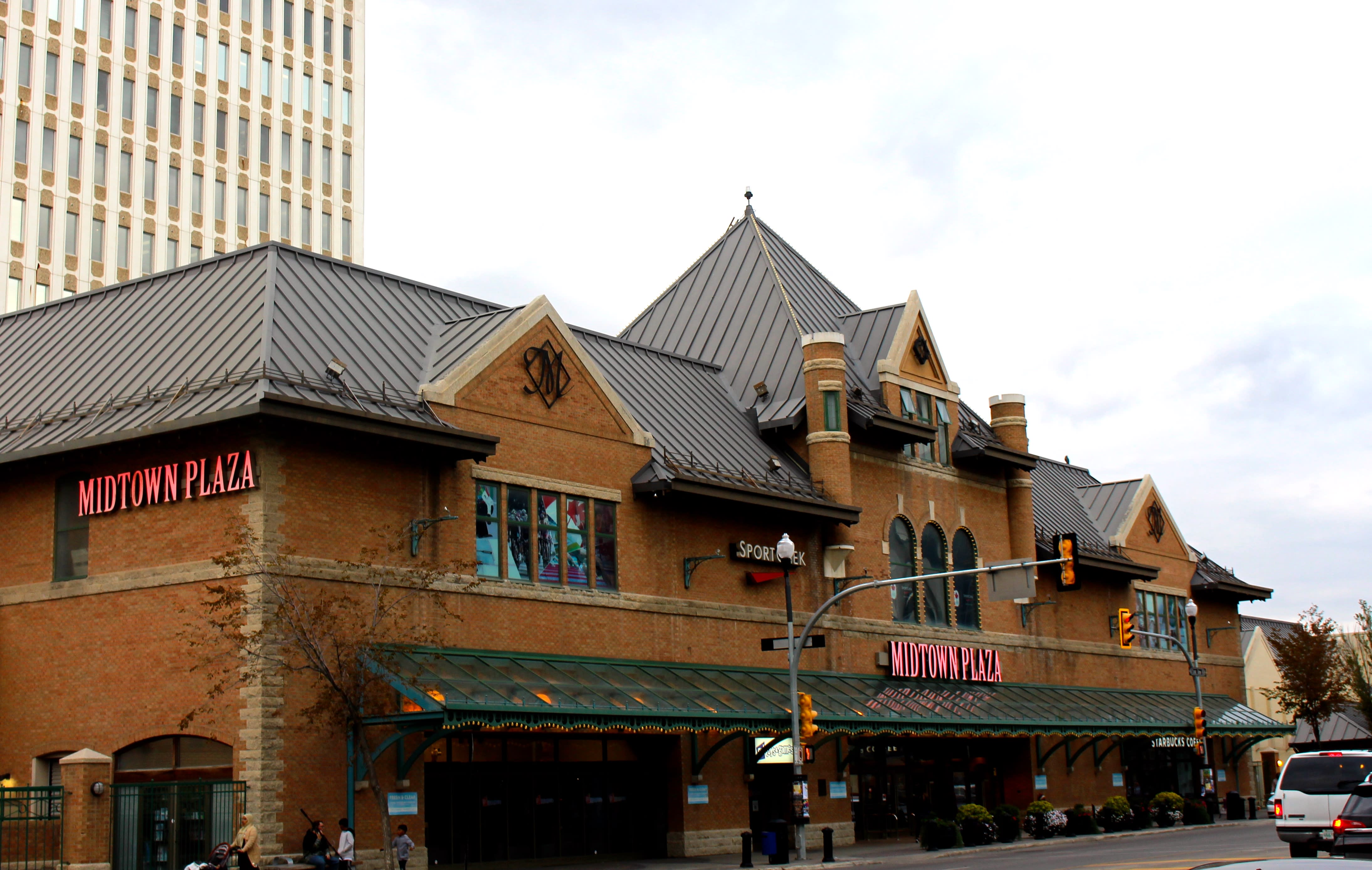 Continue west on 21st street and you will come to the Midtown, which is Saskatoon's premier shopping destination. Prior to that, from 1938 on, the site was home to the Canadian National Railway Train Station. The Midtown was built in the late 1960s on the site, and in the 1990s it underwent a renovation that included changing the front of the building to resemble the old station.
Second Photo: Construction of the Canadian National Railway Depot in November 1938. A-231, Courtesy of Saskatoon Public Library.
Once you're at the Midtown, take a look down 21st Street and see how the view has changed since 1955 (photo below).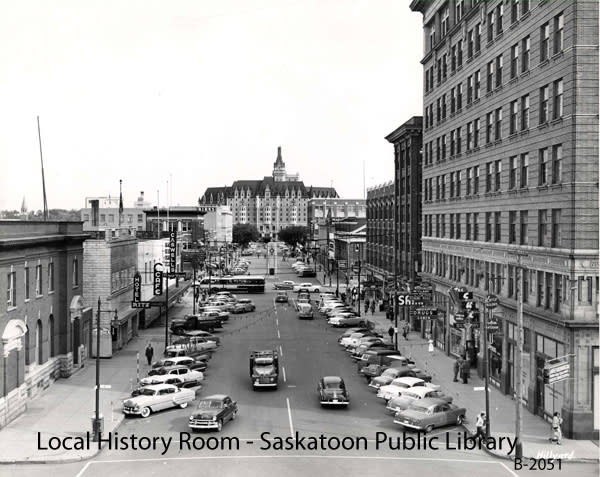 Photo: A bird's eye view of 21st Street East in 1955. B-2051, Courtesy of Saskatoon Public Library. 
Historical information credit to The City of Saskatoon's "Register of Historic Places."