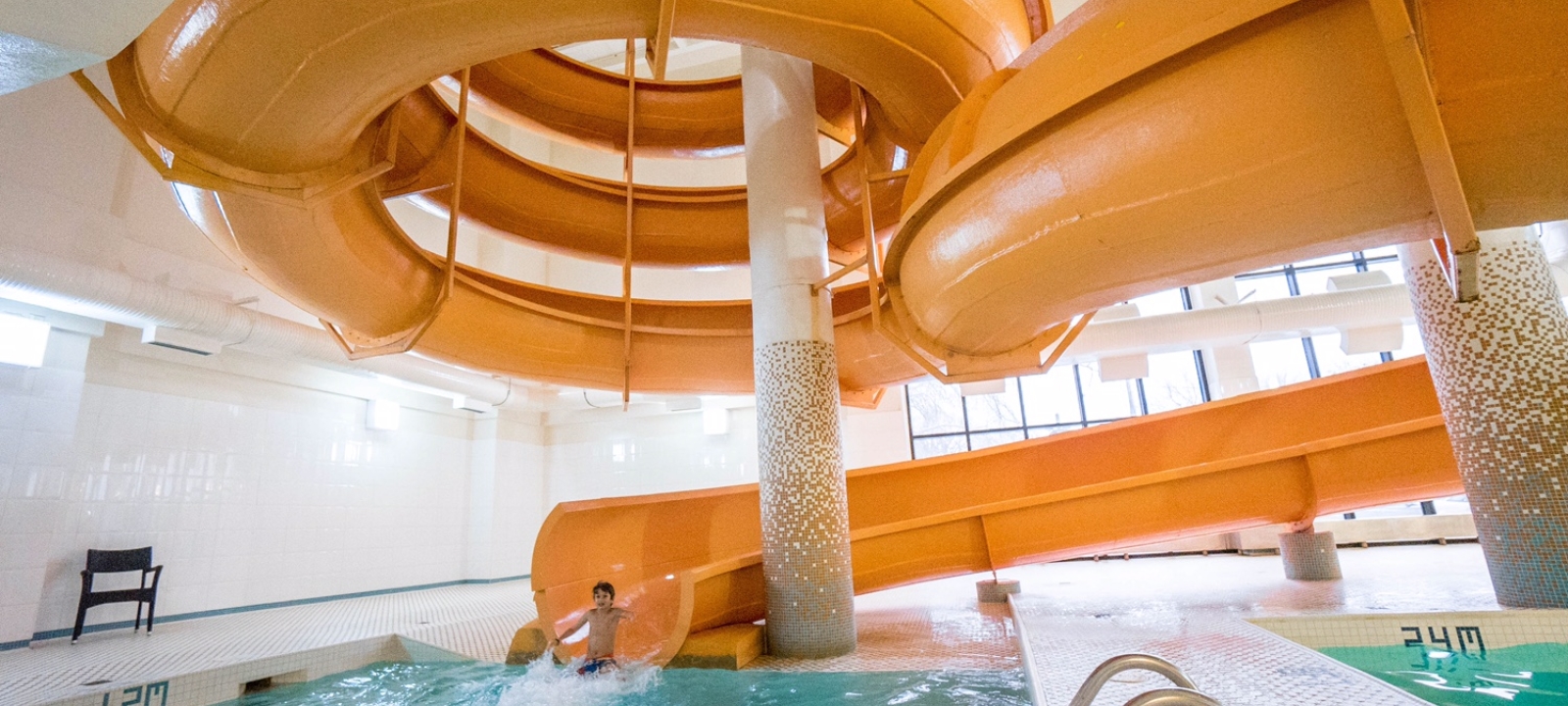 Other than skydiving and roller coasters, there is not much more exhilarating than a good waterslide. Luckily, many hotels in Saskatoon have some really great slides, which as a mom of three active
Other than skydiving and roller coasters, there is not much more exhilarating than a good waterslide. Luckily, many hotels in Saskatoon have some really great slides, which as a mom of three active kids, is essential criteria when I am picking a hotel for my family.
So one day, I packed up our swimsuits, wrangled my kids, and took them to 'work' with me for the day. We tested out the best hotel waterslides in Saskatoon and after a hard day of research, here are our recommendations: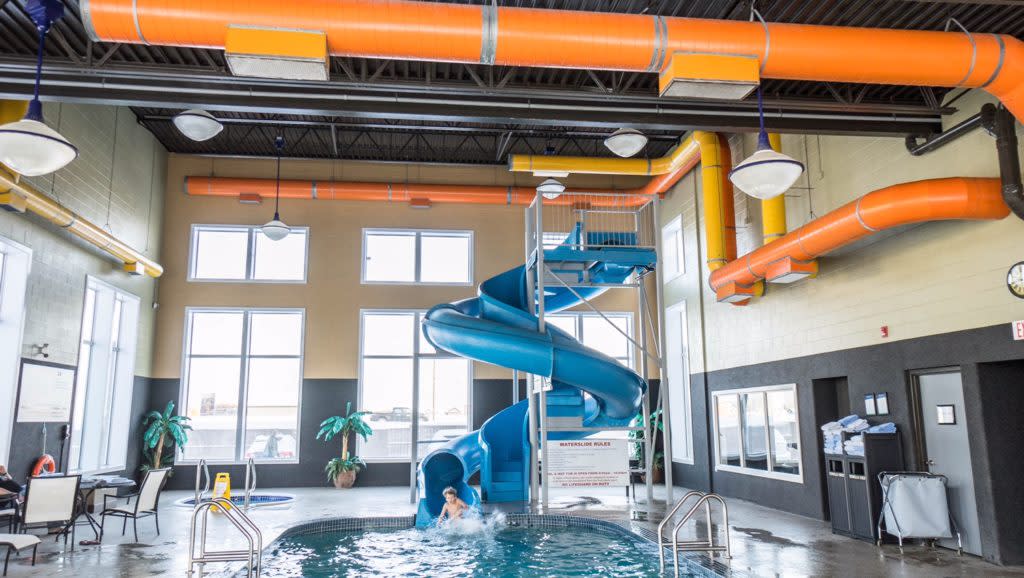 Best Western Blairmore - This west end hotel is only six years old and very family-friendly. The pool area was clean and bright, with a lot of seating for parents, getting a big thumbs up from me. The kids liked the tunnel and all exclaimed that it was fast and dark. It was hard to get them to want to leave to the next waterslide, but we had a job to do.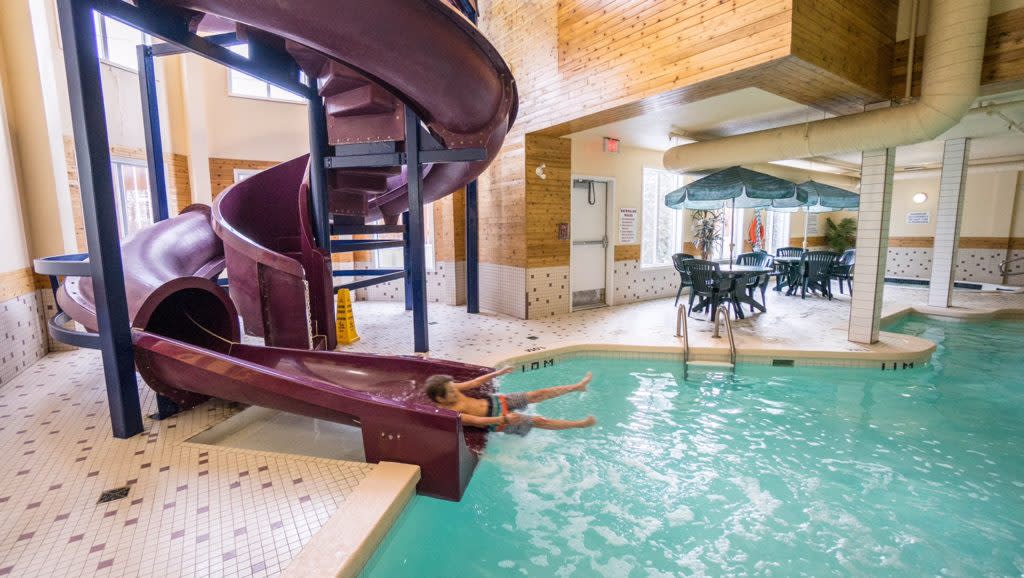 Days Inn - A hotel on the north end not usually known for its waterslide, but perhaps should be, the Days Inn turned out to be one of the biggest surprises of the day. A big fan of hot tubs, I liked that their tub was shallow, making it little-kid friendly. My kids though, were too busy sliding to test out the hot tub for long. My 15 year old daughter described this waterslide as being on a roller coaster. And my son yelled 'awesome' the first time he launched himself down this one.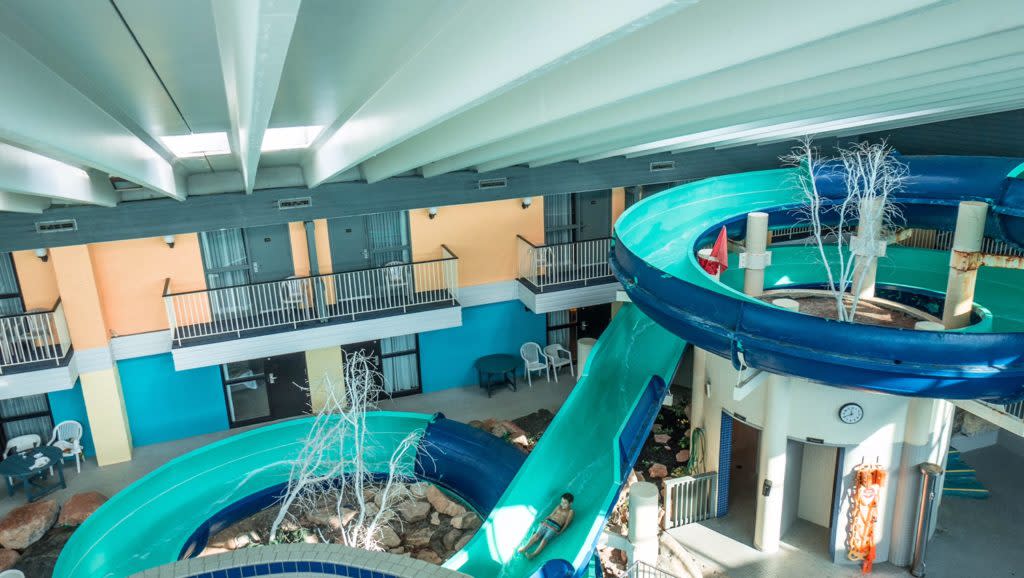 Travelodge - One of the longest waterslides in Saskatoon at 250 feet, the Travelodge is great, especially for younger kids. Their slide has a lot of fun twists and turns but doesn't go too fast. They also have separate splash pool area for toddlers. The Travelodge does a great job of creating a unique atmosphere, with lots of plants and large rocks, some of which even have fossils on them. A really big selling feature for me as a parent, is that you can book a hotel room right off the pool.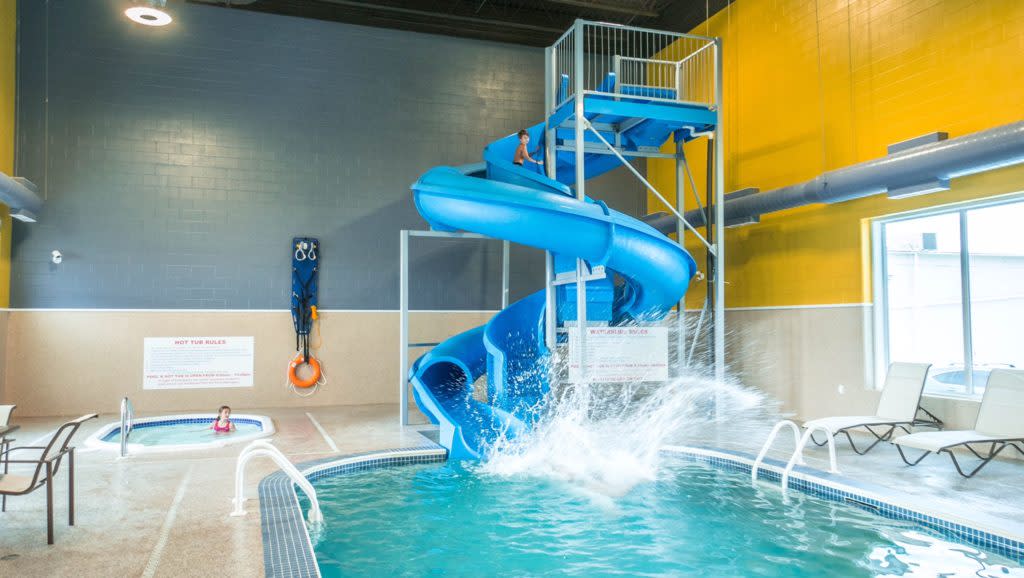 Best Western Plus East Side - A fairly new hotel to Saskatoon, the Best Western Plus East Side welcomed us in the lobby with cucumber/lemon water and cookies, already impressing all of us. The waterslide area too, was bright and welcoming. My twelve year old screamed with excitement as she made a big splash on this super fast slide. When she came up for air, she said 'epic', which sold me on this slide being great, especially for teens and tweens.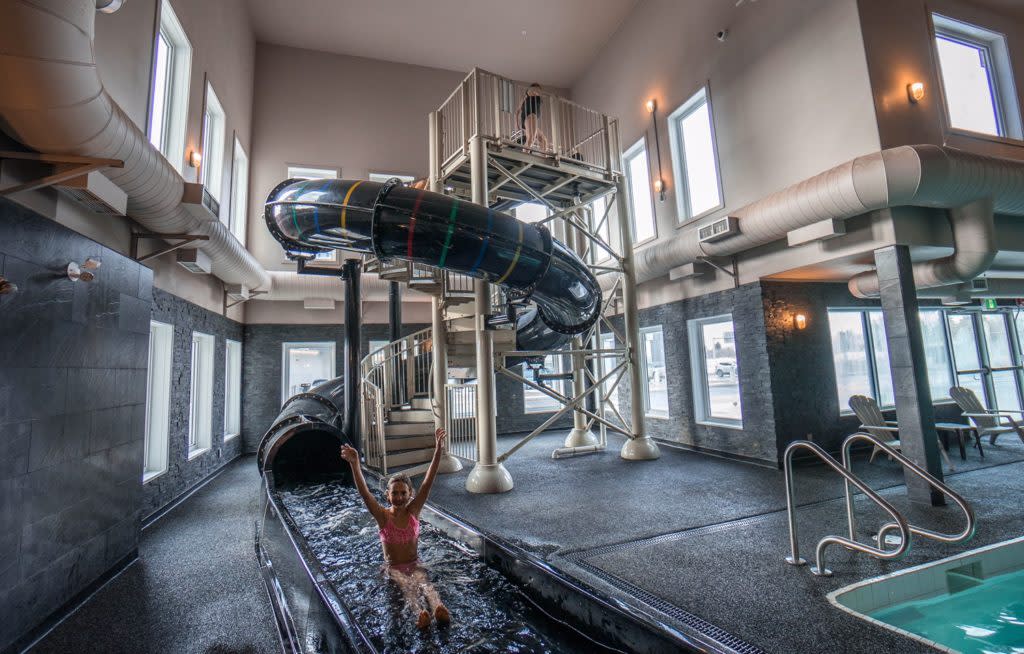 Home Inn & Suites - A huge hit with all three of my kids, the brand new Home Inn & Suites was different from any slide we've tried before. The black tunnel has stripes of colour, so that as you slide and light hits, it feels like a light show as you race down. I liked that the waterslide was separate from the main pool, so that the younger kids that were swimming did not get splashed by the teens who seemed to be most drawn to this super cool, fast slide.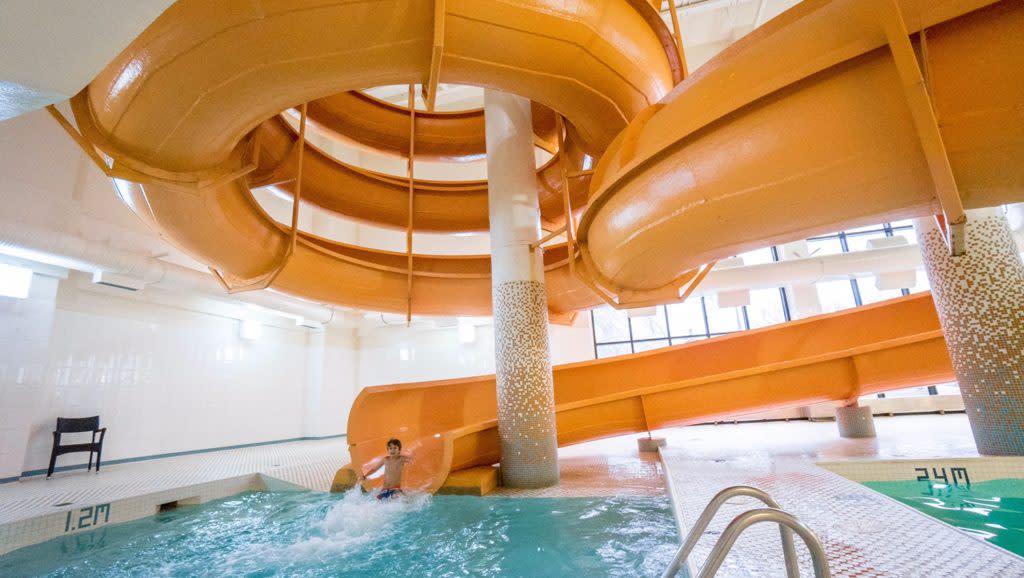 Radisson  - The excitement is palpable as you enter the Radisson's pool area from the third floor, going down a glass elevator where you can see both kids and adults splashing down their slide. This long, bright orange waterslide was described by my kids as swirly fun. I like that there is a good sized pool and hot tub, which are both separate and can all easily be seen from the chairs that line the pool area, perfect for those parents like me who need to catch their breath after a few slides.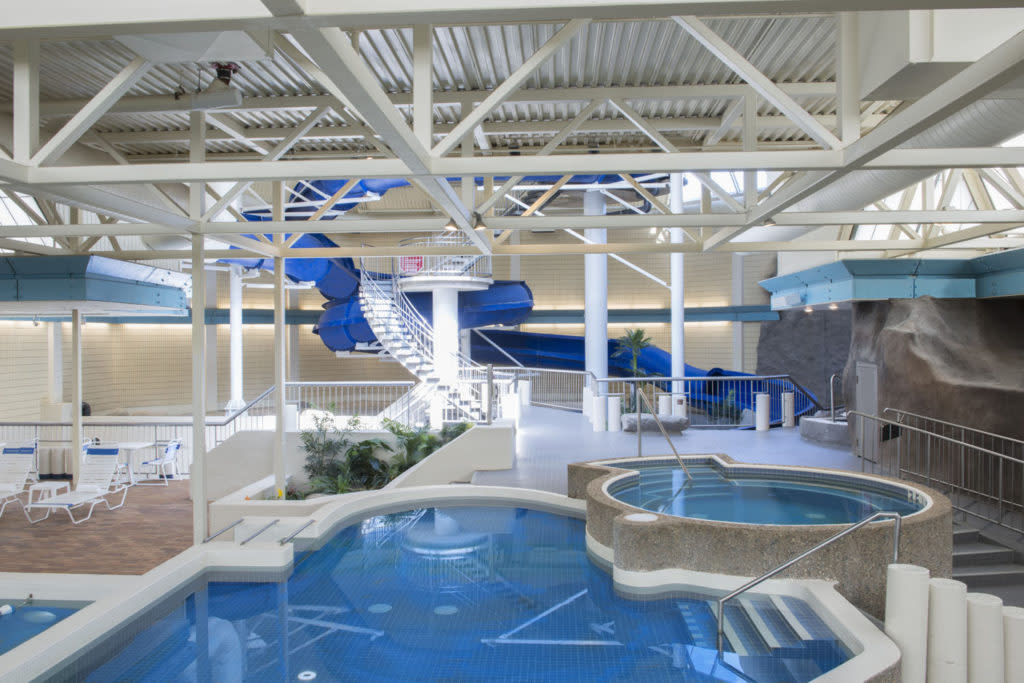 Sheraton Cavalier - Conveniently located downtown beside the river valley, the Sheraton Cavalier is where we often have our family staycation each winter, in part so we can cross the street to skate at the Meewasin Skating Rink, and also so that my kids can slide-til-they-drop. The Sheraton's River Country Water Park put in a new waterslide recently, and it did not disappoint. My twelve year old is a big fan of the drop on the new slide. After a long hard day testing waterslides, I was happy to have two large hot tubs to choose between, as well as a snack area and comfortable loungers to rest upon. With my feet now up, the kids exclaimed that this was the best work day ever as they raced by for one last splash down the slide.