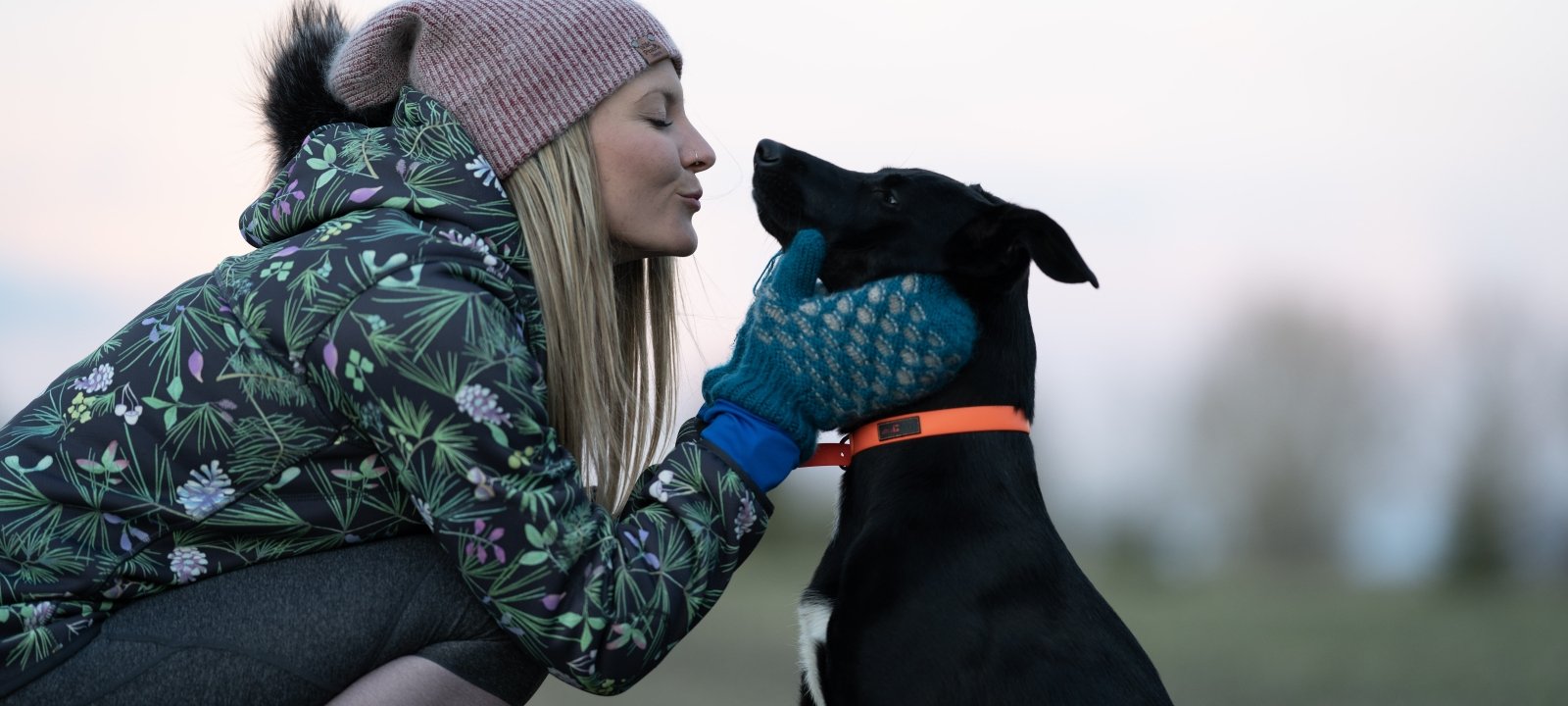 Pet-Friendly Places to Hang out In Saskatoon
Entertainment
,
Families
,
Food & Drink
,
Outdoors & Adventure
It's not easy leaving your pet at home while you head out exploring Saskatoon and all it has to offer. But thankfully, dozens of locations in the city are pet-friendly so you can bring them along on
It's not easy leaving your pet at home while you head out exploring Saskatoon and all it has to offer. But thankfully, dozens of locations in the city are pet-friendly so you can bring them along on your adventures.
In fact, Saskatoon is so pet-friendly, it's included as one of 50 locations in the world to travel with your dog as listed in 50 Places to Travel With your Dog Before you Die by Chris Santella and D.C Helmuth.
To help you head out exploring with your own pet, here are lots (but not all!) of Saskatoon's pet-friendly locations to take your partner-in-crime.
1. Saskatoon's Dog Parks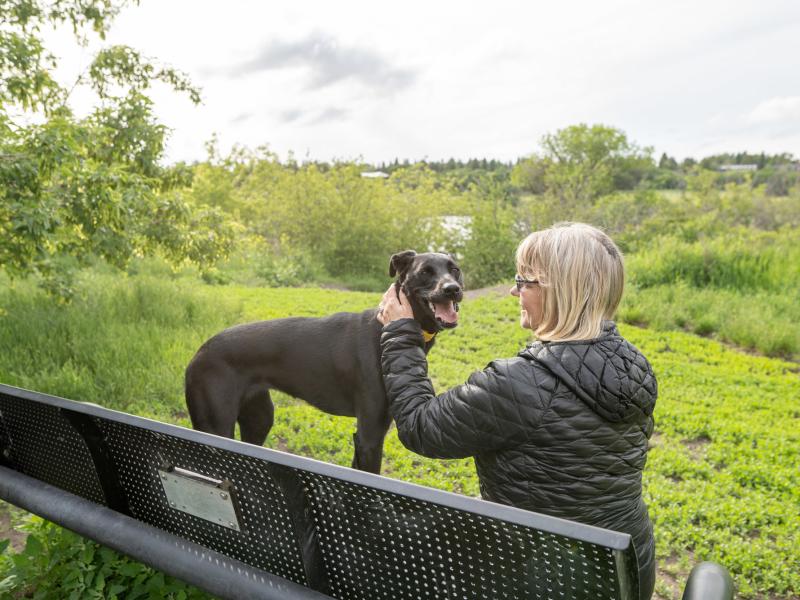 I just want to take a second here and gush about the City of Saskatoon's dog parks.
They. Are. Awesome. 
If you're looking for a spot where you can openly play with your pet off-leash, Saskatoon has it. Check out locations like Avalon Dog Park or Pierre Raddison Park between 32nd and 33rd street.
If you're looking for a place where your pup can galivant through the forest and splash around in the river, try dog parks like Chief Whitecap and Sutherland Beach.
For smaller dogs, two new dog parks are open at Hyde Park and Charlottetown Park. You dog must be under 40cm (or 16") and less than 9kg (20lbs) to use these parks.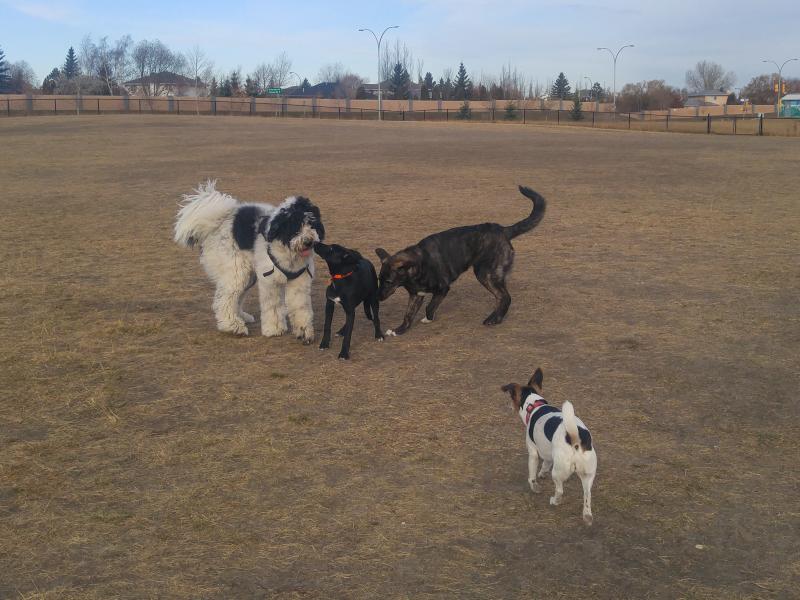 It's important your pup is well-behaved around both people and other pets – which means being able to obey come, sit, and stay commands.
There are 13 dog parks in total and they're all worth a visit. (There's even a Dog Park Ambassador Program if you're a local and want to get more involved in opportunities for improvement of these amazing spaces.)
2. Hotels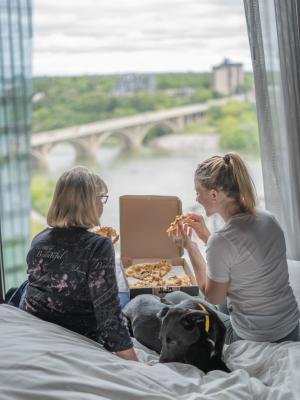 Many hotels in the city are pet-friendly. So many, in fact, that we've written an entire blog post about it! Check out Asia and Aviva's Day Out adventuring to all of Saskatoon's pet-friendly hotels.
A personal favourite of mine is the Alt Hotel downtown. Not only do they provide a puppy pillow for your dog, but the views over Saskatoon are unrivaled.
Hot tips: the Hilton Garden Inn Saskatoon Downtown, Hampton Inn Saskatoon South, Hampton Inn & Suites by Hilton Saskatoon Airport, Delta Hotels Saskatoon Downtown and the Sheraton Cavalier have no fee. If you want ease-of-access to let Fido out to do his business, Country Inn and Suites by Radisson near the airport have doors direct to outside.
3. Saskatoon Businesses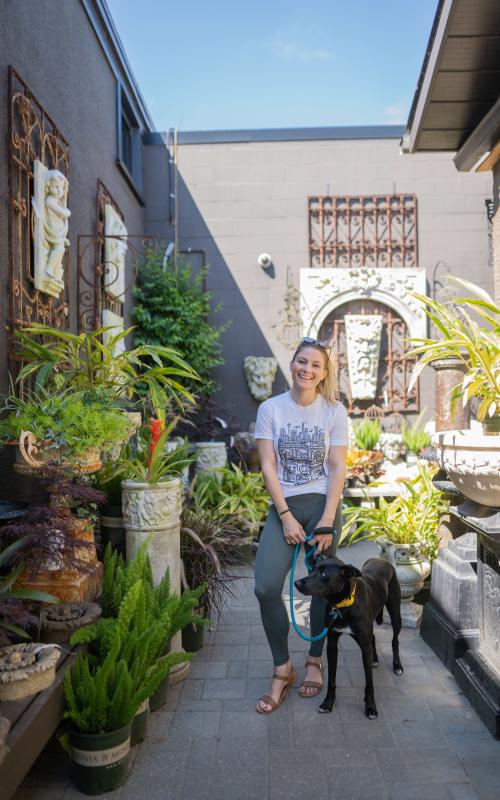 There are a number of businesses in the city to take your pet while you're shopping. A great resource to check online is Bring Fido but I also recommend calling ahead.
I've confirmed with each of these locations that you can shop with your pup.
Stop in at these local stores: Dutch Growers inside and outside the store all year round, Floral Acres, Broadway Shoe Repair, (they even have an Instagram highlight of pet visits), The Better Good, Early's Farm and Garden Centre, Doug's Spoke n' Sport, Blossoms Living and Anthology, Escape Sports (make sure to say hi Gauge the Brittany if he's out front), Glitch Gifts and Novelties, Solar Gardens, and Garden Architecture & Design.
P.S Many of these places offer treats for your pet when you come in. This also isn't a complete list of local shops that are pet-friendly but a great starting point. Feel free to add locations in the comment section!
4. Meewasin Valley Trails & Cranberry Flats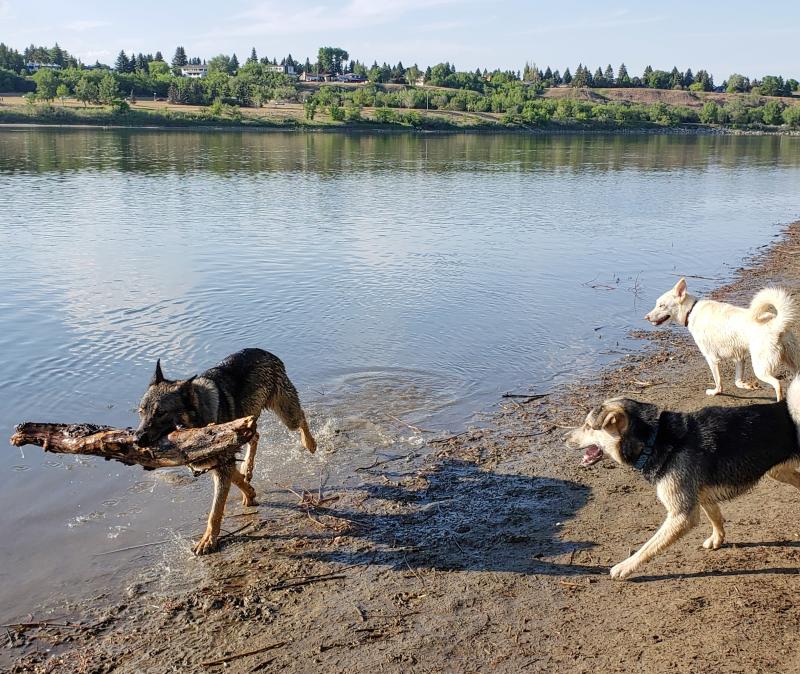 Have you heard of the YXE Underground? It's a podcast interviewing Saskatoonians doing amazing things. It's created and hosted by local resident Eric Anderson who's also a dog owner. Eric and his insta-friendly pups Sam and Wiley are big fans of the Meewasin Valley Trails and Cranberry Flats for locations to hang out together.
Here's what Eric said about the MVA:
"We are so fortunate to have the Meewasin Valley Trails here in Saskatoon. My wife and I love taking Sam and Wiley on the trails to explore, especially Cranberry Flats. Whether it's early on a summer morning or as the sun is setting on a chilly January afternoon, they love the open spaces that Cranberry provides. Hitting the trails has been a wonderful way of exploring the natural beauty of our city together. As soon as we gets home, they're both thinking about their next adventure!"
5. Restaurant Patios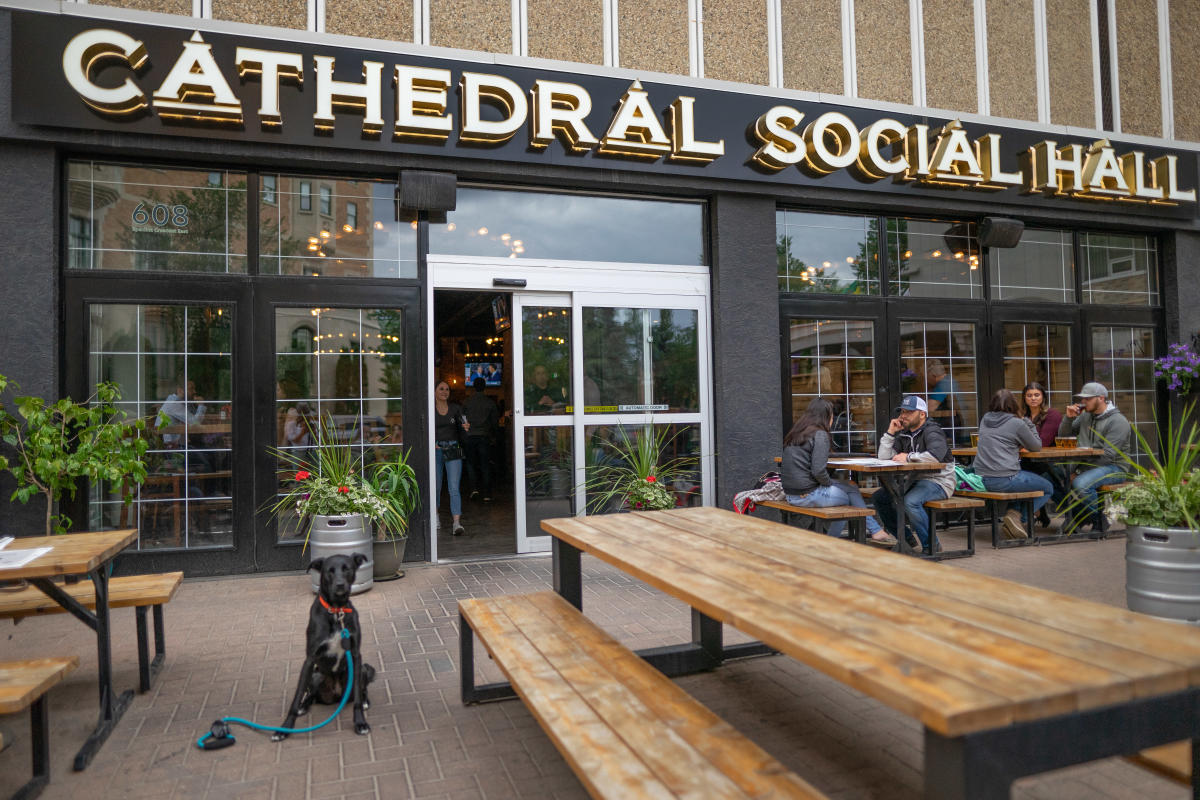 In the summer months, Saskatoon comes alive. The city's patios are a favourite location to grab a cool drink and a good meal. Many of them are also pet-friendly.
Pet-friendly patios in the city include City Perks Coffeehouse, d'Lish by Tish Café (the patio is not pet-friendly but you are welcome to clip your pup to the fence surrounding the patio,) Leopold's Tavern, Cathedral Social Hall, Homestead Ice Cream (the outside bench-area), and Bus Stop Refreshments.
Many of these locations have doggie bowls filled with water so your pooch can stay hydrated too. There are a number of other businesses with pet-friendly patios, be sure to call ahead to confirm.
6. Breweries & Distilleries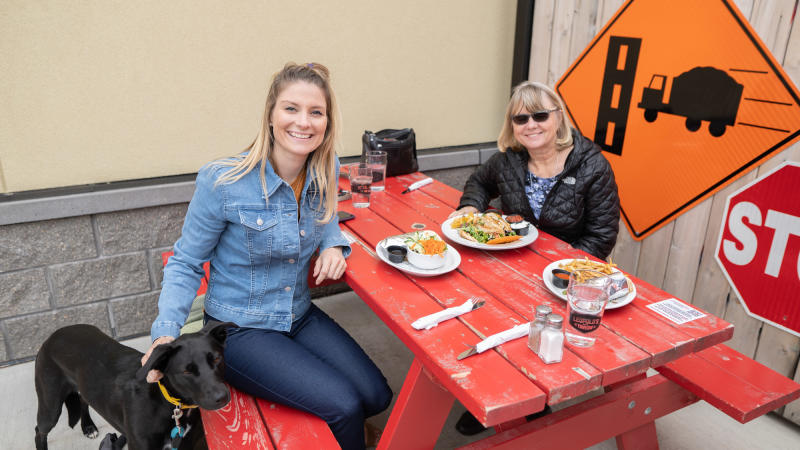 The SLGA regulates the serving of alcohol by requiring taprooms, breweries and distilleries to have two light meals available to their guests. This means they need to be registered as a licensed eating establishment and can't be fully pet-friendly.
However, two places have taken the extra step to still include your pet in your visit.
Stumbletown Distilling has an outdoor patio where you can bring your pup to hang out while you enjoy their full-service cocktail bar.
Prairie Sun Brewery  has always been pet-friendly and that status hasn't changed since they've moved to their new location on Broadway a few years ago. Dog are always welcome to join their owners on the outdoor patio under the twinkle lights.
7. Dog Days of Summer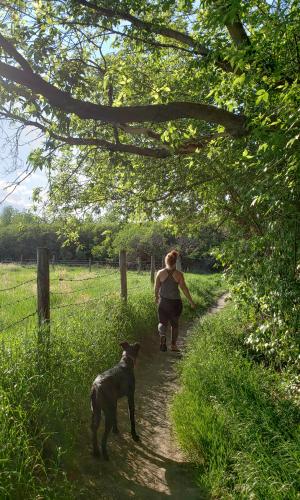 Once a year at the end of summer, Mayfair Pool opens its doors to pups of all sizes for a free swim in the pool for its Dog Days of Summer Event. You need to register online in advance to book your pup in for an hour session in the pool as it's limited to 60 dogs at a time.
This year the event takes place on Tuesday, August 22nd. There's a dedicated swim time for Service and Therapy dogs as well as a new session just for small dogs (under 40cm or 16" and 9kg or 20lb). The Saskatoon SPCA will also be on-site hosting a fundraising barbecue with proceeds going towards their initiatives.
Where else do you take your pet when out exploring Saskatoon? Let us know in the comments!