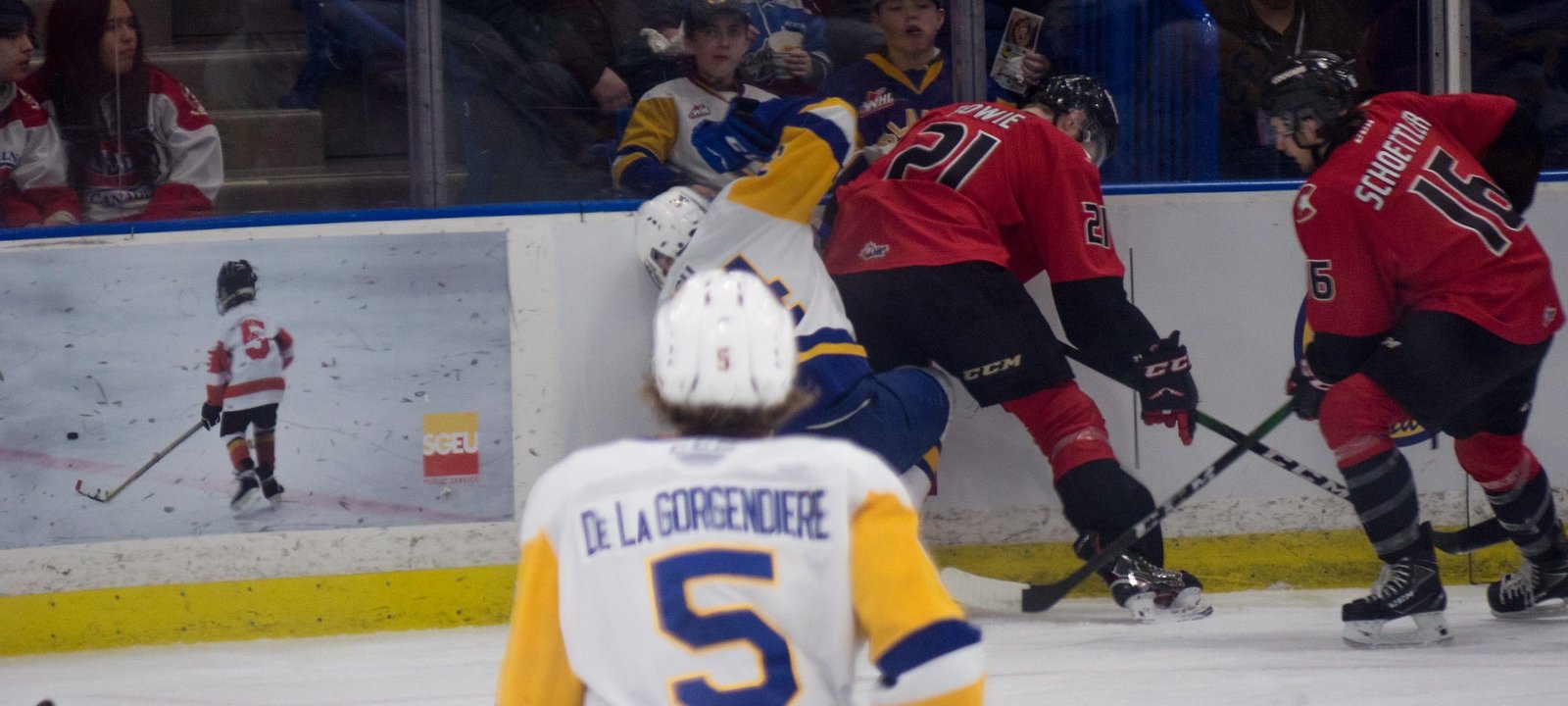 How to Eat Your Way Through a Blades Game Day
As a kid I was into what my grandpa half-jokingly called 'slug sports' — games you could reasonably compete while downing a plate of nachos, a basket of ribs or whatever else was on special. Not to
As a kid I was into what my grandpa half-jokingly called 'slug sports' — games you could reasonably compete while downing a plate of nachos, a basket of ribs or whatever else was on special. Not to say I wasn't the competitive type, I just never fully understood why athletes would sustain intense physical/mental stress when there were perfectly good hot dogs being served.
Hockey brings back food-related memories almost exclusively. Back in my hometown, I would join my grandpa to watch hockey games, eat popcorn, fries and gravy, and cheer for the opposing team much to his embarrassment.
He stopped bringing me after a while, which was perfectly understandable. But I recently got the chance to see the Saskatoon Blades – my first hockey game in over a decade – so I asked my partner Teisha to accompany me with the promise we would make a day out of it, and that I would do my best not to embarrass her.
We started the afternoon with a hot cup of bean juice from Collective Coffee to get fully conscious and slightly shaky before heading over to Shelter Brewing for a couple flights. The stand-out brew for the two of us was the New England IPA — more tart than bitter and juicy as can be. Shelter also serves Dylan and Cam's Tacos, so we were more than happy to polish off a few carnitas, chips and guacamole along with another pint before hitching a ride to the game.
At the SaskTel Centre, the puck dropped, and the crowd rumbled in their seats; Teisha and I stood in line for some beers (a couple 'Oh-Sixteens') and a pretzel to start. I must give a shout-out to the dill mustard dip: you sounded weird but were in fact delicious.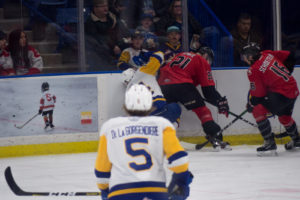 One thing I learned later about the SaskTel Centre is that, of the multitude of concessions, they all offer something different. See for yourself (by section):
| | |
| --- | --- |
| BBQ Brisket on a Bun – H | BBQ Chicken Burger – V |
| BBQ Pulled Pork Poutine - Z | BBQ Pulled Pork Sandwich – Z |
| Buffalo Chicken Nachos – D | Beef Dip – N |
| Chicken Fingers – V | Burgers – H, N, V, 10 |
| Cotton Candy – D, M, W | Caramel Corn – D, M |
| French Fries – H, N, V, Z, 10 | Churro Split – W |
| Ice Cream – W | Corn Dogs – N |
| Kettle Chips – N, V | Dry Ribs – Z |
| Mini-Donuts – L | Foot-long Hot Dogs – D |
| Nacho Express – M | French Vanilla Cappuccino – D, H, N, Z |
| Parmesan Garlic Fries – N, Z | Hawaiian Ice – M (hockey games only) |
| Poutine – H, Z, 10 | Hot Dogs – D, H, N, V, Z |
| Slush Puppies – H, W | Lemonade – L |
| Pizza – D, Z | Nachos – D, M, Z |
| Pretzels – D | Onion Rings – 10, V |
| Taco in a Bag - D | More details on the SaskTel Centre website. |
Side Note: Rumors have circulated of 'tater tot nachos' being available at one of the concessions. I didn't find any, but this could be a worthy quest for another adventurer.
Amid stuffing our faces, there appeared to be a hockey game going on. I learned Teisha is a much better trash-talker than I am, and that I have a serious problem staying focused long enough to know where the puck is. Even so, it was nice to soak in the atmosphere — Go team!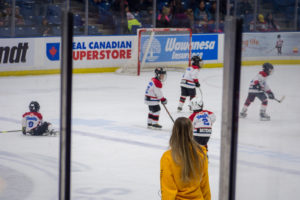 After the first period, I was starting to wonder if the players had discovered the tater tot nachos, and whether they were eating them on the bench. If there was hustle to be found, it was with the Timbits — the Saskatoon Minor Hockey Association's initiation program for children's ages five to six — when they buzzed around the rink in full hockey gear during intermission. Even the iciest of souls would have found this adorable.
If we got to the end of the game without picking up a hot dog, I couldn't live with myself, so for our final round we picked up a big tube-like bag of popcorn and a juicy hot dog, loaded with mustard and relish. This would hold us through to the end of the game when we could buy a couple cheeseburgers for the ride home.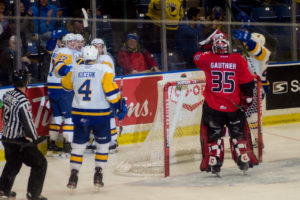 Someone must've lit a fire under the teams' collective butts for the third period because the bulk of the game energy was consolidated into that final 20 minutes. By the time I stood up to leave, I had a thin membrane of crumbs and kernels covering my jacket. Who won the game? My stomach. Maybe the Timbits.
Check out the Blades' game schedule. Catch their next game and make sure you bring the munchies. https://saskatoonblades.com/schedule/266