Build it or buy it: Where to find charcuterie in YXE
I think we can all agree that a well-curated charcuterie board is truly what dreams are made of. Whether you love building your own boards at home, or you're looking for a pre-made board, YXE has you
I think we can all agree that a well-curated charcuterie board is truly what dreams are made of. Whether you love building your own boards at home, or you're looking for a pre-made board, YXE has you covered. From craft butchers to grazing boxes to restaurants, check out these local businesses where you can find charcuterie in Saskatoon.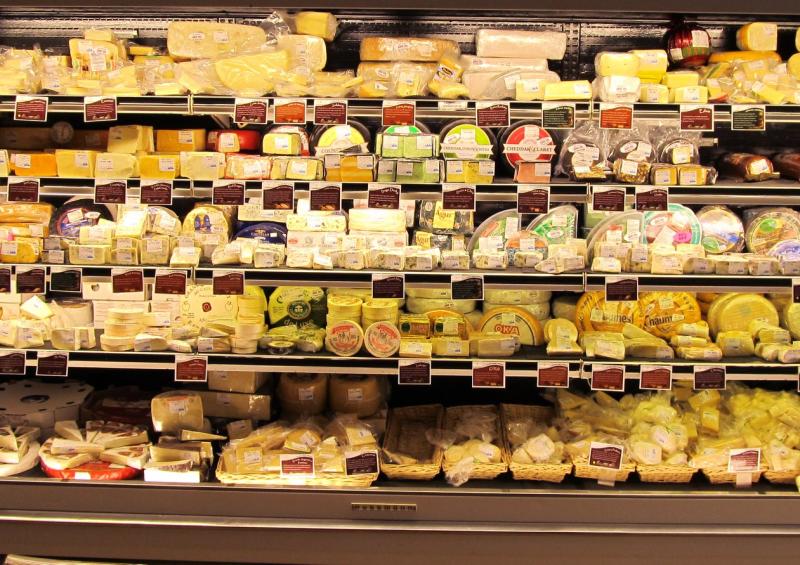 Photo via Bulk Cheese Warehouse
The Bulk Cheese Warehouse is a well-loved staple on Broadway Avenue, and has an extensive selection of cheeses, meats and charcuterie fixings (like pickles, crackers, jellies and dips), along with their in-house butcher shop. Their deli meats are prepared and smoked in-house, and my personal favourites include their prosciutto, smoked salmon and smoked duck breast. The Bulk Cheese Warehouse also sells pre-made charcuterie boards year-round — just call ahead to order.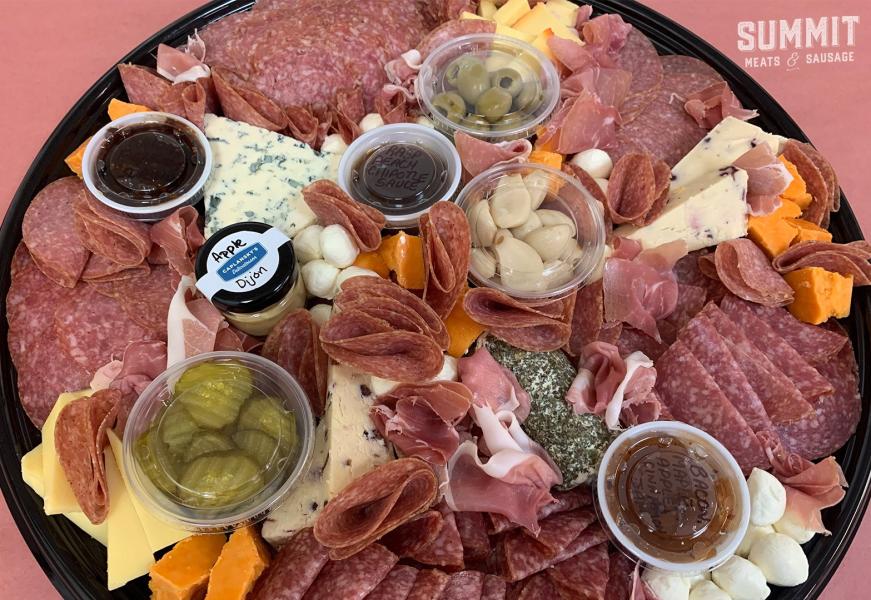 Photo via Summit Meats
Located in Sutherland, Summit Meats & Sausage sells a number of charcuterie items, with many of them made in-house, like their jerky, beer sticks and sausage. If you're looking for something different to spice up your charcuterie board, be sure to check out Summit — they have a dill pickle beer sausage, Dr. Pepper jalapeno jerky and many more unique items. Summit also sells charcuterie fixings like pickles and sauces, and they have charcuterie platters too, which are made to order.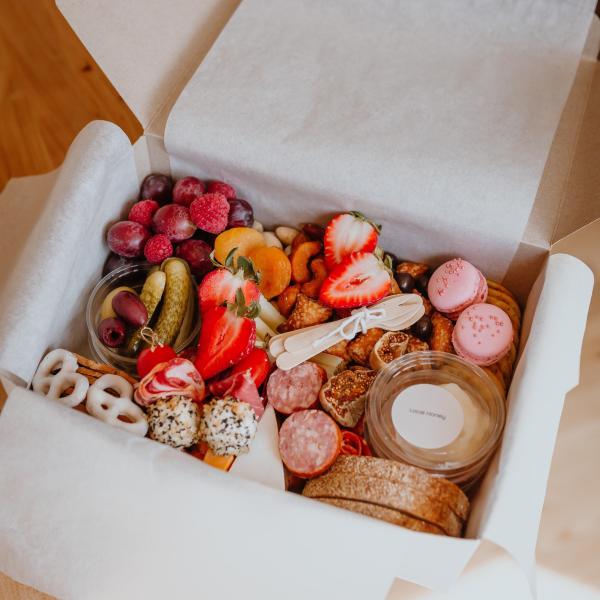 Photo via Karyn Kimberley
The Prairie Grazer is YXE's original artisan box company, and specializes in charcuterie boxes of every size. Their hand-crafted artisan boxes feature goods from local businesses too — like The Night Oven Bakery, Prairie Field Honey, Hanes Hummus, Pine View Farms and more. Whether you're looking for a brunch box, vegan box, specialty holiday box or even a grazing table for an event (yes, you read that right — they do grazing tables), The Prairie Grazer has it all.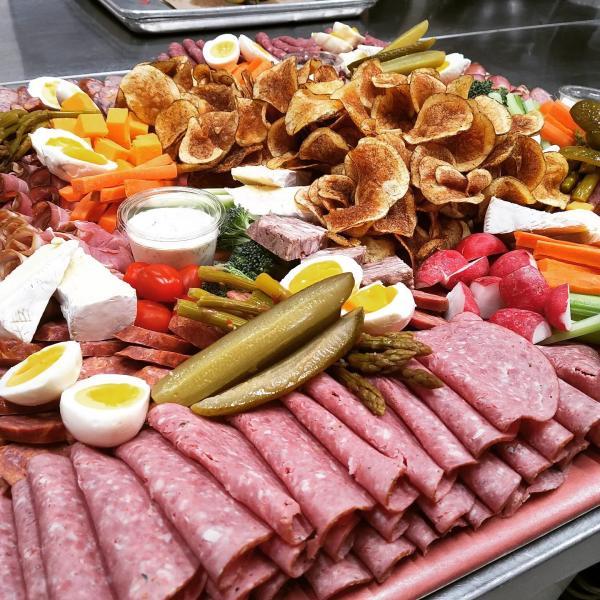 Photo via Pig & Pantry
This craft butcher shop is located in Riversdale and in addition to their butcher counter, they offer a variety of charcuterie items like sausage, deli meats, pickles and olives, which are all prepared in-house. You can also pre-order charcuterie boxes or boards, which come loaded with all of their charcuterie best-sellers. Additionally, Pig & Pantry sources all of their products locally from farms within Saskatchewan, and follows a sustainable nose-to-tail philosophy to reduce waste.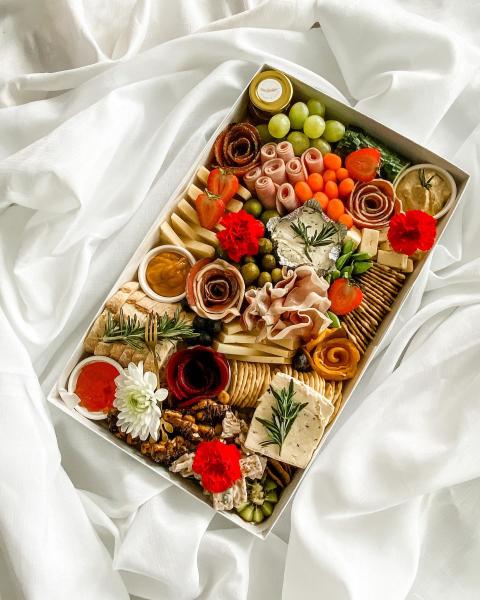 Photo via Style & Graze
Style & Graze is a local grazing company that specializes in pairing international flavours with locally-made goods. They offer a variety of boxes for every occasion, including themed holiday boxes, vegetarian boxes, tea party boxes, wedding boxes, boxes for kids and so much more. They also do meat bouquets and grazing tables, and they have boxes available in the shape of certain letters and numbers, which are perfect for celebrating birthdays or special occasions.
The Cure Artisanal Charcuterie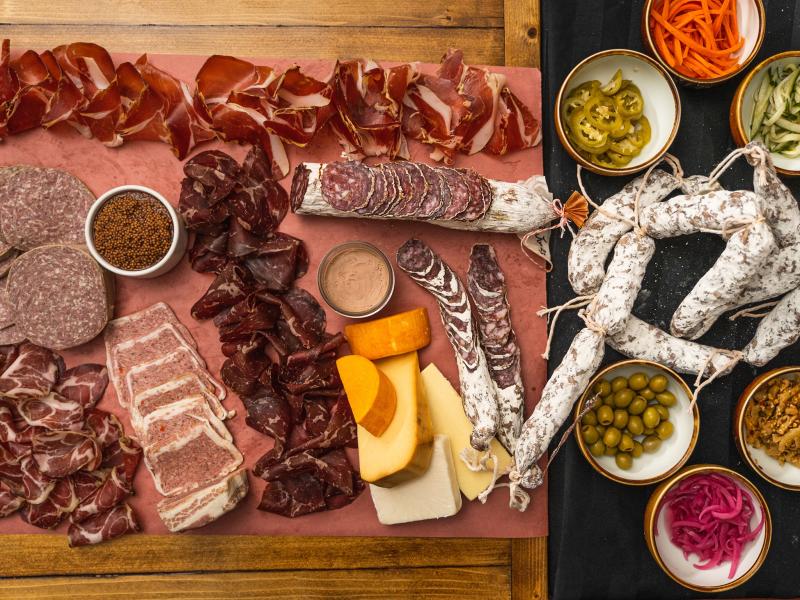 Photo via The Cure
Owned by Taste Hospitality Group, The Cure offers a variety of charcuterie products, all made using locally-sourced meat and then cured in-house. You can order their products individually online for pick-up or delivery, or certain items are available at The Little Market Box and Pitchfork Market & Kitchen in Saskatoon. In addition to their cured meats, The Cure offers premade charcuterie boxes, a number of different truffles, catering, and if you are charcuterie-obsessed, they have just the thing for you: subscription boxes. 
Bonus: Charcuterie at restaurants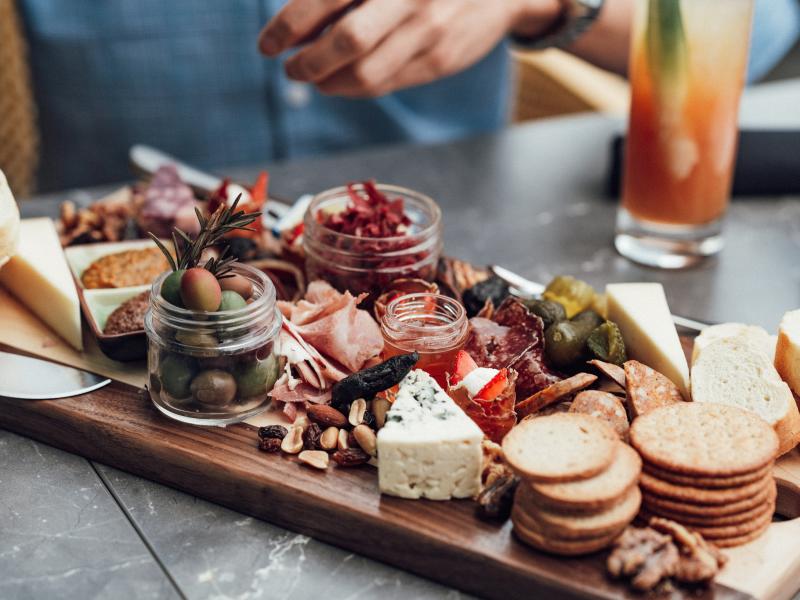 Photo via King Rose Visuals
Want to go out for charcuterie? Check out Bokeh on the Plaza, which is located in the Alt Hotel at River Landing. At Bokeh, you'll find a number of grazing boards on the menu (in both personal and sharing sizes!) featuring local flavours, vegetarian options and even a dessert board, too. There are many other Saskatoon restaurants that also have charcuterie on their menus too, including Ayden Kitchen and Bar, POP Wine Bar, Hearth Restaurant, La Cucina Ristorante, Congress Beer House, St. Tropez Bistro, Taverna Italian Kitchen (and more!).