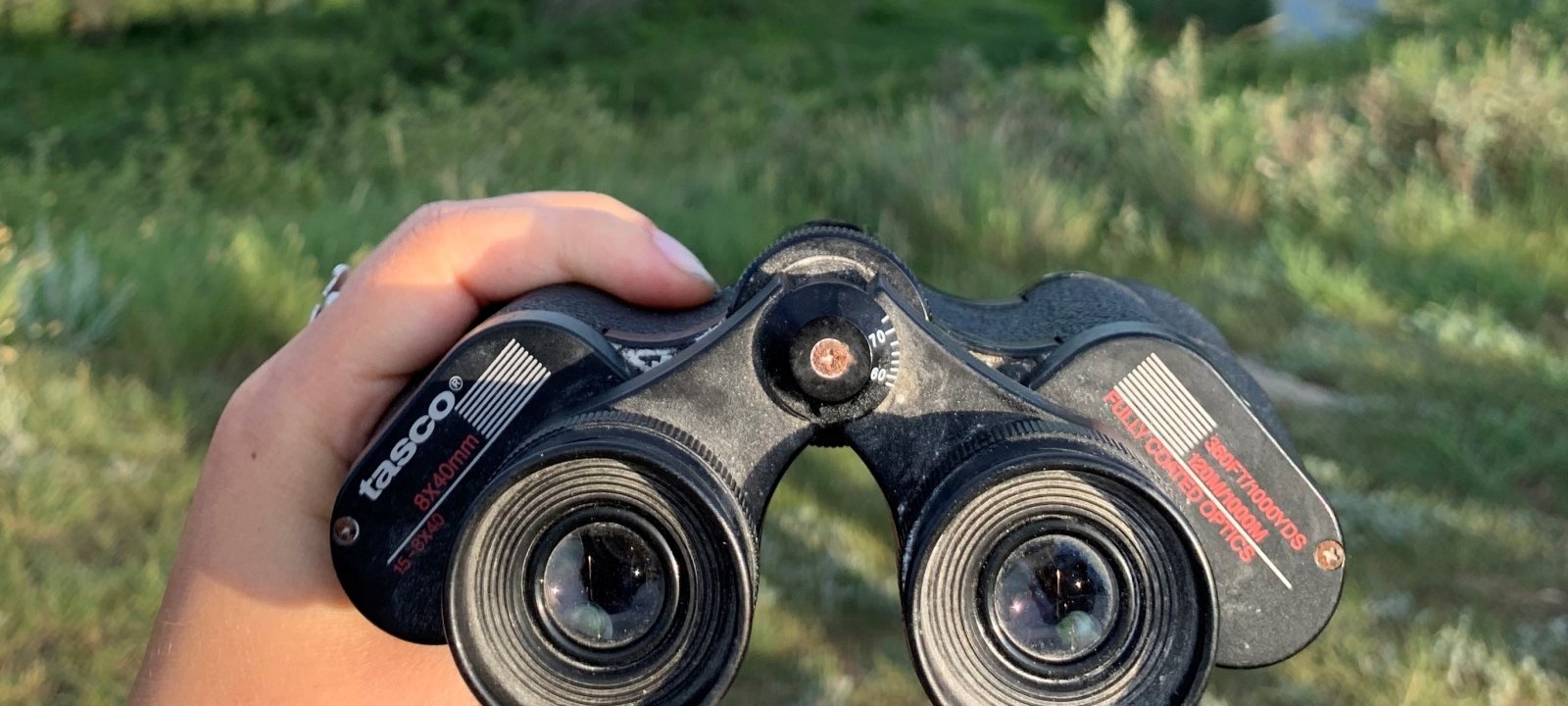 The Birds Flock to Saskatoon
Saskatoon residents recognize the coming of spring as the day the first pelican lands on the South Saskatchewan River. Pelicans flock to the river each spring to feed and breed. The Meewasin Valley
Saskatoon residents recognize the coming of spring as the day the first pelican lands on the South Saskatchewan River. Pelicans flock to the river each spring to feed and breed. The Meewasin Valley Authority conducts a contest allowing people to guess the arrival time of the first pelican to land between the Train Bridge and the Weir.  This contest has been running since 1996.
Here in Saskatoon we like to say we are on the edge of nature. There are birding opportunities right within our city limits! This year I started to dip my toe into the bird watching Saskatoon has to offer.
Wanuskewin Birding Tour
This August I got the opportunity to go birding at Wanuskewin. Wanuskewin offers affordable birding tours multiple times a month during the summer. These tours are led by local birding expert, Stan Shadick.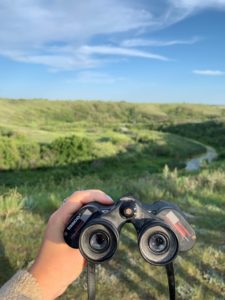 This was my first ever birding experience and it blew me away. I am not sure if all birding experts are able to recognize which bird they are near just by the song, but Stan Shadick can. We spent 1.5 hours hiking through the gorgeous Opimihaw valley spotting and learning about the different birds that live there.  My tour took place between nesting and migration seasons. This is the quietest time of summer for birding, but we still saw 15 different species of birds, including two types of hawks, a falcon, and my new favourite bird: the grey cat bird (it meows!).
Wanuskewin offers both morning and evening birding walks, so whether you're a morning dove or a night owl they have the perfect experience for you!
Beaver Creek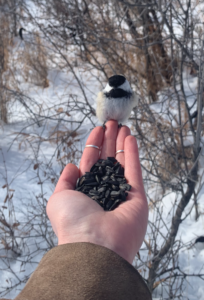 Meewasin Valley Authority plays host to many birding walks and bird-friendly activities throughout the year (keep an eye on their events page). My favourite has to be feeding the chickadees at Beaver Creek.
They make it so easy and fun! The lovely folks at the Beaver Creek visitors centre provide you with bird seed and let you know where to walk where the birds are the hungriest. Once there you stand really still with your palm out and the chickadees land on your hand! You feel just like a Disney Princess (or Prince)!
Whopping Crane
In the fall, one of the world's rarest birds, the Whooping Crane, congregates just outside Saskatoon on their way to their wintering grounds. Last year nearly 200 Whooping Crane, were spotted in one location. The world's population of this endangered crane was down to 23 in 1941, but through conservation efforts, the number now exceeds 800. If these birds are on your bucket list, consider a trip to Saskatoon this fall.
Are you passionate about birding? What is your favourite birding experience Saskatoon has to offer?