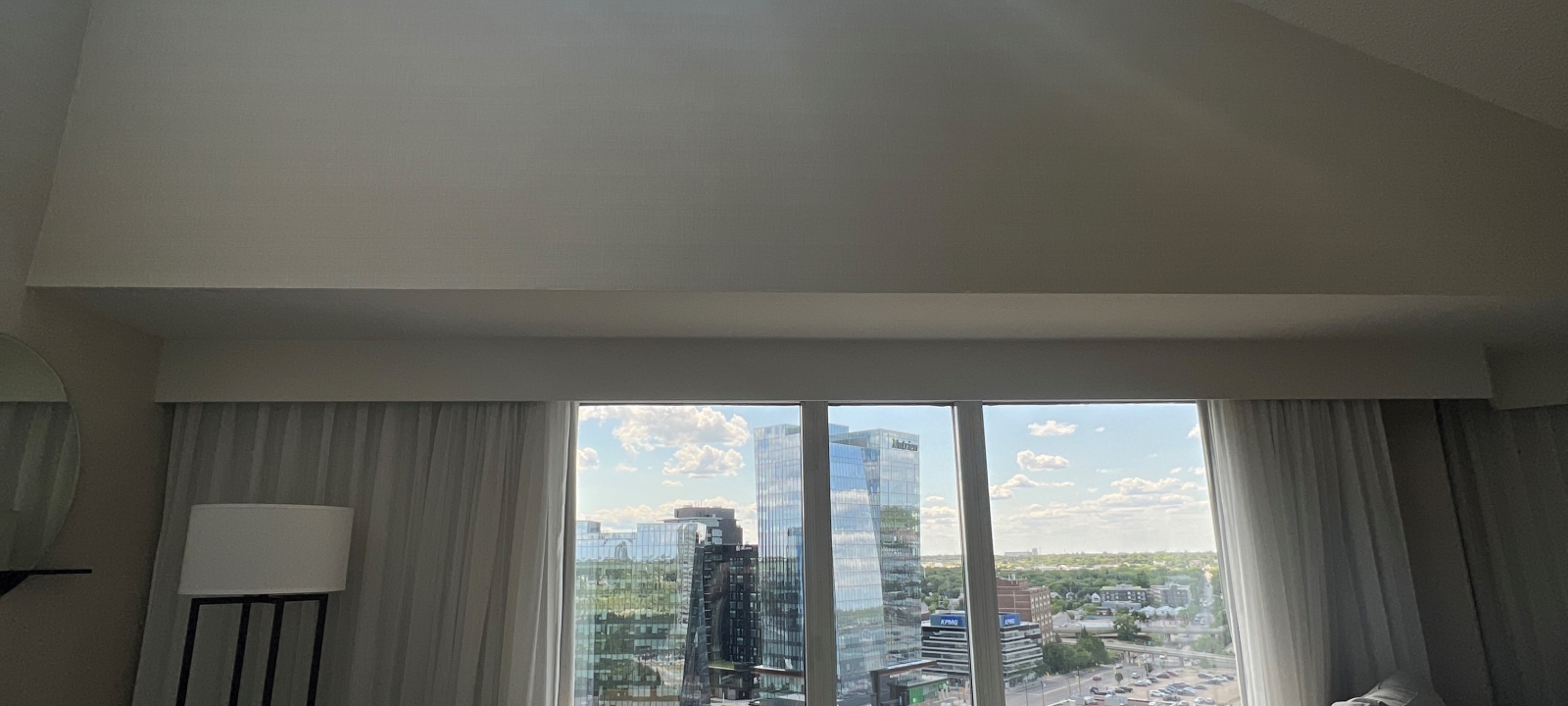 A Two Night Stay at the Delta Saskatoon Downtown
Accommodations
,
Food & Drink
Saskatoon is packed with charming surprises, and there's no better way to uncover them than with a two-night staycation in the heart of downtown Saskatoon at the newly renovated Delta Saskatoon
Saskatoon is packed with charming surprises, and there's no better way to uncover them than with a two-night staycation in the heart of downtown Saskatoon at the newly renovated Delta Saskatoon Downtown! This is for the romantics planning anniversary getaways, and the local foodies who want to unwind for a few days within the city limits. Let's get to the highlights of the staycation!
FRIDAY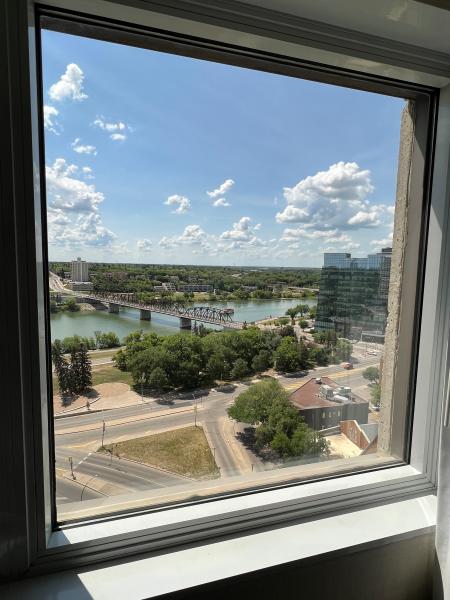 We stayed in the Executive Suite on the 19th floor, and it was gorgeous, modern, and extremely spacious! With my photographer's cap on, I couldn't help but admire the beautiful lighting in this place! Great lighting is everything, and let me tell you, this suite delivered. There was also a big jacuzzi, stunning skylights (again with the lighting) and a bathroom larger than some Manhattan apartments. The windows offered views of the cityscape, and a picturesque panorama of the South Saskatchewan River meandering through the lush Meewasin Valley. As we watched, we were even treated to views of the Prairie Lily riverboat cruising along!
AROMA RESTAURANT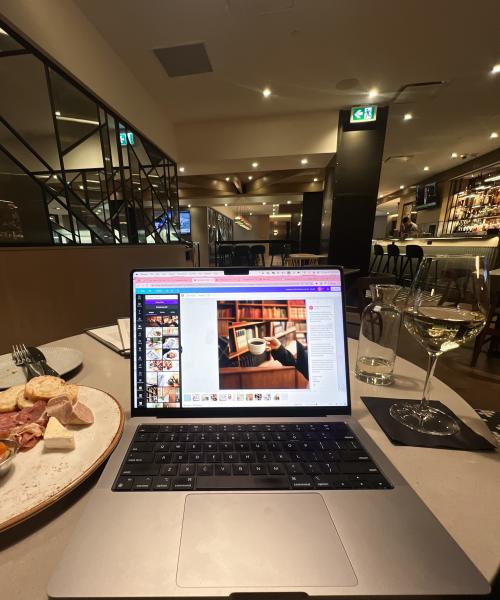 I spent the first part of my staycation having a solo work-action! It was late Friday afternoon, so I couldn't wait to crack my computer open and catch up on a few emails while treating myself to a glass of Sauvignon Blanc and an amazing charcuterie board sourced with delicious local ingredients! Aroma's Executive Chef Scott Torgerson and his incredible culinary team are constantly blowing my mind, and the charcuterie board was no exception. 
Aroma's happy hour is 4 - 6 p.m., Monday to Friday, so it's also great for downtown professionals looking for a post work cocktail. Follow Aroma on Facebook & Instagram to stay up-to-date on their weekly feature happy hour snacks. They also feature different variations of Old Fashioneds every Friday, and Wednesdays are for 'Aroma on the Rocks' (rockin' prices on drinks & their famous wood fire pizzas)! Aroma also recently launched their weekly rotating lunch and dinner features, so the food is always as fresh and exciting as it is delicious.
POP WINE BAR
Before an early night (in the comfiest bed!), we popped down to Pop Wine Bar in Riversdale for a night cap! It's just a short walk or a couple minutes drive from the Delta Downtown. We felt like snacking, so Tylor had the Pop Pizza Pop and I had the olives. Trust me, they do simple RIGHT. Pop is a great wine bar with a robust selection of natural and orange wines! It's founded by Christie Peters, who also spearheaded Primal Pasta (also in the Riversale district). For me, the best part about staying in downtown Saskatoon is the proximity to all these great restaurants! Saskatoon has a great reputation among foodies across Canada, and the city center is the hotbed of it all. There's nothing like strolling around on a warm summer evening, experiencing multiple hot spots without even having to drive around.
SATURDAY
THE GRIND COFFEE BAR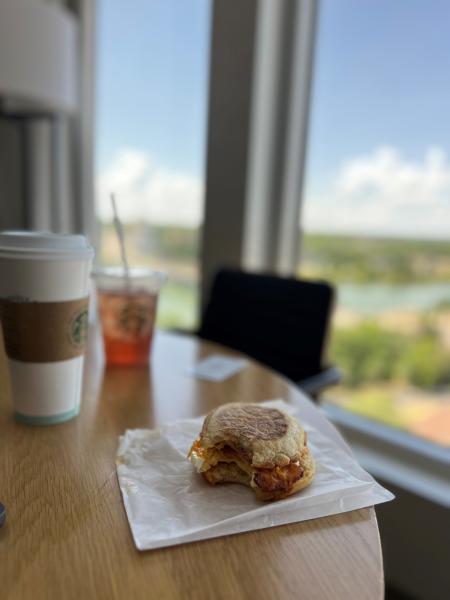 Conveniently open from 6 a.m. -4 p.m., never has it been easier to treat yourself during your stay. And the mouthwatering treats don't stop there – Starbucks drinks are also available at The Grind. Enjoy it in The Grind's bright and spacious space perfect for remote working, or take it up to your room to savor in front of the spectacular views. 
 The culinary team at Aroma is responsible for the goodies at The Grind, so you know it's guaranteed to be delicious. They also offer Starbucks drinks, which is one of the only places you can say that about in downtown Saskatoon right now!
THE PRAIRIE LILY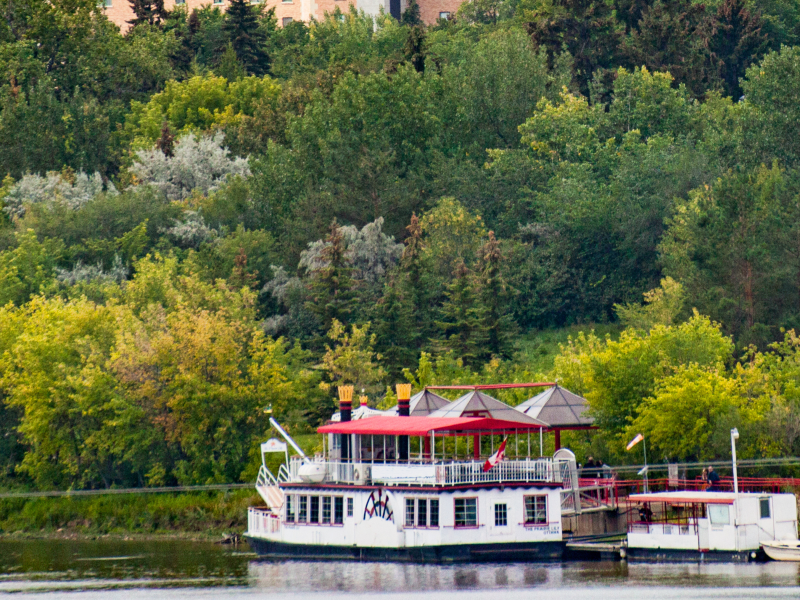 One of my favourite things to do in the Summer in Saskatoon is cruise along the South Saskatchewan River on The Prairie Lily! We hopped on a one hour sightseeing cruise at 2 p.m., and with clear blue skies and lots of sun, it was the perfect day to enjoy it! The perspective you get of Saskatoon on The Prairie Lily is really beautiful. We were also in awe of some of the gorgeous homes we saw along the way.  Based on the geometrical skylights at the top of the Delta Saskatoon Downtown that were visible from our perspective on the boat, we could see where our suite was! 
If you click here, you can check out all of the available times and book your tickets for The Prairie Lily. There's also a full bar and snacks if you're thirsty or peckish!
SHELTER BREWING CO.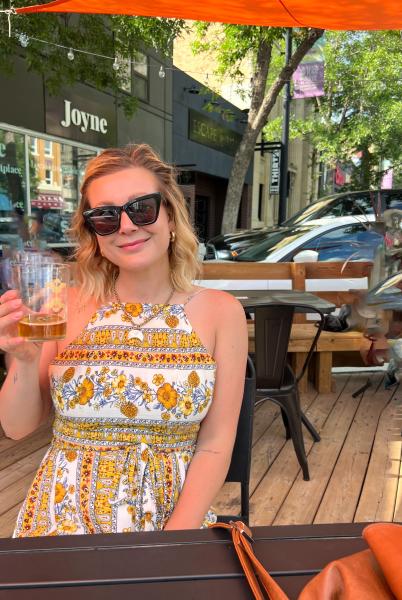 We had some time to kill  before our 5:15 p.m. dinner reservation at Hearth Restaurant, so we went for about a three minute stroll to Shelter Brewing Co.! Shelter has been a favourite local nano brewery of mine since the first day it opened about five years ago. Their on-street parking lot patio recently reopened for the season, and it's great for soaking in some sunshine and people watching with a cold brew. They have so many delicious beers with interesting local ingredients, although I always go for the West Coast IPA. Their tacos, burritos, Pool Nachos, and Kale Ensalada are made in-house by Dylan & Cam's, and are out of this world. Just saying.
HEARTH RESTAURANT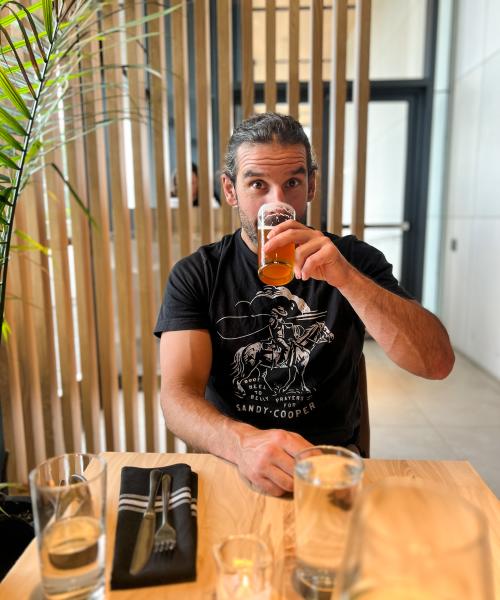 This was my first time dining at Hearth! It recently opened its doors in their new location at the Remai Modern, and I've been dying to go ever since. They're known for their unpretentious, delicious prairie food, and the hype is worth it! From start to finish, the experience was incredible. We started with the most delicious appetizer I think I've ever had: the Arancini – crispy lemon risotto, smashed peas, ricotta & herbs. Then we moved onto our main plates  where I had the Stuffed Pasta, and Tylor had the Trout. I cannot stop dreaming about that pasta! The Trout was also fantastic, and don't even get me going on the apple pie. I can't wait to come back and enjoy that Arancini again while sitting on the patio! It's got the best view of the river and all the River Landing activity.
PARLOR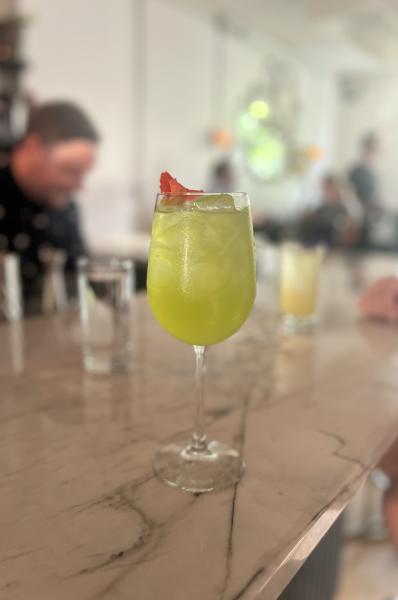 After such a satisfying meal, it was a no brainer to extend the evening a wee bit with a pit stop at Parlor! Parlor is one of Saskatoon's best cocktail bars, owned and operated by the same talented folks who run the long adored bistro below it, St. Tropez Bistro.
This spritz-y 'Honeydew It Anyways' cocktail here has green chartreuse in it, which is a digestife – perfect for after a big beautiful dinner like the one we had! Jason, creator of this cocktail and part owner of Parlor along with his wife, Cher, recently took home first place at the Co-op Stumbletown Paris of the Prairies Gin Competition! This gorgeous little speakeasy is the perfect date night spot – I have so much fun every time we go. 
SUNDAY
AROMA FOR BREAKFAST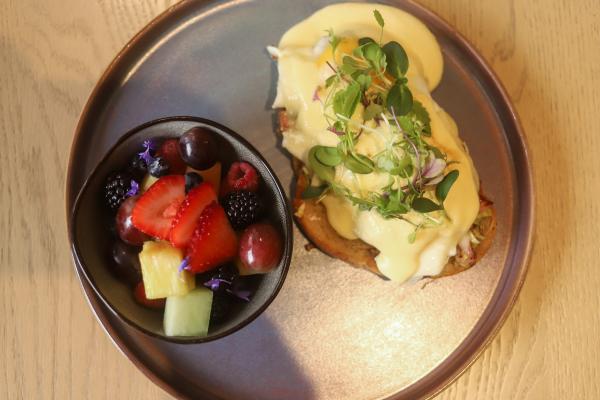 Before we checked out, we dined at Aroma one last time! I got the Open Faced Breakfast Sandwich, and Tylor got the Double Up, which is essentially a huge classic breakfast! It was so delicious; I highly recommend the Open Faced Breakfast Sandwich.
It was still really hot out,  so we ended the weekend by hitting Furdale Beach at The Chief Whitecap Park! Saskatoon not only has a thriving restaurant scene, but the close proximity to the river is another beautiful perk!
Thank you for reading all about my staycation! I hope it inspires you to discover (or rediscover!) Saskatoon in all its summertime glory!