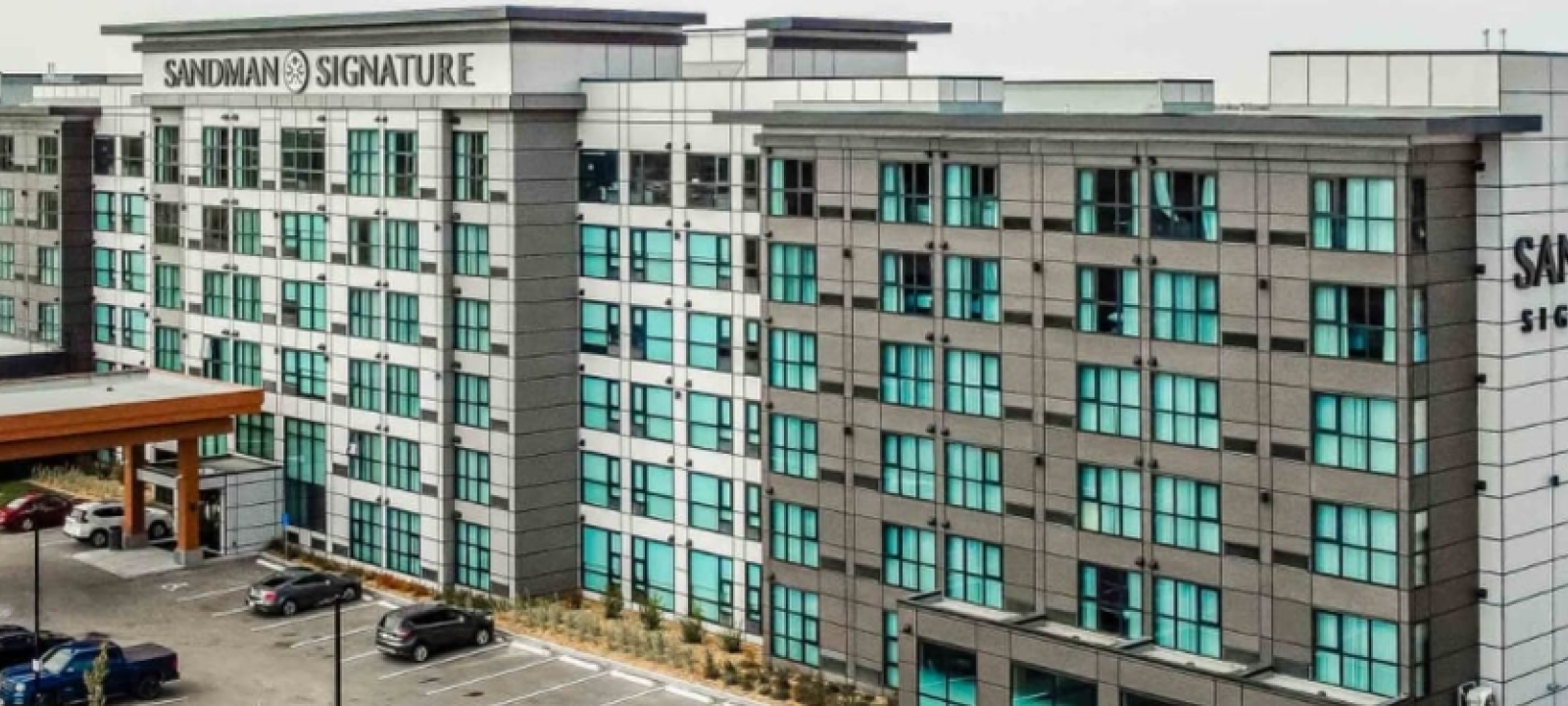 A Staycation to Remember at the Sandman Signature South
There's no time like the present to make some family fun staycation memories with the Sandman Signature South Hotel. This post will tantalize you into checking out their high-quality, full-amenity
There's no time like the present to make some family fun staycation memories with the Sandman Signature South Hotel. This post will tantalize you into checking out their high-quality, full-amenity hotel at a special rate that cannot be beat!
A Prairie Story
Whether you are just staying the night or for a whole weekend, there are lots of things to do to keep everyone entertained. Why not spend an afternoon exploring prairie life and history at the Western Development Museum? Located practically across the street from the Sandman Signature South, the WDM has an indoor representation of a typical Saskatchewan town called 1910 Boomtown. It's so much fun going in and out of the shops and services along the street you almost forget you're learning at the same time! Other fascinating exhibits include Winning the Prairie Gamble that follows 100 years of Saskatchewan families, and the Transportation Gallery.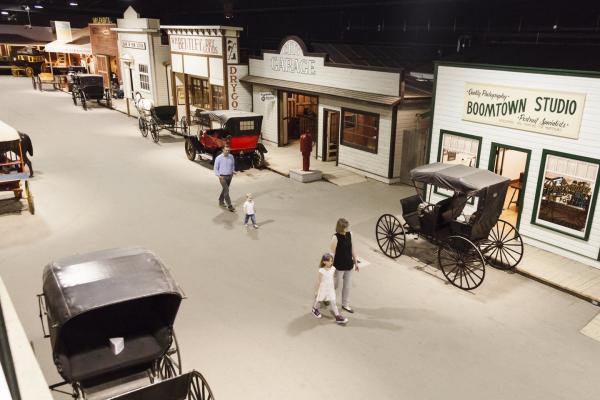 A Country Drive
If you are feeling like exploring further afield, it is a quick 10-minute drive from the south of the city where the hotel is located out to Crossmount Cider Company. Here you can sample a flight of on-site crafted ciders and learn about the process and the up-and-coming apple orchard. And if you are feeling spirited, bring your skates and enjoy Crossmount's beautiful skating pond. Afterwards, you can relax by the outdoor fire pit with warm cider or hot chocolate.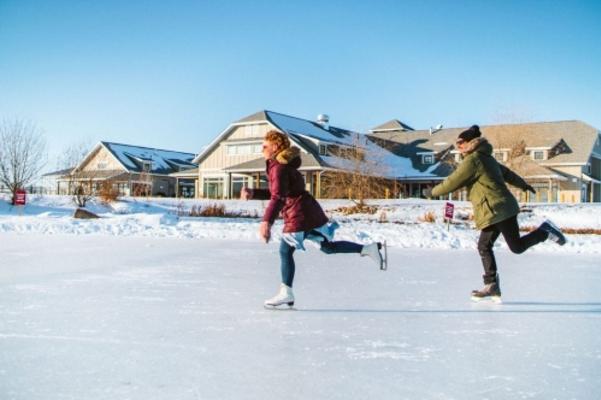 Your Time to Relax
Back at the hotel, it's time for a refreshing dip in the pool or a soak in the whirlpool, depending on your energy level. Once you've reached prune status, dry off, prime up, and head to Chop Steakhouse where you'll discover the most delicious and welcome happy hour you could imagine. Picture elevated pub fare such as marinated steak bites, chili prawns, and seared tuna. Add half-price wine by the glass and you will have found your new favourite happy hour spot!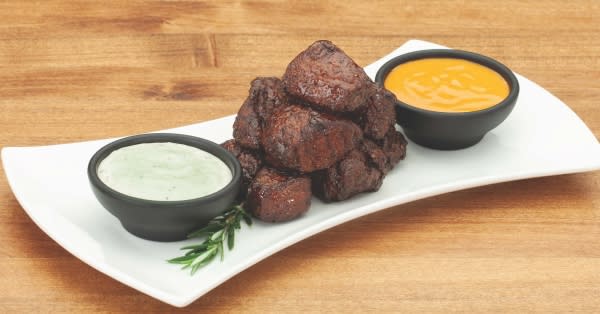 The next day, let Denny's restaurant fill you with breakfast fuel! Even if you are a late checkout, not to worry, they do all-day breakfast in addition to their comfort fare.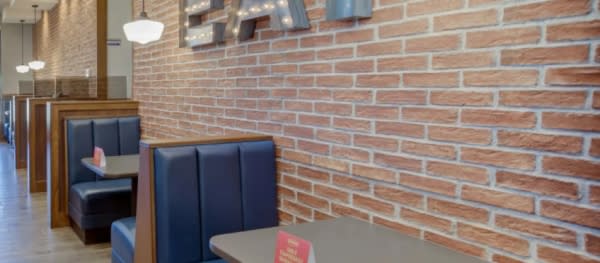 It's a Good Night!
It's back up to tuck everyone in for the night in your comfortable and clean room. If you've opted for a longer stay the full kitchen suites might be right up your alley. Cook your own meals and spread out in these spacious and modern suites. You can also choose from Euro style rooms, or standard and corporate style with King or Queen sized beds. This brand new property gives you all the choice and quality you love!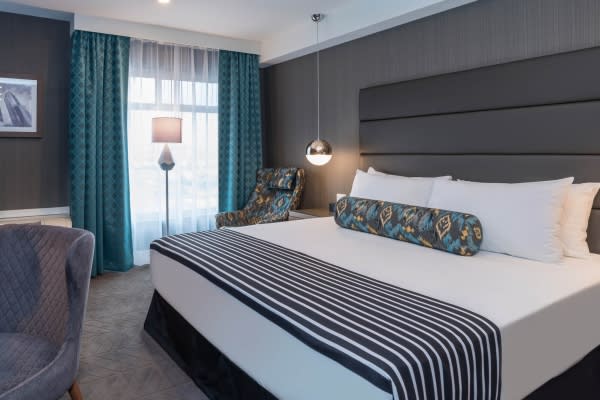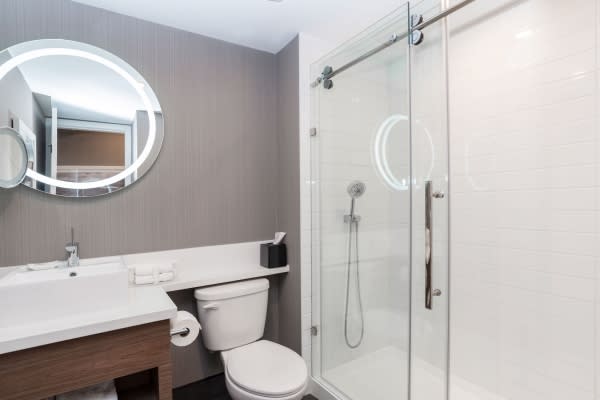 Sandman's Commitment to your Health and Safety
To ensure you book and stay with absolute confidence, we have launched Sandman PureClean. A program focused on elevating our existing high standards of hygiene and cleanliness procedures for the health and safety of our guests and team members.
Starting with our public spaces and high-traffic areas, we require anyone entering our hotels to wear a face mask or facial covering in all public areas and have installed plexi glass shields at our front desk with social distancing indicators on our floors to reduce personal interaction. We have introduced sanitized check-in and touchless check-out and increased the frequency of sanitizing and disinfecting surfaces of all high-traffic areas using recommended cleaning agents supplied by our Ecolab partners. We have removed soft materials from guest rooms. As an extra safety measure following each check-out, our guest rooms are left vacant for up to 48 hours, pending occupancy demand.
We continue to provide a healthy and safe work environment for all of our hotel front-line workers through enhanced training of our health and safety procedures and providing them with personal protective equipment so they can continue to feel safe while taking care of guests. Watch this video for more about Sandman PureClean.
From $82 per night
plus applicable taxes & fees
Are you excited to spend a weekend away from home and ready to explore your own backyard, safely and confidently? Treat your family to 50% off the Standard Rate on Friday, Saturday or Sunday night stays before December 31, 2021! Book this special rate today with Sandman Signature South and Uniglobe Travel and embrace the staycation!