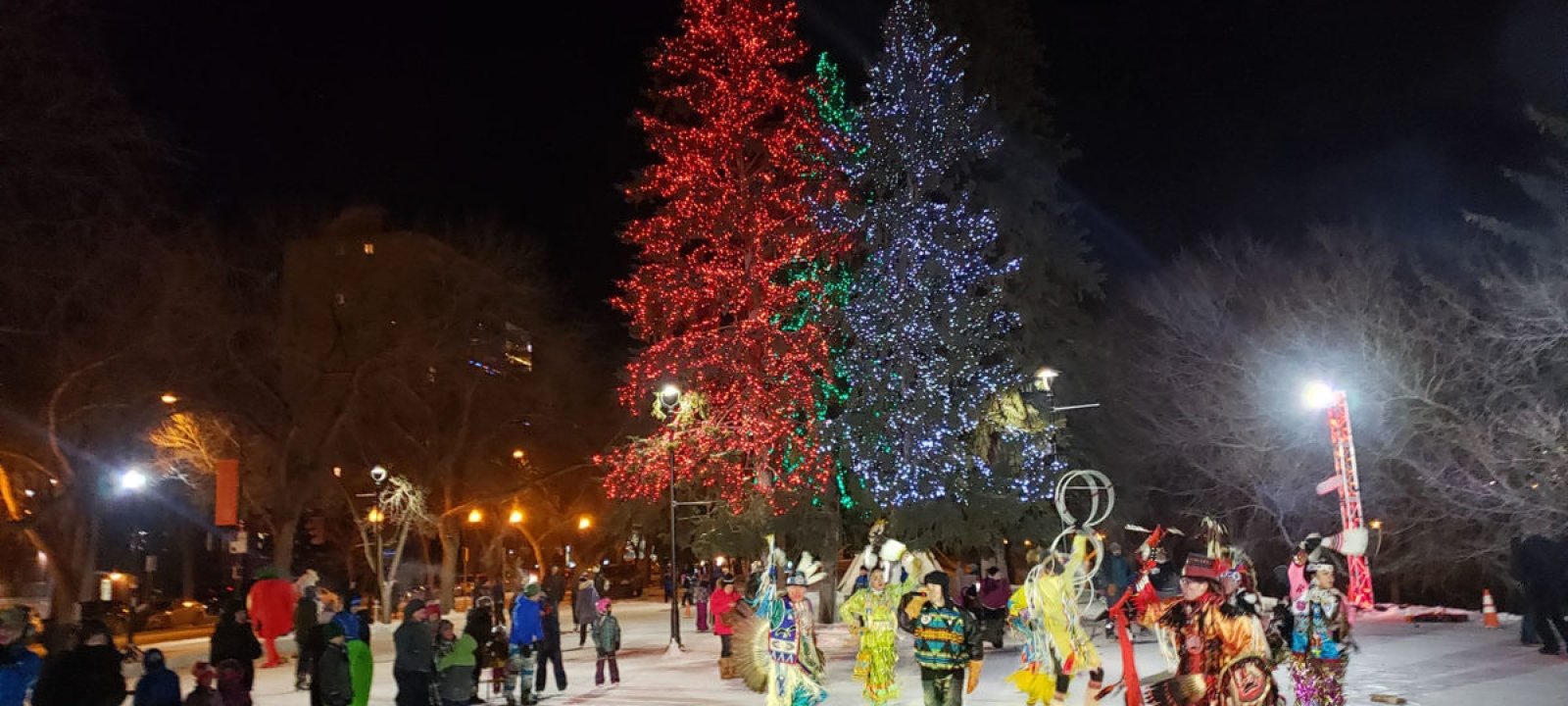 8 Free Activities to Enjoy in Saskatoon this Winter
Outdoors & Adventure
,
Arts & Culture
,
Families
Just because the weather dips and there are fewer daylight hours, doesn't mean you can't get out and enjoy the city in the winter months. With appropriate warm layers, even the coldest day in
Just because the weather dips and there are fewer daylight hours, doesn't mean you can't get out and enjoy the city in the winter months. With appropriate warm layers, even the coldest day in Saskatoon is still a great day to get out and explore.
There are many free activities to head out and enjoy with the family – both outdoors and inside. 
Here is a list of some of the best free activities in Saskatoon this winter.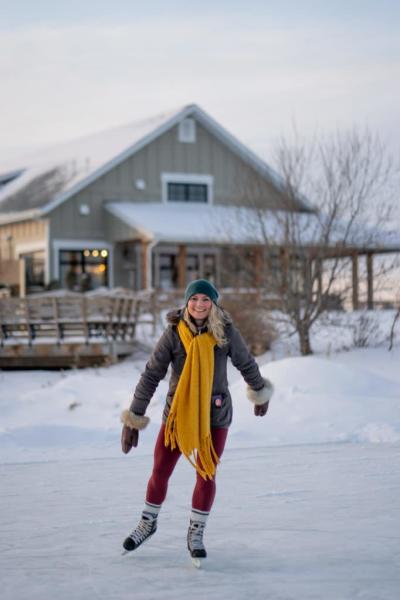 1. Go for a skate
While skating is free at all outdoor skating rinks in the city, you'll have to bring your own skates.
Make sure to check out the 400-metre Clarence Downey Speed Skating Oval – open to all levels of skater, no speed skates necessary.
At the Cameco Meewasin Skating Rink @Nutrien Plaza you can also skate for free but donations are gladly accepted. Pre-registration is required to book a spot on the ice although walk-ups may be permitted pending available space.

READ MORE: 5 of Saskatoon's Cutest Skating Rinks
2. Geocaching
Geocaching is likened to modern-day treasure hunting. If you have a smartphone with access to data, you're set to explore and find the nearly 1800 geocaches located within the city limits. The free Geocaching app helps geocachers to find these hide-and-seek treasures. It's also a great way to get outside and explore beautiful locations in the city you might not otherwise know about.
 
3. Check out the Zoo
During the winter months, the Saskatoon Forestry Farm Park & Zoo is admission by donation from November 1 until March 31. Many animals in the zoo – including the resident snow leopard - thrive in Saskatchewan's cooler climate and are still active with the exception of the grizzly bears who are hibernating.
The zoo is open every day of the year from 10 am until 4 pm except Christmas Day. Last admission is 30 minutes prior to closing.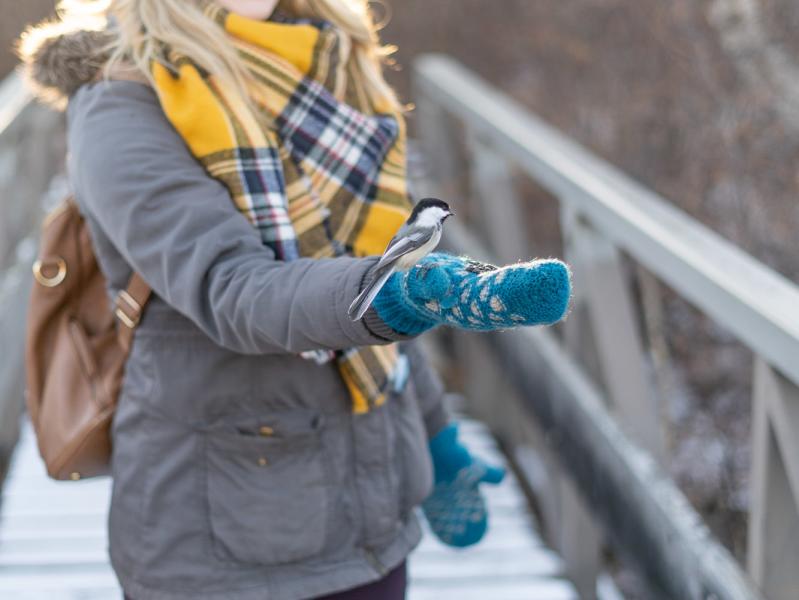 4. Feeding chickadees at Beaver Creek
At Beaver Creek Conservation Area, 20 minutes south of Saskatoon on Highway 219, you can hand-feed chickadees for free. The on-site visitor centre provides unsalted sunflower seeds you can take with you in your pockets. The chickadees are always excited to see visitors and frequently flit around nearby in anticipation of treats. It's a very Disney-esque experience.
Their winter hours are Wednesday to Sunday from 10 am to 4 pm – please note the gate closes at 4 pm sharp.
5. Free Toboggan Hills
Optimist Hill is popular for skiers, snowboards and tubers. But there is also a toboggan hill for kids (or adults) to enjoy and kids under 5 can tube for free!
Saskatoon has quite a few free-to-access toboggan hills – 28 hills in fact. A few popular spots to check out include Pest Hill at G.D. Archibald Park N near Spadina Crescent South, nearby the staircase close to Victoria Bridge on the east side of the river in Rotary Park, and Dr. Gerhard Herzberg Park off Acadia Drive.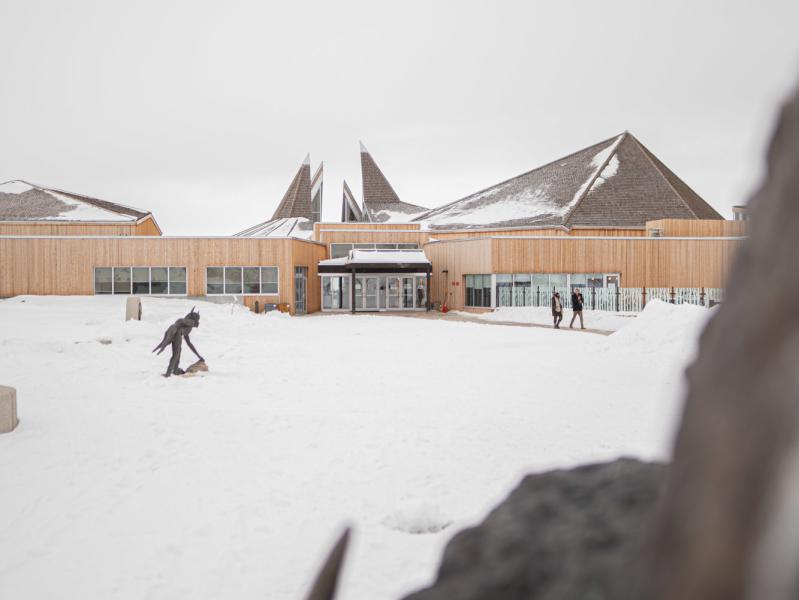 6. Check out Saskatoon's Public Art
Another great way to get to know the city is to explore its public art including installations, murals and statues. 
A favourite colourful mural to enjoy is by Josh Jacobson which can be found under the bridge at River Landing. There are other large-scale works like the vintage-postcard-inspired mural across from the Bessborough near CUT restaurant. 
You can explore the city on a "statue tour." I've written about notable statues in Saskatoon in part 1 of a blog here and part 2 here. 
The City of Saskatoon has compiled a helpful map of the entire collection of public art here.
 7. Visit the Remai Modern
If the weather is just too cold to be outdoors, the Remai Modern is an ideal spot to stop in for family-friendly programming and a browse through their latest exhibits and installations. There are free artmaking activities every Sunday between 1 pm and 4 pm (no registration required). Because of the generous support of the Frank and Ellen Remai Foundation, admission is by donation and free for youth under 18. 
8. Winter Play Programs
The City of Saskatoon offers free community programs throughout the winter months including power skating, family day skating, and playdays in the park. You can find more details on each activity and the days they're offered on page 25 in the winter leisure guide here.