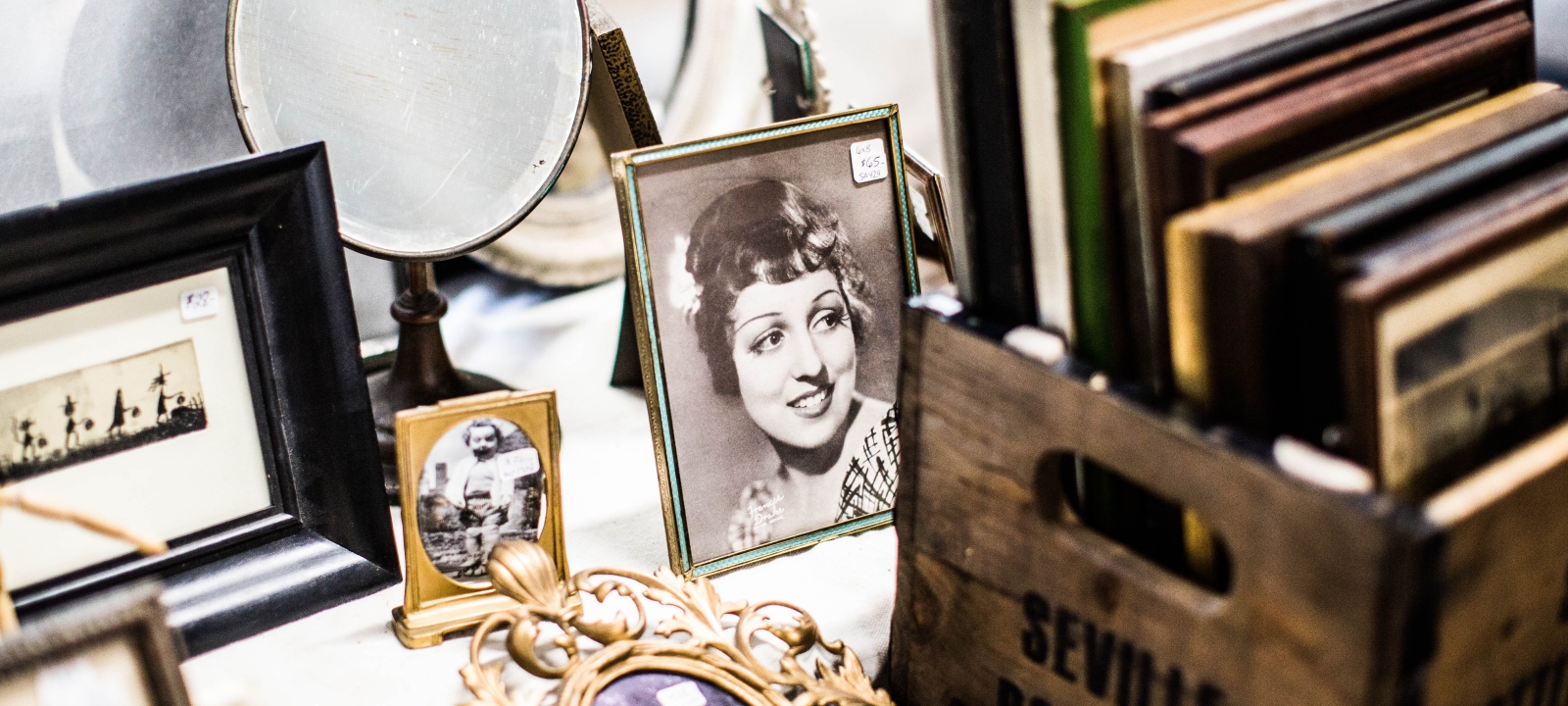 5 Saskatoon antique stores perfect for a browse
I don't know about you, but I love antiques — and my collection of vintage furniture, home decor and books is ever-growing. The fun of antiquing is, of course, that you never know what you're going to
I don't know about you, but I love antiques — and my collection of vintage furniture, home decor and books is ever-growing. The fun of antiquing is, of course, that you never know what you're going to find. And when you do happen upon the perfect item, it's simply the best. Here are five antique stores in Saskatoon to check out, perfect for spending some time browsing.
Vintage Mall YXE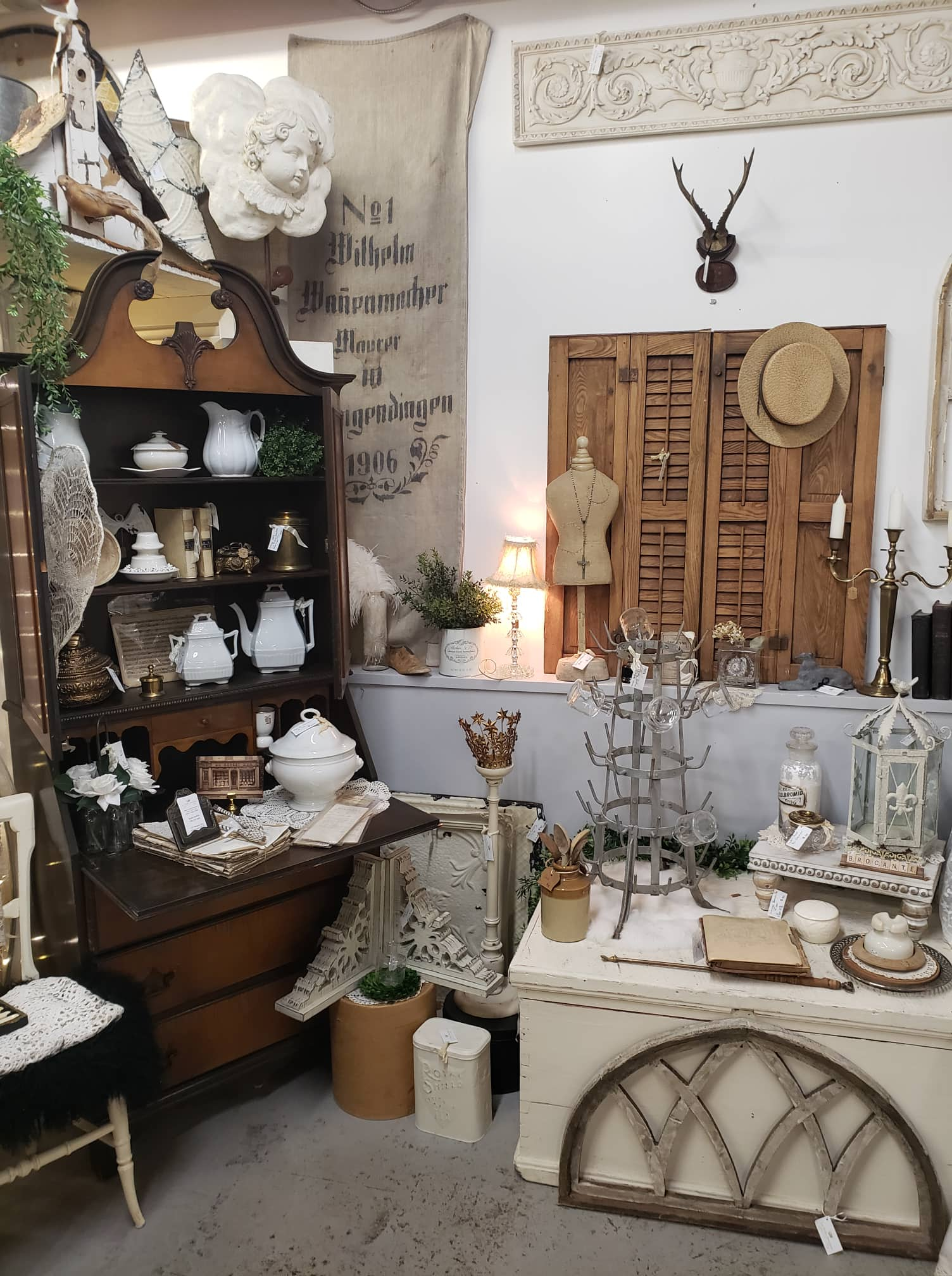 Photo via Vintage Mall YXE
Located on 33rd Street West — where you'll find a couple of other antique stores — Vintage Mall YXE has a great selection, including everything from jewelry and Pyrex kitchenware, to more niche collectables, larger furniture pieces and books (I once found a 1915 copy of Little Women while browsing there!). The unique thing about the Vintage Mall is that it's made up of a number of different vendors, each with their own booth. When you shop from booth to booth, you'll notice that certain vendors have a theme or specialize in a specific type of antique. The best part about this is that new items arrive on a weekly basis, and there's always plenty of variety, too.
Penn's Antiques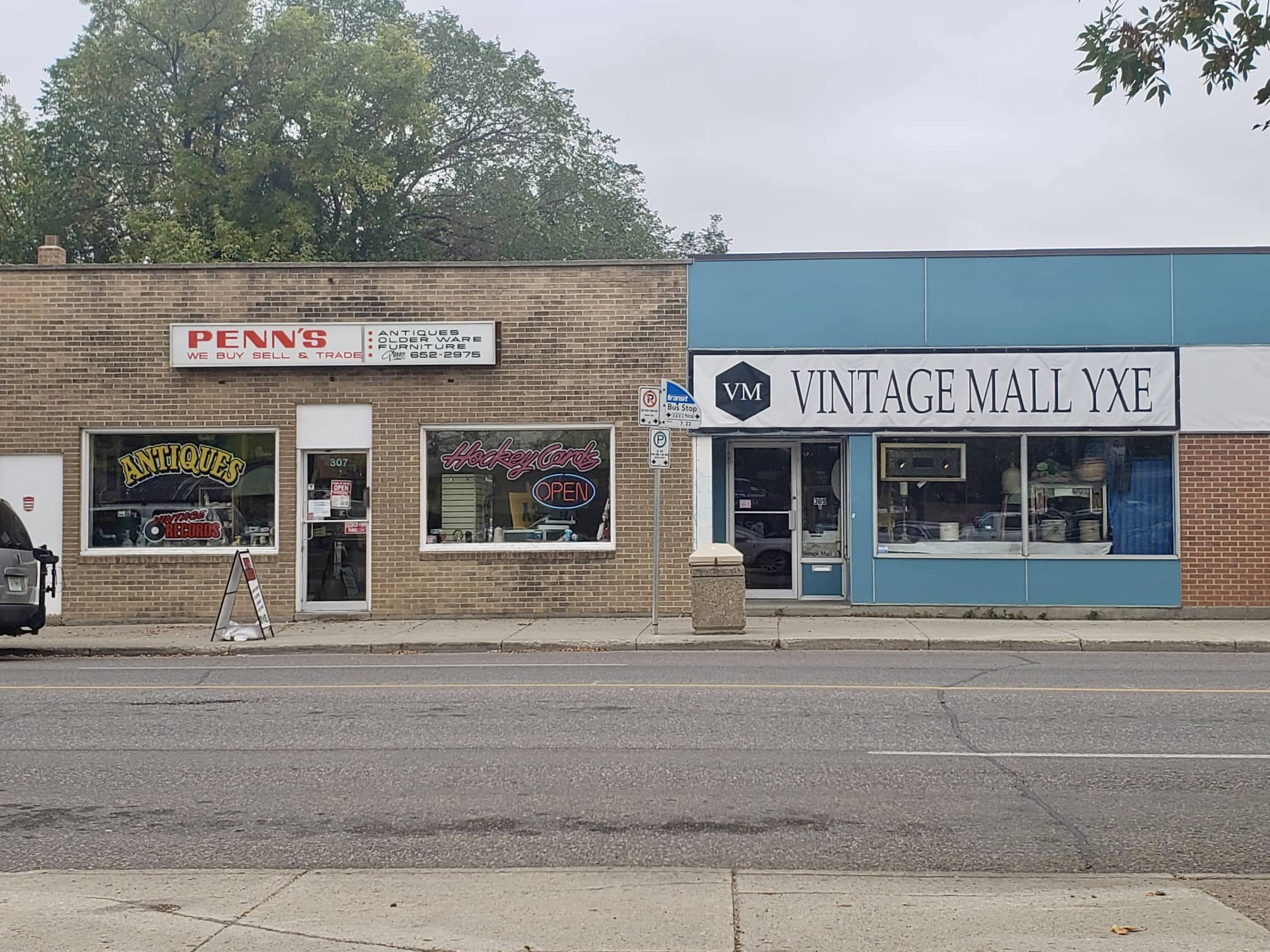 Photo via Vintage Mall YXE
Just next door from the Vintage Mall is Penn's Antiques, which has been selling antiques in YXE since 1970. At Penn's you'll find a great selection of vintage china, furniture, toys and more. One of their specialties is vinyl records, which they have a very large collection of, spanning all genres. In addition to selling antiques and collectables, Penn's also buys them, and they do furniture repair and restoration too.
Saskatoon Antiques / Back to Coffee Beans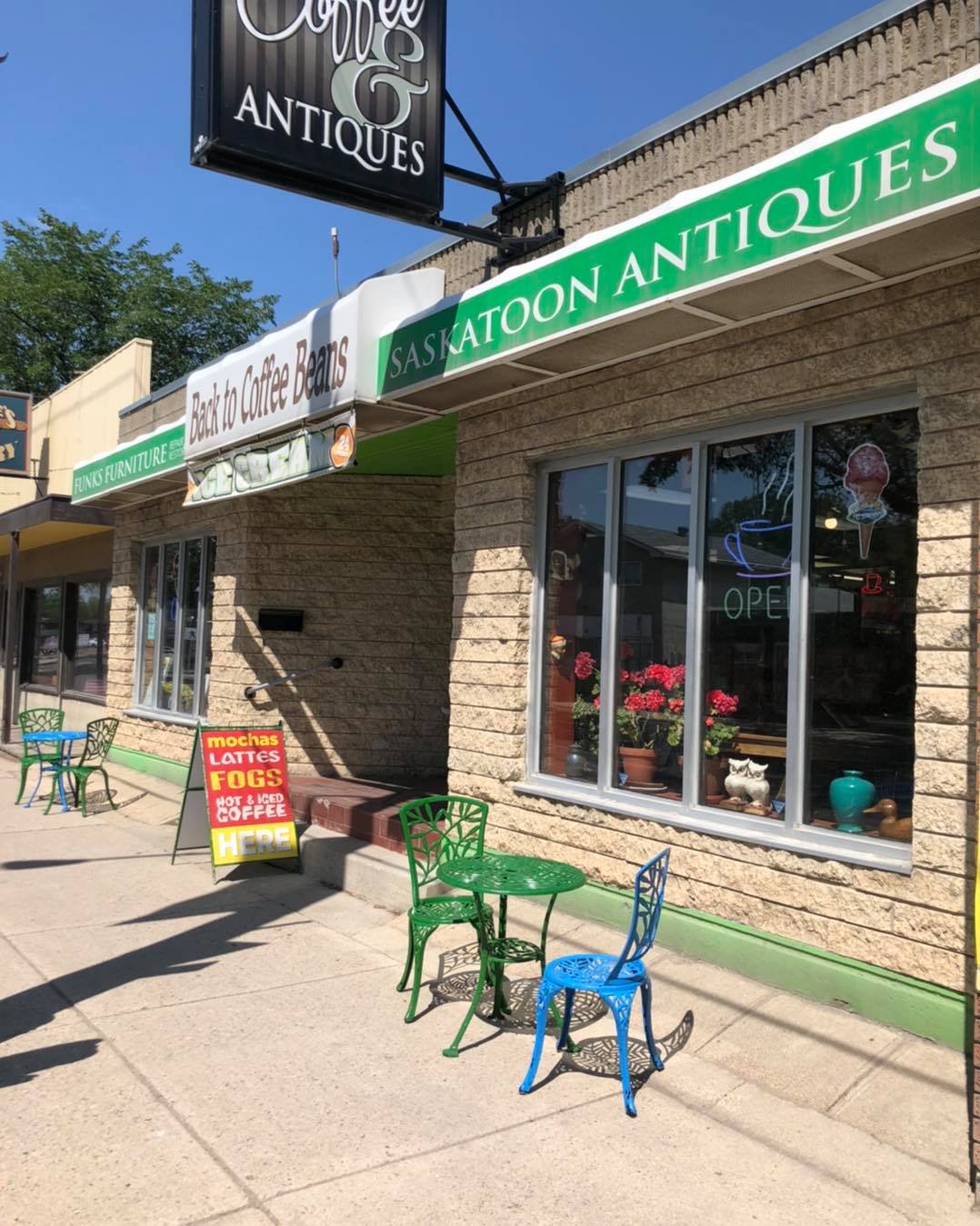 Photo via Back to Coffee Beans _ Saskatoon Antiques
Continuing on 33rd Street West, just down the block from Vintage Mall YXE and Penn's Antiques, you'll find Saskatoon Antiques, which is also home to Back to Coffee Beans. Their antique offerings span two floors: the main floor features vintage dishware, furniture, specialty collectables — both large and small — and more, while the downstairs features more furniture, including chairs, dressers and tables. At Back to Coffee Beans (which is in the same building) there are over 80 types of coffees, teas and syrups available for purchase, or you can grab a coffee to-go. Plus, as an added bonus they also sell ice-cream. Coffee, antiques and ice-cream — what's not to love?
Past & Present Antique Shop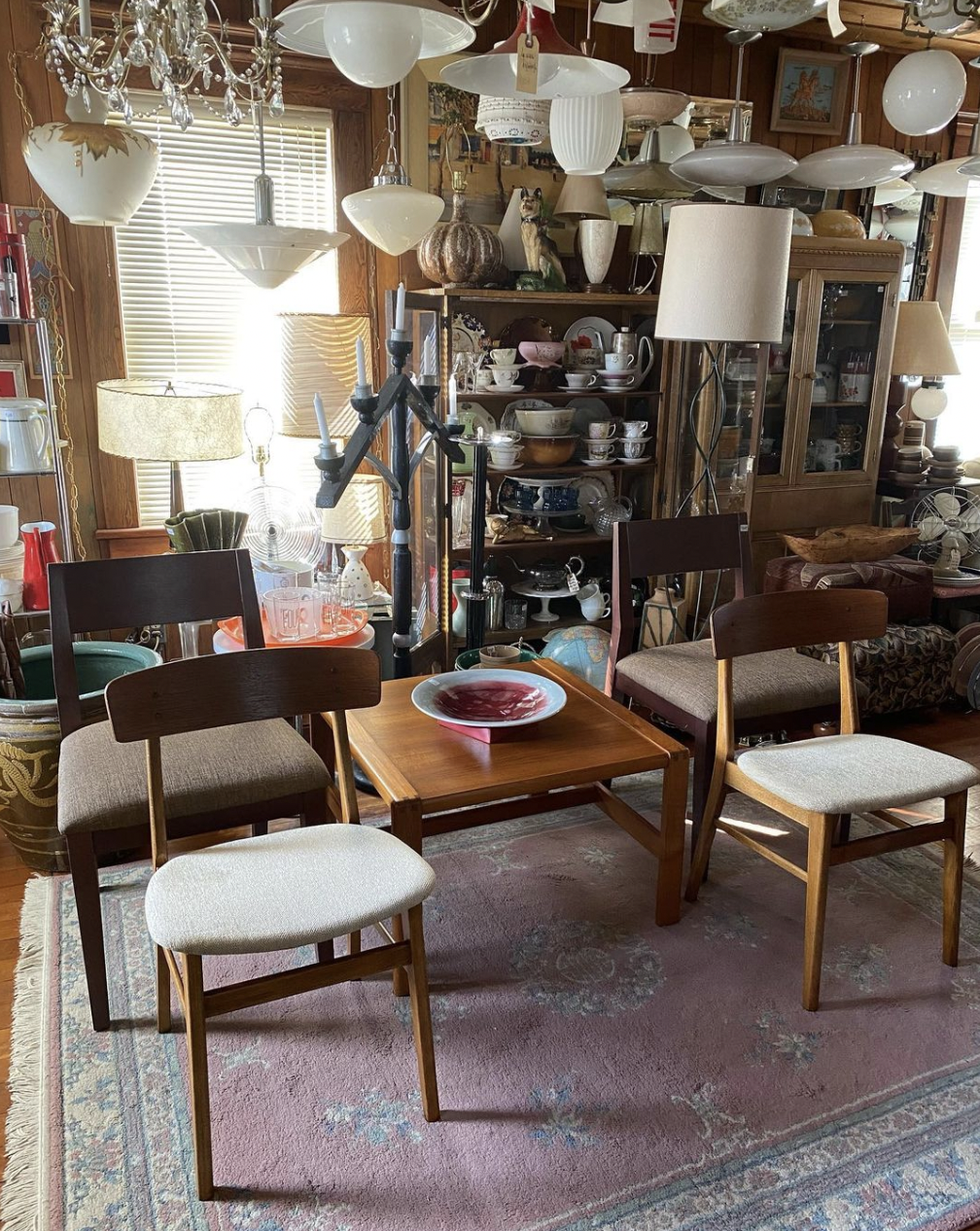 Photo via Past & Present Antiques
Past & Present is located in a two-storey building on 21st Street West, and is packed full of all sorts of antiques to explore. If you're looking for vintage lighting, Past & Present certainly has you covered there — the second floor of the shop features a collection of mid-century modern lamps, lighting and furniture too, with plenty of beautiful pieces to view. They also have antique glassware, kitchenware, clothing, home decor, and more. New items of note are often posted on their Instagram, and if you're looking to visit for a browse, be sure to call ahead as the shop keeps irregular hours.
The Indefinite Article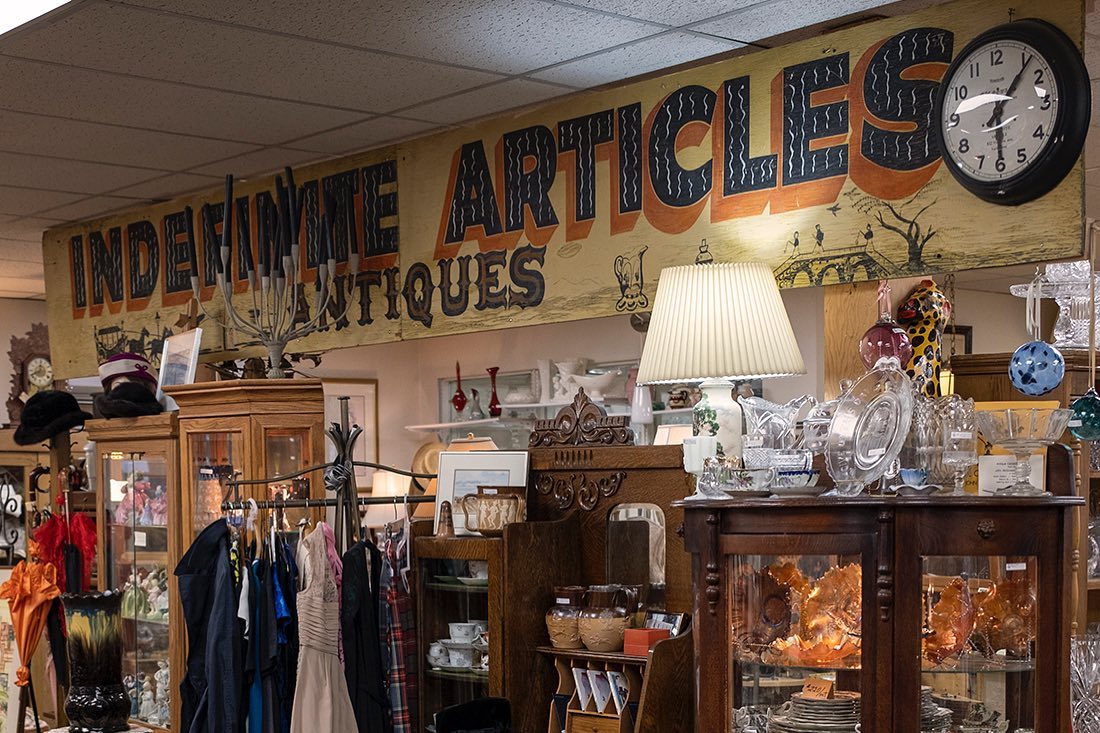 Photo via The Indefinite Article
Located downtown YXE on 2nd Avenue South, The Indefinite Article boasts a large collection of antiques, including many specialty and hard-to-find items. Whether you're looking for Depression glass, antique toys, artwork, a roll-top desk, a washstand or even a vintage wall telephone, The Indefinite Article has what you need. They also have a large selection of antique jewelry, plus they carry some clothing too, including vintage fur coats, hats, accessories and more. The Indefinite Article regularly gets new items in the shop (especially furniture), so if you're searching for a one-of-a-kind statement piece, be sure to check back regularly.