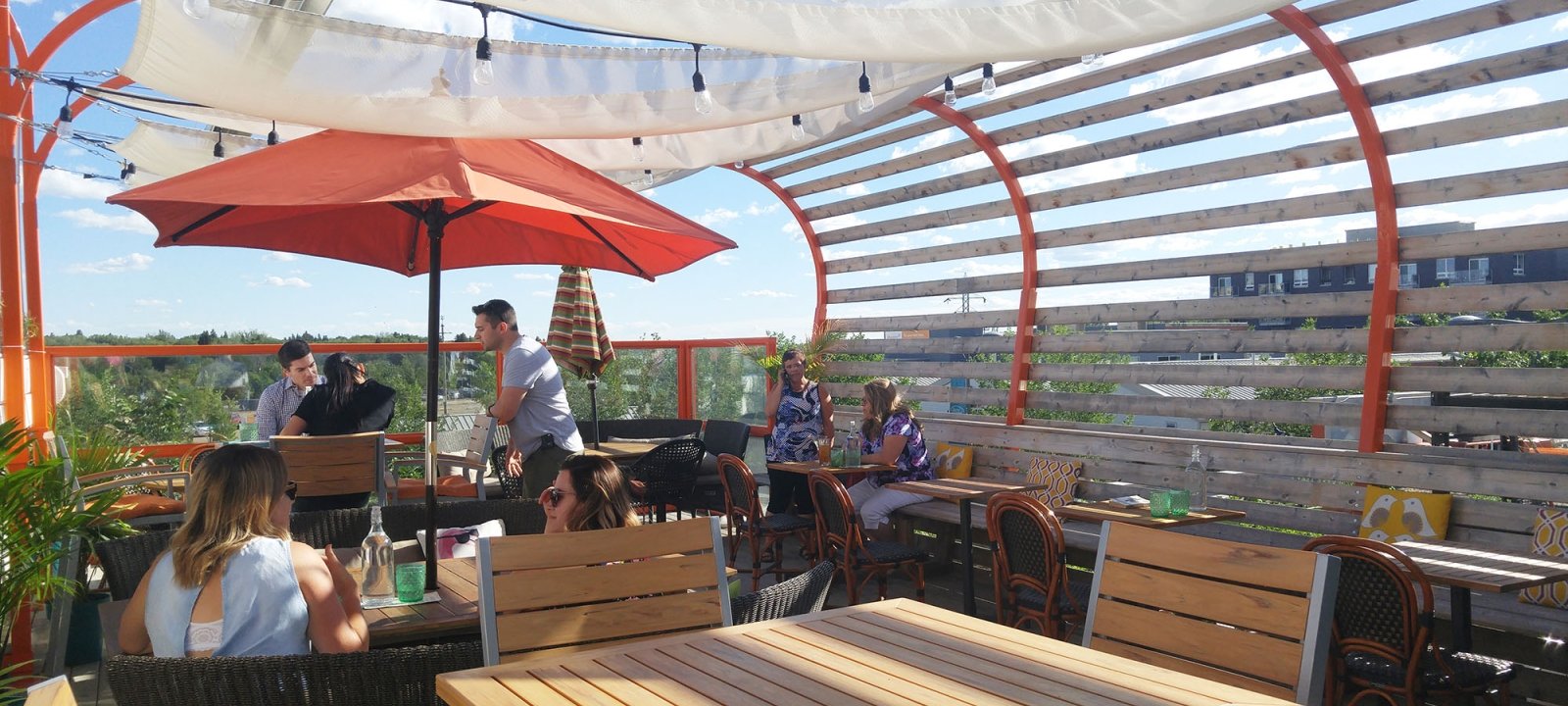 10 Patios to Check out this Summer in Saskatoon
Entertainment
,
Food & Drink
It's summer in the City of Bridges. Which means it's hot, it's sunny and everyone wants to be outside. Aside from the stellar spray parks we have, one of the best ways to stay cool is to hang out on a
It's summer in the City of Bridges. Which means it's hot, it's sunny and everyone wants to be outside. Aside from the stellar spray parks we have, one of the best ways to stay cool is to hang out on a patio eating and drinking with friends and family. That's my summertime goal anyway. I've visited dozens of patios in the city to share with you a few of my favourites and what makes them so great. (If you're looking for a fun idea, plan a patio crawl covering Broadway, Downtown and Riversdale over an afternoon and evening.)
Here are ten patios to check out in Saskatoon this summer.
1. The Patio @ Bess Gardens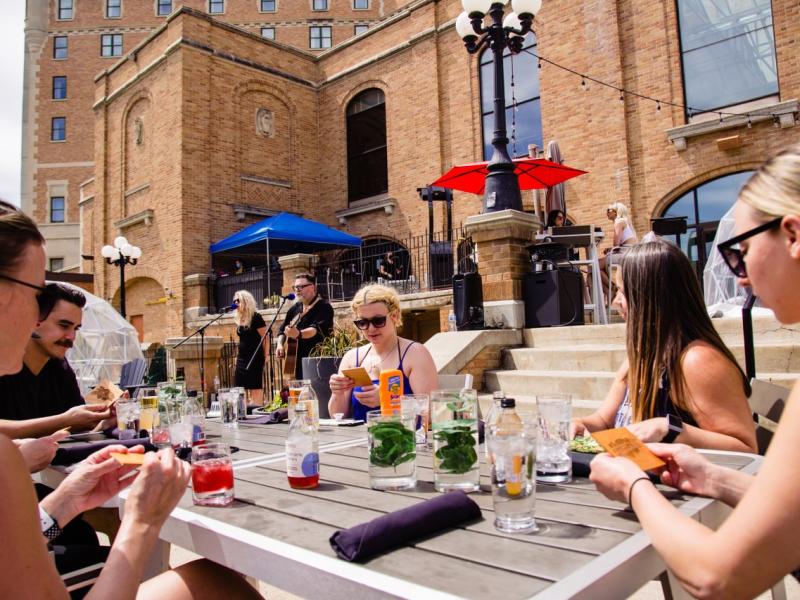 This is a patio that should be on your bucket list. The Delta Hotel by Marriott Bessborough has taken its "instagrammableness" to another level with the introduction of dining domes in their picturesque river view gardens. Not only do they offer privacy but they're equally as beautiful on a rainy afternoon or evening. These domes can be reserved in advance for up to six people. 
2. Odla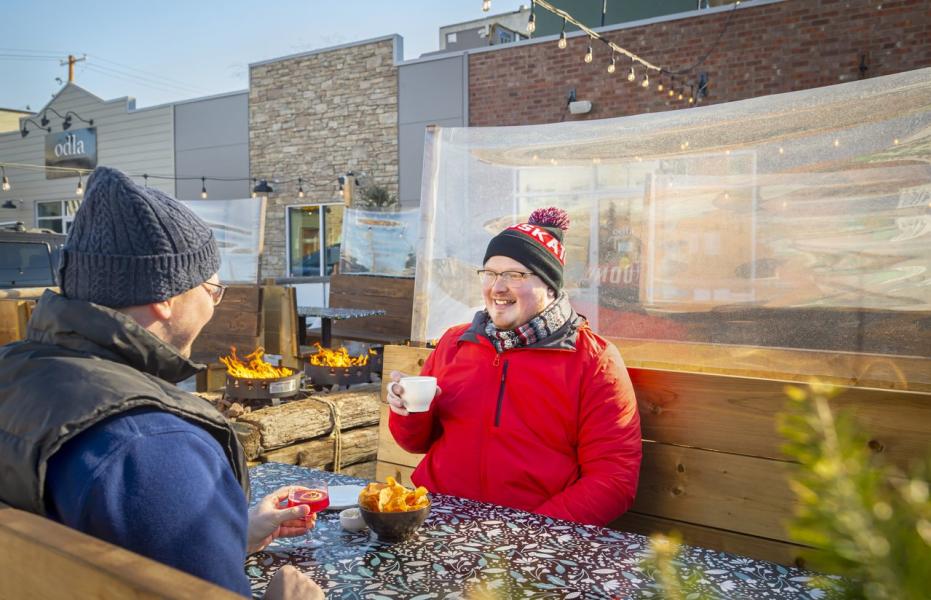 Farm-to-table restaurant Odla has a patio with front-and-centre views of the bustling cultural hub that is Broadway. While their cocktail menu offers everything from a summery Andes Punch and Rhubarb Tonic to a Killer Queen made with Black Foxes #3 Gin, they also have a wide selection of non-alcoholic drinks. Two top choices are the Hibiscus Berry Iced Tea (a personal fav) and a Lignonberry Spritz. I also couldn't help but eye up their dessert menu. They currently have a pavlova, honey posset, chocolate graham cake and bourbon cake. Or just get a flight of all four desserts and call it a day.
 
3. Shelter

The cool thing about Shelter Brewing Company's patio on 2nd Avenue is that it's open year-round – yes even in the winter. In the summer, it's a hot spot in the city to grab a drink and a couple Dylan & Cam's tacos under the warm ambiance of the patio lanterns. Shelter's Lemonade Sour Series is also a great excuse to visit weekly and try out a new spicy drink each time. Hot tip: happy hour is from 3-5PM.

4. Una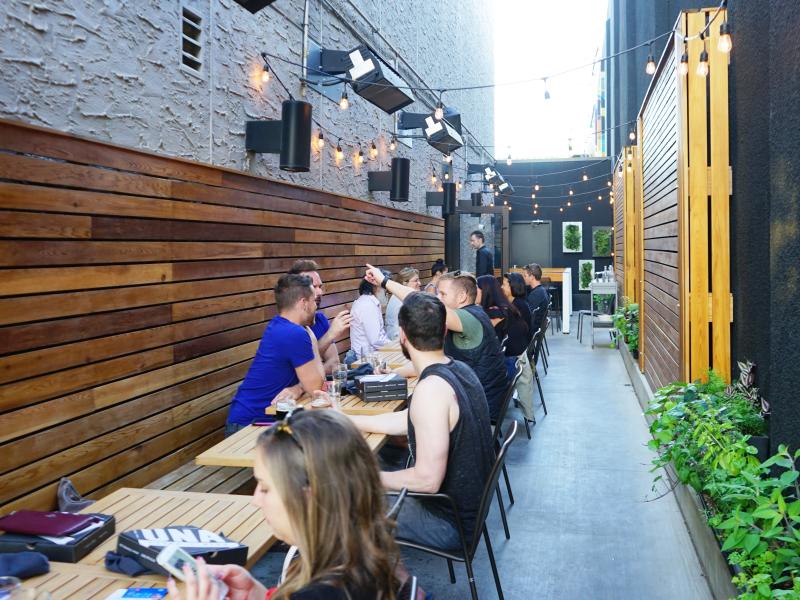 Pair your pizza with wine on Una's outdoor patios. Their narrow alleyway patio has a distinctly European atmosphere for an intimate night out with your SO. If you prefer to soak up the vibe of Broadway while people-watching and catching a few sun rays, stick with the sidewalk patio out front.
5. Bokeh on the Plaza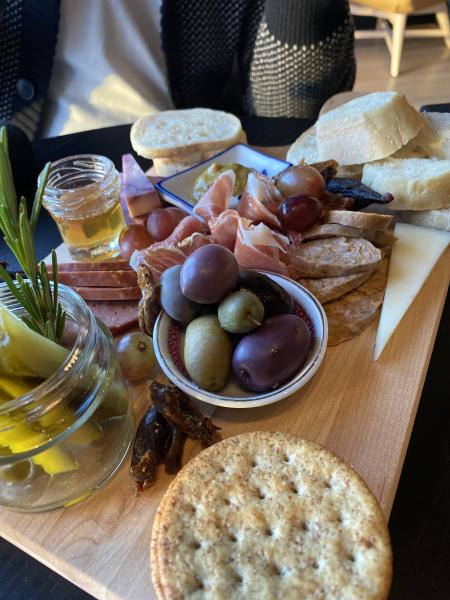 Sunshine and happy hour are the perfect pair at Bokeh on the Plaza in the Alt Hotel in downtown Saskatoon. The terrace offers views of the meticulously manicured K.W. Nasser Plaza and the South Saskatchewan River bank. With local craft beers on tap and cocktails made from Saskatoon's best distilleries, it's the ideal after-work-drinks hot spot with colleagues. They also have generous tasting platters made with local goodies perfect for sharing. 
6. Drift Sidewalk Cafe and Vista Lounge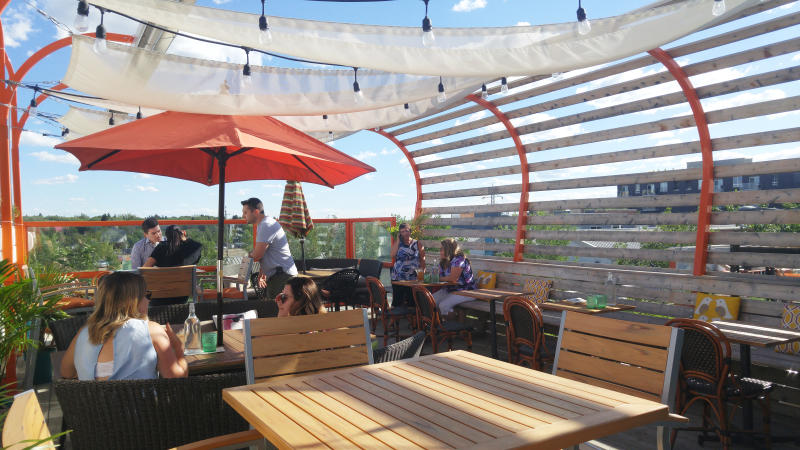 Drift Cafe and Vista Lounge in the Riversdale district have three patios between the coffee shop and lounge. Their rooftop patio is open during the summer season and has one of the best views in the city to enjoy alongside a crisp and cool beer. Their second-floor lounge has a patio that offers a more intimate space next to a handcrafted bar perfect for slinging tropical cocktails like coconut margaritas and passion fruit rum sours. Or, park your bike on the sidewalk and grab a table out front at street level to enjoy a latte and a crepe.
7. The Crazy Cactus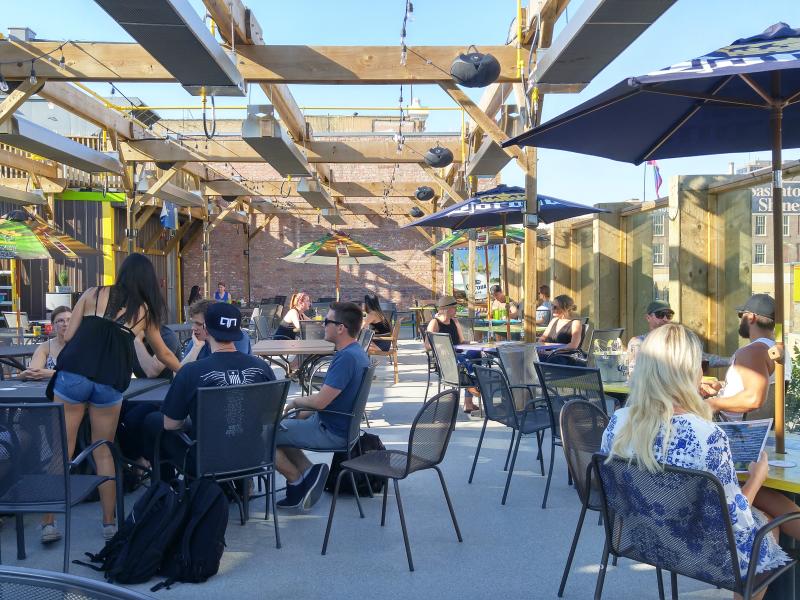 The Crazy Cactus's relocation to a larger building was a good call as they now boast a fantastic rooftop patio on 3rd Avenue – right in the heart of downtown. You can't hear it from the street below, but once you walk up the flights of stairs, the music is pumping and the gringos are flowing. They're one of the best patio parties in the city. As for what's in their famous Gringo - Churchill Blond Lager, tequila, triple sec, ice and lime.
8. Homestead Ice Cream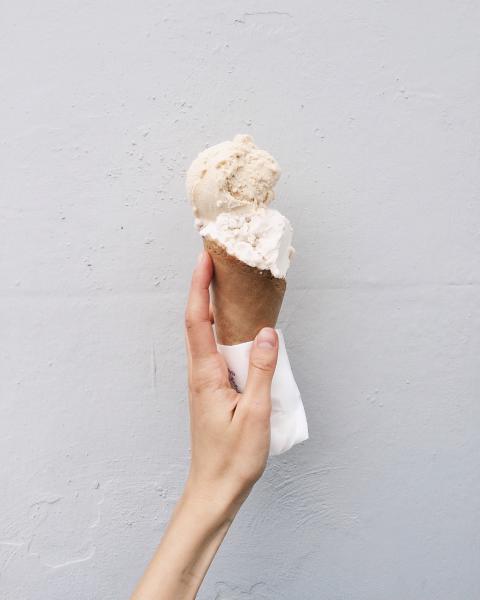 Not all of Saskatoon's patios serve up alcoholic beverages. Homestead Ice Cream on Victoria Avenue is one of the best places to satisfy your sweet tooth while enjoying their outdoor patio. A personal fav is their Saskatoon flavoured frozen yogurt. But they offer more than just the standard cool treats. Try their triple-dipped cheesecake or go a little crazy with the super sundae that has 5 or 9 scoops of ice cream. (But eat it fast as your ice cream will melt quickly in Saskatoon's summer heat!)
9. Dino's Grill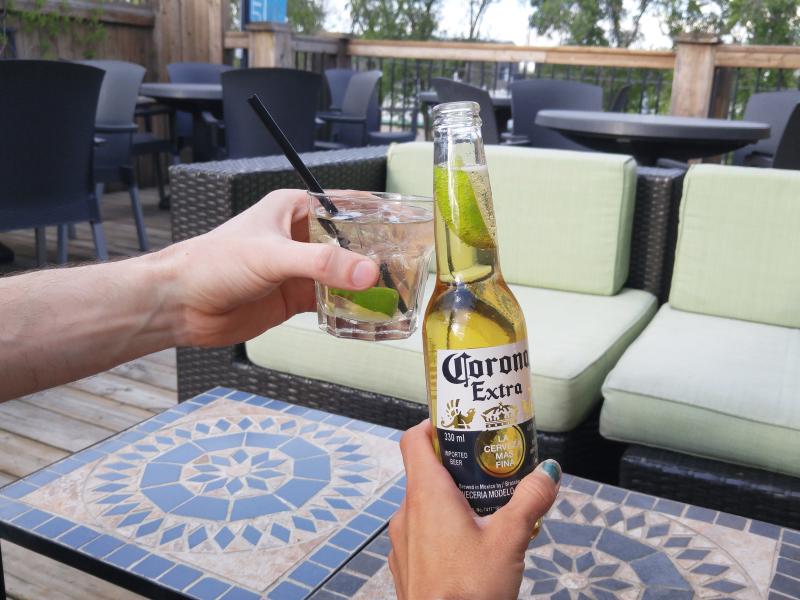 I spent years throughout university attending beer nights at Dino's Grill in Sutherland before discovering their hidden gem of a patio. Now it's one of my favourite spots in the city. If you live in a condo or an apartment, the cozy patio furniture makes you feel like you're lounging in a backyard sipping a corona with friends. In 2021, they built a second patio at street level for those that prefer to be closer to the action in Sutherland.
10. The Hose & Hydrant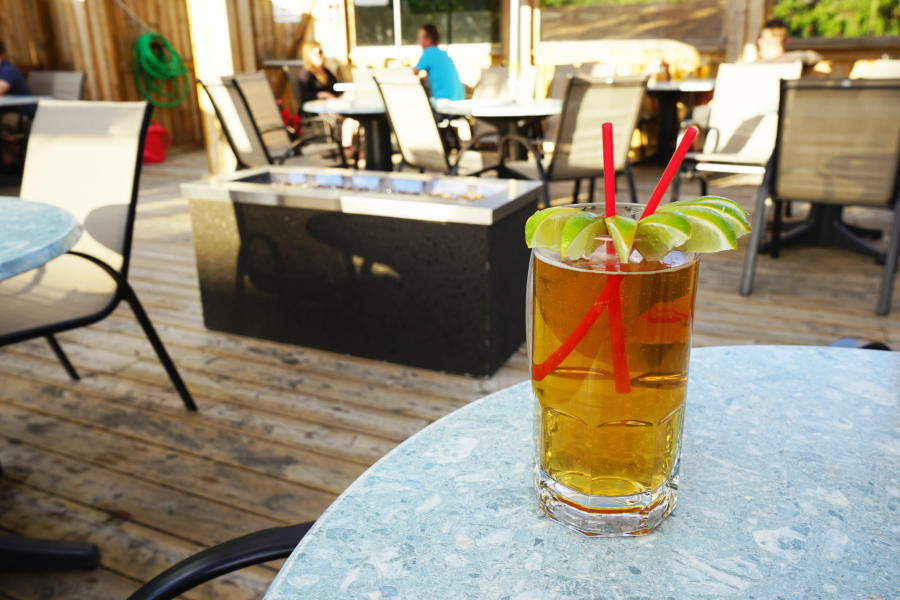 Another favourite spot on Broadway is the second-floor patio at the Hose and Hydrant. With outdoor heat lamps and a gorgeous fireplace, it's a great location to go on cooler summer nights when you still want to sit out. Their Wednesday night schooners are generous with the limes.
Where's your favourite patio in the city? Do you stick with classics like the Yard and Flagon, Winston's and O'Shea's or do you like to change it up and visit a new one every time?