Saskatoon Winter Photography Tips
Arts & Culture
,
Outdoors & Adventure
The river, trees, bridges, and buildings throughout our city are picture perfect during the winter months. For this blog, I asked Harrison Hall to share advice to help people capture great winter
The river, trees, bridges, and buildings throughout our city are picture perfect during the winter months. For this blog, I asked Harrison Hall to share advice to help people capture great winter photos of Saskatoon.
Harrison Hall is a photographer and marketer based in Saskatoon. His love for Saskatoon shines through his photos, and he often posts epic shots of the city on social media. He picked up a camera a few short years ago and has been exploring the country with it ever since. You can catch his latest work on Instagram at @harryberry!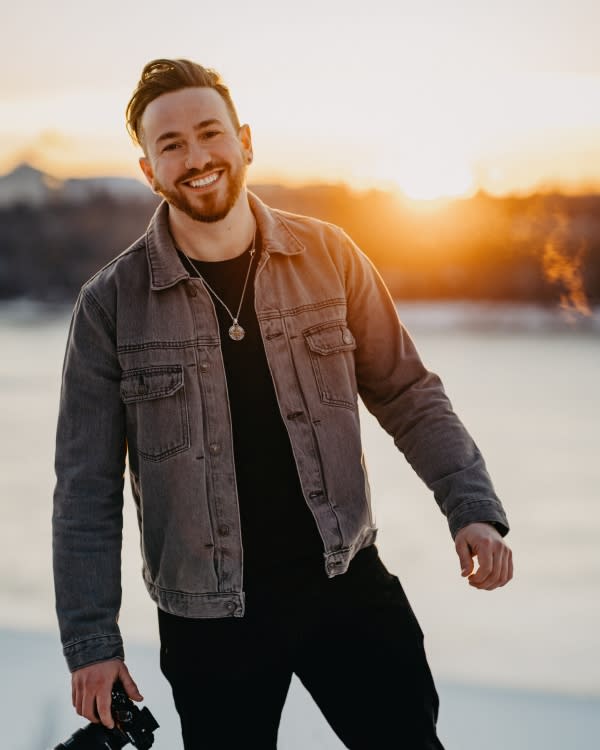 Hall has a few suggestions of iconic Saskatoon spots to check out for photos: "You really can't go wrong with any view of the Delta Bessborough - across the river on Sask Crescent, Kiwanis Park, or even on site! From there you can walk to the Broadway bridge towards the new River Landing area. Another favourite of mine is the CPR train bridge and the weir down river...Walk across to the university side!"  And while he may not be ready to give away all of his secrets, Hall encourages you to follow your instincts if you're someone who likes to find more unique or less-frequented places for photos: "I can say that it will always be worth it if you go off the beaten path!"
The sun also has quite the effect on how your photos turn out. If you're looking to capture an especially fantastic photo, Hall suggests timing your photo sessions with the sun: "The very best time for winter photos is around sunrise and sunset. Use a weather app to find out when those times are, and take about a half hour on either end. Trust me". This photo of the foggy South Saskatchewan River below the Canadian Pacific Railway bridge was taken by Hall during a winter sunrise.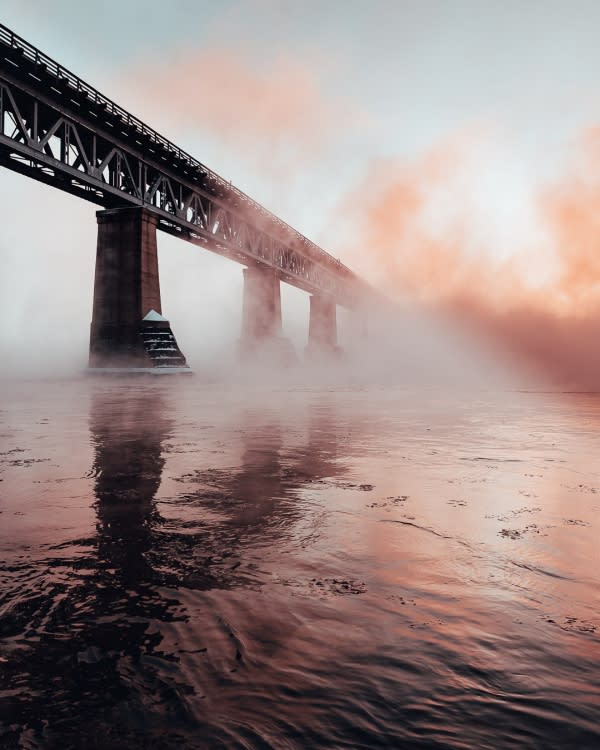 Hall notes that taking photos during the middle of the day is not ideal but offers a tip in case it is the only time that works: "Times to avoid? Mid-day! Harsh shadows will take a lot of the nuance away from your photos. If you find yourself with no choice, find some shade in that area and you'll be good!"
Since you'll be taking photos outdoors, the sun is your main source of lighting - and luckily Saskatoon is one of the sunniest cities in Canada! Hall further elaborates on the influence that the sun has on photos: "In terms of weather, you'll typically have a better turn out on a sunny day if you're taking photos of landscapes, but some of my absolutely favourite photos have come from "bad weather" days. Also, if there's a few clouds in the sky but the sun is still peeking through, chances are that sunset is gonna be killer."
If you want to use the sun to your full advantage, Hall shares the following piece of technical advice: "Wait until about one hour before sunset and let the light do all the work! Try to compose your photo with the sun just out of your eyeline either to the left or the right. This makes it a lot easier to get the right exposure."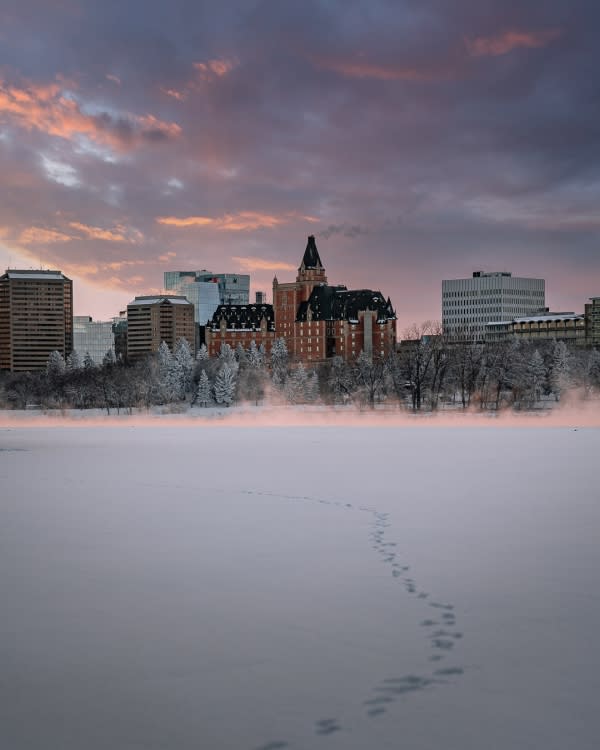 Do you ever find yourself questioning whether a smartphone nature photo is even worth taking... telling yourself that your phone photos never turn out… Well, Hall shares an easy change you can make to your phone-settings that will elevate your smartphone photo game: "With how advanced smartphones are these days, you can get some fantastic shots with yours. One tip I like to give to everyone is to turn their camera grid on in their settings. This will give you helpful lines in your camera app when composing your photos!"
If you happen to have a DSLR camera, Harrison adds: "My biggest tip is to just USE it. Practice, practice, practice! The closer you can get to shooting on manual mode, the better photographer you will become… YouTube is your friend."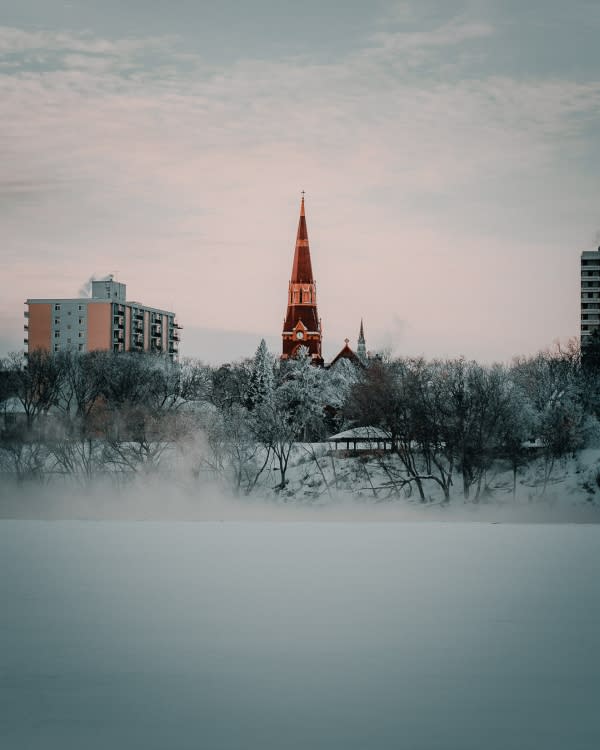 Hall shares a final piece of advice for those who are out exploring: "My best creative advice if you're exploring a new or familiar city is to just go for a really long walk. Find a central landmark that you like, and explore the area around it. You'll find new perspectives almost immediately!"  
It seems like a lot of time capturing winter photos of Saskatoon may be spent near the river - so don't hesitate to check out the abundance of shops, restaurants and galleries nearby. Plan ahead to grab a coffee and sandwich from Drift or stop in at Botté Chai Bar for a warm drink. If you've worked up an appetite after a sunrise photo session - get breakfast at OEB Breakfast Co., weekend brunch at Odla, or pick up goods at The Little Market Box to make your own feast.  And if you are seeking a moment of inspiration, you are welcome to check out Remai Modern. The ground level is open to the public and includes a gift shop, fireplace, washrooms, soon-to-be local restaurant Hearth, as well as free access to the first-floor gallery -  admission is no longer required to view the other floors of the gallery. You can find safety guidelines and hours online or by contacting the mentioned businesses before you plan to visit.
Good luck taking winter photos using this advice from Harrison Hall - I'm looking forward to implementing these tips next time I'm out and about in the city! As always, be sure to tag @discoversaskatoon and #saskatooning whenever you share your Saskatoon photos on social media.