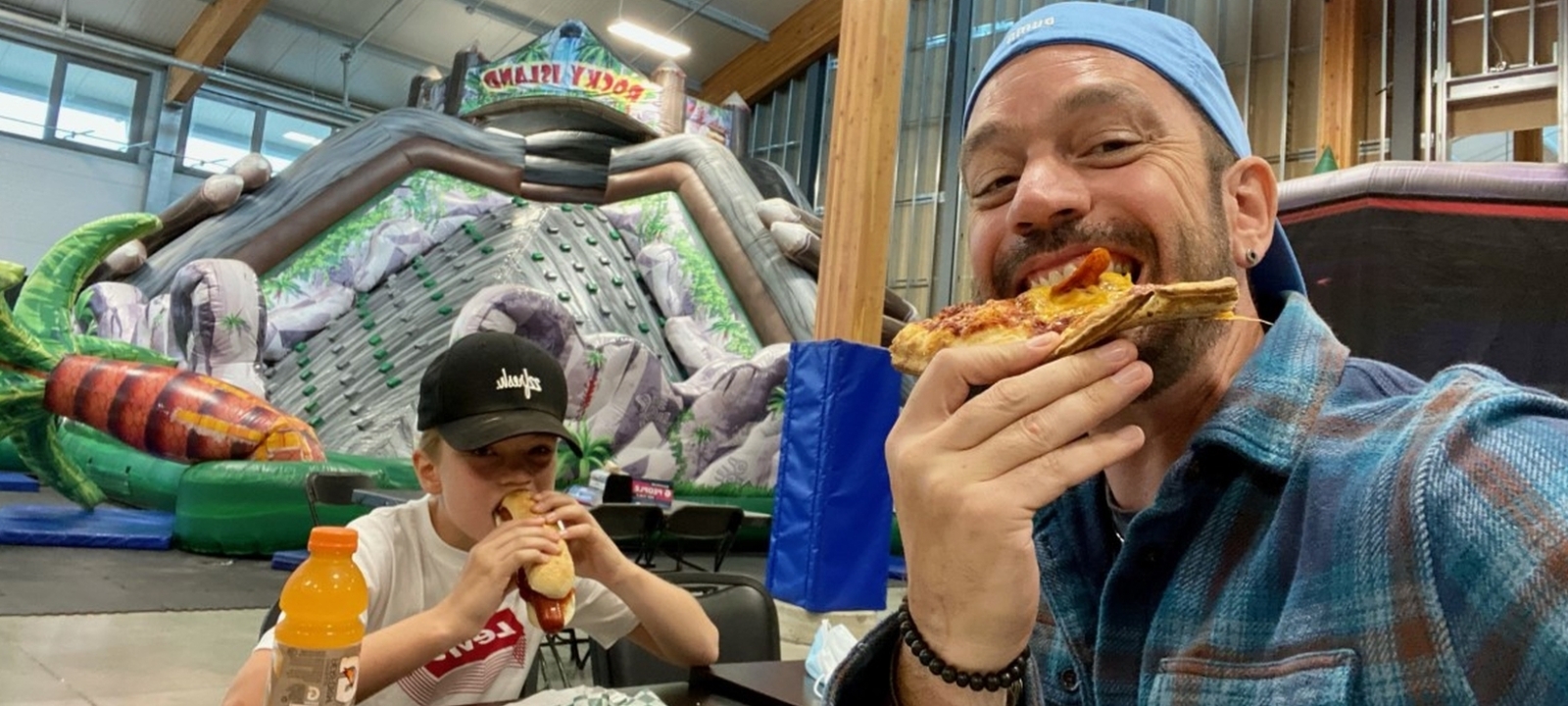 It's such an exciting time of year! We're getting the heat waves, dipping in the water, the gardens are growing, and after next week, kids will say goodbye to the books and start summer holidays!
It's such an exciting time of year! We're getting the heat waves, dipping in the water, the gardens are growing, and after next week, kids will say goodbye to the books and start summer holidays! We're also beginning to resume a sense of normalcy as we can see the light at the end of the tunnel.
Can I just stop for a second and say THANK YOU. Our worlds were all flipped upside down in facing this pandemic, but we really did the work needed to not let it overwhelm our hospitals. Again, thank you and great job!
 
The Fun Begins at Apex
I have a blended family: my son Lucas and my lady Steph's two daughters, Ava and Shae. When we all came together under one roof, we spoke of the importance of some one-on-one time. For Lucas and me, it was overdo.
So we took some time to venture out into our city for some fun and games! And with Father's Day fast approaching, maybe these are some activities you'd consider doing with Dad or your kids. And hey, it doesn't have to be ON Father's Day to celebrate some time with Pops. :)
Lucas and I have always bonded over basketball. While I played many sports in my youth, I always loved to hit the backyard and shoot hoops. Michael Jordan was my idol, and it's been special passing my love of the game onto Lucas.
We ventured out to Apex Trampoline Park to do some slam dunks on the trampolines! We've always had a blast there! We're talking 41 interconnected trampolines, rock climbing, bubble soccer (dodge ball during covid) and their massive stunt airbag that you can fling yourself into!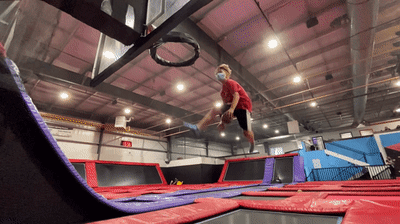 Fuel UP!
Time to eat! Lucas is much more adventurous with eating than I was as a kid. Harshini Patel and her husband Akshat Baya are brand new to Saskatoon. They moved from India to Regina a couple of years ago. When they got there, they fell in love with the food from home at the Caraway Grill. After much work, they bought into the restaurant and opened one here on 2nd Avenue. I have to say, 2nd Ave is hopping with great places to eat and the sidewalk patios! I love the vibe!
We thoroughly enjoyed the distinct flavours in the spicy roasted vegetables for the starter. We savoured the delicious butter chicken and korma lamb dishes with their garlic naan and cheese with garlic naan. They pride themselves on delicious, fresh Indian cuisine, and it shows.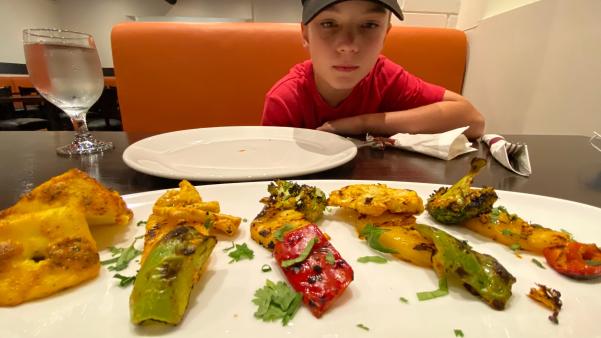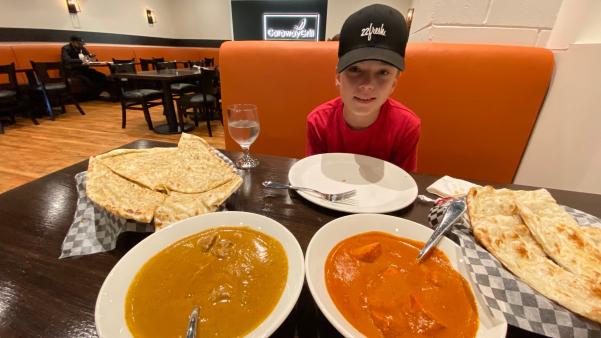 It's a One Whaaa?
Off to see Marcus Storey over at Escape Sports. We initially went there to rent some disc golf discs, but he was kind enough to let us go for a spin on their one wheels. Have you ever tried? I'm absolutely addicted. They are so slick and feel futuristic. It was interesting talking to a one-wheeler in the store who had put 4400 km on his, with zero maintenance! The future is here. I want one. I'm saving my pennies now. :)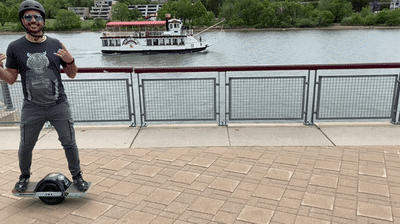 Disc Golf Time
I have a friend who has been talking incessantly about his love for disc golf and that I should join him. So Lucas and I thought we'd rent some discs and head out to Diefenbaker Park to give it a shot. It's really quite surprising the similarities between disc golf and real golf. Each disc has different shot properties for distance, finesse, power, putting and more. The beauty of disc golf is its excellent exercise, $2 a disc to rent, and the courses are free! Plus, you can do a full 18 holes in 2 hours or less. Lucas and I have decided we're getting some of our own discs and will start going more regularly. In fact, I went a few days after, and I witnessed a 288-foot hole in one! It was a thing of beauty. Disc golf is a sport rapidly rising in popularity, and I can understand why.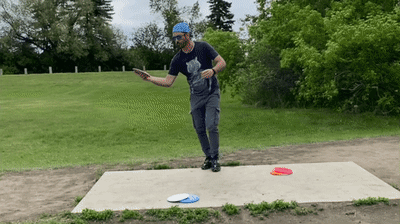 An Introduction to Golf
Lucas hasn't really played real golf, so we decided to hit a bucket of balls at the Willows! This is the perfect way for a beginner to get a feel for the game. You can make mistakes and not feel the pressure of moving at a fast pace for those playing behind you. It also gives us the space to really go over the instructions on correctly swinging a club. Go take an hour and get a couple of buckets. Lucas is keen on playing the sport more.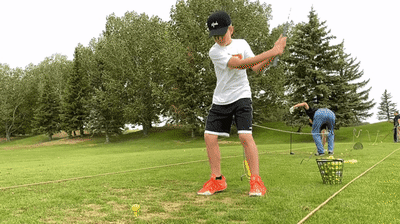 The Race is On!
Last but not least, time to hit The Stoked Centre, Saskatoon's largest and most exciting entertainment destination! This place is incredible, and they have future plans to expand further, including a second level on the go-kart track, a large sports bar with a robot drink mixer, the most giant tv screen around, to name a few. There's really something for everybody: the high-speed electric go-karts, the 200-foot zip line, a suspended obstacle course and the massive bouncy castles.
We had a quick bite of pizza and a dog before Lucas spent some time on the play structures. Then, it was race time at Velocity Raceway! Man oh man, it literally feels like you are living out all of your Mario Kart adventures in real life. You get ten minutes of fast-paced action, and it's an absolute thrill ride! You quickly learn how to work the corners and how to strategically making the pass over your competitors. What's really cool about racing is that when you're done, you get a free digital video of your race, sent right to your email!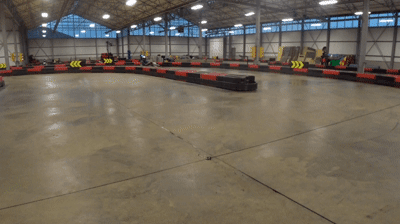 We send out Happy Father's Day wishes to all the Dad's out there! We hope you get some great bonding time with one of the many fantastic activities you can do here in Saskatoon, rain or shine. Thank you to Tourism Saskatoon for the opportunity to create this blog and to you, for reading it. As we begin to re-open, have a safe and fun-filled summer!!