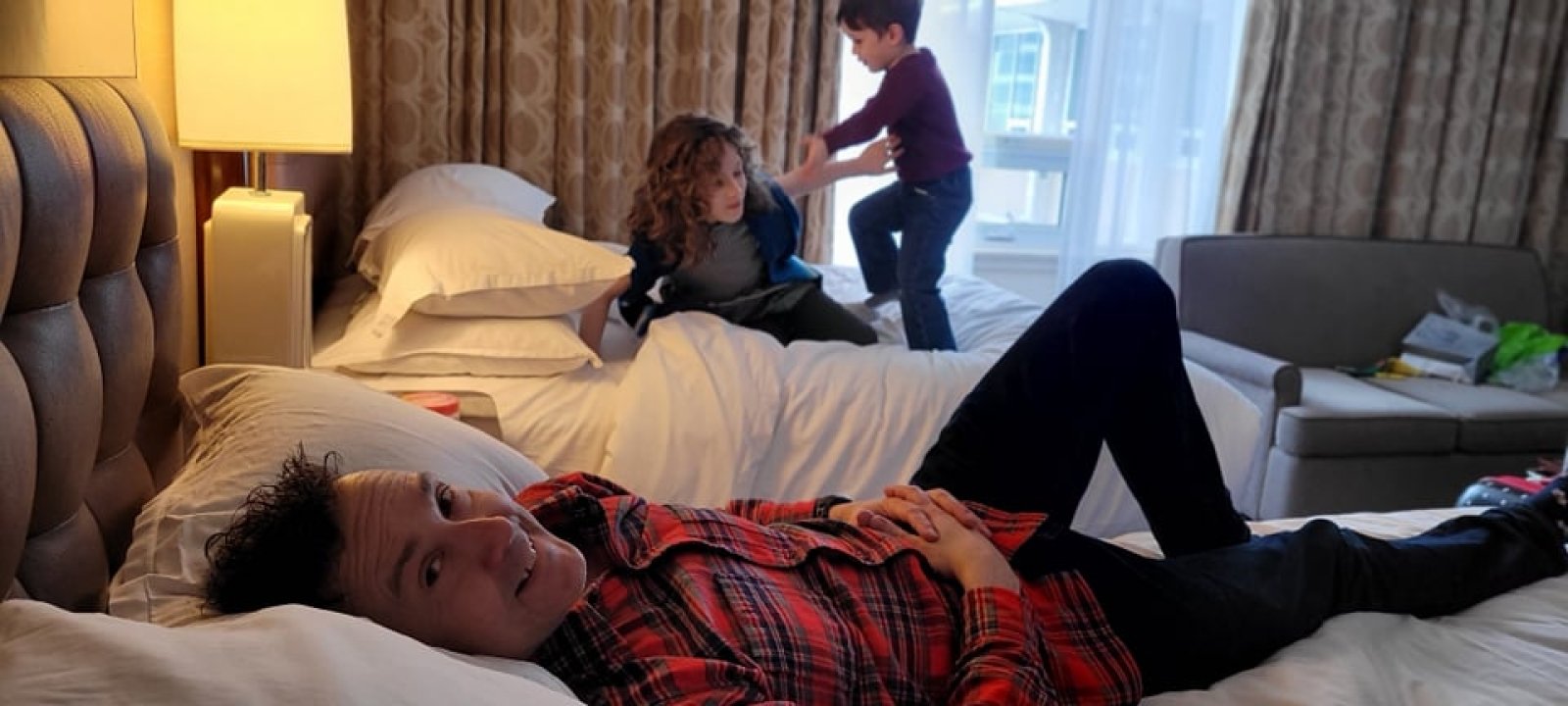 Winterlude Weekend: A Sheraton Cavalier Staycation Story
Families
,
Food & Drink
,
Outdoors & Adventure
,
Accommodations
My family has grown fond of staycations over the last couple of years for a reason YOU MIGHT GUESS but somehow, we had never before stayed at what's arguably the most sought-after pool experience in
My family has grown fond of staycations over the last couple of years for a reason YOU MIGHT GUESS but somehow, we had never before stayed at what's arguably the most sought-after pool experience in town. Yes, the Sheraton Cavalier in the heart of Saskatoon's downtown district boasts an excellent waterslide, pools of different depths, plus two hot tubs and has remained a birthday party destination every child wishes for. So, we went to the pool! And stayed for the vacation. Here's what we did alongside a look at (and information about) the amazing national ice carving competition going on across the street for Winterlude.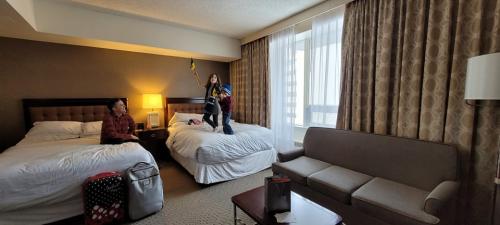 My kids would legitimately live in hotels. When we told them we were going on a weekend adventure, their first question was, "Do we get to be in a hotel?" Their second: "Does it have a pool?" And then because they don't love long car rides, "How long will it take to get there?" Ten minutes and there's a pool? Indeed the answers they were hoping for.
Checking into the Sheraton, I was transported back to the many events and weddings we've attended there over the years— the hotel has remained an upscale and comfortable place throughout my whole life, which is an impressive feat.
We left the itinerary up to the kids and after "settling into" the room (read: they were bouncing off the walls with excitement), Petra was ready to lace up her skates and get on the ice. Just across the street, the stunning Cameco Meewasin Skating Rink at Nutrien Plaza not only offers a wide oval of groomed ice but since the warm-up shack isn't open during covid, it also is home to a big ol' bonfire, sharing its warmth with whoever needs a cozy break.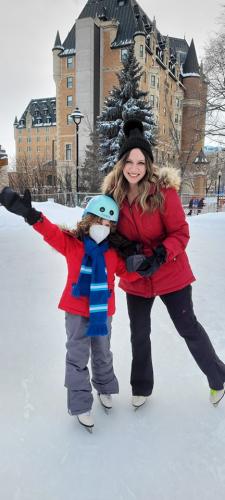 For me, the biggest draw of this staycation was watching Saskatchewan's team at work during the Winterlude National Ice-Carving Championship. Their agenda was to carve 15 giant blocks of ice in only 20 hours as teams in each of Canada's ten provinces do the same thing at the same time… each with a design that honors the Olympics and Paralympic spirit. It was cold enough that my hands were sore after ten minutes of taking video and stories, so knowing that those two carvers, Peter Fogarty with his apprentice Jeffery Books, were working with ice and water for such a long duration was mind-blowing. That's the dedication to their art.
Voting opens February 11 and runs until the 20th and you'll be able to see all of the carvings on the Winterlude site.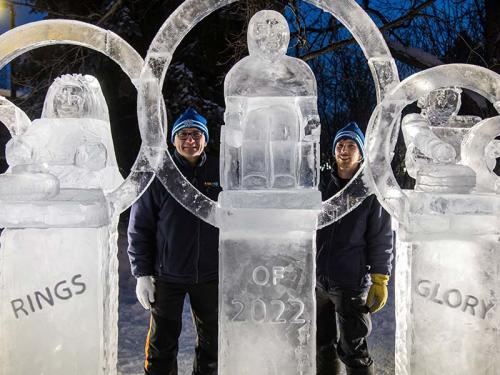 With a few different areas to enjoy, the Sheraton waterpark is spacious, clean, and holds interest. We were raisins by the time the kids were ready to go back to the room and get ready for a now quite-late dinner.
The Sheraton is home to two highly-rated restaurants: Carver's and Scarlet Craft Kitchen. We were after more casual bites (and I knew I could keep an eye on the carvers from the picture-window wall) so we chose Scarlet. Milkshakes, crunchy avocado tacos, a salad even Tyler agreed you could make friends with… it was a super satisfying dinner and the service was top notch!
And bonus, we didn't have to bundle up and run to the car afterward. Just up to the hotel room where Tyler and I enjoyed a little nightcap and the kids watched a show.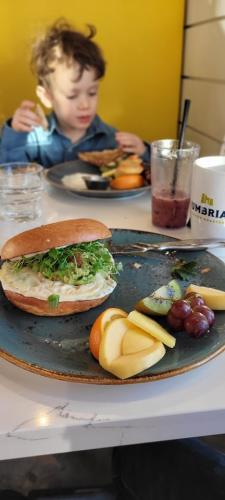 I'm not sure why it took me this long to get to OEB Breakfast. The view! The menu! The space! Now that I've broken the seal, I'll be back again soon. There were fresh microgreens atop many of their dishes I saw going by and I wanted to try something creative, too. I ordered the Bagel Forestiere, a mushroom-forward dish with truffles, topped with poached eggs and microgreens and it was unlike anything I've had in town before. Truffles seem a signature ingredient for OEB and it's that earthy decadence that describes the whole vibe. If like me, you've been taking your time in making an appearance, I recommend you try.
And that brings me to the end of our family staycation in Saskatoon. Skating, eating, swimming, watching the ice carvers, and hotel room hangs were all lovely memories made with my crew. I hope that you're feeling inspired to enjoy something similar to yours!