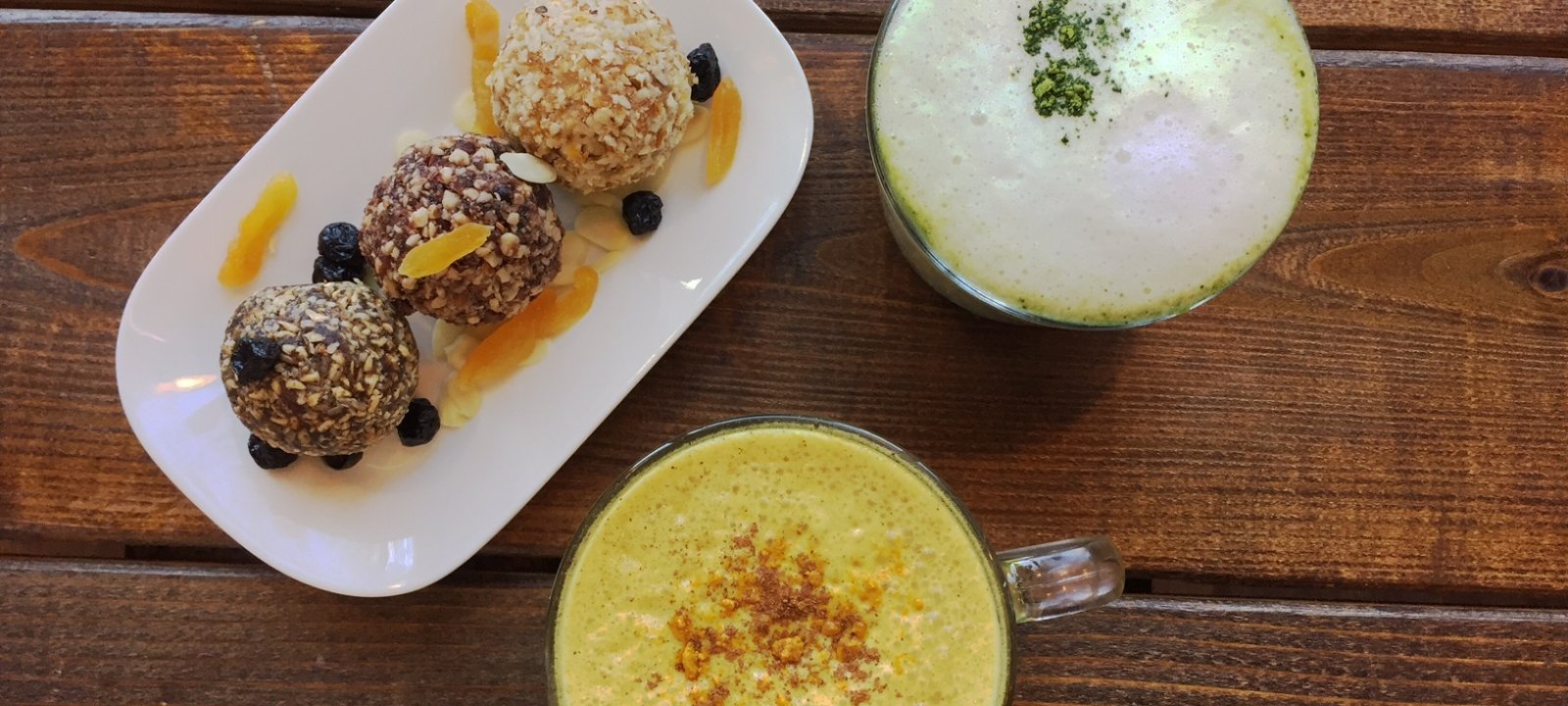 I am not vegan, I am a meat eater. And while I am not quite ready to give that up yet, I have become very intrigued with plant-based diets. This intrigue actually began years ago when my sister opened
I am not vegan, I am a meat eater. And while I am not quite ready to give that up yet, I have become very intrigued with plant-based diets.
This intrigue actually began years ago when my sister opened up popular vegetarian eatery The Coup in Calgary in 2003. I salivated simply at the thought of a trip to Calgary to eat her flavourful and creative no-meat meals.
More recently, several of my relatives in Saskatoon have decided to have vegetarian, or in one case vegan, diets. This has given me an opportunity to dabble in cooking and sampling these foods at our family gatherings. They are often delicious and leave me feeling healthy.
Bill Nye the Science Guy says "plant-based diets are the future", and I would have to say many local restaurants agree, since the options in Saskatoon for eating vegan are growing. I asked my cousin's wife Jenni and her friend Keisha, who are both vegan, to show me their favourite stops in Saskatoon. I have to say, after being vegan for the day and eating so many varied and tasty dishes, perhaps Mr. Nye is really on to something.

Odd Couple - When Jenni put Riversdale's Odd Couple on her list of top vegan picks, I was excited. I was actually surprised to discover just how many of their menu items had vegan versions. This is one of my favourite restaurants in the city, partly because of their ginger mushrooms that just so happen to be vegan, which in my opinion put ginger beef to shame.
We couldn't have picked better timing to go to Odd Couple, since Andy (one of the owners) came over to tell us that they were about to add new vegan options onto their menu. In addition to their vegan spring rolls as the perfect starter, he sent us two new dishes to sample, including very tasty cauliflower ginger fried rice with king oyster mushrooms served like scallops, and vegan kung pao, which with the range of delicious flavours and textures, we all decided was going to be our new favourite Odd Couple dish.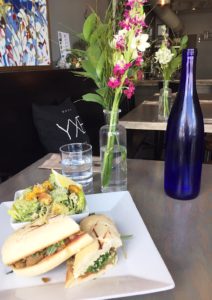 Nosh Eatery & Tap - In my old stomping grounds of Broadway is this popular eatery, known to offer many unique vegan dishes like their 'charcuterie' that includes a beautiful array of heirloom tomatoes, smoked wild mushrooms, roasted beets, grilled baguette, cashew cheese, hummus, pickles and basil oil.
My vegan tour-guides for the day wanted to show off their favourite Nosh item, the Not-So Po' Boy, a combination of cornmeal-crusted fried oyster mushrooms with Nosh hot sauce, herbed cashew cheese, micro kale, fried capers and pickled onions, all served on house-baked bread. Sooo good. Jenni told me that the side of caesar salad is a must. I'm still not sure what Nosh's secret ingredient was that made this side salad so good, but whatever it is, it works.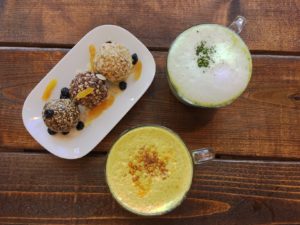 The Karma - Next stop was The Karma, which is a self-proclaimed vegetarian conscious cafe and eatery. I'd have to agree. They inspire community acts of kindness, modelling this by donating 3% of their revenues to local charities, as well as encouraging patrons to spin the karma wheel located by their till.
It makes me happy that The Karma is downtown only a couple of blocks from my office. Their Bulletproof Chai may be the best coffee drink I've had in my life. Ever. Today, being vegan, I had it made with black tea, coconut milk (or you can opt for almond milk), coconut oil, honey, ginger, cinnamon and tumeric. They'll make any of their beverages with dairy alternatives upon request, and always with a smile on their faces.
We also had their vegan super sonic balls. The ones owner Vivek brought over for us to try were acai, apricot, and my favourite since I'm a sucker for anything chocolate, cherry cacao nib. I have yet to go for dinner at The Karma since they extended their hours and added a new vegetarian/vegan supper menu a few weeks ago, but word on the street is that it is just as good as their very popular daytime offerings.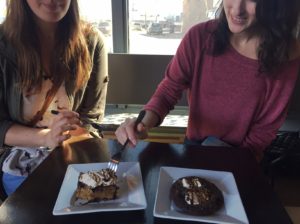 Citizen Cafe & Bakery - Last stop was Citizen Cafe & Bakery, right next to downtown in the up and coming Warehouse District. I often forget how close to downtown and delicious Citizen is, but no longer. Jenni's pick for vegan desserts was on point.
We shared the caramelized banana and espresso blondie and s'more cookie. Even though I was quite full from my afternoon of eating (I know, tough life), I loosened my belt and made room for some amazing non-dairy, no-egg treats. I actually had to hold back from eating more than my one third share since they were so good. I'll be back very soon, this time with an empty stomach, so I can enjoy even more tasty vegan treats.