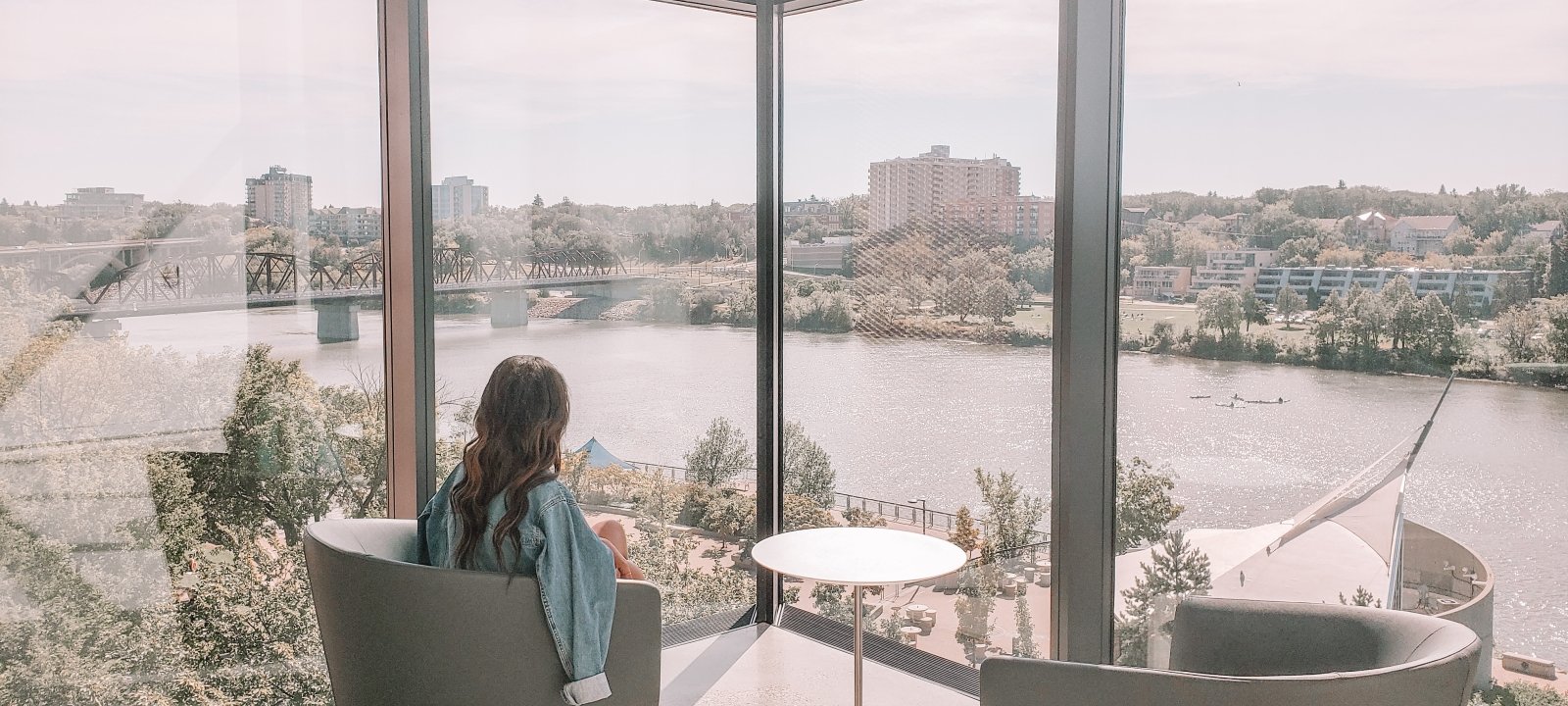 Regina Road Trip to Saskatoon
Summer travels looked a little different for me this year. Instead of heading west to visit friends and family near the mountains, I stayed closer home. But rather than getting bummed out about
Summer travels looked a little different for me this year. Instead of heading west to visit friends and family near the mountains, I stayed closer home. But rather than getting bummed out about staying home for the summer, I decided to take the opportunity to explore my city and province. And honestly, I loved it. Exploring locally gave me a new perspective and made me appreciate what my province has to offer like the wonderful city of Saskatoon.
Visiting Saskatoon is nothing new to me. I went to school here. I visit friends and family here quite a bit. It's familiar to me. But visiting Saskatoon to truly explore the city and play tourist really opened my eyes to how amazing, fun, and unique it really is. It made me fall in love with this city.
The trip from Regina to Saskatoon is quick enough, which is a bonus. It's far enough away from home without actually having to be that far from home! But like any good road trip, equipped with a great playlist, coffee, and good company makes it go by so fast.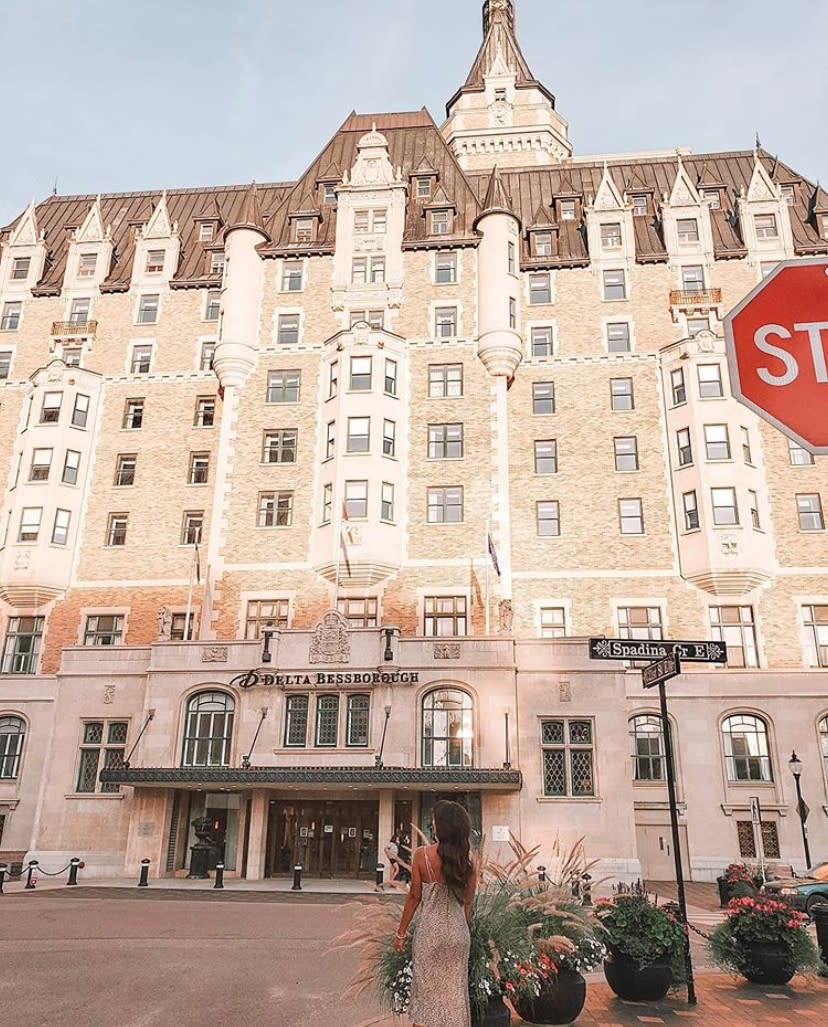 Every time I visit Saskatoon I can't help but stare in awe of the Castle of the River, the Delta Bessborough. This beautiful hotel never ceases to amaze me and has always been on my bucket list of places to actually see, or in this case, stay. The hotel's history is fascinating and its beauty is simply timeless. It never gets old.  My stay at the Bess met, not exceeded, all of my expectations. There isn't an inch of this hotel that doesn't scream majestic. And the views! Wow! My room looked over the river, which presented the most beautiful sunrises and sunsets. Do yourself a favor when you stay there and set that alarm to catch the sunrise. We're in the land of the living skies and wow do they ever live first thing in the morning over the South Saskatchewan River.
I love supporting locals. I think our local community is doing wonderful things and our many local businesses are offering amazing experiences for the people of Saskatchewan. Saskatoon has a lot to offer when it comes to local business. But what I was most excited about was the local eats. Saskatoon's restaurant game is pretty impressive. Every place I visited was full of local ingredients, a vibrant atmosphere, and friendly staff. The homegrown goodness from restaurants like Ayden, Calories, Shift, Hearth, and Hometown Diner definitely had me full but in the best kind of way. These restaurants don't just feed you – they provide you with a bittersweet dining experience. Bittersweet because every bite is better than the last but then leaves you a little sad when the meal is over. They were THAT good! Breakfast at Calories and Hometown Diner felt like Sunday brunch at grandma's house. Fresh fruit, hot coffee, and a homey feel. I honestly just wanted to stay at these places all day. Lunching at Shift took salad and a sandwich, a staple in my typical day, and turned into a chic midday flavour experience. And paired with the riverside view outside of the Remai made it that much more amazing. Dining at Ayden and Hearth opened up my palate to fresh, local ingredients which created the most amazing homegrown dinners I didn't even know I was missing.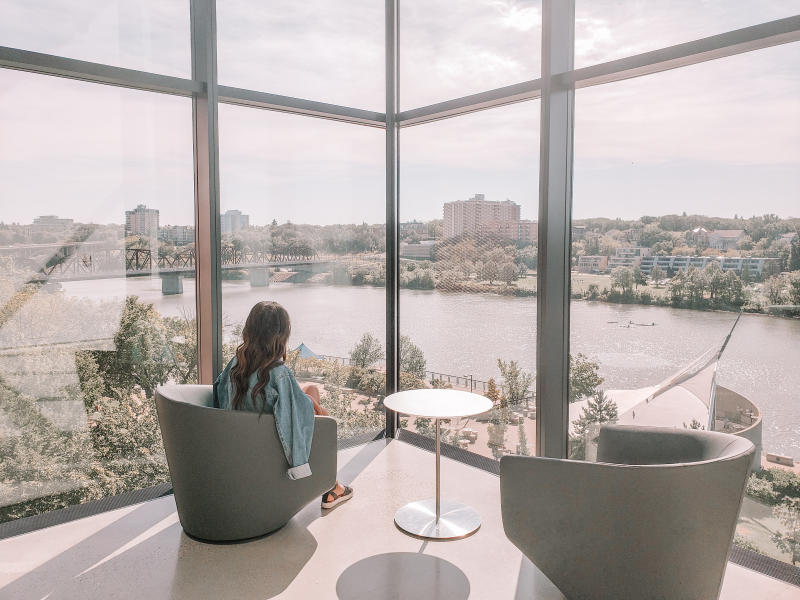 While the local eats were definitely a highlight of my weekend, so were the sights. I had the chance to check out the Remai Modern which had my attention the minute I walked up to the building. The museum's architecture is stunning and it's location on the bank of the river offers amazing views, which adds to its incredible beauty. The building alone is a work of art. The collections and exhibits are thought-provoking and intriguing. It definitely is a must-see for all.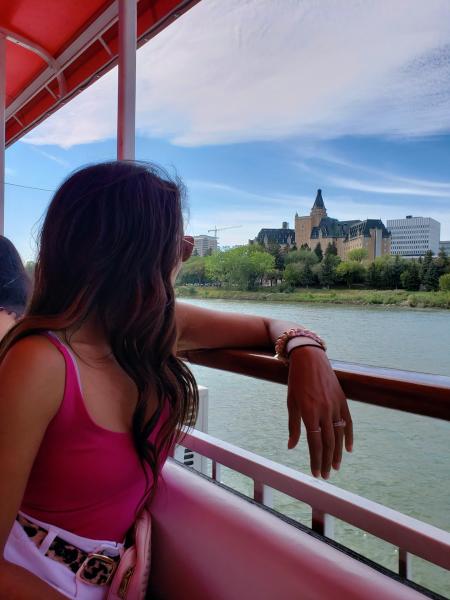 My entire weekend in Saskatoon is noteworthy but the highlight of my trip was definitely the river cruise on the Prairie Lily. Our day on the water could not have been a better one. It was warm, and the sun was shining but the little breeze off the water made it absolutely perfect. After a busy day of touring the city, a late afternoon boat ride was the best way to relax at the end of the day.  I learned so much while being on this tour too; the history of the city, the river, and just in general, Saskatchewan. There was something magical too about being on a riverboat while passing by the Delta Bessborough. I felt as if I had taken a trip back in time . . . until I took my phone out to send a snap but for that brief moment, it feels like you are in a totally different era.
I already miss my weekend in Saskatoon. It was the perfect way to end my summer of rediscovering Saskatchewan. I cannot wait for my next visit to this beautiful city to continue exploring everything Saskatoon has to offer. I'm also just really craving a latte from Hometown Diner!