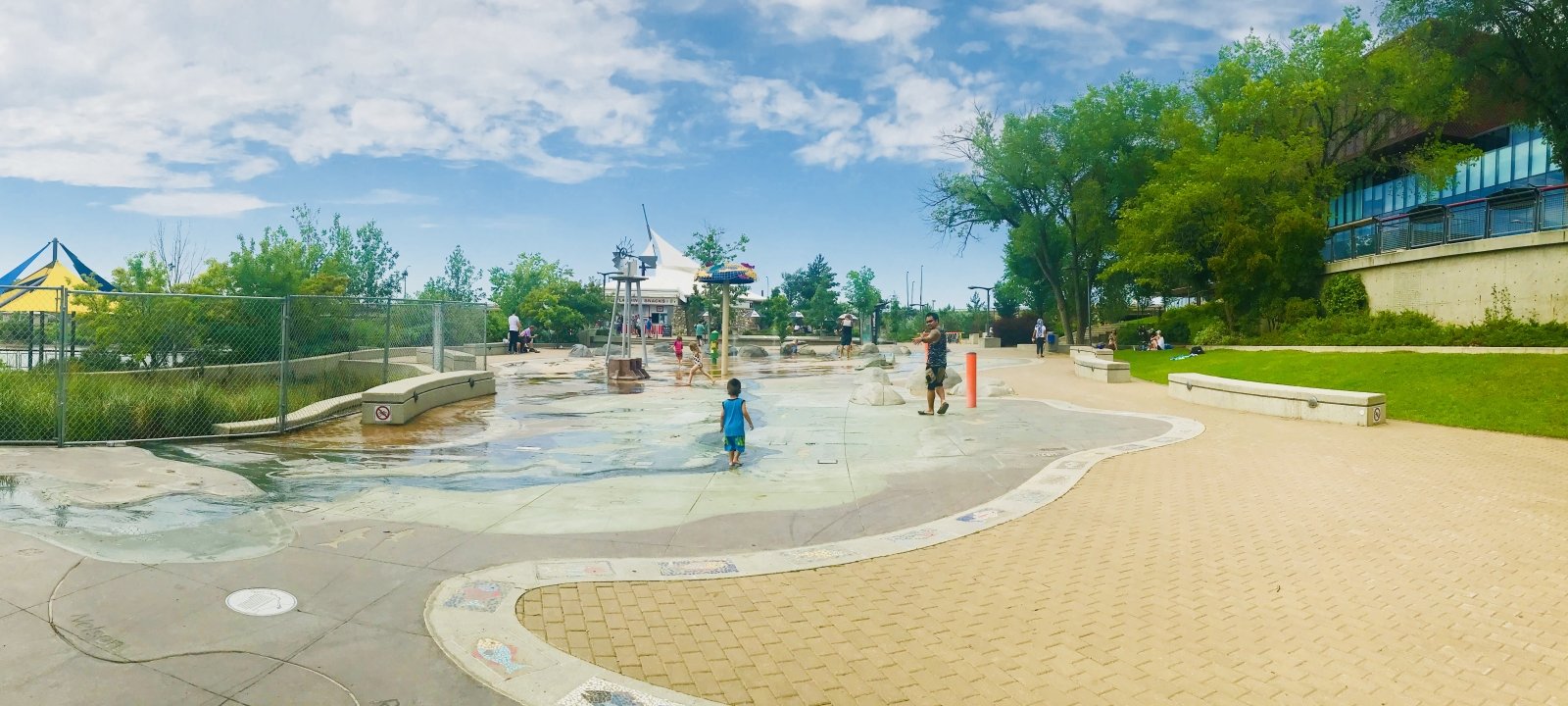 Splashing Our Way Through Summer: A Saskatoon Guide to Some of the Best Spray Pads
Entertainment
,
Families
,
Outdoors & Adventure
It's finally summer in the city and after a long winter and a wet spring, the temperatures are finally matching our sunny disposition. But if you're like us and have a small child and a family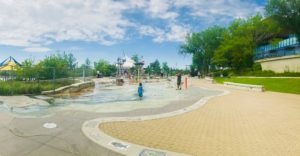 It's finally summer in the city and after a long winter and a wet spring, the temperatures are finally matching our sunny disposition. But if you're like us and have a small child and a family budget, then finding ways to cool off for free can be limiting. Fortunately, Saskatoon offers a varied selection of spray parks to help us splash our way through summer! (In fact, it turns out that we have more spray parks in this city than we had nice weekend days in June). So, we decided to pack up our sunscreen, swimsuits, and towels and start #Saskatooning at some of the wettest and wildest parks around town.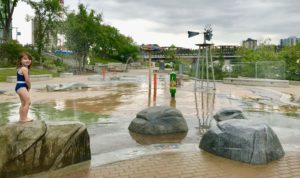 Exploring the River Basin
Have you been to the splash park at River Landing yet? This splash park is equipped with at least ten different spray structures, is large enough for even the busiest hot summer day, and is designed around the Saskatchewan River Basin—which starts as a trickle in the Rockies and flows through the prairies into the Hudson Bay.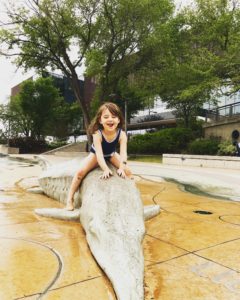 According to the Meewasin Valley Authority, there are over 120 hidden features throughout the landscape of the park, making it the ideal location for splashers and explorers alike. We can (and have) spent many hours exploring this space. Even better, with the Remai Modern and River Landing Snacks right there, you can plan your trip around other excursions, snacks, and ice cream breaks. Get more information on the design and hidden features at the Meewasin head office in downtown Saskatoon!
The Coolest Ticket In Town!
If you've been in Saskatoon during the summer then you've definitely been to Nutrien Playland at Kinsmen Park. In addition to three awesome, kid-approved rides, the park extends into a very modern, multi-functional playground and neighbouring splash pad.
The splash pad is cool(ing) enough for any age of kid with enough activity-based water features to keep them busy for a full afternoon. We personally love parks that have multiple activities for us to explore, so having a playground nearby with slides and gliders plus rides and an additional playground a short distance away gives us everything we could want!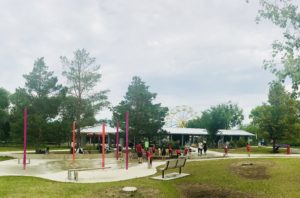 A Community Gathering
At Ernest Linder park in Erindale we found the nicest little playground nestled between a shaded hill, a playground, and an elementary school. Fortunately, we were there on one of the hottest weekend days in June and could experience everything that little park could give.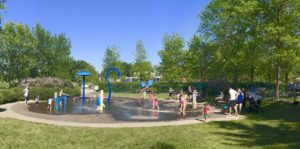 When I say it was packed, I mean that both the splash pad and the playground were equally filled with kids running back and forth between them. What I loved most about this playground was the coming together of an apparent tight-knit community. Parents congregated and kids from the area found each other in the water or on the swings. It exemplified one of the things that I love most about Saskatchewan.
A Sunny Day in Mayfair
The fun splash pad at A.H. Browne park in Mayfair has a subtle video game vibe with large flowers and dragons looming overhead and oversized frogs for running through. But aside from that, the splash pad offers plenty of features to cool down under and an adjacent playground for kids to run back and forth from. Right in the heart of Mayfair, this park is a great escape for so many neighbourhood kids get a break from the summer heat.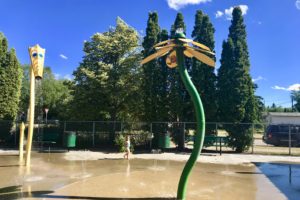 Another Shaded Zone
In the increasingly popular Exhibition/Queen Elizabeth area, Thornton splash pad offered hours of refreshing fun for my kid while I was able to run back and forth between playing with her and sitting in the shade with my dog.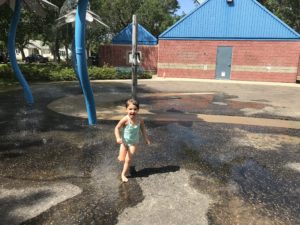 If you're not into crowds, this is the park for you! Even on a 25+ weekend day, this park only had a few other kids moving between the splash pad and the adjacent playground. For us, it was nice to have our own little space to run around at. Pack a picnic, a blanket, and some water; you'll want to spend the day lounging here!
Summer in Saskatoon is busy with so much to see and discover. But if you're like us, you'll want to kick back and cool down at one of the many splash park locations. Since we're lucky enough to have 20 different pads scattered throughout the city, you're likely to find one right in your neighbourhood. You can find more information on the city's website with a link to an interactive map.