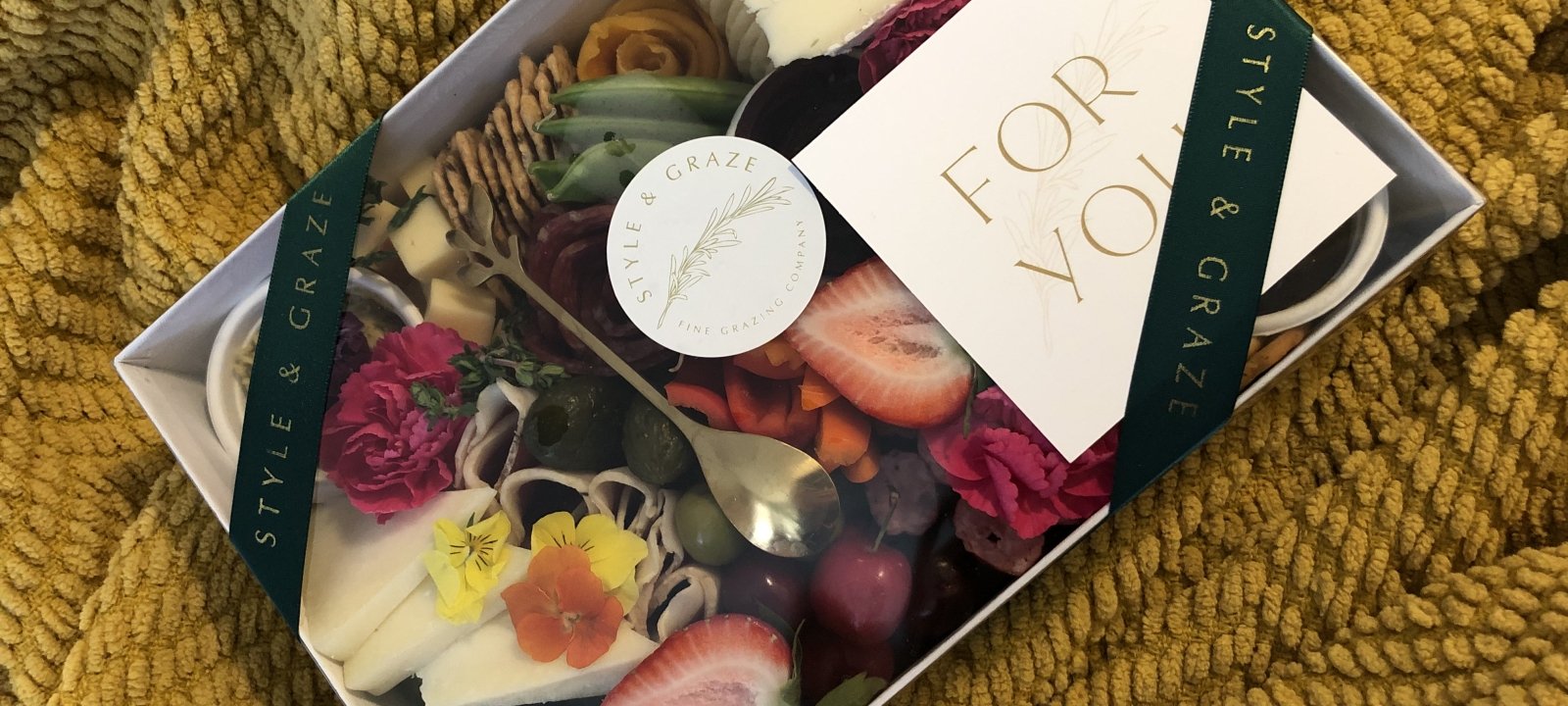 If you're like me, the pandemic has allowed negative emotions to live rent-free in your brain. Many people head to the gym to run off their stress, but I've never really been that type of person. When
If you're like me, the pandemic has allowed negative emotions to live rent-free in your brain. Many people head to the gym to run off their stress, but I've never really been that type of person. When the opportunity came up to check out YXE Smash Therapy, I was the first to volunteer.
Smash It UP!
YXE Smash Therapy is a bit hard to explain beyond 'you get to smash things'. While you spend your whole time there doing just that, there's a bit more to it. At the top of the About Us section of their website, the word 'cathartic' pops up.
Cathartic:
Adjective – Providing psychological relief through the open expression of strong emotions
Synonyms – Purifying, cleansing, releasing, relieving, freeing
I'm an introvert who keeps her emotions pretty close to my heart but if this pandemic has taught me anything, it's that keeping your emotions inside like that isn't necessarily the best for your mental health. I was running late and I hit every red light on the way to YXE Smash Therapy so by the time I arrived, my anxiety was through the roof and I was ready to hit something.
My colleague Whitney and I were greeted by the owner Magen, who gave us a quick tour of the facility. They have rooms both large and small for groups of all sizes and they provide you with all the tools you need for an afternoon of smashing.
She showed us into our room which was pretty empty with the exception of some tires. We were asked nicely not to smash the walls or the doors, but there was a reinforced wall at the end of the room that we were encouraged to throw stuff at. She went over our safety equipment, which features a full-face shield, hard hats, earplugs and gloves. YXE Smash Therapy recommends that you dress to protect yourself from bits of flying glass with a long-sleeved shirt, long pants and closed-toe shoes. I would not recommend showing up in shorts and sandals, that's for sure! She also showed us our smashing tools for the day – baseball bats, golf clubs, hammers and crowbars. 
Time to smash!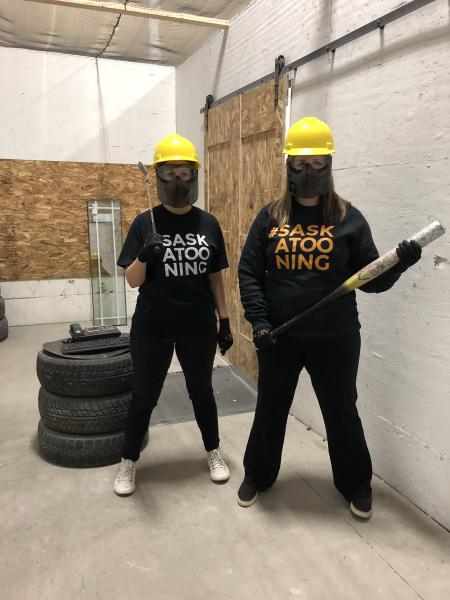 Magen asked us what kind of music we wanted to listen to, and we chose 90's hip hop. Now, there is a very famous scene from the movie Office Space where they take a printer out into a field and smash it to bits. The first song that came on was the song from that scene and I'll be honest with you, I've never been more excited in my life.
We were given a milk crate full of breakables (plates, bowls, mugs, glasses, etc.), as well as keyboards, telephones and a lovely piece of glass. We both hesitated at the beginning, as it felt a bit odd destroying something but let me say this – after your first swing at a keyboard, the rest comes easily. We spent the rest of our time gleefully smashing everything in sight into little tiny pieces.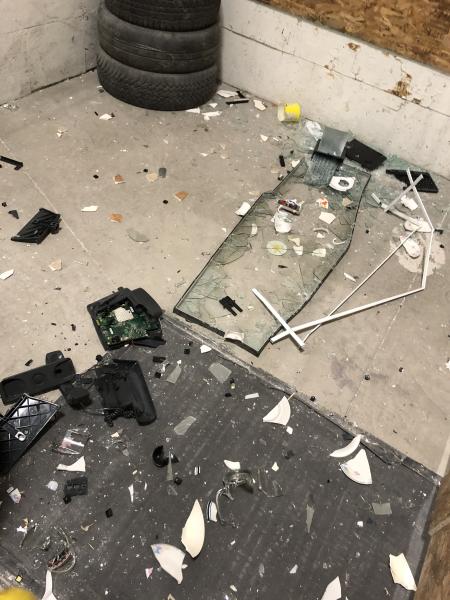 When it was over, we were sweaty and smiling. It truly was a cathartic experience and one that I'm likely to do again soon. I think what impressed me the most was that YXE Smash Therapy partners with the Electronic Recycling Association (ERA) to recycle everything they can. They work with local thrift stores to get items that can't be resold for their smashing inventory AND they let you bring in your own stuff to smash!
YXE Smash Therapy has a special offer in support of Tourism Week, too! When you book group smash therapy for 4 - 6 people, they will give you 10 extra smashables. Answer the simple online questions, choose "Tourism Week" from the dropdown menu, and receive this smashingly great offer! Go to yxesmashtherapy.ca/packages to book.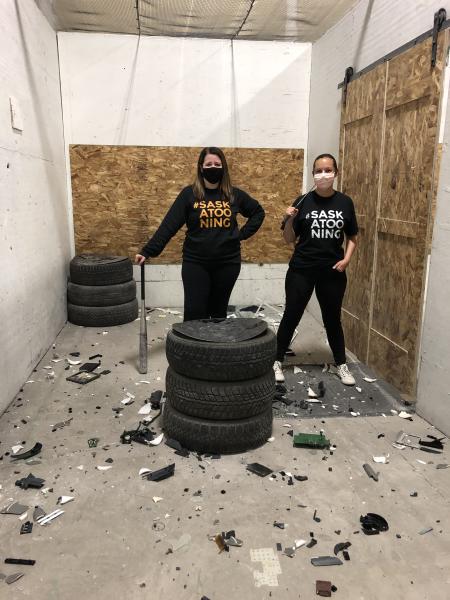 Time to Feast - in Style!
You know what works up an appetite? Smashing things. Fortunately, I had a box from Style and Graze waiting for me at home. I love a good charcuterie board but if I'm being honest, I don't like making my own. Buying all the ingredients, putting together a meat and cheese board, it's just a lot of work. Which is why a box from Style and Graze is the perfect solution.
For Tourism Week in Saskatoon (May 23 – 30), Style and Graze has created a Saskatoon box and I must say, they have gone above and beyond. Look at how gorgeous this box is!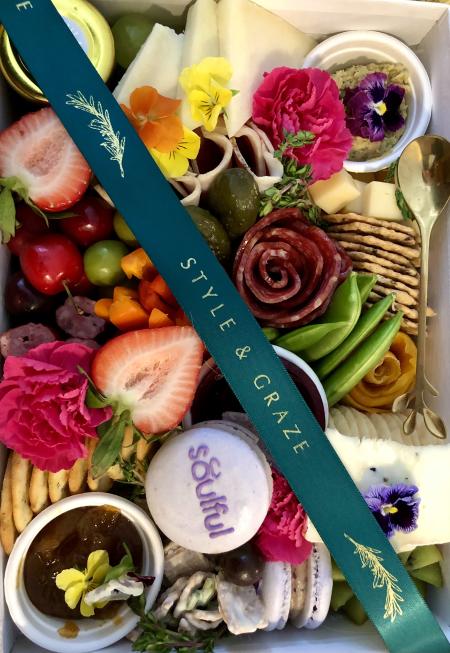 They source the beautiful flowers from Floating Gardens and local businesses including Pig and Pantry, Bulk Cheese Warehouse and Prairie Meats for their ingredients. Everything was so fresh and delicious and the box was more than enough for the two of us (I ate the leftovers for breakfast the next morning).
They have a lot of different options on their website, including a kids box and a vegetarian box. You can order yours online at www.styleandgraze.ca
This week is National Tourism Week and there are so many businesses out there that need your support. And since you deserve to have fun and eat good food, get out there and take advantage of our incredible city's offerings!