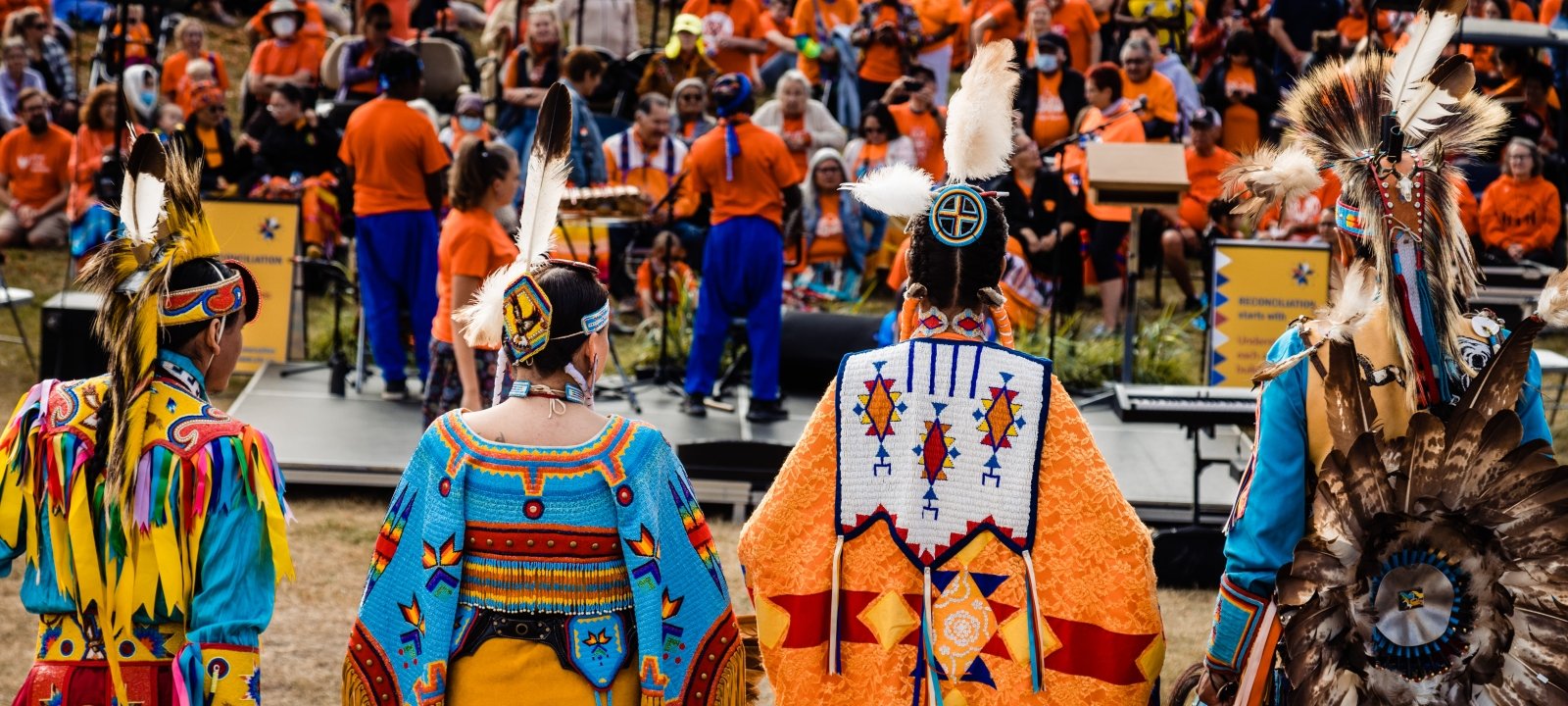 September 30th - Orange Shirt Day & National Day of Truth and Reconciliation
September 30th is the National Day for Truth and Reconciliation. This day is meant to recognize the devastating impact that residential schools and other government policies have had on Indigenous
September 30th is the National Day for Truth and Reconciliation. This day is meant to recognize the devastating impact that residential schools and other government policies have had on Indigenous People's lives and the ongoing impact it still has today. This day is a vital component of the reconciliation process and is meant to honour and acknowledge the Survivors of residential schools and those who are no longer with us, and the families and communities impacted by the tragic and painful history of residential schools.
Orange Shirt Day also takes place on September 30th. Orange shirt day is intended to raise awareness of the individual, family, and community inter-generational impacts of residential schools, and to promote the concept of "Every Child Matters". People are encouraged to wear the orange shirt to honour the residential school survivors and symbolize the stripping away of culture, freedom, and self-esteem experienced by Indigenous children over generations.
Testimonials by Residential School Survivors: 
Thank you to Pauline Okemow and George Cameron for sharing their personal stories of truth.
Page contents
Rock Your Roots Walk for Reconciliation | September 30th

The Walk for Reconciliation gathers Indigenous, non-Indigenous, and newcomer peoples to demonstrate their commitment to truth and reconciliation. Participants are invited to "Rock Your Roots" by wearing cultural regalia or carrying signs that celebrate their heritage. The walk is preceded by an Indigenous ceremony and led by Residential School Survivors who are honoured through this experience. An international cast of singers, dancers and musicians celebrate the diverse cultures of Saskatoon along the route of the walk.

September 30th Full Day Schedule 
8:00 am: Pancake Breakfast | Hosted by CUMFI @Cumfi Office (315 Avenue M).
The Pancake Breakfast is in front of the CUMFI office; all are welcome and the breakfast is free.
10:00 am: Walk begins @Cumfi Office (315 Avenue M).
A smudge will take place and lead the walk, to cleanse the area and invite safety for the participants and all they pass on the route. This smudge will be open to the public for anyone who would like to participate. For more info on smudging click here. Young Scouts Hand Drummers will also lead the procession of walkers. A beaded lance will be carried to lead the procession. Residential School Survivors lead the walk and dignitaries follow, along with community members. 
The walk will begin at CUMFI 315 Avenue M and the endpoint is the "Where Our Paths Cross" art installation at Reconciliation Circle in Victoria Park. The Walk for Reconciliation will go down 20th Street West, turn right onto Avenue H, and left onto 17th Street West heading to the "Where Our Paths Cross" statue. Golf cart rides will be available for anyone with accessibility issues. Email [email protected] to reserve a golf cart ride.
Reconciliation Saskatoon worked with the Running Wild Athletics club to have athletes start a run at the eastern point of where the banners begin. The runners will carry a lance (like the one leading the walk)—both of which were beaded by Keith Sanderson, local Residential School Survivor. The runners will come from the east side of the city and the Rock Your Roots participants will walk from the west side. Everyone will meet at the "Where Our Paths Cross" art installation in Reconciliation Circle.
10:45 am: Walk ends and the program begins @Victoria Park (across the road from 422 Spadina Cres W).
As the participants arrive at the "Where Our Paths Cross" installation, they will be greeted by Indigenous drummers and dancers. A short program will follow, which will include remarks from dignitaries, a youth and newcomer speaker, as well as Métis music and dancers. The program will be concluded with a Round Dance, inviting everyone to participate. Following the program, participants will be transported back to CUMFI by bus.
Artists: 
First Nations Cultural Performers & Musicians:​
Olaide Babalola, Nigerian singer, dancer and storyteller​ - Accompanied by singers and drummers​
Ashong Family, Ghanian drummer, singer, dancer & choreographer​ - Joseph Ashong accompanied by his children, Jonah Ashong and Kwanita Ashong​
Young Scouts, Traditional Drummers and Singers​
Dancers:​
Corrine Eyahpaise, Old Style Traditional Women's Dancer - Residential School Survivor​
Ida Skjarstad, Old Style Traditional Women's Dancer - Residential School Survivor​
Violet Naytowhow, Old Style Traditional Women's Dancer - Residential School Survivor​
Cara Arcand, Women's Fancy Shawl Dancer​
Kimowan Ahenakew, Women's Traditional Dancer​
Okimaw Ahenakew, Grass Dancer​
Tim Rosebluff, Traditional Dancer​​
Métis Cultural Performers:​
QuAppelle Valley Dancers, Métis Dance Troupe​
Vanessa Johnson, Métis Singer - Métis National Anthem​
Métis Fiddle & Guitar Player - To be confirmed​
Speakers and Dignitaries: 
Tribal Chief Mark Arcand
Mayor Charlie Clark
CUMFI President Shirley Isbister
MNS, Western Regiona 2A Kathie Pruden-Nansel
---
The Orange Banner Project
by the City of Saskatoon and Saskatoon Tribal Council

The City of Saskatoon and Saskatoon Tribal Council are launching an Orange Banner Project in September, hanging orange banners from lamp posts throughout the City for a few weeks before and after Sept 30. The project is meant to honour the children that didn't make it home; the ones who made it home and the ones that are still lost and away from the home fires. It is also an opportunity to create education and awareness and to create a sense of community. The banners will be hung from Ave P and 20th Street W, run downtown and continue on the east side of the city down College Drive adjacent to the U of S campus. The location of the banners offers a reminder that Truth and Reconciliation is up to all of us, on the east and west sides of the city. By connecting the east and west sides of the city, the banners signify the need to build bridges throughout our city. It also takes us on a path of recognizing our relatives in the core neighbourhoods, along Spadina Cr. where many churches are located, and by the U of S which signals a brighter future.
---
Where to buy your orange shirts:
Orange shirts designed and created by Awasis Boutique
**There will also be shirts to purchase on-site for $20 on September 30th**
---
Resources and Tools: How are you taking action to support, learn and be an alley? 
---
Pow Wow & Free Concert hosted by the Saskatoon Tribal Council 
For more details click here.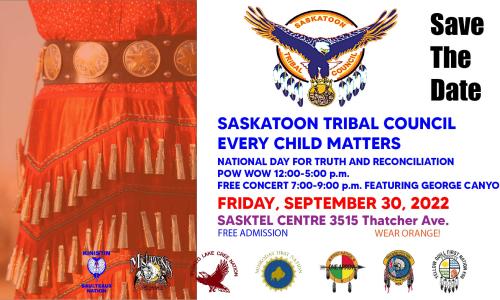 ---
Wanuskewin National Truth & Reconciliation
For more details click here.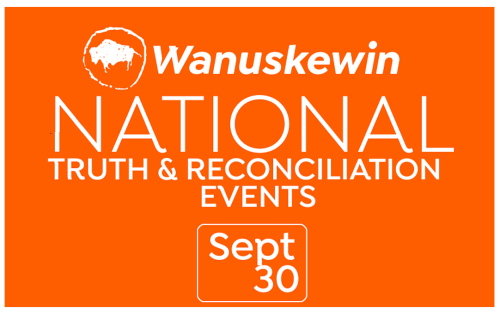 Community Investors:
We are grateful to the following Community Investors who supported the June 21 Rock Your Roots Walk for Reconciliation, and continue to support our efforts to move the event to September 30:

---