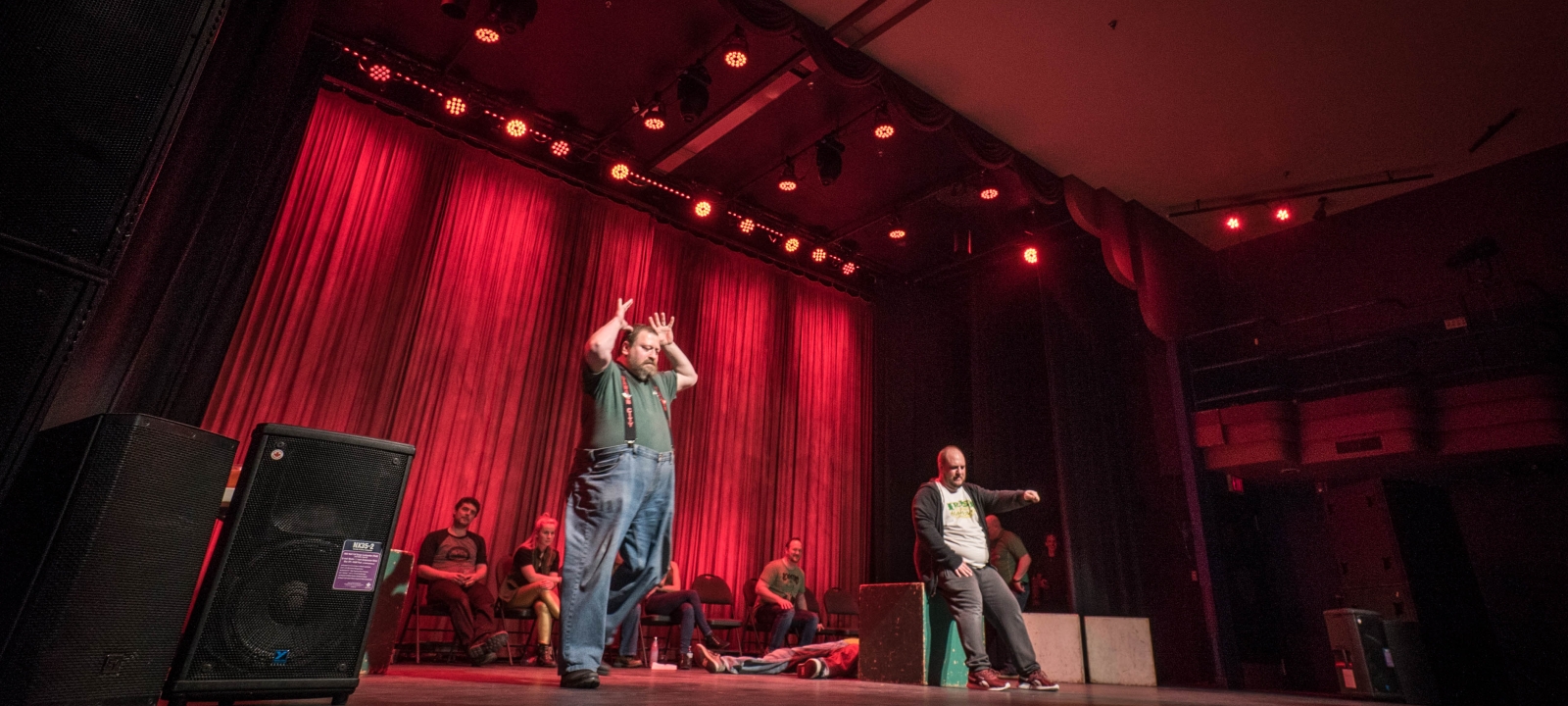 Saskatoon Stand Up! Some of Saskatoon's Comedy Hotspots
Arts & Culture
,
Entertainment
Live Comedy may very well be in its heyday right now, with comedians selling out arenas and Netflix specials being viewed by millions. I can understand the appeal, as it seems we're getting less and
Live Comedy may very well be in its heyday right now,  with comedians selling out arenas and Netflix specials being viewed by millions. I can understand the appeal, as it seems we're getting less and less opportunities to step back and poke fun at life without censorship; to take a night out with friends and listen to stories and one-liners, and if all goes well, bust a gut laughing. Putting your night in the hands of comedians can be a welcome break from the norm for a weekend night out and also makes for a good date night, so we've compiled a few of Saskatoon's best places to see comics do their thing, in case you're interested: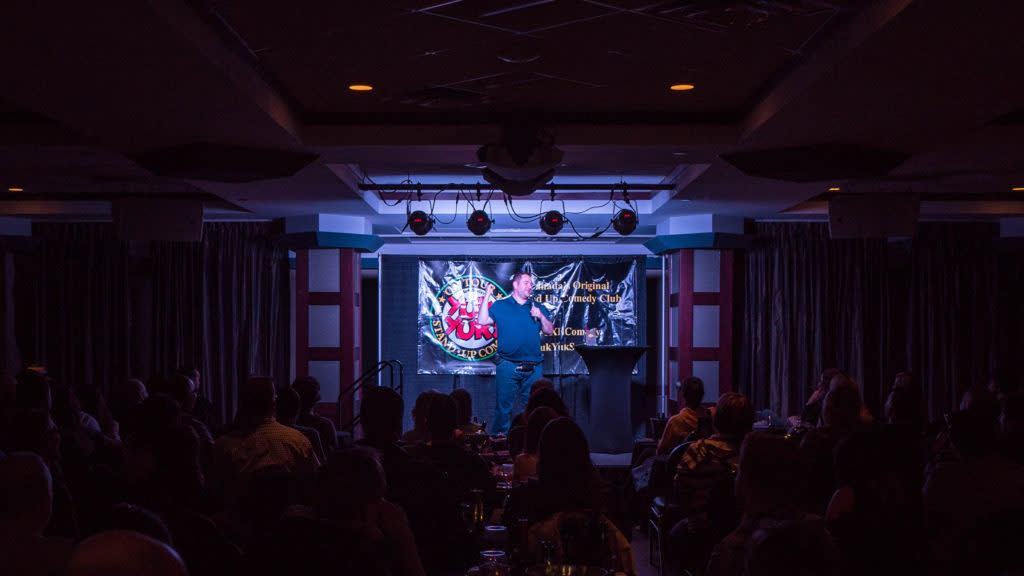 Yuk Yuks - Located in the Parktown Hotel, Yuk Yuk's has been a longstanding comedy venue in the city, and benefits from booking national circuits across all Yuk Yuk's locations. The headliners I've seen have all been excellent, and this place does comedy right with a great little stage and mic's at the perfect volume. It's all table seating that can be reserved for your group of friends, with table service. Come early (doors are at 8pm on Fridays) and take advantage of the ability to order Parktown's delicious food from this venue for your table before the show starts. Each show features two comedians and a host set and costs $20 in advance. Catch Richard Lett and Austin Lonnenberg on Friday this week with host Amy Edgar. Call 306-667-6075 for tickets or visit The Park Town's ticket site.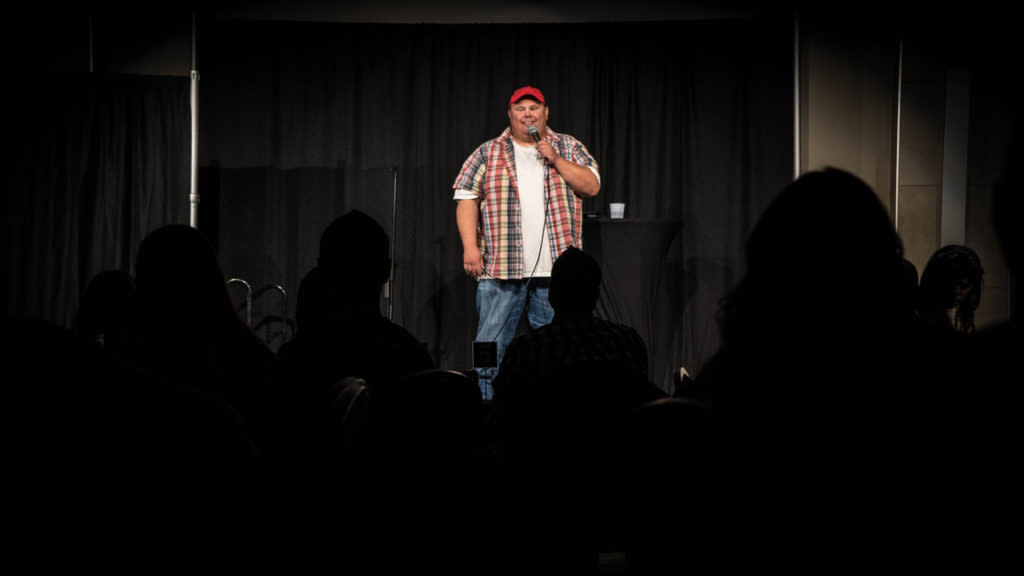 The Laugh Shop - This newer comedy series in The Ramada Hotel is similar to Yuk Yuk's in that it's in a hotel event space, utilizing The Ramada's food and drink capabilities, but I would argue that The Laugh Shop provides a slightly more relaxed atmosphere, and - at least at the shows I've seen - thrives on audience interaction. The Laugh Shop welcomes bookings for corporate parties, birthdays, and fundraisers, even offering discounts and incentives for larger groups. This Friday, The Laugh Shop "On Tour" features Mark DeBonis with Ethan Sir. Doors at 8, show at 9. Call 306-665-6500 to book.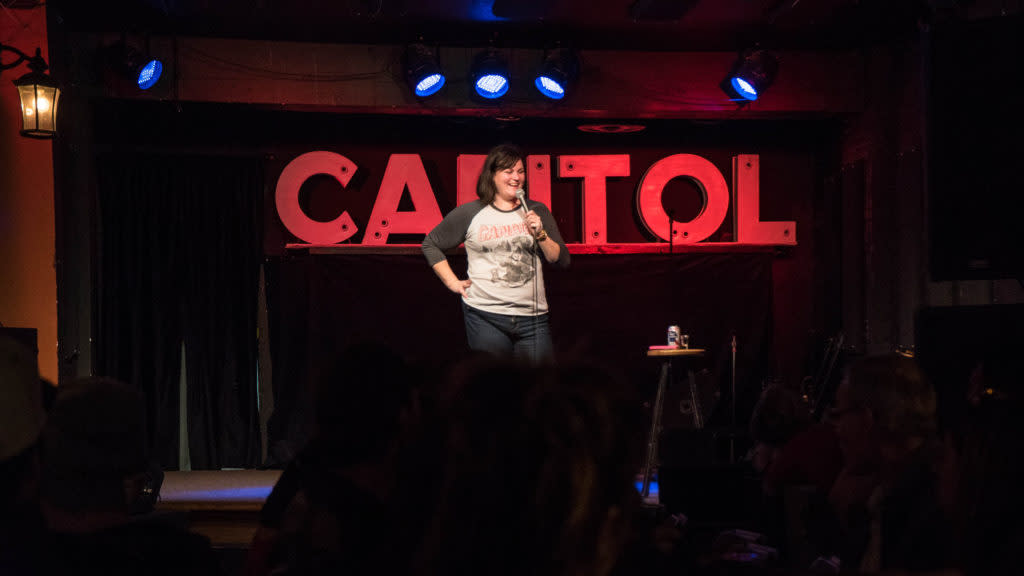 Capitol Music Club - Over the last two year or so, The Capitol has rounded out it's music programming with some excellent touring Comedians on Wednesday nights, bi-weekly. It's a younger crowd and a smaller room than both The Laugh Shop and Yuk Yuk's, so you're treated to a very intimate show (meaning chances are higher that you'll end up being part of the show at some point). Also, because the shows are less frequent here, The Capitol is able to bring in some big upcoming names on the Canadian Comedy circuit; I had the pleasure of laughing start to finish at Kathleen McGee's show the other week, who might be my new favourite comic, so if you see her name on a poster, don't sleep on it!
Look forward to their next Comedy Night on May 10th with Kelly Taylor.
I should mention that if you'd like to try your hand at stand-up comedy, or support those who are new to it, there is a great comedy open mic every Sunday called "The Comedy Lab" at The Thirsty Scholar on 8th Street. They have a rad little scene developing, and it makes for an excellent Sunday Funday option.
Buds on Broadway also has an open mic comedy show every Wednesday and Amigos has an all-female comedy show featuring The Ladybits one Monday a month. Vangeli's on Broadway has started a recurring $5 comedy night most Mondays starting at 8:30pm with $5 pizza slices of their infamous pizza! These are excellent stand-up options for those who want weeknight options.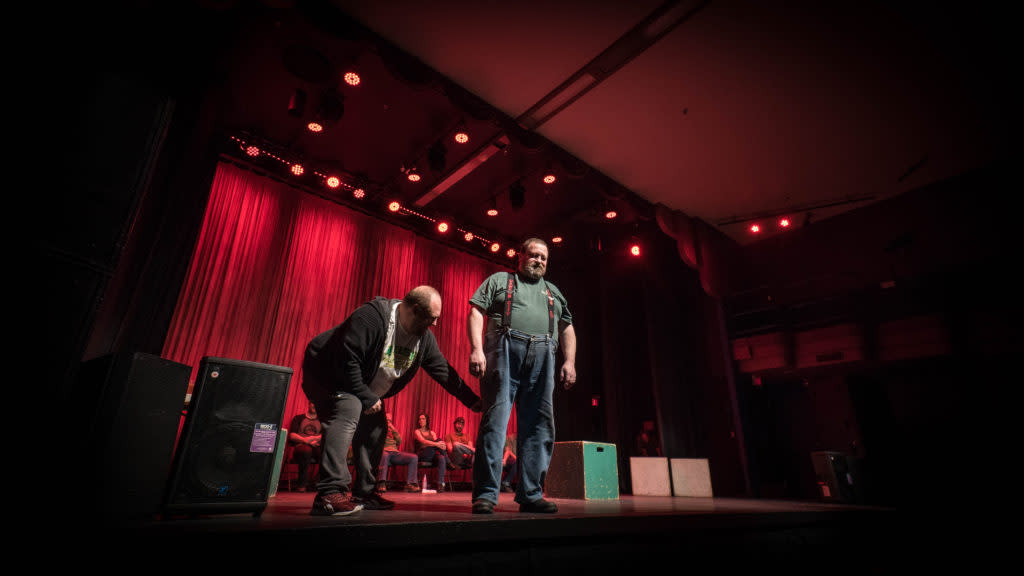 Saskatoon Soaps Improv Comedy - Want a switch up from stand up? Another highly effective laugh-maker (and maybe my personal favourite form of comedy) is improv comedy. The Saskatoon Soaps have been displaying their quick wit on stage for many years and are currently performing monthly at the iconic Broadway Theatre, each time with a different theme. This week they have a busy week beginning with a Beginners' Improv Workshop from 7-9pm on Wednesday night, and closing out with Kevin McDonald of Kids in The Hall fame to host a comedy writing and performance workshop at Wanuskewin Heritage Park this Saturday at 11am.
Although the Saskatoon Soaps are the most experienced, I can highly recommend checking out a show by The No-No's Improv Comedy Group, who host monthly improv shows at Le Relais on 4th Avenue. I've been to a few of theirs and had a blast. Their next show on May 5th is Star Wars themed and aptly titled "Reventh of the Fifth."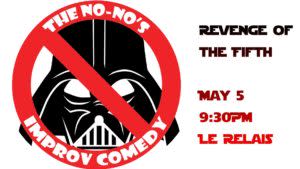 Lastly, as further testament to the strength of the comedy scene in Saskatoon, we can look forward to the Comedy Crawl presented by District Brewing coming up this September. It's like a music festival but for comedy!
https://youtu.be/OLVQPHoioUI
The night includes roastmaster Tyler Morrison (from the Roast of Ron Jeremy & The Iron Sheik) and comedians: - Myles Morrison(SiriusXM's Laugh Attack) - Jody Peters (Host of CityTV's The Prairie Diner) - Dakota-Ray Hebert(APTN Host) - Dustin Adam Williamson(Comedy Lab at the Thirsty scholar) - Dylan Jay Williamson (Comedy Lab at the Thirsty scholar) - Darryl Junior Koszman(Halifax ComedyFest) - & Joel Jeffrey (96.3 Cruz FM)
Tickets are available through Park Town Yuk Yuk's online and are already selling quickly. Here's the link.