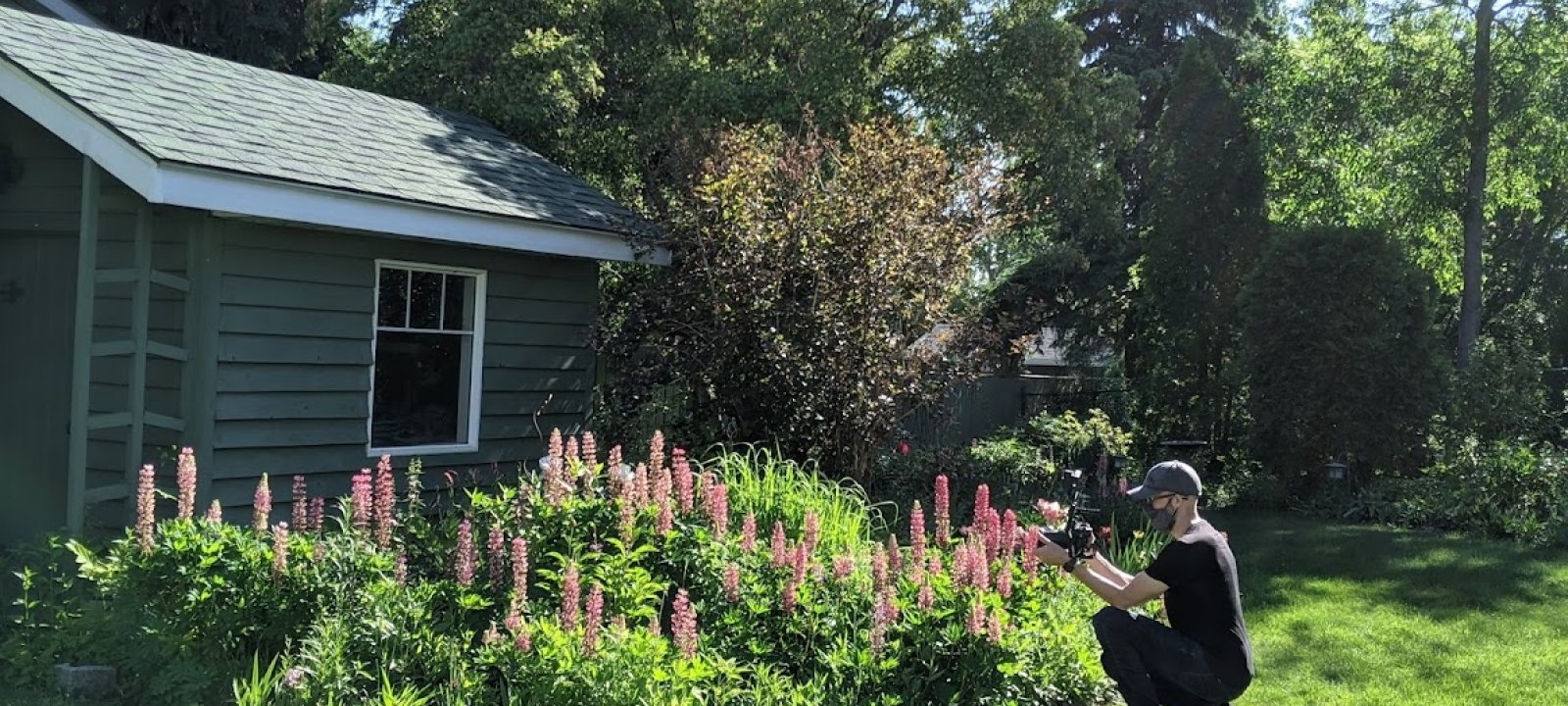 Cultivating Resilience: Saskatoon' s Secret Garden Tour
Whether you are a long-time gardener, just got into gardening as a close-to-home hobby during the pandemic, or one who simply prefers to admire the fruits of others' labour, you're likely aware that
Whether you are a long-time gardener, just got into gardening as a close-to-home hobby during the pandemic, or one who simply prefers to admire the fruits of others' labour, you're likely aware that there are a lot of impressive gardens and horticultural activities going on in Saskatoon. But even the most accomplished and involved gardeners in Saskatoon will probably be surprised at the incredible variety of these local projects. The Saskatoon Horticultural Society's 2021 summer video series, Cultivating Resilience, will be showcasing many of these projects this August.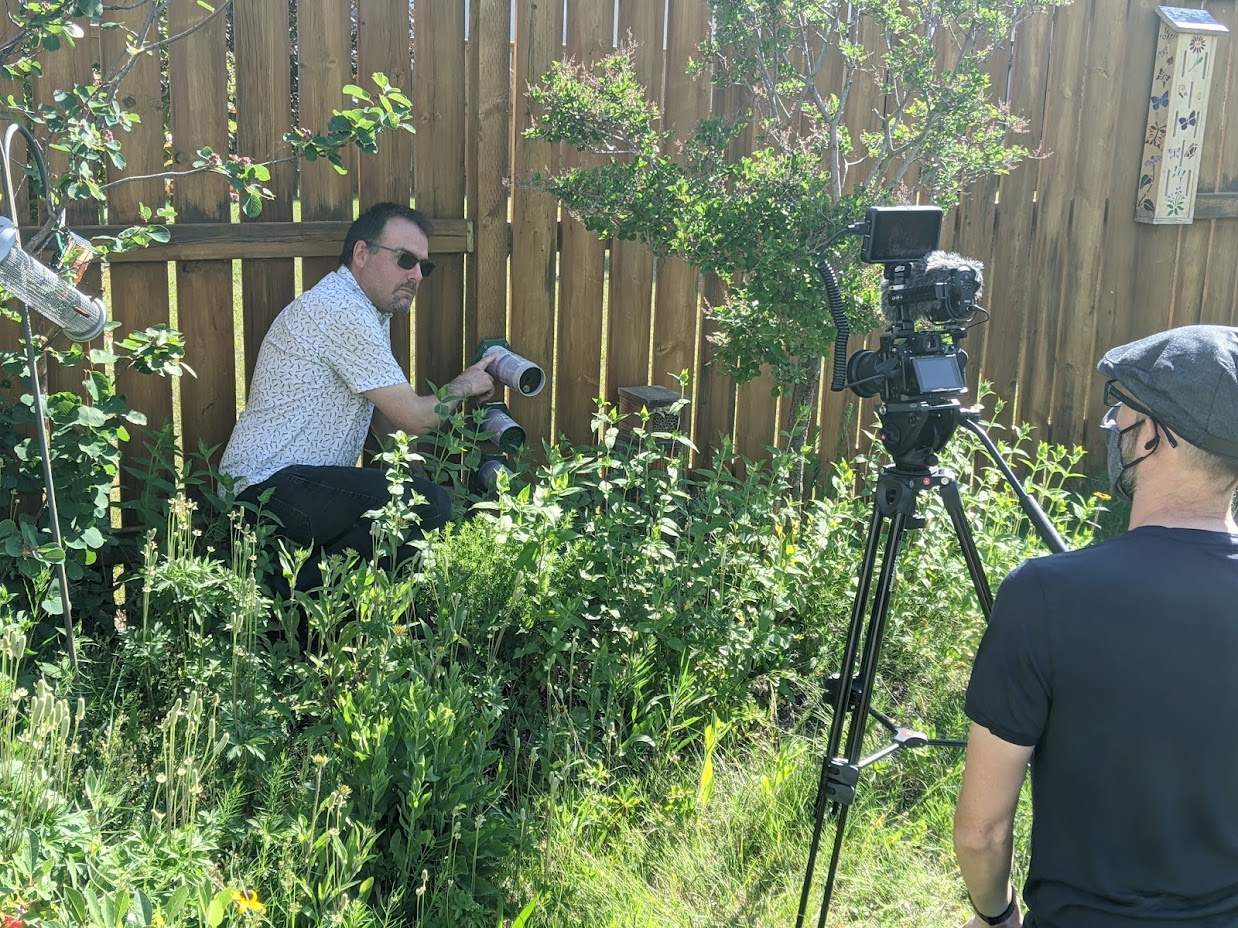 Photo: Tourism isn't just for humans! Chet Neufeld, executive director of the Native Plant Society of Saskatchewan, explains how to successfully manage a bee hotel in our Gardening for Native Species video.
In past years the SHS has run an annual Passport Garden Tour which involved purchasing a passport of secret locations (usually private yards) around the city that could be toured on a specific day. In 2020 due to COVID, this tour was cancelled and re-imagined in virtual format. Our 2020 Seeds of Resilience Virtual Passport Garden Tour was a big success on Facebook and all 12 videos are still available to check out on our YouTube page. Many people commented that they had no idea that so many amazing horticultural activities were going on in Saskatoon - I was one of them!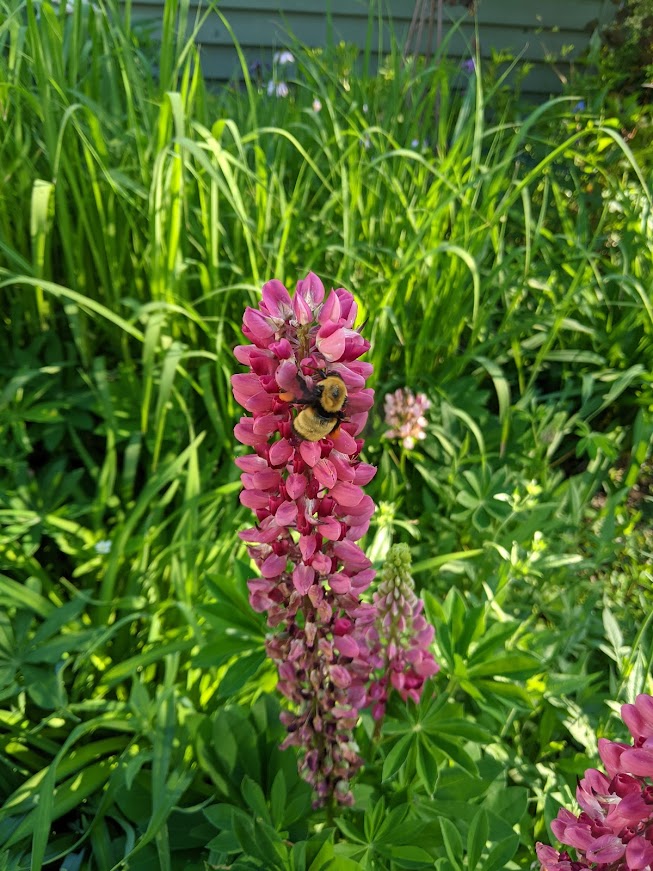 Photo: Bees love lupins, featured in our Gardening for Beauty video. Try planting some in your yard to attract more beneficial pollinators!
We are especially excited that this year's series will have even more of a community focus than 2020 – most of our feature gardens and sites are easily accessible to the public. All of our videos focus on the reasons that we garden in Saskatoon, and we are excited to announce the following lineup:
Gardening for Future Generations, featuring the misaskwatomina project
Gardening for Native Species, featuring a private yard landscaped completely with native plants
Gardening for Tradition, featuring Wanuskewin Heritage Park
Gardening for the Urban Landscape, featuring the City of Saskatoon Greenhouse and business improvement district flower pots
Gardening for Conservation, featuring the Beaver Creek Conservation Area
Gardening for Beauty, featuring a private yard full of gorgeous perennials
Gardening for Naturalization, featuring the City of Saskatoon's naturalized public parks
Gardening for Students, featuring the Grant McEowen community garden at the University of Saskatchewan
Gardening for Joy, featuring Sherbrooke Community Centre
Gardening for Mindfulness, featuring the Robin Smith Meditation Garden at Forestry Farm Park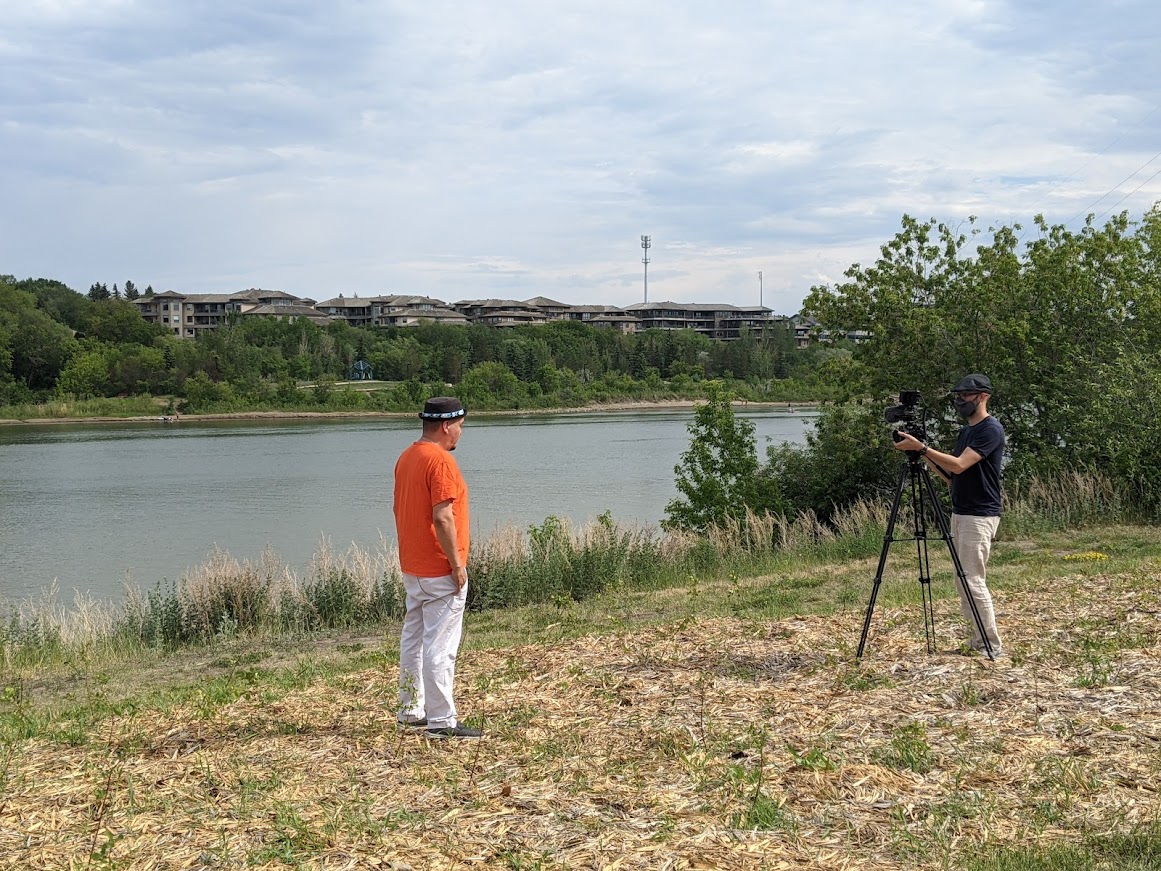 Photo: Kevin Wesaquate describes the misaskwatomina project, a planting of saskatoon berry shrubs south of Victoria Park, and performs his poem of the same name in our Gardening for Future Generations video.
We'll be wrapping up the series with Gardening for Mindfulness and making the audio track available for download so viewers can try out their own mindfulness walk at their favourite locations around the city. As an added bonus our mindfulness facilitator Kim West will also be giving a virtual workshop the following weekend!
All of the videos will free to view on the SHS Facebook page and our YouTube channel. Videos will be posted daily between August 3-13 and will remain permanently available on our YouTube page. Follow us on Facebook or subscribe to our YouTube channel to make sure you don't miss a video! We will also be doing some social media giveaways for viewers to win gift cards from local garden centres.
As the light at the end of the COVID tunnel approaches, follow along with our videos and celebrate the incredible resilience that has been cultivated during the past couple of years by our local gardening community. Gardening has been a wildly popular COVID-safe activity and the SHS is so excited to bring some of these projects to you. You may be inspired to start your own pandemic victory garden at home, or visit one of our featured gardens to spend some time admiring the location in person.
The Saskatoon Horticultural Society Inc. (1994) is a non-profit society working in Saskatoon to promote horticulture. Our motto is "Live and Grow Together" and our mission statement is "The Saskatoon Horticultural Society promotes the enjoyment of art, knowledge and public awareness of horticulture and safe environmental practices to its members and the public of all ages."

We participate in various horticulture-related events in Saskatoon such as Seedy Saturday, Gardenscape, and the Nature City Festival and also hold our own events such as the Spring Plant and Water Garden Sale, workshops, and an end of summer Garden Garage Sale. All events are volunteer-run.

Annual memberships to the SHS are $15. Monies raised go towards funding scholarships, workshops, and events, such as this video series! Members receive special benefits and discounts (https://saskatoonhortsociety.ca/business-partners.html) to a large number of local garden centres and horticultural businesses. Please check out our website (https://saskatoonhortsociety.ca/membership.html) or email us if you'd like to become a member!
The Cultivating Resilience video series is made possible via partial funding from the City of Saskatoon Environmental Grant program. All videos are filmed and edited on Treaty Six Territory by Don Selby of DMS Photography on Instagram @dmsphotographycanada