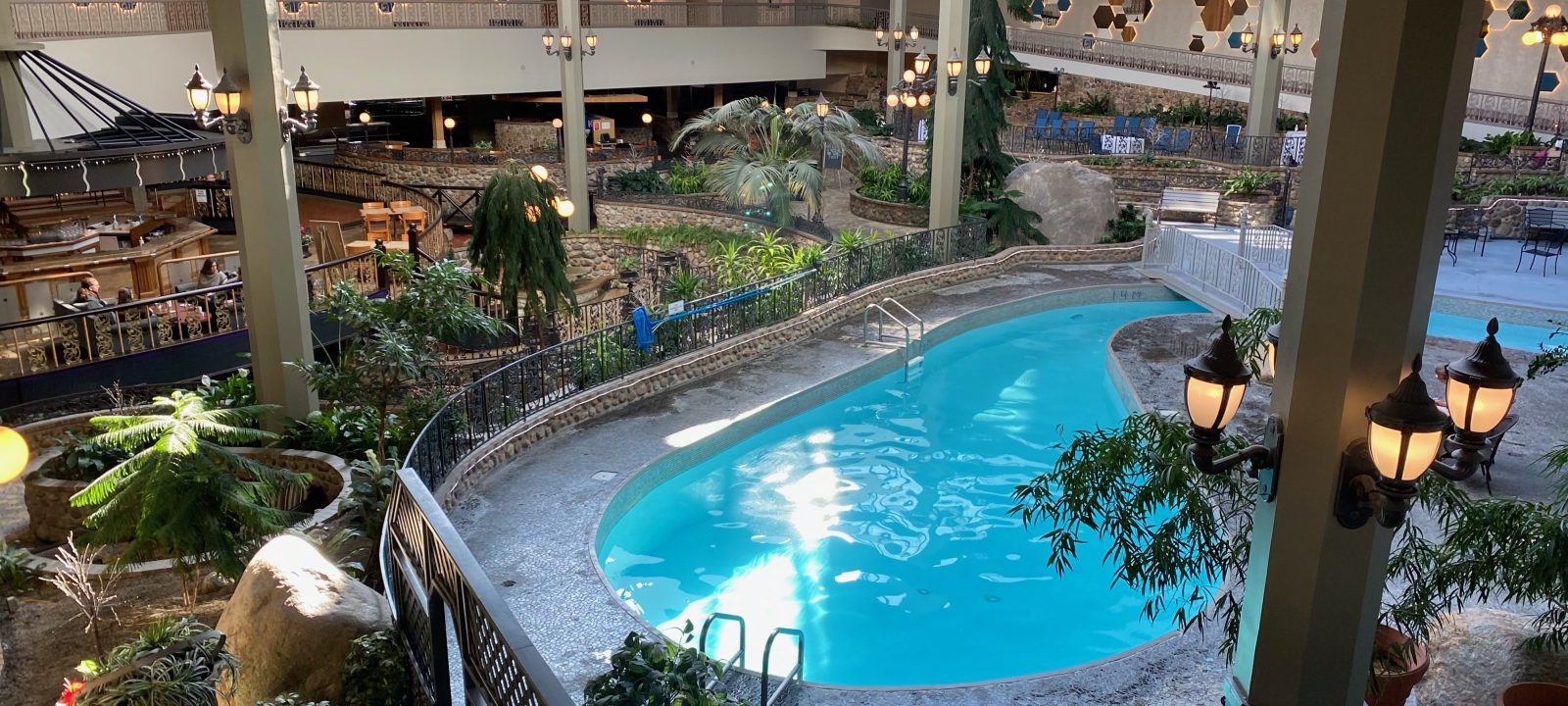 Saskatoon Inn: WFH and Have Fun!
WFH: Work From Here
,
Families
On April 7, Tourism Saskatoon will be hosting a unique event. Each spring we gather our membership, staff and board of directors together for our Annual General Meeting. Of course this year, we need
On April 7, Tourism Saskatoon will be hosting a unique event. Each spring we gather our membership, staff and board of directors together for our Annual General Meeting. Of course this year, we need to get creative with how we host this meeting since we cannot gather as we normally would. The idea was to have a hybrid event that gave participants options based on their comfort level but with safety as top priority no matter what. The decision was made to have the AGM at the Saskatoon Inn and Conference Centre for a virtual meeting, socially-distanced dinner and room night options. I wanted to scope out the facility for myself and find some time for my family to be together while I was at it, and so our adventure began.
A Safe and Warm Welcome
The Saskatoon Inn has their check-in process dialled with safety and security top of mind and in plain sight. Walking through the front doors we were greeted with a warm welcome and a temperature check on the wrist. We waited in the clearly marked circles for check-in and I could see my three kids eagerly looking towards the atrium pool area. Heading up the walkway towards our rooms their gasps and awe-struck sentiments at the jungle like sanctuary that awaited them made my heart feel so warm. The humidity from the pool and the natural light from the glass ceiling was enough to make us all stop and take a deep breath. The outside world was no longer and for the next two nights, we could settle into to this imaginary tropical paradise.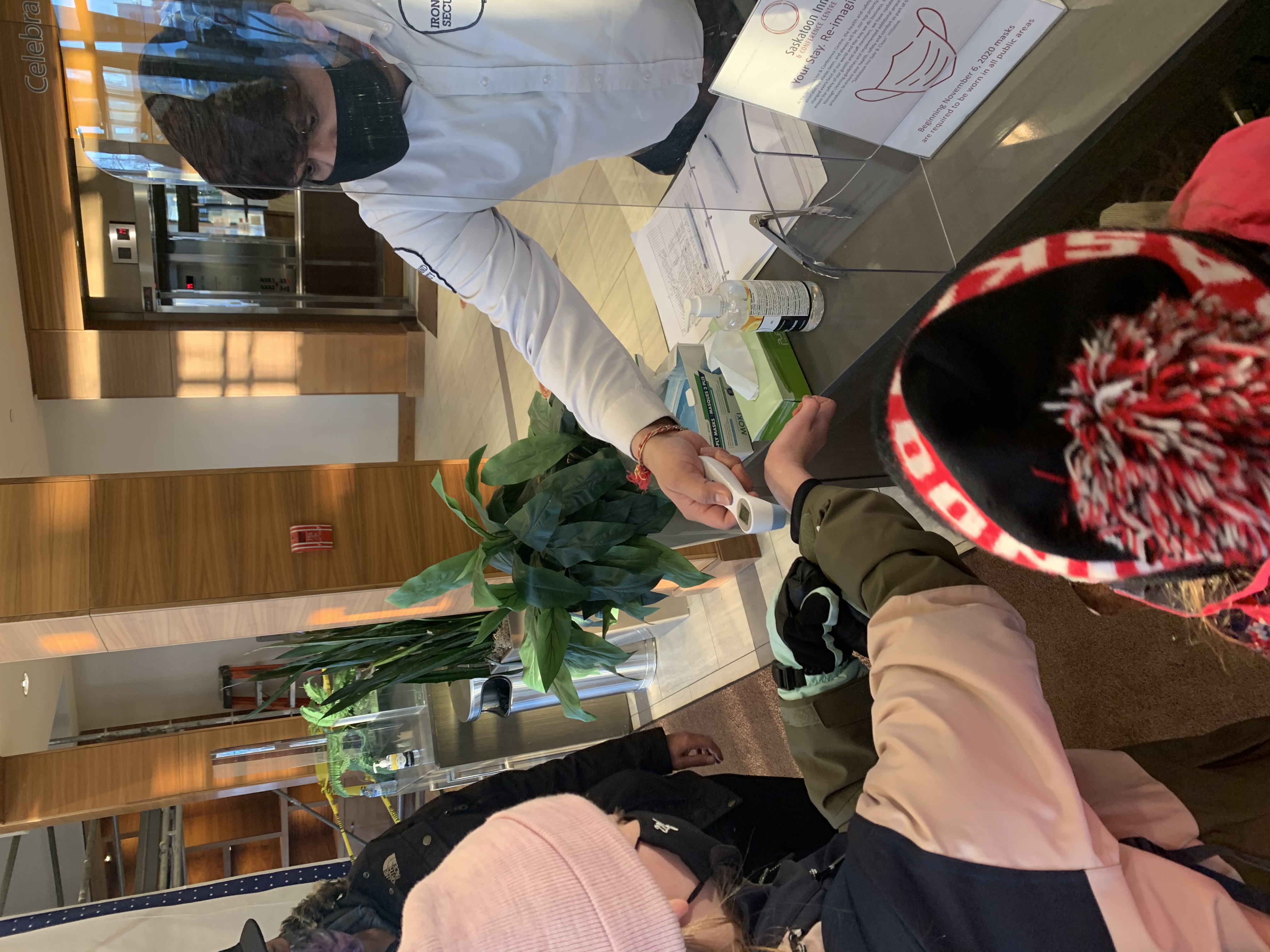 Treat Yourself!
Our room had a separate space for the kids to be in and Derek and I had just the treat to really help them settle in. After a full-on pizza party, we surprised them with a "Movie Night" box from The Prairie Grazer. They all recently did so well on their report cards and when I saw these boxes, that I thought I would only ever give them if they were spending a night with their grandparents but, with that not happening for some time, we threw all caution to the wind and let them dive in to skewers of candy, popcorn, chocolate covered nuts and cheezies. The two ladies responsible for these incredible boxes are constantly innovating and creating for the seasons and other celebrations. Check them out!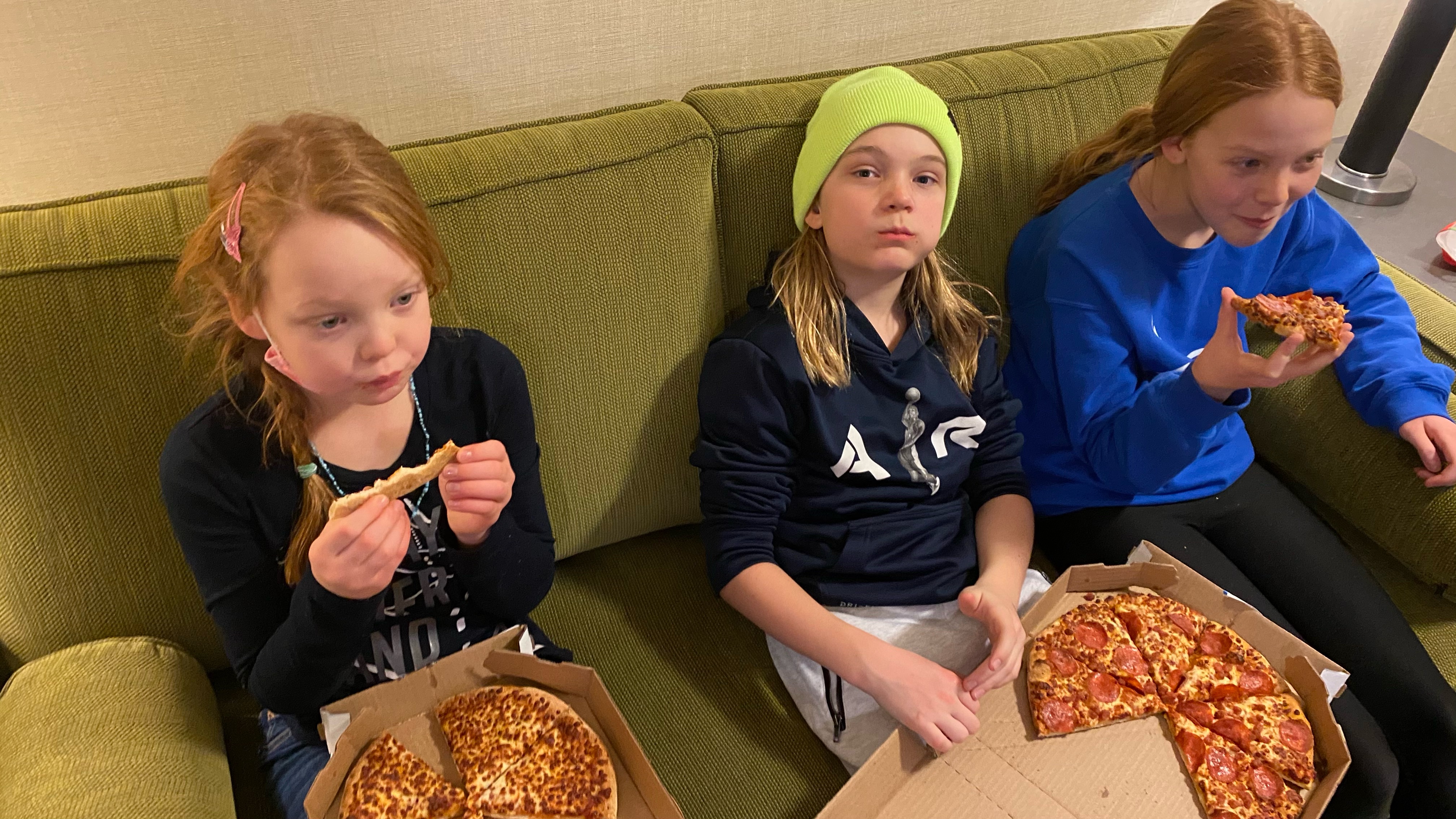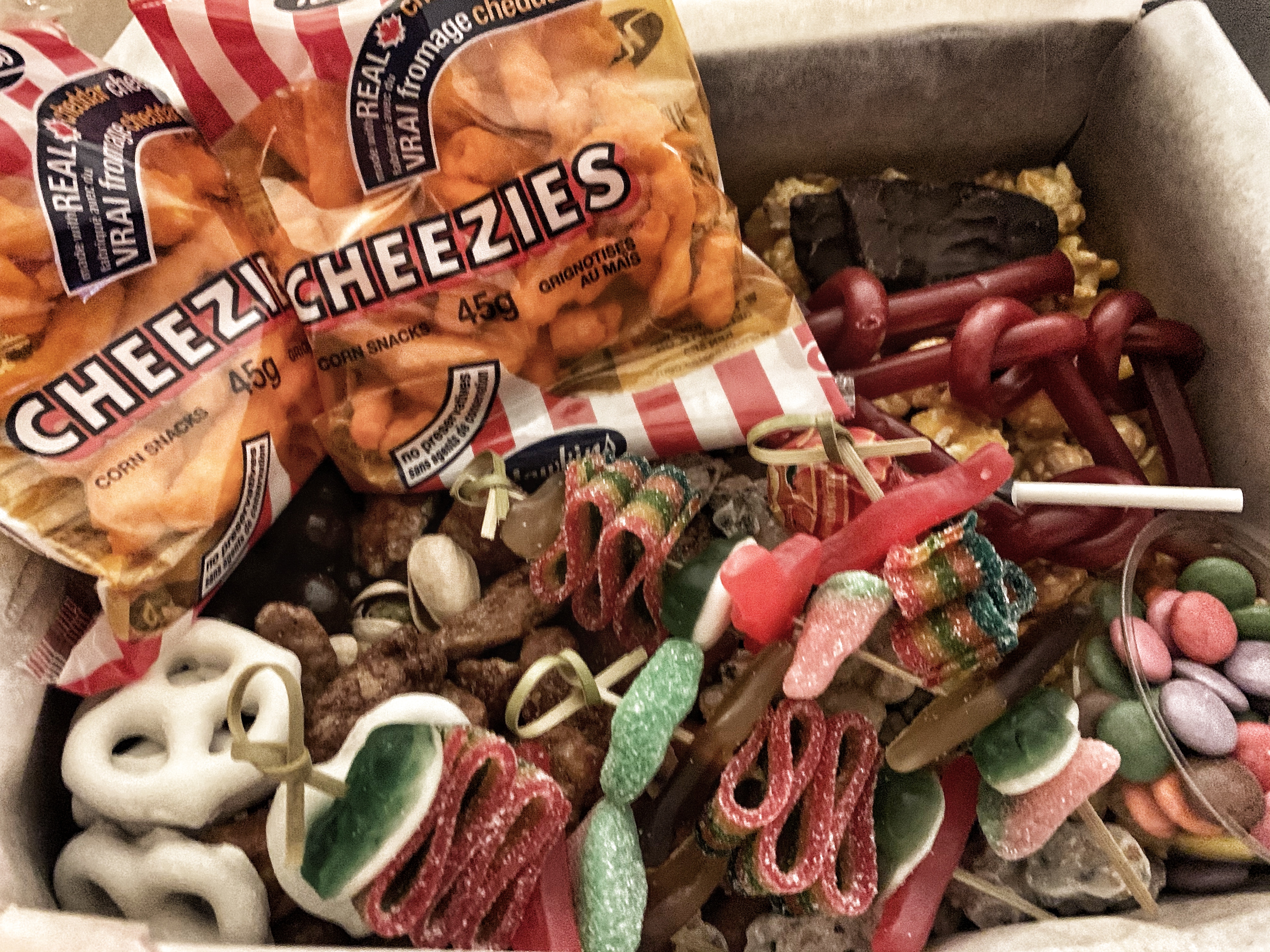 Go Ahead, Jump In!
With all that sugar coursing through their veins, we headed straight for the pool. The staff are maintaining a limit of people in the pool at one time and there is ample opportunity for distance in the lagoon-shaped area. Derek and I tucked into a little corner and sat back to watch them play and bask in the sunlight coming through the glass ceiling above us. Our eldest daughter Ava was feeling afraid of being in the pool or out in the hotel with COVID restrictions at the top of her mind. Thankfully, the hotel had written out all their protocols for their guests to see. She took a minute, standing on the second level of the hotel overlooking the atrium area and took it all in. If I could do one thing, I would take away the isolation and fear in our children. Having safe experiences in our hotels is the best way that I can give them some semblance of freedom and, seeing that young girl jump into the pool, surprising her brother and sister brought tears to my eyes. For this moment, they were free and this is exactly why I believe in the power of tourism, even in our own backyards.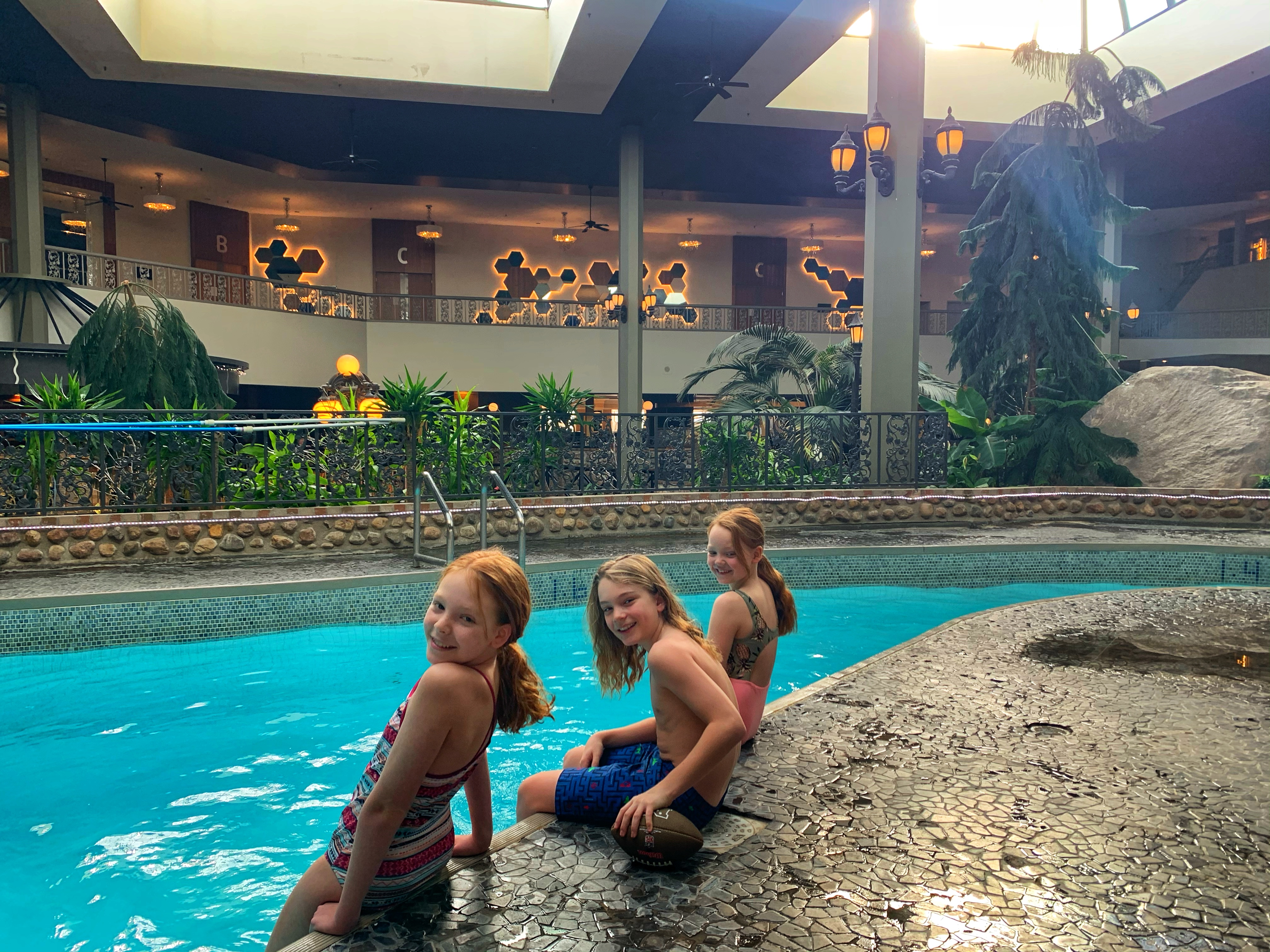 Helping Us Put Our Best Foot Forward
The next morning, I snuck quietly out of bed to have some time for myself and check out the Canadian Room that The Saskatoon Inn has set up for hybrid business events. At a time when we can't be together, I am so thrilled that we have the option to provide an experience for our members attending our AGM this year. The space is accessed from the courtyard and has bright, natural lighting and high ceilings, but for Tourism Saskatoon's hybrid event, the Encore Stage will be set for a virtual broadcast!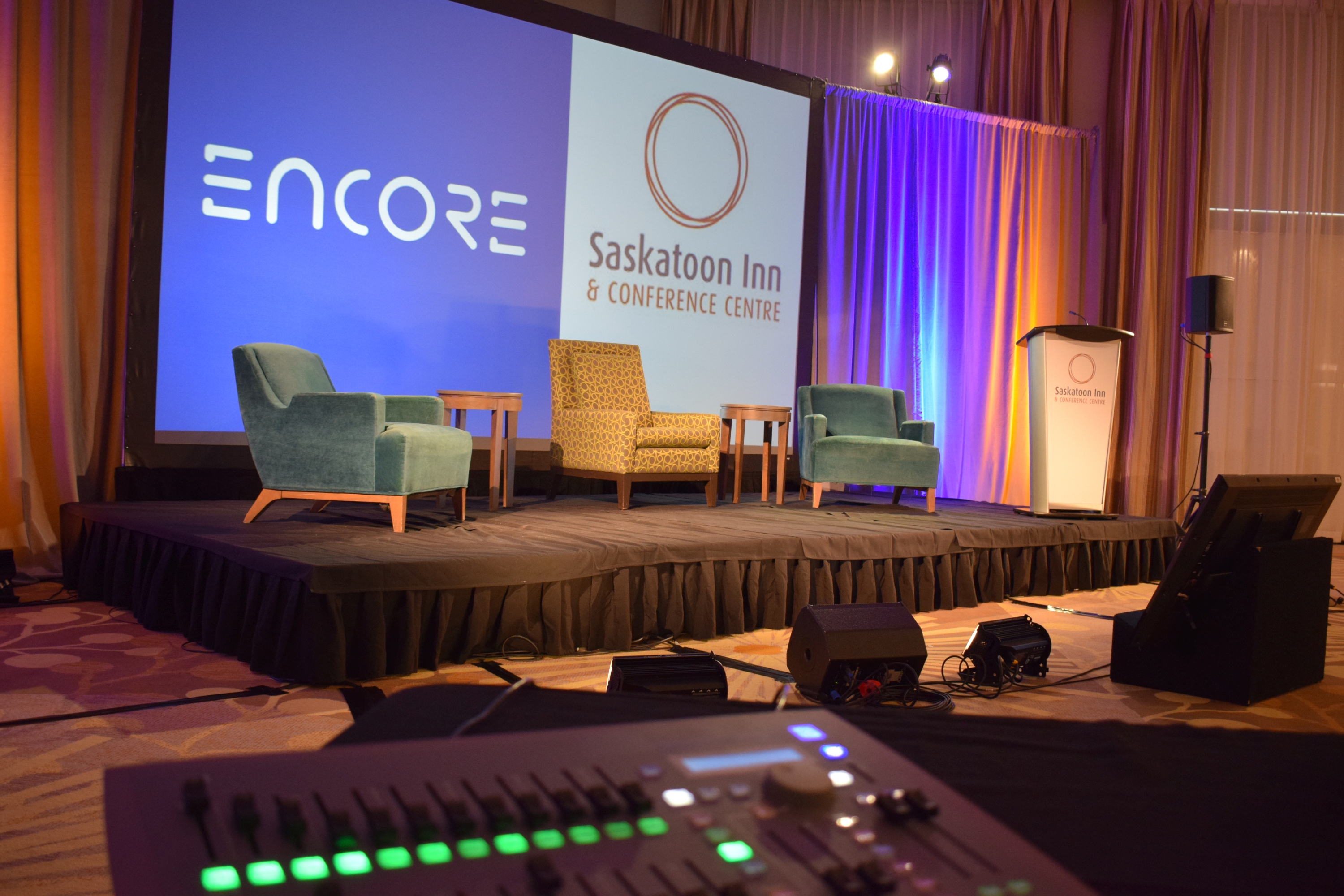 Adventure Awaits!
After a morning swim, we decided to take the kids out for a little adventure. As an executive, I expect to be on a golf course often. It doesn't mean I like it or that I'm good at it, but I show up and do my best to not humiliate myself completely. Mini golf on the other hand, I own this! Mars Mini Golf is super close to the hotel and I hadn't been yet so, it was a perfect opportunity for us to venture out for some safe, glow in the dark, family fun. I must give credit to the Mars Mini Golf Team who are doing an exceptional job to book their patrons in and welcome them with stringent protocols to keep everyone safe while having an awesome time. Not only is it glow in the dark but, you can grab some 3D glasses to really amp the experience. The kids were hilarious to watch as the walls popped out at them and the floor seemed to move like lava. Again, seeing their laughter and freedom let alone their competition with Derek was energizing.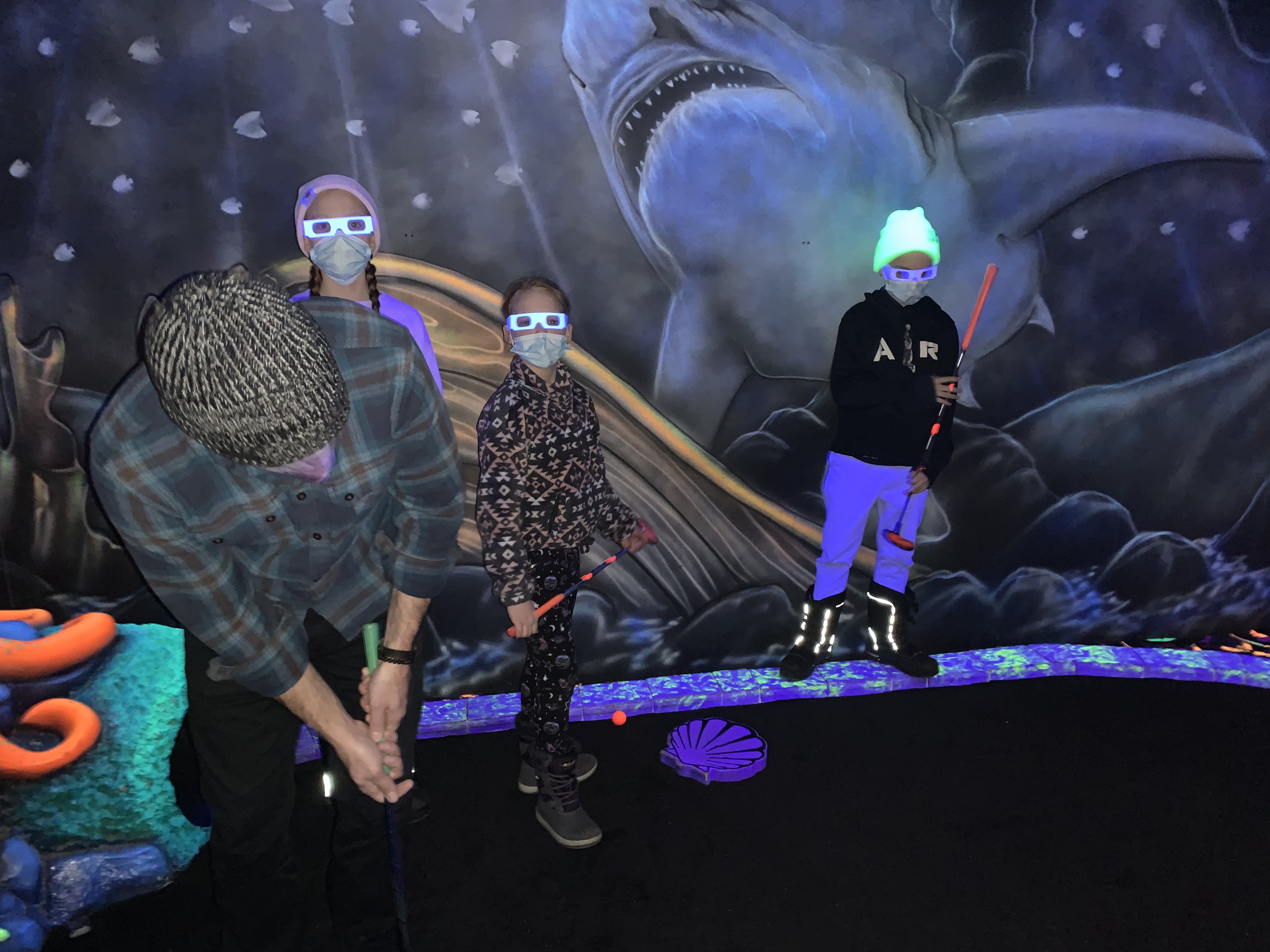 There's Magic in the Mystery
Back at the hotel, we decided to get dressed up for dinner and pretend that we were in a tropical place. The restaurant is right beside the pool area and is surrounded by huge trees and heaps of plants, it really did feel tropical. The kids eagerly ordered special drinks and were over the moon with their food. It was easy to abide by public health orders with the kids at one table and Derek and I sitting at our own table close by. Sitting back, watching them laugh and joke with each other was yet another moment of ease. There are many memories to make during this incredibly hard time right here in our own backyard.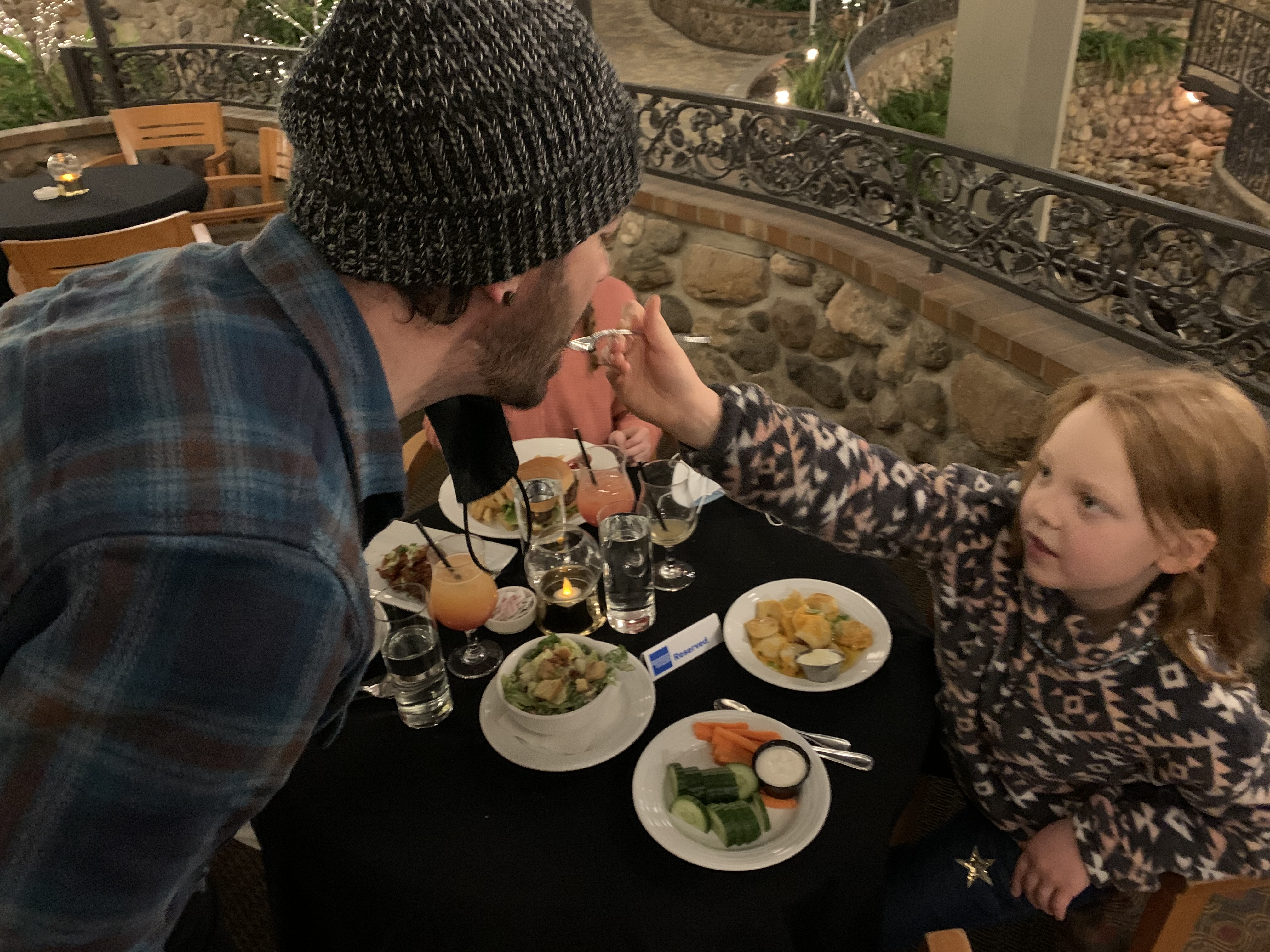 I don't know what these children will take from our moments together, the countless hours of stories that I share or the moments that they just stand in a sunbeam but, isn't this the magic of the mystery that is this life?