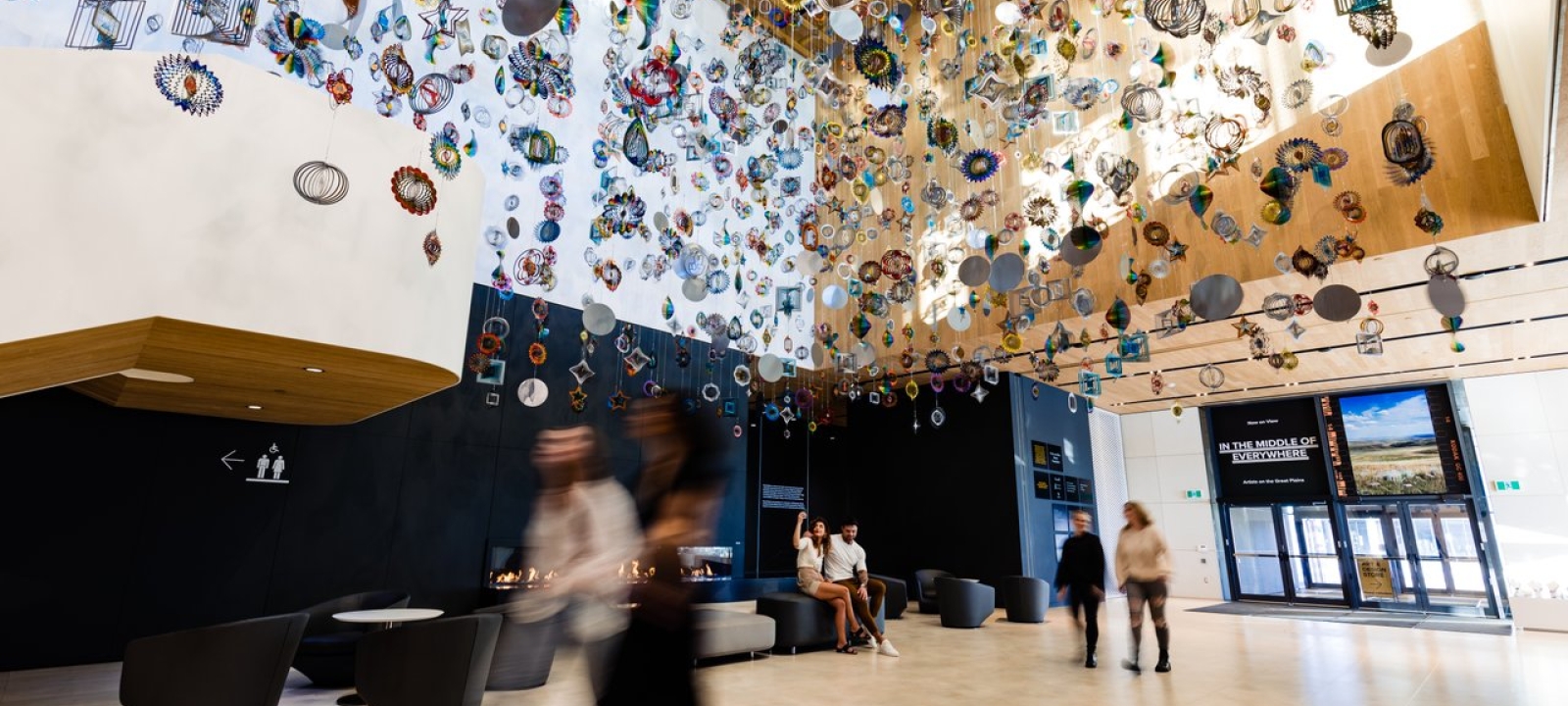 Q&A with Three Saskatoon Artists
Three local artists share why they appreciate living in Saskatoon, how the city influences their art and where they go when seeking inspiration for their work. Perhaps you'll find yourself inspired to
Three local artists share why they appreciate living in Saskatoon, how the city influences their art and where they go when seeking inspiration for their work. Perhaps you'll find yourself inspired to explore Saskatoon differently after reading more from Kyle Zurevinski, Peace Akintade and Zann Foth. Each artist also shares projects inspired by Saskatoon.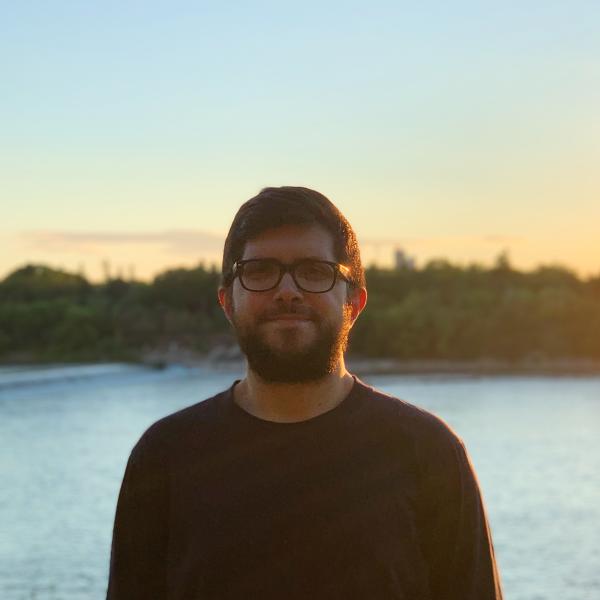 Website: https://kylezur.com
Instagram: https://www.instagram.com/kylezur @kylezur
Kyle Zurevinski is a visual artist, arts educator, and film producer from Saskatoon, SK with a BFA and BA in Art History from the University of Saskatchewan. His work focuses on using shape, abstraction, and colour as a tool to provoke emotion and thought through the image as a whole. He is committed to community media and art programming by working on the Board of Directors for PAVED Arts and as a program guide for Remai Modern. As a film producer, he has produced three feature films, two shorts, and a web series, which have all been developed under his production company Dynamic Video Imaging Corporation.

What do you appreciate about living in Saskatoon?
Kyle Zurevinski: I love living in Saskatoon because it is constantly surprising me, and I find myself enjoying new parts of the city as each year goes by. I think that especially the size of Saskatoon is perfect for me, it's smaller than larger cities in the country, yet big enough for me to explore and get lost in its hidden features.
Where do you go in Saskatoon when seeking inspiration or working on your art?
KZ: Lately, especially during the time of quarantine, I have really been enjoying going for nature walks and getting inspiration from the sunsets, colours, shapes, and sounds that the geography or Saskatoon brings. For a very long time interior and exterior architecture had interested me the most and inspired a lot of my work, but being forced to look away from these spaces has made me view places like Cranberry Flats and Meewasin Trail in new and inspiring ways.
How does living in Saskatoon influence your art?
KZ: Saskatoon and Saskatchewan in general has a rich and expansive history of abstraction, dating back to the Emma Lake workshops, and I think seeing and experiencing a lot of that work growing up and from contemporary artists has really made an impact on me. Saskatoon especially has so many moving parts and differently defined areas of the city, for example, the west side of Saskatoon holds a very special place in my heart. To me, it feels vibrant, diverse, and evolving constantly, this kind of energy and variety has made me feel like my art can respond to the city in so many different ways, hopefully putting attention to the details that weren't immediately noticeable.
Do you have any pieces inspired by Saskatoon?
Kyle provided the following three images: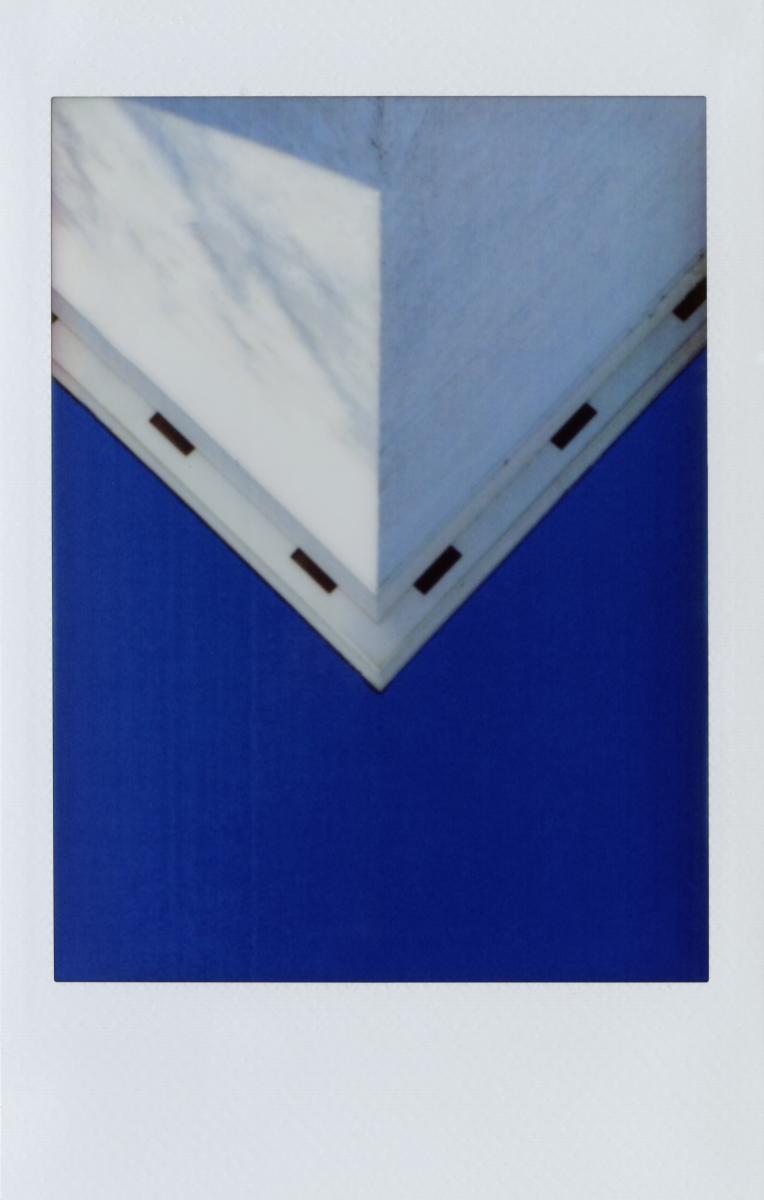 An image from a series called "vVIBEZz" taken at one of Saskatoon's Ukranian churches.
Kyle Zurevinski, vVIBEe 08, 2016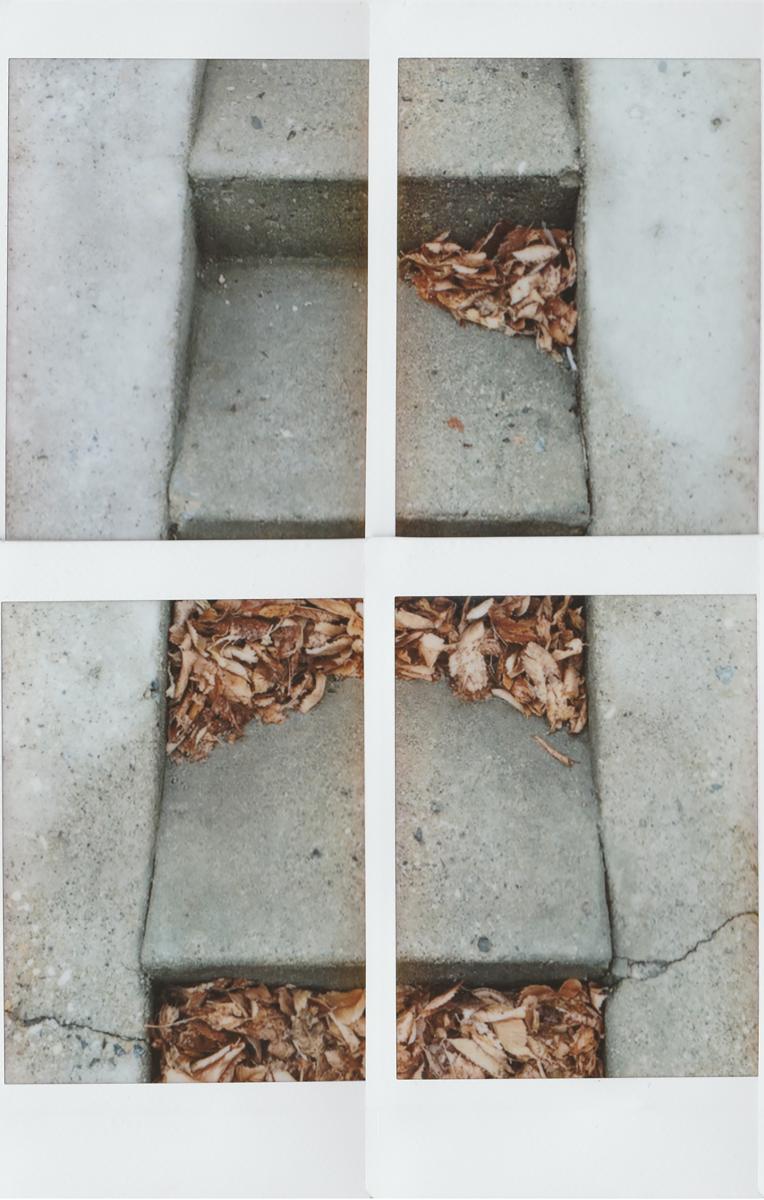 An image from a series called "INSTANTaneous" taken during a walk near the University of Saskatchewan.
Kyle Zuverninski, INSTANTaneous 06, 2016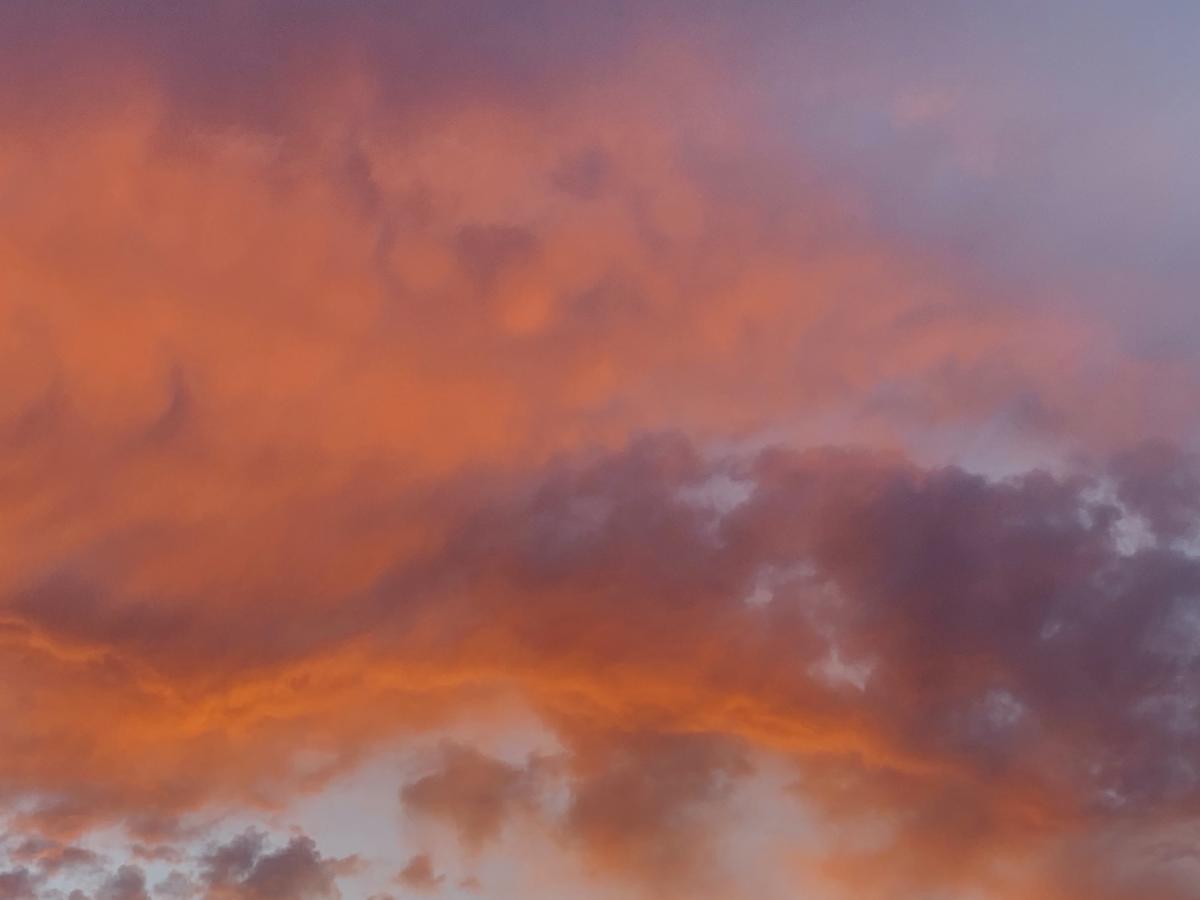 An image as taken during quarantine, notably around Cranberry Flats, when the artist began looking for colour and imagery within nature.
Kyle Zurevinski, epiphany, 2020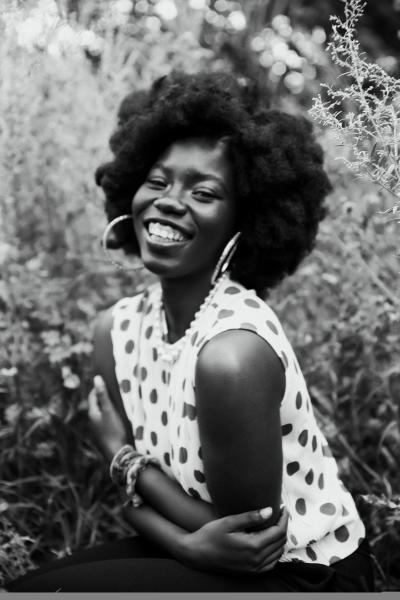 Image by Molly Schikosky Photography
Instagram: @s.ole.peace
Peace Akintade is an African-Canadian poet, public speaker, thespian and Saskatchewan's Youth Poet Laureate for 2020-21. She is the coordinator of Write Out Loud, a Saskatoon-based youth poetry community. She was also Saskatoon's Youth Slam Champion in 2017-19. Her poems touch on growing up in Kuwait, Nigeria and Canada, the impact of slavery in the village in which she lived in Africa, colourism, and relearning her culture in the face of colonization.

What do you appreciate about living in Saskatoon?
Peace Akintade: I appreciate the growing diversity in Saskatoon.  I have seen the city grow from just locals to immigrants and refugees seeing Saskatoon as their home. There is a community for every nationality in Saskatoon. I've seen the Italian community interact with the Nigerian community with earnest and appreciation! It warms my heart to know that slowly, new kids in Saskatoon can find their friends and not feel like an outcast because of their skin.
Where do you go in Saskatoon when seeking inspiration or working on your writing?
PA: I usually go to the riverside by Remai Modern. I love people watching, and there is always a set of families, friends, skateboarders, musicians and artists to take inspiration from. My poems are descriptive and have to do with nature, so it is important that I remind myself each day about how beautiful the world is. That is quite easy in fall, when the leaves are different colours and the sky smells like pumpkin. The different seasons can be seen by the riverside. It's like seeing the passing of time!
How does living in Saskatoon influence your art?
PA: Saskatoon has made my art more about observation. Observing the flow of culture through the years, and observing the flow of nature through the seasons. The experiences that I've had in Saskatoon fuel my work. Whether it is with the micro-aggression evident in the workplace, or the injustice of the Indigenous People, or the way Fringe Festivals make me feel like a kid again. I always write what I observe. Living in Saskatoon has taught me to use my memories as fuel for my art.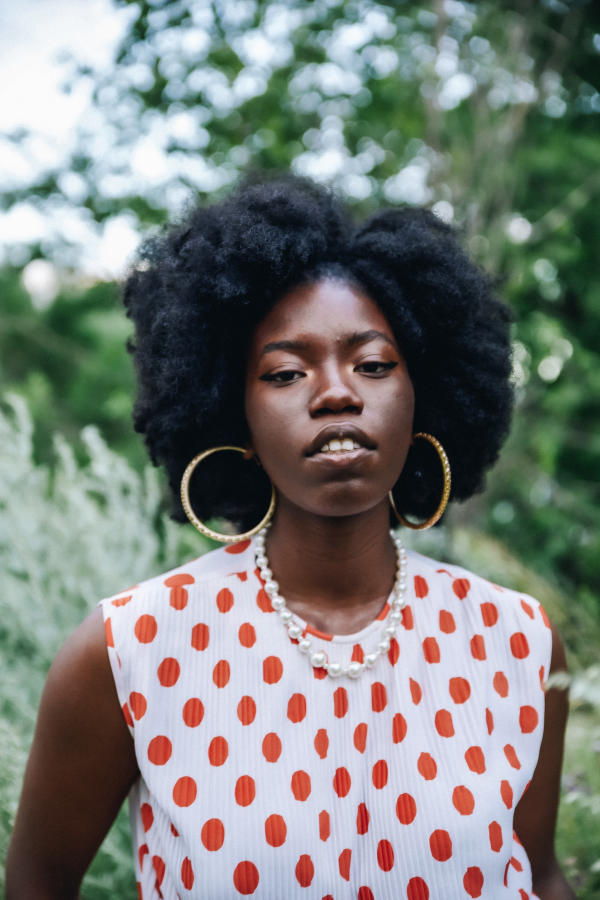 Image by Molly Schikosky Photography
Do you have any pieces inspired by Saskatoon?
The following poem "Burning Walls"  was shared by Peace Akintade:
Burning Walls
Sitting down,
Writing out what I will be.
Sipping my tea on 20th street
Trying to find a friend by the bar
next to the road.
I know it's not the best place
But where do I go
All these people try to tell me,
"Stay away from this guy"
But you don't see what I see
The twinkle in his eyes.
Be a friend or a foe
Heck, what do you know?
If you walked his own path
Or watched his own path
Drummed his own beat
Sat on his own seat
Am I a hooker
A drug dealer
A master of your nightmares
No, I'm just a person
Who's taking the wrong road
But all you give me is my stare
Like I have no home
Walking on my own on 15th street
Seeing all the girls in their mini jeans
Trying to move their hips and open their legs
The people trying to steal each other's bags
Don't hate them
Understand
What they have been through
What they go through
All the while trying to get past you
Now I'm running from street to street
Singing about the things I want to be
While the police try to pin me down on my knees
Just cause I'm Black
So my money's not enough
So now I'll act like if I'm tough
But through it all, I'm just a runt
That's what happens when you live in a dump
You've heard my story
You've seen it all
The difference between us
Are the walls in your eyes
Your despise
You realize
Just stop for a while
The similarities around us I think you will find.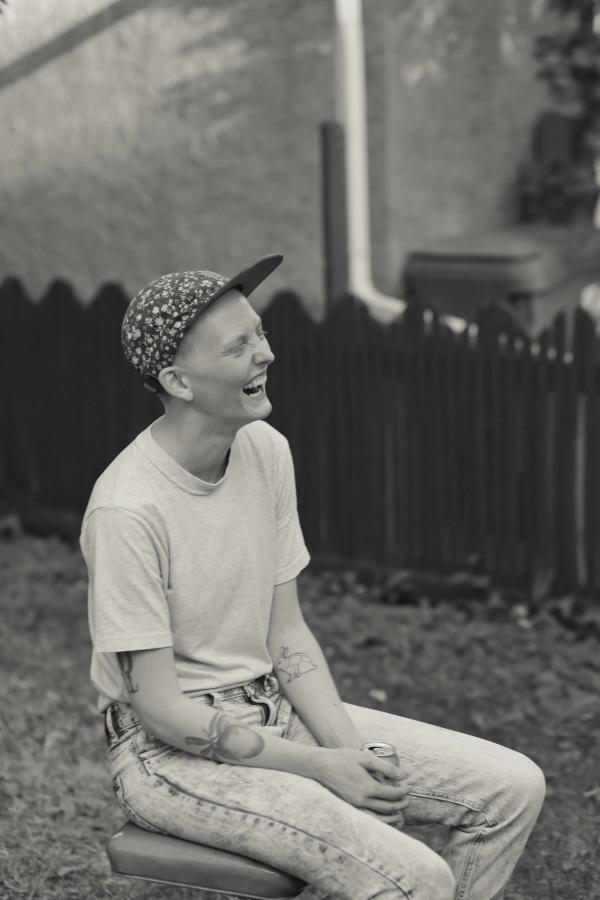 Image by Kristen Boyé
Instagram: https://www.instagram.com/zannfothmusic/ @zannfothmusic
Bandcamp: https://zannfoth.bandcamp.com/
Zann Foth is a prairie multi-instrumentalist who honed their craft in the cold Canadian prairies. Zann has grown as an artist and performer, and has quickly become a prominent and respected artist in the Saskatoon music community. They've performed at Saskatoon's Pride Festival, participated in a co-writing workshop mentored by Begonia, supported Toronto musician Wild Black on a Saskatchewan festival circuit, performed digitally on Rain Dove's Variety Show, and been a guest on St. Vincent's Sappy Hour. With support and contributions from other Prairie musicians, Zann has meticulously and delicately created their debut EP, Hindsight Cinema - released on June 19 2020. With songwriting full of heart, vulnerability, and storytelling carried by tasteful tone and classic instrumentation used to create rhythmic narratives, Hindsight Cinema tells a tale of Zann's journey to create meaning in the world around them.
What do you appreciate about living in Saskatoon?
Zann Foth: I really appreciate that there is the River running through it. It's not too big, like you don't have to travel too far to get anywhere within the city limits. I guess if you're travelling by car... but even walking you can travel quite a distance. I've been learning that recently, I've been liking going for a lot more walks this summer. Saskatoon has good energy too, a lot of really good communities. I've found a really good community here.
Where do you go in Saskatoon when seeking inspiration or working on your music?
ZF: Lately I've really liked looking at the pelicans, so by the weir is a nice spot - and just kind of hearing the water is a nice sound. And Circle Drive, if I need to let off some steam, I go to Circle Drive North, there is this slanted pavement area there and just sprinting up it as fast as I can is such a good feeling for a good release. By doing that a bunch of times your gravity starts to feel a bit funny - I really like that funny feeling, like a kid who has a playground under Circle Drive North.
There is also this little pond by Jim Pattison Children's Hospital, on the Meewasin Trail by the river. There are these beavers that are building a home there, and there was a parent duck with some baby ducks, and there was a porcupine on the trail there the other day too. I call it the Jim Pattison Wildlife Conservatory - that is a great little nature habitat to check out within Saskatoon.
How does living in Saskatoon influence your music?
ZF: There are a lot of fantastic artists I have collaborated with that I've met here, that's been really awesome. Like with Close Talker and Will Quiring specifically - working with him has been awesome and if we never would have lived in Saskatoon I never would have met him.
The seasons also influence my music - because we have the long, kind of harsh winter, it is a really nice time to get inside and be with your friends. And to just be in the studio and be indoors. I really like that about the winter time here, making the most of it by making music with your pals indoors - it's a really nice thing.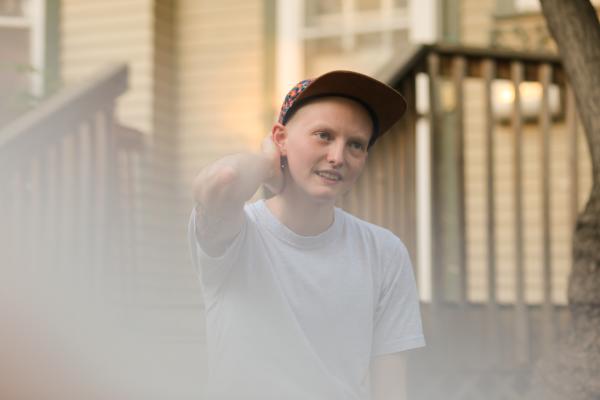 Image by Kristen Boyé
Do you have any songs inspired by Saskatoon?
ZF: Yes, the song "Bicycle Dream": I mention Russell Road in that song. That's a street that I lived on in my childhood. As a kid I used to get these vivid falling dreams once in a while where I'd be riding my bike down Russell Road. I was maybe like eight, nine or ten when I would have these dreams. There was this divot in the sidewalk on Russell Road and I don't know if it's fixed now, but I always used to have this really vivid dream that I would hit this bump and go over the handles of my bicycle. And when I would hit the pavement I would wake up and catapult awake in bed - and just sit up and (gasps) - you know! It was just that real of a feeling, I felt like I just fell off a bike. It never happened! But I dreamt about it all the time. Gosh, I hope they have fixed the sidewalk by now. Sometimes I still get a bicycle dream, but it's not really Russell Road anymore, it's more nondescript.

Listen to "Bicycle Dream":
bandcamp: https://zannfoth.bandcamp.com/track/bicycle-dream
Or on Spotify: https://open.spotify.com/track/3bFSUzUBRMOsTOL9pEUVUn?si=qsjydvd-RbaEHzNPrwxzaw