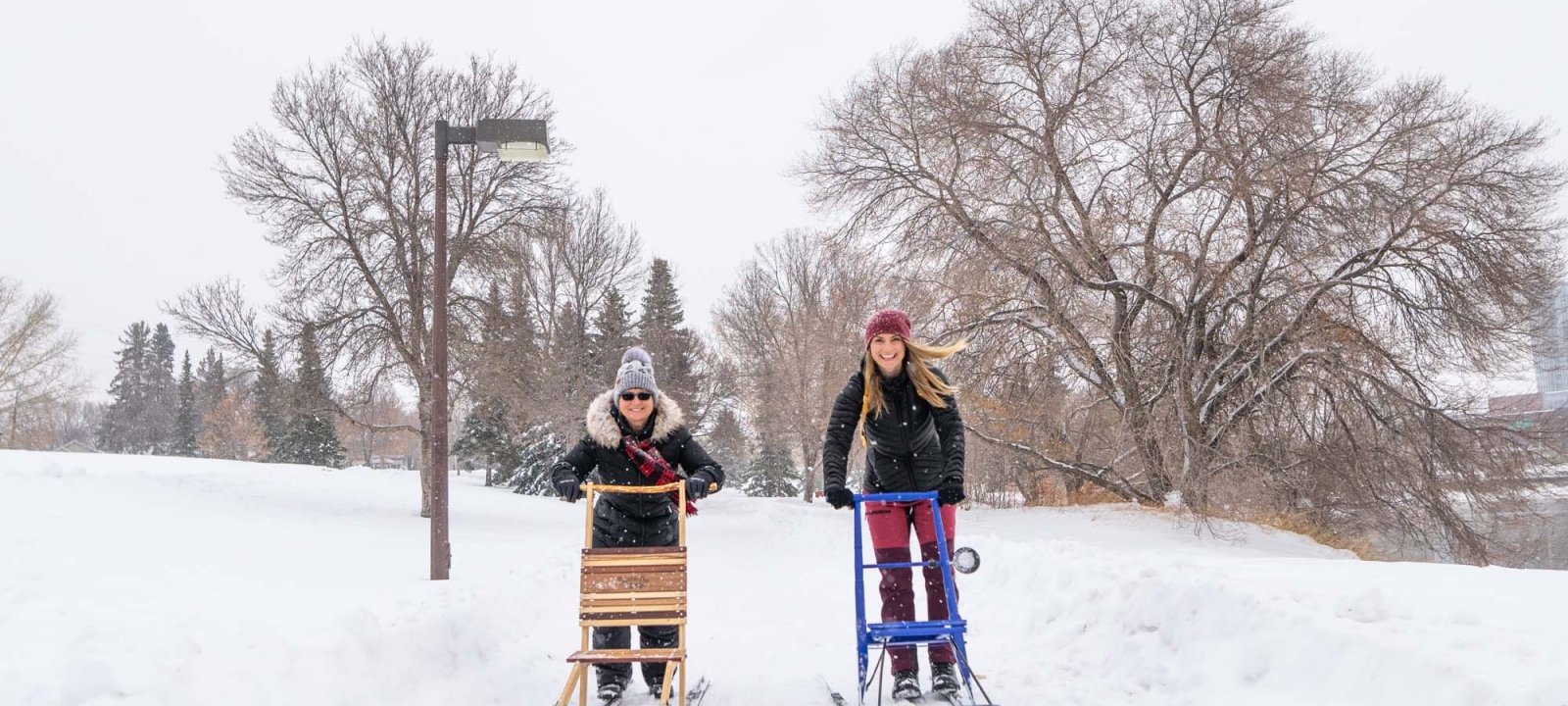 Outdoor Winter Staycation in Saskatoon
Outdoors & Adventure
,
Food & Drink
With travel looking a little different for the foreseeable future, my focus has turned local to get my fix for adventure. Which is why I planned a 24-hour winter getaway with my mom. We wanted to
With travel looking a little different for the foreseeable future, my focus has turned local to get my fix for adventure. Which is why I planned a 24-hour winter getaway with my mom. We wanted to enjoy the snow we've already received this season and hang out with one another in a safe and fun way.
Here's how we spent two days on a #Saskatooning staycation in YXE.
1PM – Rent a Kicksled from Escape Sports
While my mom is up for all adventures, I chose this particular activity because it's fun for any age. I told her to pack her toque, ski pants and boots and get ready for a ride along the river valley on a kicksled – a chair mounted on a pair of skis that's propelled by kicking the ground with your foot. It's like skateboarding but more stable as there are two skis and a pair of handlebars to hold onto and steer. It's most popular in Scandinavian countries where locals use them to get around in the snow.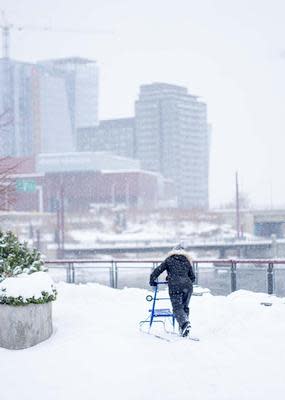 Photo credit: Ashlyn George
 
We arrived at Escape Sports as giant, fluffy snowflakes started falling from the sky. Jonny helped us get set up with our rental (details here) and we were off along the Meewasin Valley Trails. Mom and I kicked all the way to the Chinese ting pagoda, stopping for winter-wonderland views of downtown in the snow. Mom's favourite part? Whizzing down the hilly sections of the trail.
 
3PM – Check in to the Holiday Inn Saskatoon Downtown
Holiday Inn has been a preferred hotel of choice for me on my travels across Canada. I love knowing I'll get the same, thoughtful service at every location. Having a staycation here at the Saskatoon Downtown location was the perfect fit.
We were in for an extra-special treat as we had been upgraded to one of their top-floor suites – sunken tub and pool table included! Which made me realize how convenient this space is not only for the dreamiest of staycations, but for a celebratory night with girl friends or an intimate family gathering. Floor to ceiling windows gave us a striking view into the heart of the city and the kitchenette and natural-gas fireplace would be ideal for our dine-in meal in the evening.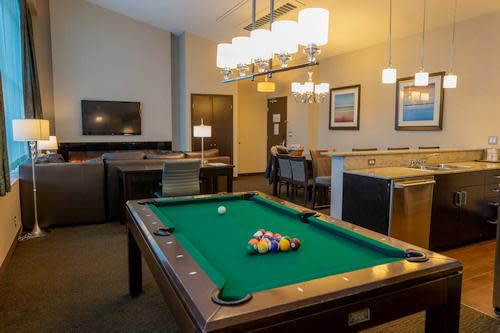 Photo credit: Ashlyn George


4PM – Grab a Sunset Patio Beer from Shelter Brewing
Walking from the hotel, my dad and brother joined us for a sunset patio beer at Shelter Brewing. Yup, you read that right - beer on a patio in the middle of winter! We came prepared by dressing properly in outdoor gear and even brought blankets for the picnic-bench-style seating. The ambiance was magical with twinkle lights strung above us and festive decorations all down 2nd Avenue. I was stoked to see a smoked porter on the drinks menu while my family all opted for the saison. Cheers to good health, happiness and family!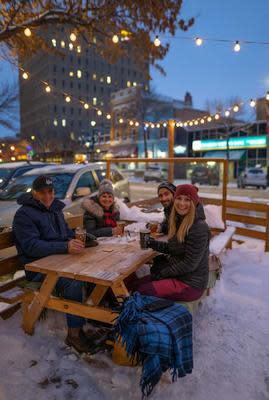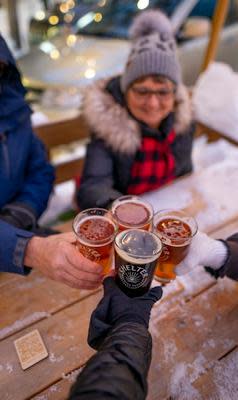 Photos courtesy Ashlyn George
 
6PM – Pick up Tacos-to-go from Picaro
We kept supper safe, simple and easy with take-away from Picaro – a Mexican-inspired restaurant in Riversdale. The perfect post-beer meal, we ordered roasted chicken tacos with salsa roja and roasted poblano sauce. Of course, we also got an order of cinnamon sugar churros with dulce de leche for dessert. (I couldn't help but reminisce back to all the dulce de leche I consumed while in Colombia a few years ago.) We took the meal back to our hotel suite for a cozy dine-in experience and an evening of relaxing and hanging out together.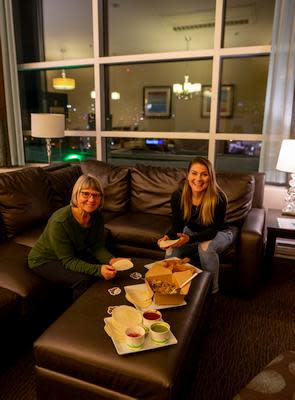 Photo courtesy Ashlyn George
 
9AM – Sleep-In and Breakfast
I'm the first to admit, I'm a night owl and not a morning person. So it felt extra luxurious to set my alarm for a mid-morning sunrise (perhaps the best part of winter is seeing more sunrises than I do in summer). While the clouds ended up covering most of the sky, Mom and I headed down for a big breakfast to start our day. Mom made an excellent choice with the crepes and I went with the classic eggs benny.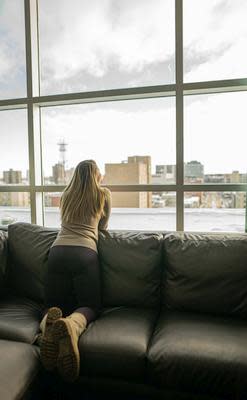 Photo courtesy Ashlyn George
 
11AM – Beaver Creek to Feed the Chickadees
You might not believe this – but it was my very first time visiting Beaver Creek Conservation Area. There are so many places to discover in this city, there's always somewhere new to go.

Our interpretive guide Jamie was full of interesting facts and trivia about the ecology of the prairie habitat. Within minutes she had spotted a porcupine hanging out in the trees - a cool experience considering they're nocturnal animals. But best of all, we packed (unsalted) sunflower seeds to feed the chickadees out of the palms of our hands while we walked the trails. It felt Disney-princess inspired and might be one of the best nature experiences to have around Saskatoon.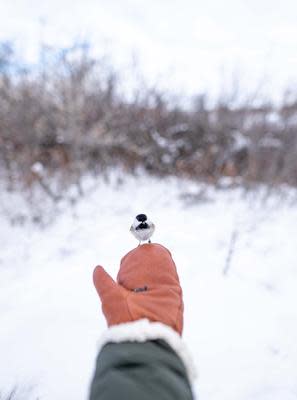 Photo credits: Ashlyn George
 
12PM – Outdoor Picnic with a Prairie Grazer Charcuterie Box
To finish off our 24-hour staycation, we picked up a hand-crafted, artisanal Prairie Grazer charcuterie box for an outdoor picnic lunch. The business and concept are new to Saskatoon thanks to two working moms, Meghan and Cristie who share a passion for good food and supporting local. Inside we found a gorgeous and tasty display of local products and ingredients including The Night Oven Bakery artisan bread, selected meats from The Pig & Pantry Craft Butchery, Gravelbourg mustard, Hanes Hummus and a variety of nuts, sweet treats, cheeses and crackers.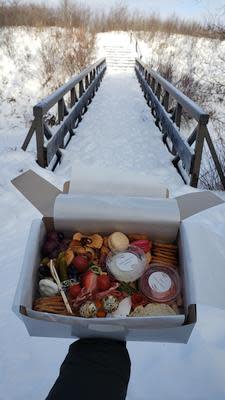 Photo credit: Ashlyn George
Our 24-hour staycation in Saskatoon was the ideal getaway we needed to hang out and be tourists in my home city. It was a great reminder that exploring locally can be just as rewarding and wonderful as any cross-border trip.