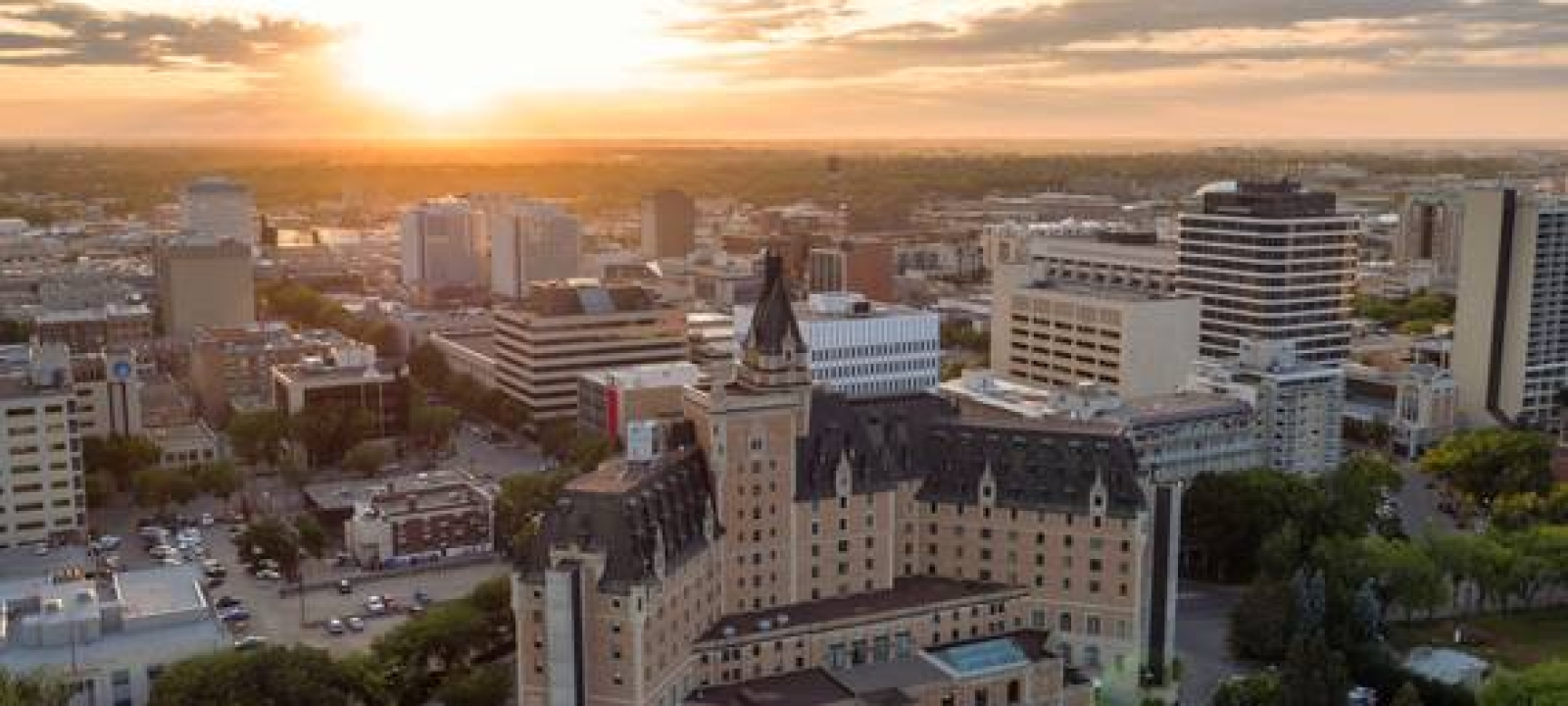 Neighbourhood Love: Downtown
Arts & Culture
,
Entertainment
,
Families
,
Fashion
,
Food & Drink
Neil Young sang, "Come on baby, let's go downtown, let's go, let's go, let's go downtown." He knew that downtown was a ready-made, good time Friday night (or, a Tuesday afternoon, for that matter). If
Neil Young sang, "Come on baby, let's go downtown, let's go, let's go, let's go downtown."  He knew that downtown was a ready-made, good time Friday night (or, a Tuesday afternoon, for that matter).
If you're looking for a place to happen, you can't find an area with more cool stuff packed into a few city blocks than you can downtown.  I love the hustle and bustle of the people, one of the most diverse groups you'll find anywhere in the city. They come from all over. Suit and tie guys pouring out of office buildings. University students blowing off steam at the pub. Shoppers looking for that perfect gift. Kids enjoying an ice cream at the Bus Stop.  New Canadians interacting and growing their communities and businesses. SUV-nauts from way out in Suburbia exploring the great unknown. People up on their luck. People down on their luck. They're all there.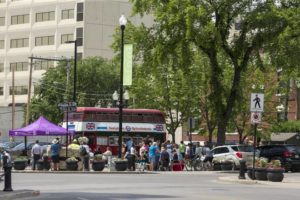 In the last year, I've written about a few neighbourhoods in Saskatoon. I wrote a love letter to my own neighbourhood, Nutana. I looked at the up and coming area surrounding 20th Street in Riversdale. And I put finger to keyboard to explore a little further north, in the eclectic area around 33rd Street. There are some very hip neighbourhoods that surround downtown, each with their own vibrant personalities. But downtown is the melting pot that brings us all together. The centre of it all. And if we want to look at the first, real Saskatoon, we have to look downtown. Simply because it was the first place actually called Saskatoon.
Today, it's referred to as the Central Business District, a grid of streets filled with dwellings, businesses, stores, and restaurants and bars that lay spread out in front of the city's fashion mall, Midtown Plaza. But actually, I'm not calling it the Central Business District here. That's a term for maps and documents. This is downtown, baby.
And when I'm downtown, I usually start with dinner and drinks at one of my favourite spots in the city, The Rook & Raven. My wife and I will hit The Rook before various activities; a night at TCU Place taking in the Saskatoon Symphony Orchestra, a show at Persephone Theatre, or even a movie at the Cineplex. If you're feeling a bit more rock n' roll, perhaps pizza and cocktails at 13 Pies before checking out a band at The Capital Music Club. Is it anniversary night? Then the plan is cocktails at The James, dinner at Little Grouse on the Prairie, followed by getting all cultured up, poking around the Remai Modern Art Gallery (or some of the other stellar indie galleries). There really are too many places to be able to mention, but it goes to show, the possibilities are endless. High and low culture popping off, all in one place.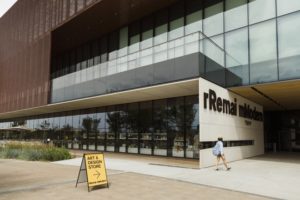 And the shopping.  Man, the shopping. Records at The Vinyl Exchange, boutique clothing at Manhattan Casuals or Era Style Loft.  A bevy of suit stores for dapper dudes, like Caswell's or Anthony's. And tons more: jewellers, booze, fashion, noodles, furniture, coffee, not to mention a mall full of whatever you need.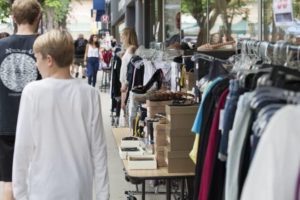 But downtown wasn't always this hotbed of awesomeness, at least, not in the beginning.  If you take a trip to the local history room of the Francis Morrison library (or, you know, use the internet), you'll see a city taking shape, from pioneer days to our 21st century present.  (Every Saskatonian below a certain age: "What? The Cenotaph used to be in the middle of the street? Weird!")
The land west of the river first found use in the late 1800s, when railway lines between Regina and Prince Albert crossed the South Saskatchewan River. The East bank was too steep, so steam engines refilled on the West banks, where businesses began to appear around the pumping station. Eventually, a train station and CN Rail yard appeared too.
In 1901, that Western area became a village named Saskatoon, 100 souls strong. In 1903, an economic boom took hold, with the arrival of the Barr colonists, the same year Saskatoon adopted a town charter. In 1906, Saskatoon joined with Nutana and Riversdale to become the City of Saskatoon, population: 4,500.
The downtown and Nutana neighbourhoods were separated by the river, and both downtown and Riversdale were segregated by the CN Rail yards.  But in 1907, the Victoria Avenue Traffic Bridge was completed (rebuilt and reopened in 2018!). They also built underpasses below the rail lines and a wooden pedestrian bridge at 20th Street, all of which served to sew the city together.
In the 50s and 60s, downtown as we now know it really began to take shape. The CN yards were replaced by Midtown Plaza, itself modeled after the train station. This also made room for the freeway, and the last passenger train crossed at the original CNR bridge in 1965.  By 1970, Midtown was open for business and the Sid Buckwold Bridge brought Eastsiders right to it.
Things have only progressed since then. Downtown has changed, recently getting ever closer to its full, beautiful potential.  I have a photo on the wall in my dining room of Saskatoon in the 60s.  Rotary Park in Nutana is undeveloped, and the Western riverbank has only grass and some scattered buildings before you step onto the main grid of downtown.  That area now looks completely different --- it's the stunning River Landing.  And it has become a gathering place for that melting pot.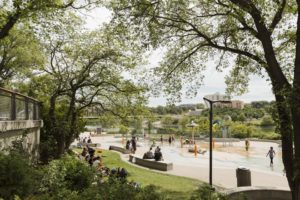 On a summer day, my wife and I take my son to the splash park. In the evenings, we go for walks along there, passing other people; joggers, lovers, and thinkers staring out at the river.  It's a spectacular area, and I can't help but feel moved by the majesty of the view --- the river, caught between two bridges, with homes and tall buildings surrounding it all.  I wonder what those first Saskatonians would think if they could see it all now?  River Landing, the face of downtown, has become the wonderful culmination of a dream they started, still in motion, more than a century later.
Come on baby, let's go downtown.  Let's go, let's go, let's go downtown.