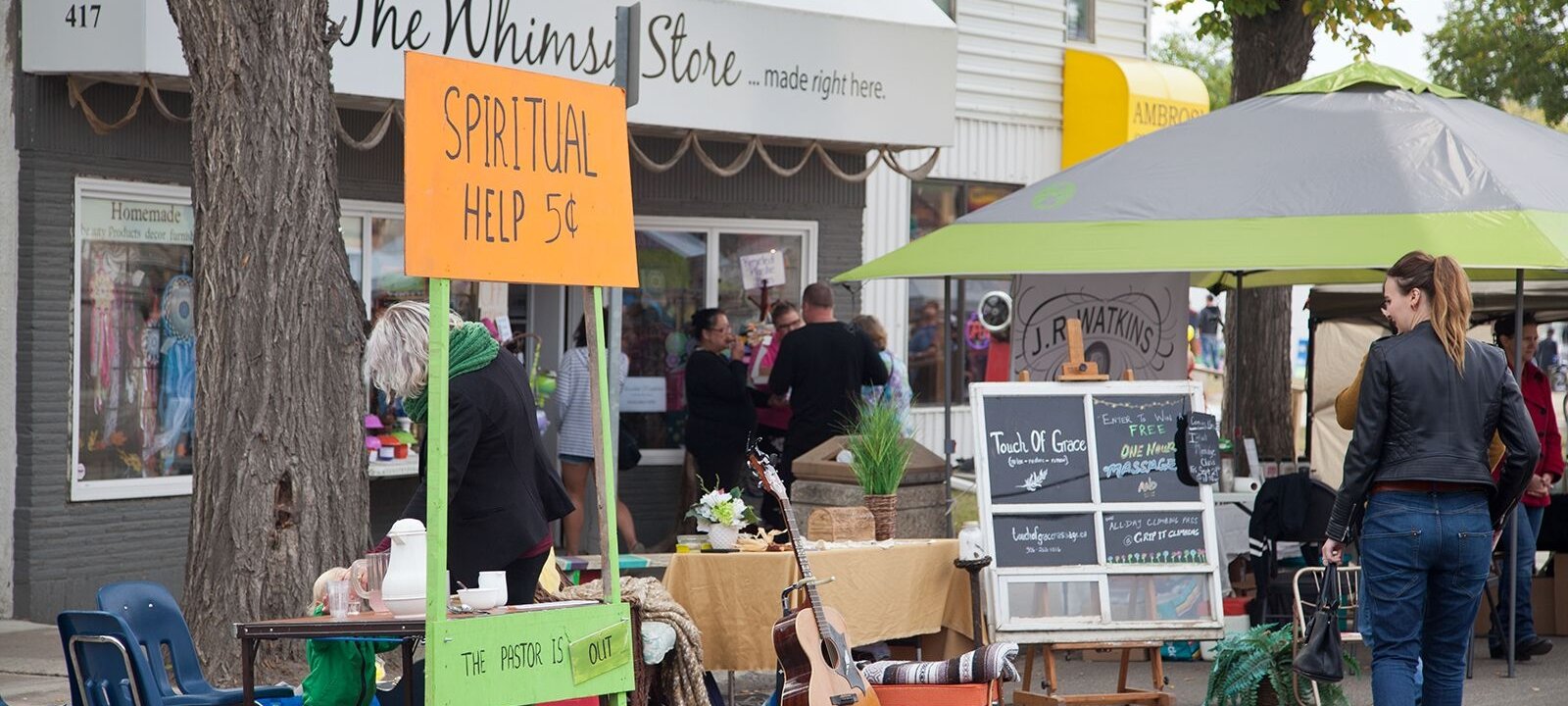 Neighbourhood Love: 33rd Street
Arts & Culture
,
Entertainment
,
Families
33rd Street extends from the west bank of the South Saskatchewan river to the furthest edge of the city. It has several stretches of commercial regions, but today, I'm looking at the part that divides
33rd Street extends from the west bank of the South Saskatchewan river to the furthest edge of the city.  It has several stretches of commercial regions, but today, I'm looking at the part that divides the heritage communities of Caswell Hill and Mayfair (and a bit of Hudson Park).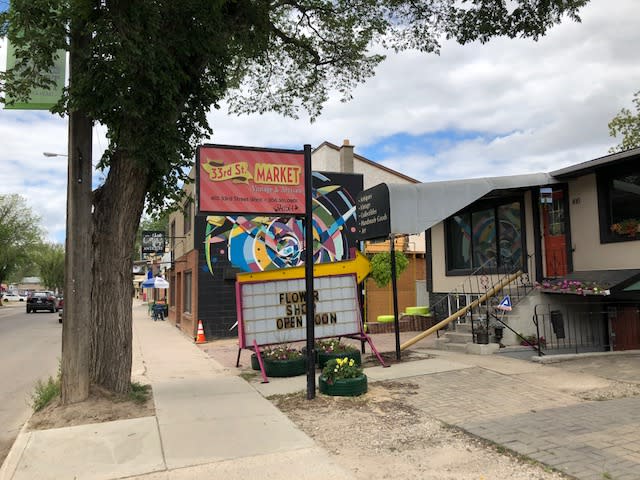 If downtown is the vibrant centre of the city, Broadway the quirky quaint neighbourhood, and Riversdale home to the hip, then 33rd Street is the dark horse cousin to them all.  It's not only a bit off the beaten path of those core neighbourhoods, but it's more eclectic than eclectic.  The last few years have seen a wonderful revival of the area.  There are a lot of young families moving in and renovating classic Saskatoon homes and 33rd Street itself has seen some unique stores opening.  It may not be a place that some think to go wander around, have lunch, and do some shopping - but it should be.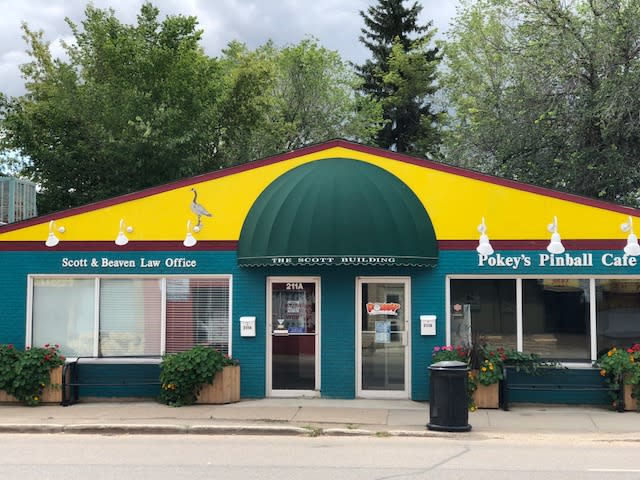 I have my own memories of 33rd Street.  When I was a teenager, I played in a band that practiced at the drummer's house in Mayfair.  And while I lived on the other side of town, most of the band lived in Caswell or Mayfair.  We could often be spotted lugging amplifiers or guitars across 33rd.  Years later, I'd still trek down to 33rd Street, to join the long line for Saturday morning bread and pastries from Christie's Mayfair Bakery or to eat at the original Keo's Kitchen (which is now located at Broadway and Taylor). These days, my son is obsessed with Pokey's Pinball Cafe, which has unpretentious Cuban fare and, of course, a fun selection of colourful pinball games.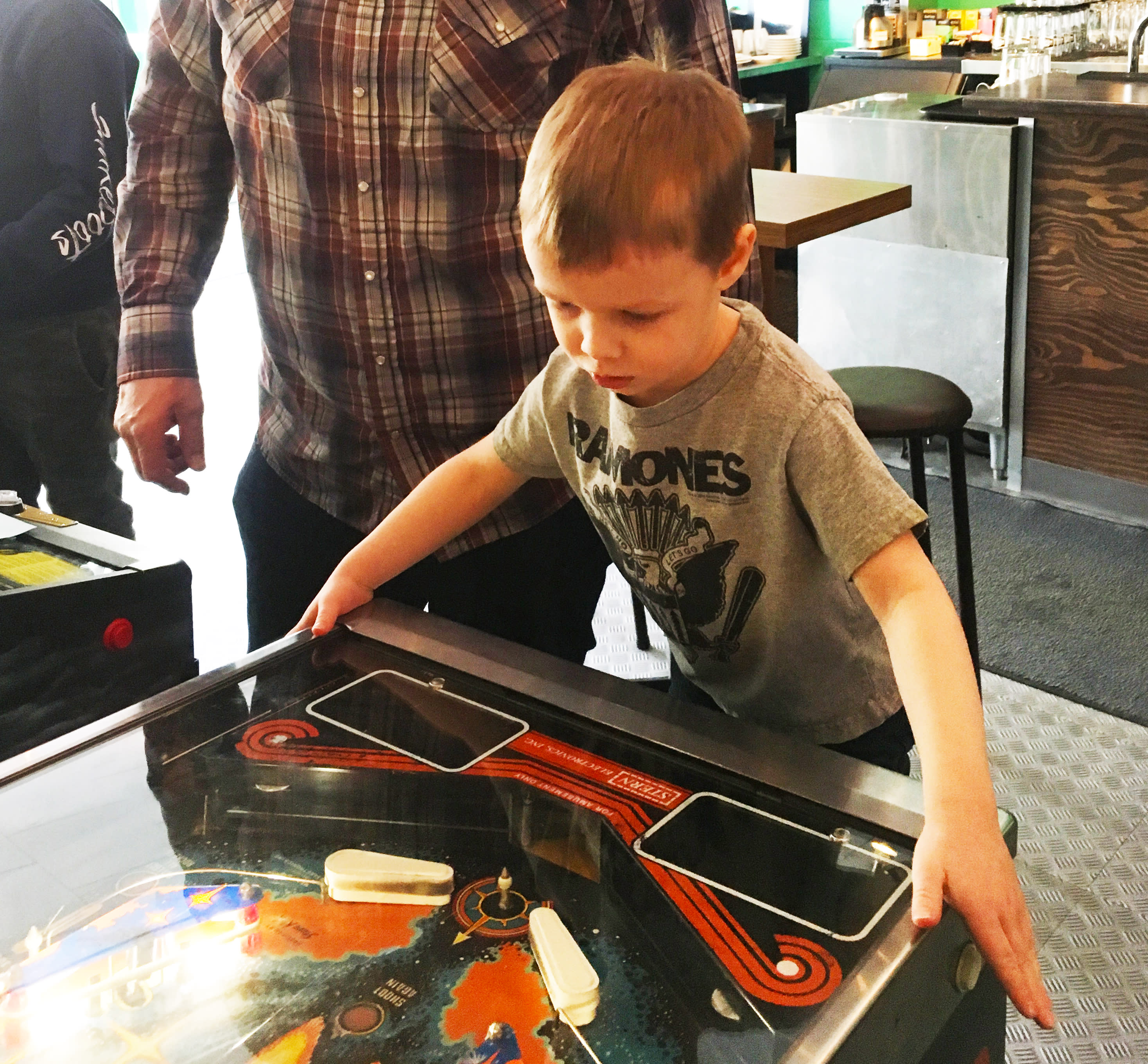 Mayfair is one of the oldest subdivisions in Saskatoon, built on land that was originally granted to the Temperance Colony in 1882.  But by the time Saskatoon became a city in 1906, Mayfair was owned privately.  It didn't show up on a map of Saskatoon until 1907, though even then, it was still technically not part of the city yet.  It took until 1911 for Mayfair to be included.  The area's original street names were still used for many years: names like Albert Street (33rd), James Street (34th), Charles Street (35th), Lily Street (36th), and if you can believe it, Frisco Street (37th).  We should have kept that last one.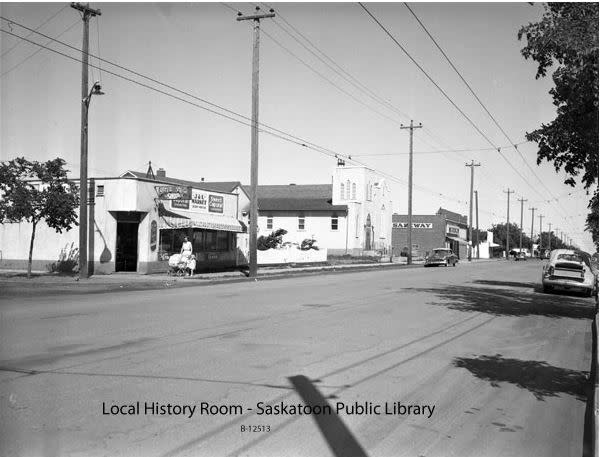 33rd Street circa 1954 via Saskatoon Public Library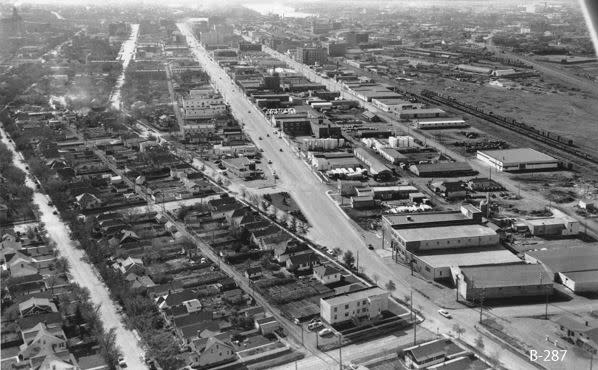 Aerial view of 33rd Street looking South - Via Saskatoon Public Library  
The area really exploded in the mid- to late-1940s and sprouted with a fever pitch until the start of the 60s with 33rd Street becoming the commercial hub.  Some of the heritage businesses are still there today; Christie's Mayfair Bakery opened in 1933.  Mayfair Hardware opened in 1949. New stores have been popping up on 33rd in the last few years, and many of them have a very homegrown, quirky feel.  In fact, even Mayfair Hardware is a lot more eclectic than it was in the past.  I bought a rake there last year, but you can also find a treasure trove of fun, kitschy items.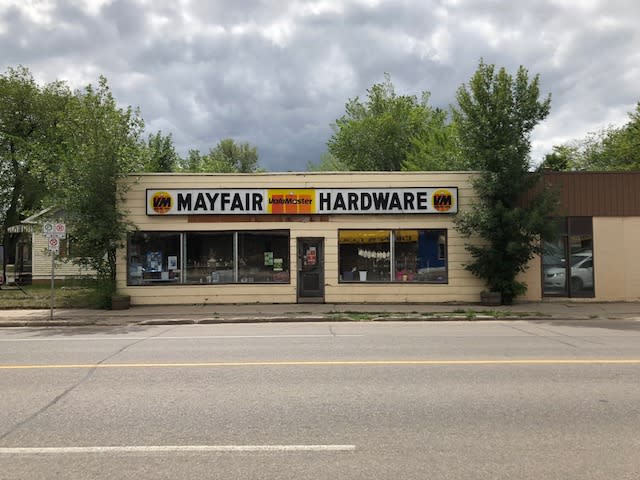 It seems to me that there are more artisanal hotspots and offbeat specialty shops in that four or five block stretch than almost anywhere else in the city.  Even the Safeway down there feels like a different kind of Safeway than the suburban versions of the grocery chain stores.
Take my advice - spend a Saturday on 33rd Street. Hit stores like Penn's Antiques, 33rd Street Vintage and Artisan Market, Back to Coffee Beans, and The Whimsy Store to source out that funky piece of décor for your home.  Or try on a great vintage outfit at Better Off Duds, a famously well-curated second-hand clothing store.  You can find something amazing, hilarious, or downright bizarre at Glitch Gifts and Novelties.  You can even get a flag made at The Flag Shop (and of course, they do all kinds of banners and windsocks, for marketing or just for fun).  Top it all off at one of the great restaurants in the area.  As I mentioned, my five-year old son loves Pokey's Pinball Café, where I get a darn good Cubano sandwich and a beer while he makes like a Pinball Wizard.  If I had a dime for every time he said, "Dad, can we go to Pokeys?" I'd be a millionaire.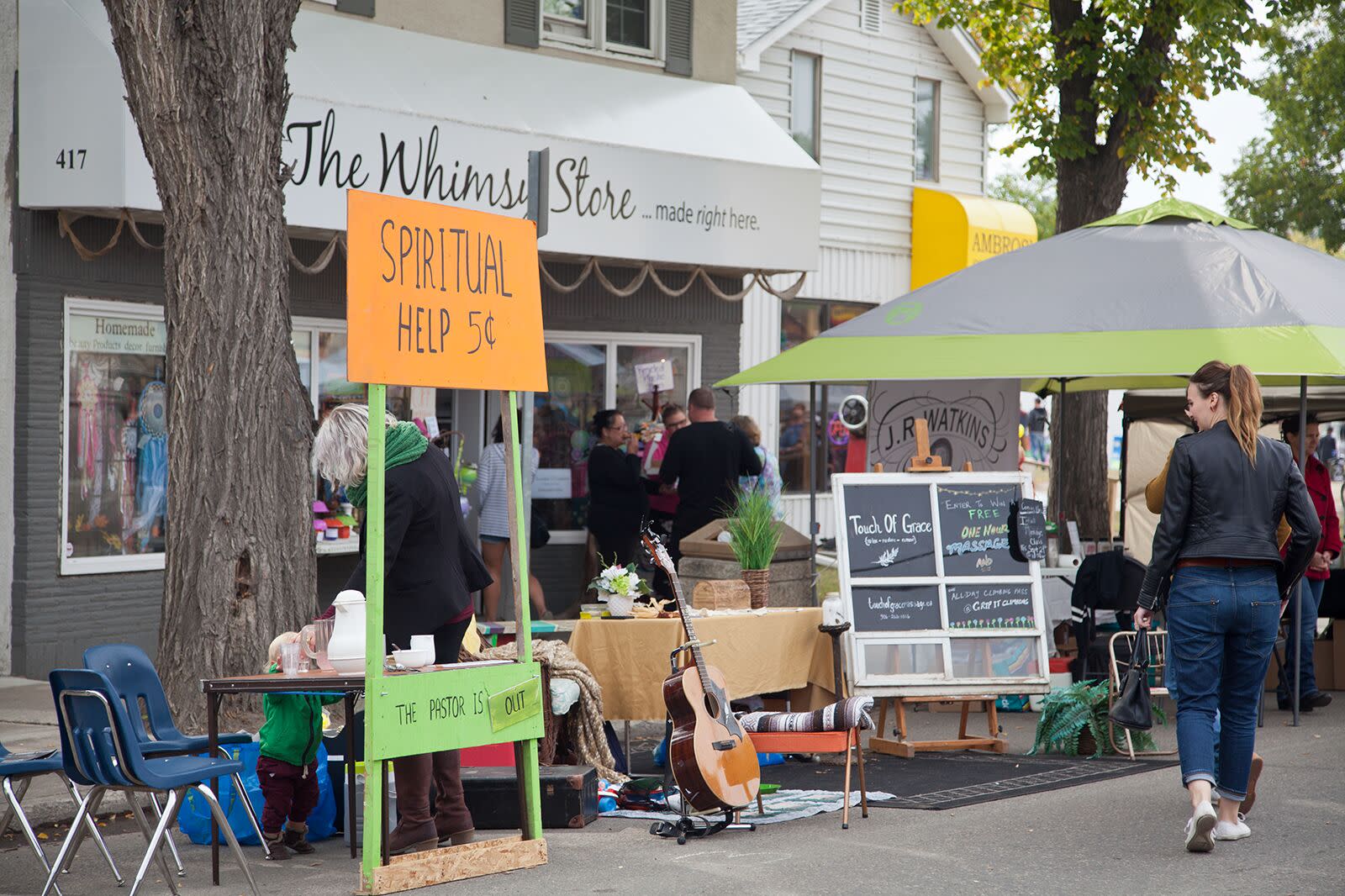 Photo via: 33rd Street Business Improvement District 
Seriously, the next time you feel like you've seen it all in Saskatoon, head down to 33rd Street and take in the patchwork of weird and wonderful that is slowly taking root on the historic street.  I've been finding myself down there more and more, and I love the community that's taking shape.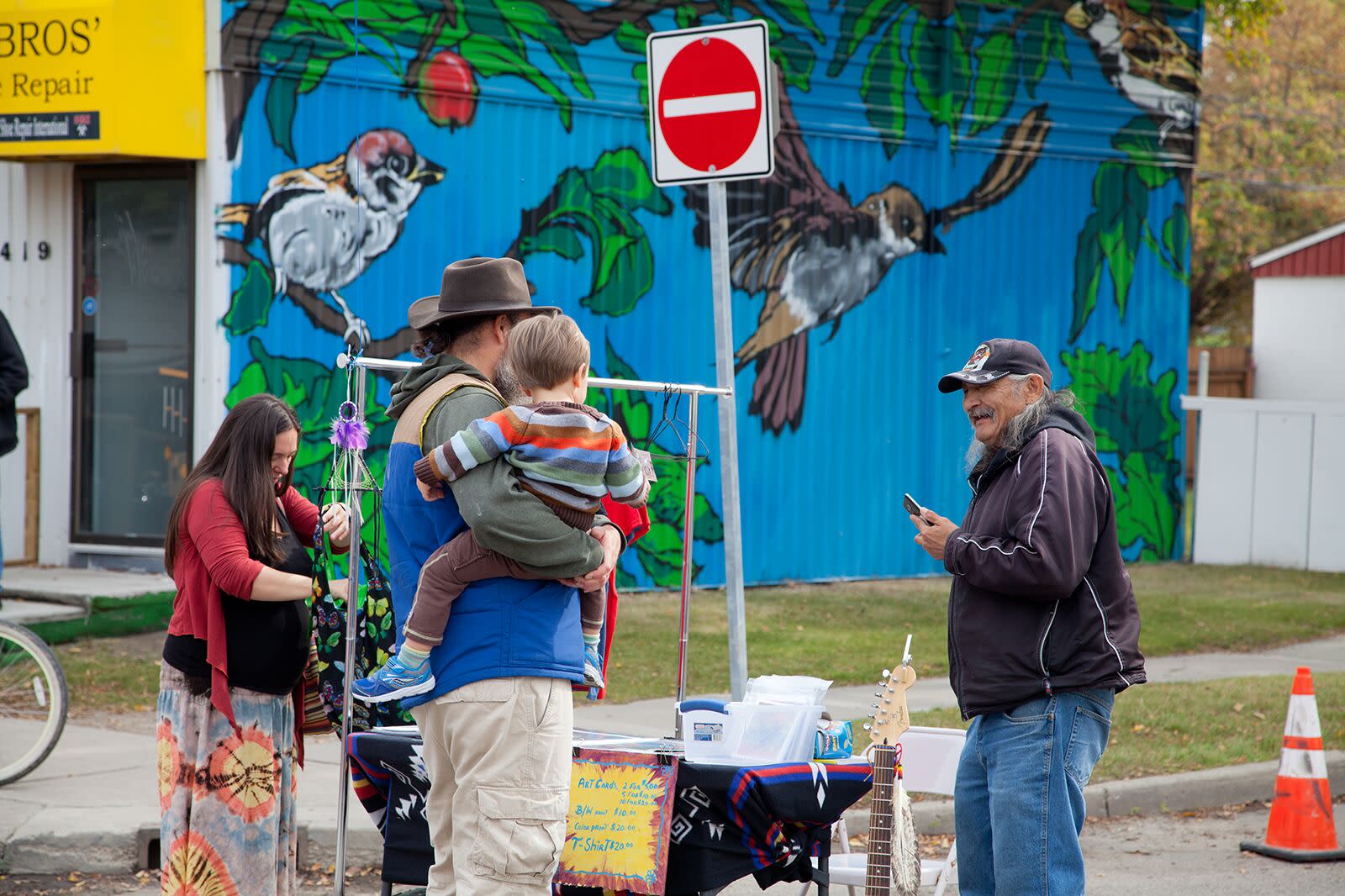 Photo via: 33rd Street Business Improvement District 
Also, be sure to check out the 33rd Street Fair happening September 15th, 2018