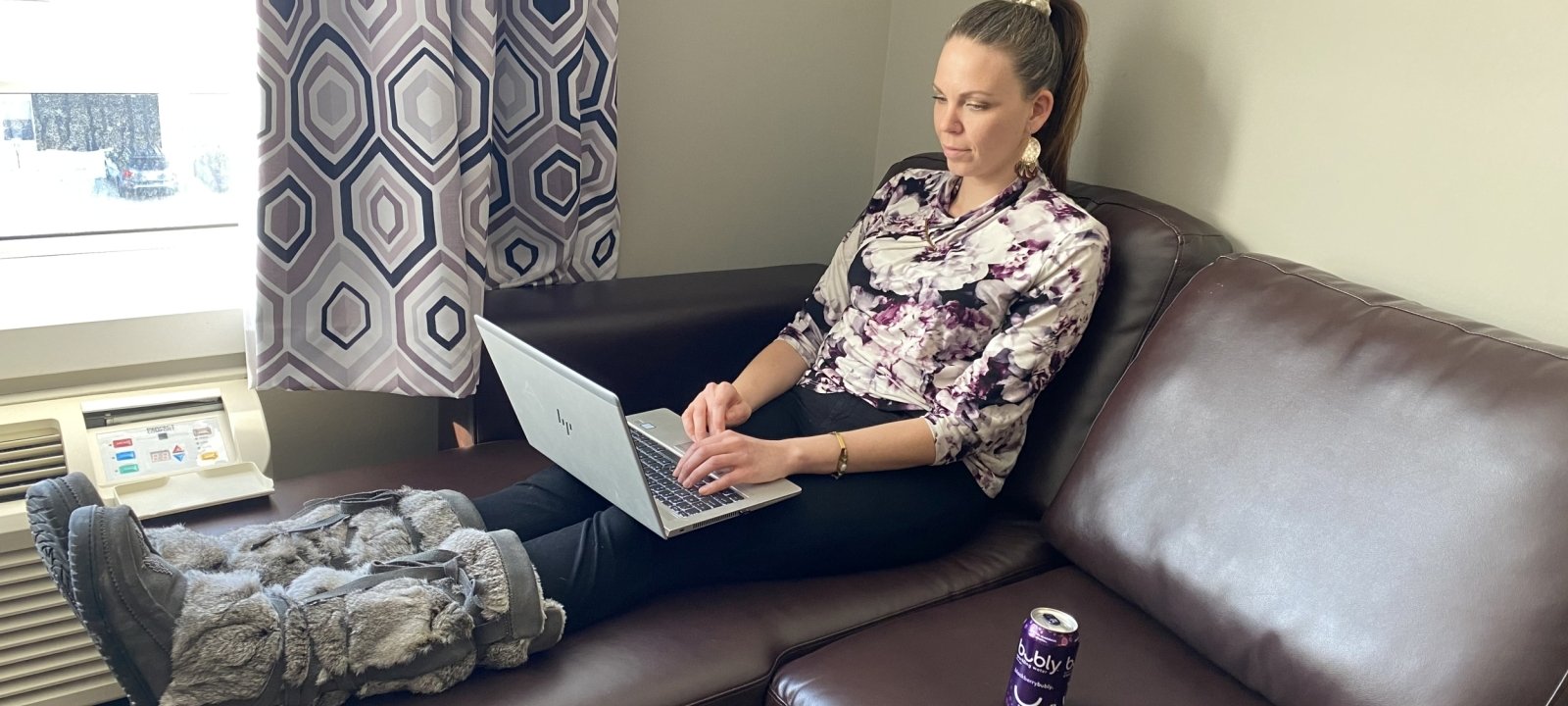 Just Minutes Away from the Space I Need
WFH: Work From Here
,
Accommodations
,
Food & Drink
Like any Monday, this one started early knowing that my three kids would be headed out to their "other parents" for a couple of days and that I had to be on morning television by 7:20 am. This

Like any Monday, this one started early knowing that my three kids would be headed out to their "other parents" for a couple of days and that I had to be on morning television by 7:20 am. This balancing act is surely felt by so many modern families, especially in the age of COVID when we all don't go too far from home. The constant coming and going of children adds additional pressure for everyone; making sure every mitten, iPad, piano book and lunch kit makes it out the door on transition days. I made it out the door with enough time to slide into the lobby of The Delta Bessborough for my media interview and a warm coffee.
I have never realized how important leaving the house is for me in a day and I liken it to why travel has been so important in my life. Not only are you presented with a totally fresh perspective but, an opportunity to pull back and reflect, to get a birds-eye view of life and what is really going on. I can remember some long plane rides that brought many epiphanic moments of reflection that I would have never had. The 30,000 foot perspective of reality was not anticipated in this day but so incredibly needed.
 
Five Minutes From My Front Door
Following my media interviews where I shared the exciting news of Tourism Saskatoon's newly launched winter campaign, I was on my way to The Home Inn & Suites in Stonebridge. This hotel is literally a five-minute drive from my home and it's a building that I drive past every day. I would have never thought to spend a day working from this space let alone spend two nights. What a welcome surprise.
My room stopped me dead in my tracks. A beautiful fireplace divided the bedroom and living room which was flanked by a full kitchen and a huge soaker tub caught my eye in the bathroom. I wish you could hear the deep breath that I took in that moment. This felt more like home than a hotel room, a sentiment confirmed as I walked into the bedroom and found pillowcases that read "Welcome Home". Another deep, deep breath. I started to unpack my laptop and work for the day and received a text message from Jenn at the front desk; "Good Morning, Ms Clovechok. It is great to have you with us at Home Inn Saskatoon. How is everything in your room?" I had everything I needed and direct text communication with the front desk for the rest of my stay. What more could I need.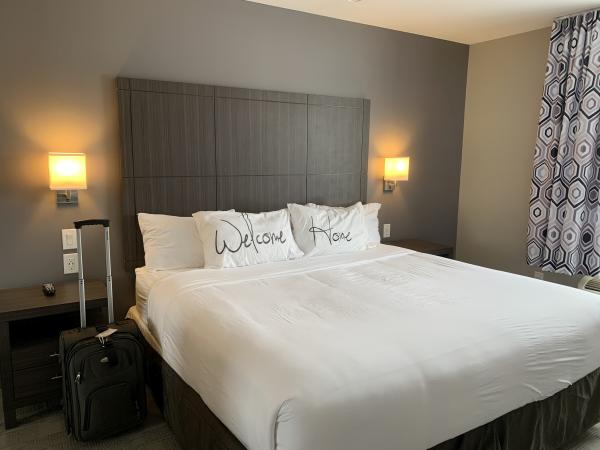 https://www.bookaday.ca/
Introducing The Explore Pass
My workday was productive as I moved throughout the space from the 15-foot desk to the couch by the window and then to the bedroom to sit by the fireplace. As I wrapped up my day, the real adventure was about to begin. All D3h hotels offer something called an "Explore Pass" upon check-in. The pass can be redeemed at any of their partner businesses in Saskatoon. I explored the website to find that with my Explore Pass I had access to an experience at Paddockwood Brewery, Rock Creek Tap and Grill and UNA Pizza! Just then, the door opened and my partner Derek walked through the door. I felt like I hadn't seen him in ages, despite the quick goodbye we had given one another earlier that morning.
 
Stay Awake
How is it that a person can live with someone every day and so rapidly, especially during COVID, lose sight of how incredibly important their presence is in life? COVID has brought a high-level of monotony to our days while we lack adventures to plan towards or experiences to look forward to. It only took me travelling five minutes from home to see my partner in a different light and reawaken to the gift that he is in my life. Needless to say, I was excited to have a night with him with a few local adventures to be had.
 
Life Is Too Short To Drink Bad Beer
I am not a beer enthusiast unless it's good craft beer that has passionate people behind it. My first foray into craft beer making happened when I was living back in Alberta and experienced life beyond a skunky bottle of Canadian. When I moved to Saskatoon, my mind and heart were opened dramatically by our local brewers and makers. Each of them has such a unique story to tell about their origins and the beer that they are producing as equally as inspiring a tale. One of Saskatchewan's first craft brewery was Paddockwood Brewing Co. who pride themselves on their unique flavours and the purest ingredients. Barb and Jaqueline were enthusiastic beyond measure as they shared the story of Paddockwood with Derek and me emphasizing how good it feels to drink pure beer rather than landing yourself with a 3-day headache. Their taproom provides an opportunity to taste your way through most of their many flavours and the Explore Pass provides this tasting, two brand new howlers filled with beer and 2 sixteen-ounce glasses. We not only left this experience with a new understanding of Saskatchewan's beer landscape but with a few tasty treats for later.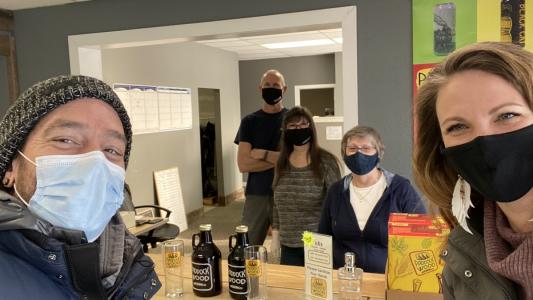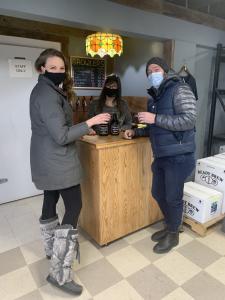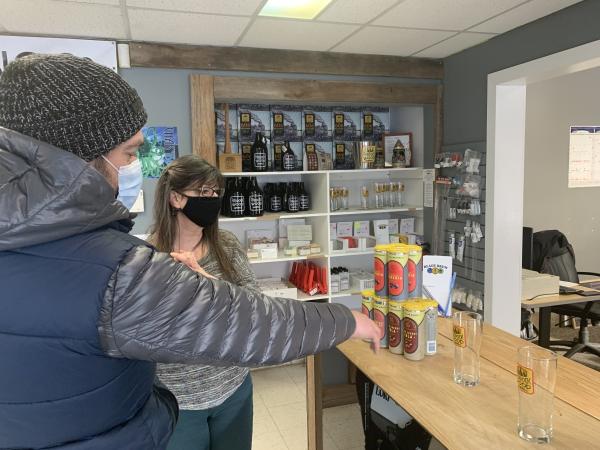 The location of the Home Inn & Suites is perfect for anyone needing a break from their home office thanks to the incredible amenities surrounding the hotel. The Sobey's grocery and liquor store is a 4-minute walk door-to-door for anyone wishing to use the full in-room kitchen, but since I cook every day for my family, I was ready for a treat.
 
Buen Provecho!
The Rock Creek Tap and Grill is right next to the hotel and with the Explore Pass we received a $50 credit for our meal. Neither of us had been before and it was enlivening to see just a few other people safely distanced from us in the restaurant. In a time where we must not gather with others, it does wonders for the soul to be safely in the same room as complete strangers. I could see that Derek was feeling the excitement as well and suddenly, it was like we were somewhere far away. We have been very privileged to travel to Mexico for the past few years consecutively seeking the sun, the rest and time with one another. Looking across the table at him, again it was like I was seeing him with new eyes. Rock Creek has an entire menu dedicated to "smoked drinks" and so naturally, I went for the margarita and two shots of tequila. We don't have to be in Mexico to celebrate!  We let the reality of a harsh world melt away. Time stopped for us that night and I didn't even know we needed it to.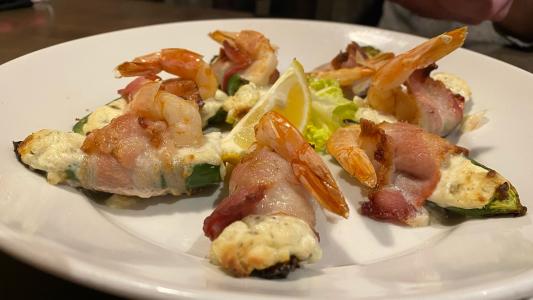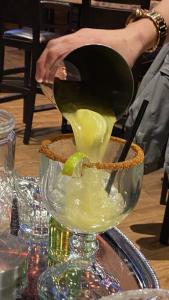 The next morning began with a 5 am soak in our giant tub and a few chapters of my book. Talk about clarity and calm to start another day. Another day of back to back zoom calls was broken up by a quick walk across the street to a local sandwich shop and then I was back at it. Originally, I had planned to stay for just one night but, our children were with their "others" for one more night and I was really starting to settle in.
 
Spa Time for Two
Derek came back just in time for a surprise visit to the Damara Day Spa located in the hotel. Valentine's Day is really centred around our experience as a family so, what a better way to immerse ourselves in time together than a Couples Romance package and one more night at the hotel. The dimly lit room was warm and inviting. A huge jacuzzi was waiting for us following a full-body exfoliation. It felt like time was paused again and in the quiet of a full body massage, I held Derek's hand and felt an overwhelming amount of gratitude wash over me. Of course, I am so grateful for this opportunity to renew ourselves with the spa experience but moreover, it was him. Parent, can you relate? You see each other every day and with COVID restrictions and implications on our children, we are literally just getting through the day providing as much support to our babies and giving ourselves to our careers that a quick glance here and there seems to be all that there is time for. With all that we have been through, this small moment in time was like a swift kick in the rear to remember how lucky I am to have partnership and love in such an incredibly hard time for humanity. Did I mention the Explore Pass also affords those staying in hotel with a $50 credit for the spa? Do not wait on this. Your relationship will thank you.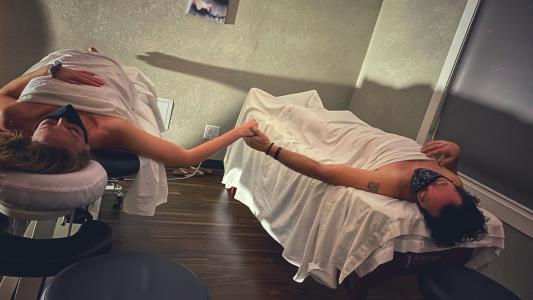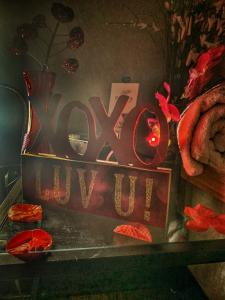 When The Moon Hits Your Eye…
There was very little that either of us could do for the rest of the night except call our friends at UNA Pizza to fulfill one last element of our Explore Pass which gave us a choice of pizza and a small kale Ceaser salad. Our favourite pizza is The Broadway, paying homage to one of Saskatoon's most vibrant neighbourhoods and UNA's locally made sausage. I'm pretty sure there is honey and truffle oil on there too and some might have gotten on my PJs as we ate from our bed.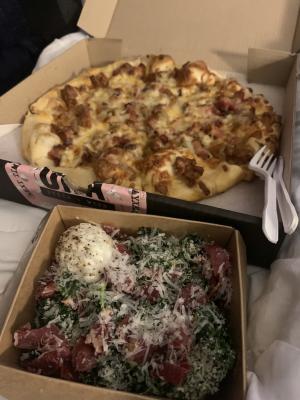 I lost count of all the laughter and slept more in those two nights than the past 10 days combined. We must not forget how renewing travel can be, especially with those we love, even when it is only 5 minutes from our doorsteps.
Check out these other amenities you'll love when you stay at Home Inn and Suites:
Variable and Fixed Rate plans for all 13 hotels in Alberta and Saskatchewan at www.bookabusiness.ca 
Home Inn has partnered with a local coffee producer in Saskatchewan and our coffee for guests is freshly ground each morning.
Gym facilities with reservations for complete privacy and social distancing
Pool, waterslide and hot tub with capacity guidelines to ensure safety
Rooms available with full kitchens to prepare your own meals
Within walking distance of Sobey's grocery store and numerous restaurants including Canadian Brewhouse, Rock Creek, Mai's Kitchen, Cobbs Bread and more
Meeting room rental for small corporate only groups (max occupancy 15 people, 1 per table)