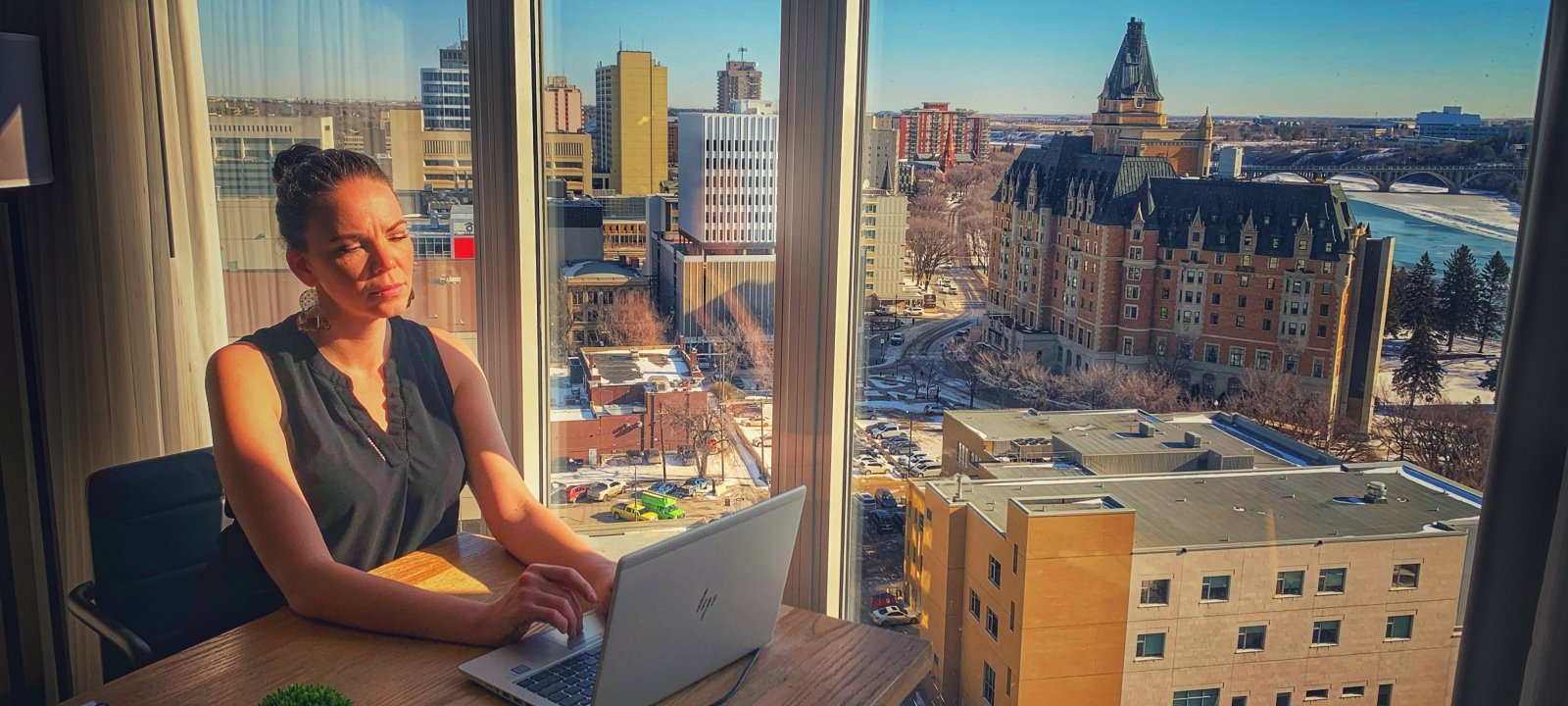 How I came home to myself at the Delta Downtown
I have been the CEO of Tourism Saskatoon for almost 6 months now and there has been no shortage of energy and ambition as I accepted this incredible honour and responsibility. I remember one of my
I have been the CEO of Tourism Saskatoon for almost 6 months now and there has been no shortage of energy and ambition as I accepted this incredible honour and responsibility. I remember one of my mentors reminding me on a late-night, celebratory phone call that; "It will be a marathon, Steph and at the same time, thanks to COVID, a race for your life and the livelihoods of those you serve". My adrenaline started flowing swiftly early in March 2020 and I do not think that it's stopped since. Until now.
COVID walls are being hit everywhere and while I fully empathize with that sentiment, this is not just a faceplant into an immovable brick surface. Without having ever surfed in my lifetime, I can imagine that this is what it might feel like to be caught in the undertow of a giant, looming wave. Just as we surface and catch a bit of air, there is another wave right on top of the one we just overcame.
Breathing and Bracing
Taking flight has always brought me one sensation that I miss the most right now; expansion. I have a breathing pattern that I unconsciously developed while being on an airplane twice a week for 13 years straight. The moment we are "wheels up" I take a deep belly breath and lean back in my chair, closing my eyes until I feel that weird 'levelling out' feeling that actually freaks me out every time and triggers me to sit up and look out. Seeing the world from up above is a privilege I have never taken for granted. In descending, I will hold my breath and wait for confirmation that there is solid ground beneath me. I wonder if that's why I catch myself holding my breath so often, in fear or in bracing myself for what is yet to come.
Let's face it. I have hit a wall, reached a tipping point, expended all adrenaline and have drunk Saskatoon's coffee supply dry. Travel has always energized me, so when travel is exclusive to my own backyard, I knew I had to do something to spread my wings. Our family has often visited the Delta Downtown by Marriott hotel for our family staycations. The waterslide right beside the hot tub is a parent's dream and the pizza that comes from that wood-fired oven at Aroma Restobar is drool-worthy, but I hadn't been on my own and for my own wellbeing, so my personal adventure was about to begin. What I didn't realize in all of my depletion was that it was impacting more than me and that I have been missing out on more than just sleep.


Walking into the hotel on that morning, my energy was feeling the impact of a very heavy week both personally and professionally. The news has been consistently horrible and not just with COVID implications but such incredibly divisive sentiments that seem to only degrade our already challenging situation. Stepping into the lobby, I stopped and felt my rib cage expand with my first deep, cleansing breath of the day. The renovations are so beautiful and have brought this space to life while inviting a very calm and grounding sense of well-being.
I am so proud of our hotel partners that continue to place safety and security in plain sight and at the heart of everything they do for their visitors and all of their staff. There are signs and reminders everywhere of the internal controls that have been implemented to ensure the risk of COVID-19 is mitigated as much as possible and honestly, this is nothing new for our hospitality sector. Now, the measures that have always been in place have been enhanced, and our partners are providing one of the only opportunities to have authentic experiences beyond the walls of our homes right now.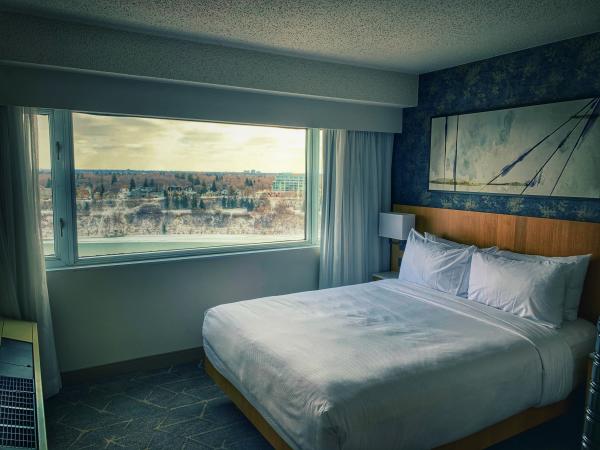 The Perfect Workcation Situation
Opening the door to my room, I was in awe. I dropped my bags before allowing the door to close behind me and went straight for the wall-to-wall windows overlooking the South Saskatchewan River and the iconic Delta Bessbourough by Marriott hotel. I had a call to be on in 5 minutes but there I stood, taken by the beauty of my city, my backyard and moved by the immediate fresh perspective and grounding. I took a moment to survey the workspace options I had available in this spectacular suite. I could work from the living room, the dining room table or my bed and be afforded the same view from each vantage point. Then, I saw the bathtub and committed to working from there the next morning.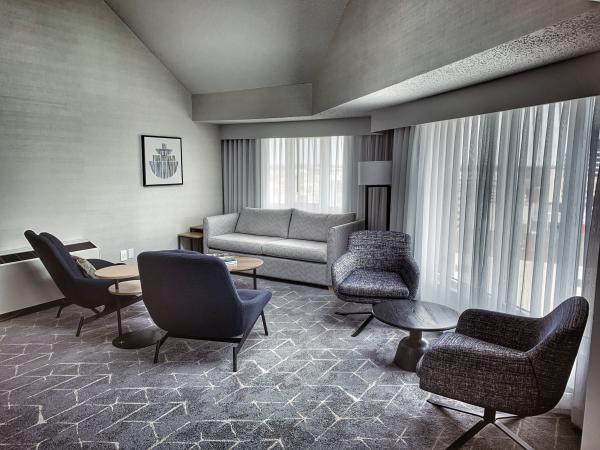 I set up at the dining room table and basked in the beams of sun coming through the window. I looked up at the TV for the first time to see the greeting message on the screen, welcoming me to a productive day of work. There again, another expansive, deep breath. While connection remains so challenging, these small efforts made by our partners are so meaningful and feel so connecting. It was the most beautiful way to spend a day as I moved with ease from project work, meeting deadlines and maintaining a presence in my virtual meetings.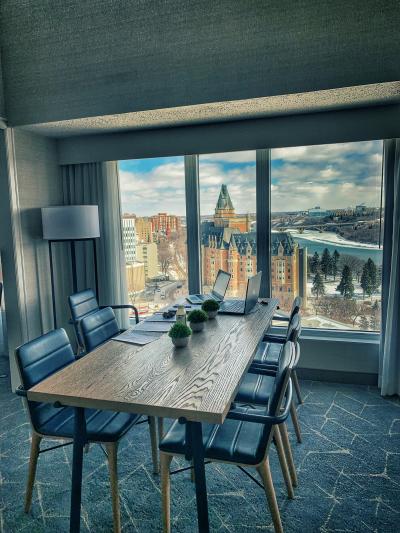 For me, planned provisions are so important when working from home so it was incredible to walk into a room full of snacks. I had an incredible breakfast sandwich from The Grind Coffee Bar in the lobby of the hotel. Freshly made with a giant coffee and I was ready to start my day. For a snack, a locally made kombucha and a healthy granola bar, and for lunch a delicious turkey sandwich with veggies.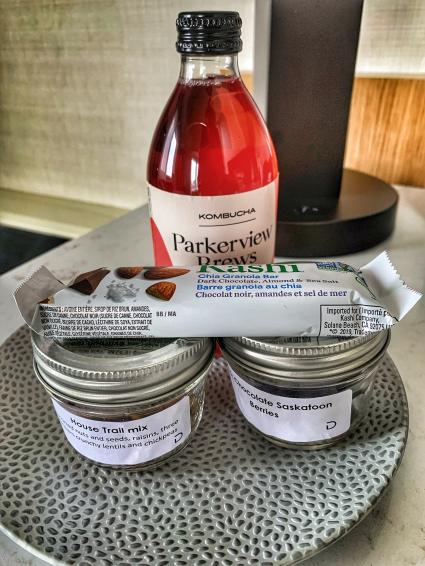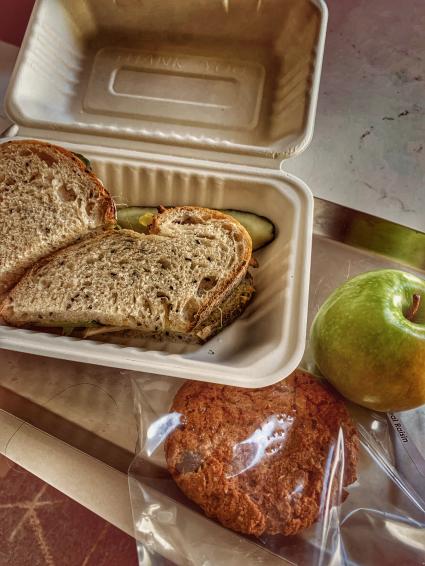 And then it came time for supper. It was exciting to head down to Aroma Restobar for a meal knowing that I wasn't just there for a family pizza night. This was just for me! Laptop in hand, I walked in admiring the renovations and was greeted by the one and only "E". It is pretty clear how much I adore travel for the connection that it brings in life and truly what I have been missing the most so this bright, smiling face was so welcomed, I had to restrain myself from heading in for a big hug. I dined in complete style and in total peace that night with a locally sourced pork loin from Pineview Farms and a handcrafted beer from Regina-based brewery Rebellion.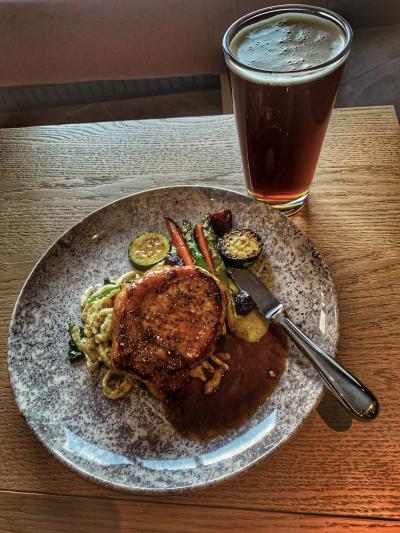 Awaken my Sense of Self
Tucking myself into bed that night with an entirely renewed connection to myself, I watched the sky outside my window and could see the moon reflecting off the river. There were flocks of geese that made the sky come alive, a sure sign that spring has arrived and that rebirth is on its way. If you have ever wanted to find a way to leap out of bed every morning, this bed beside the river is the best I've ever found. I opened my eyes to see a sea of orange, yellow and blue in the sky before me. I did not just leap but I screamed in delight as I bounced from my bed and onto my feet within seconds. Watching the sunrise is one of the easiest and most profound health practices you can implement every day and I benefited greatly from the way this morning began, which included writing emails for the first hour of my workday from my jet tub! I never thought I would do that in my life.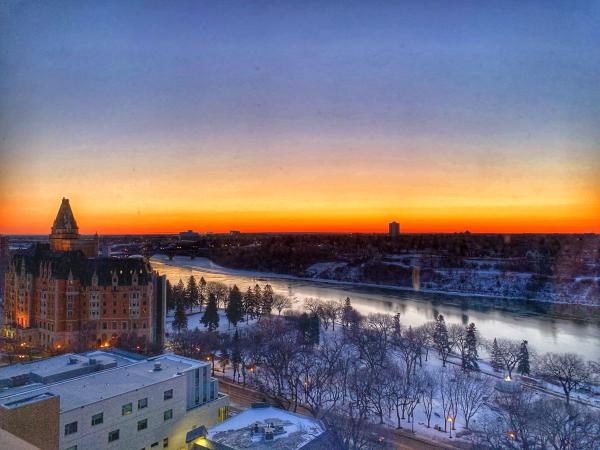 Coming home to myself during this 24-hour workcation made it possible to reestablish my strength, resilience, purpose and direction. Writing about this experience has been humbling. It takes a lot of courage for me to admit that I'm tired or in any way depleted, need a break or need help. Even more humbling is the realization that this is where we all must begin. With ourselves. We cannot serve our teams or be present with our family if we are spent. We simply can't. Take it from a recovering "so many things to do" person – you're not going to save the world if you can't nourish your mind body and soul. When we are tired, our brains make up stories that will keep us small and keep us away from the people and moments that matter the most.
How simple it was for me to pack a bag, drive across the Broadway Bridge and take time to return to myself. The moment I saw my family it was clear that the benefits of this trip were not just for me but for all of them to have me home, and not just in the literal sense, but home with my head and heart as well. If you are for a moment feeling that disconnection and haven't felt your rib cage expand with your own breath for some time, pause, pack a bag and head downtown. There is connection all around us if we are awake enough to see and feel it.