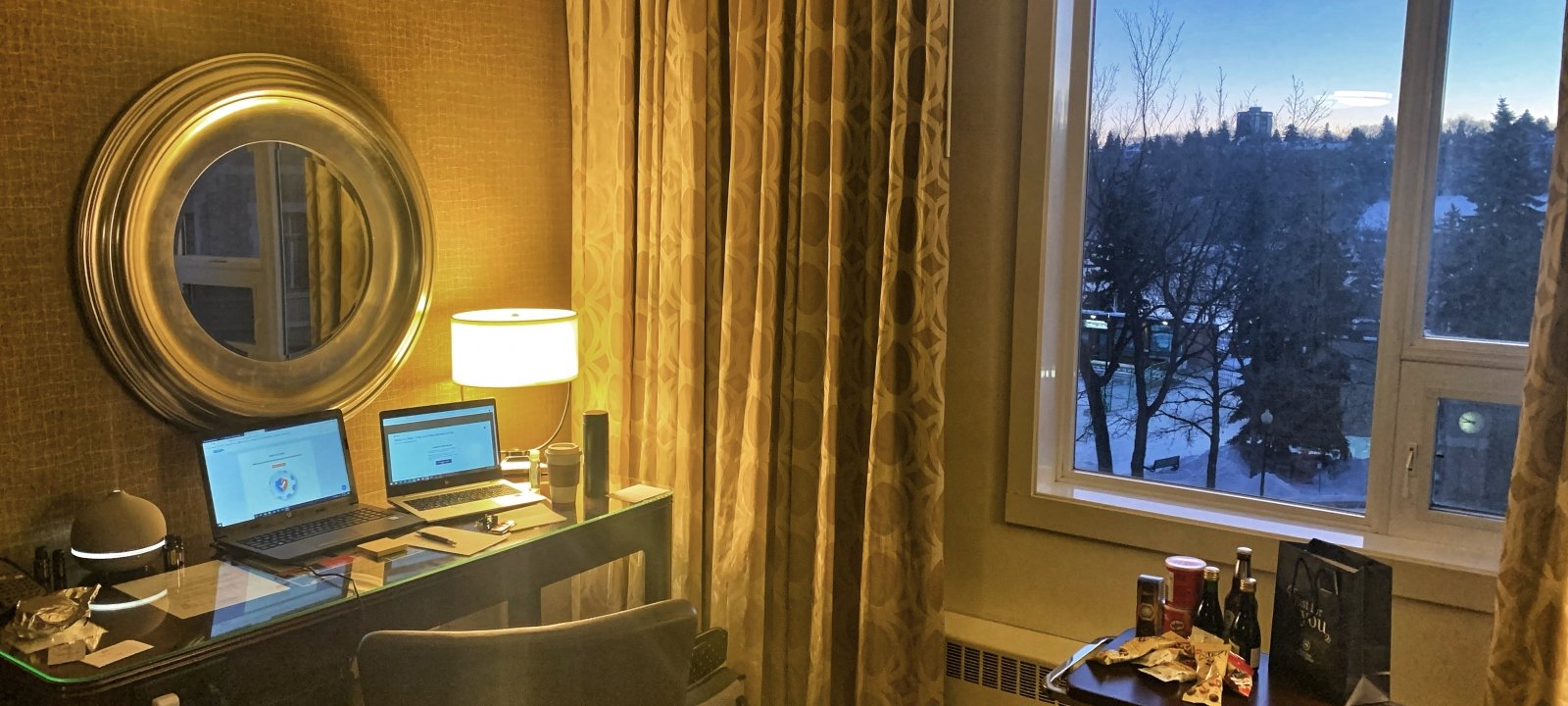 Finding New Ways of Seeing While Being Grounded
At the beginning of 2020, my work year was mapped out. I had clear lines drawn from Saskatoon to London, Germany, Ottawa, Vancouver, Victoria, Toronto, Minneapolis, and if all went right, I would end
At the beginning of 2020, my work year was mapped out. I had clear lines drawn from Saskatoon to London, Germany, Ottawa, Vancouver, Victoria, Toronto, Minneapolis,  and if all went right, I would end my year in South Korea and China. When I travel, strolling through the front doors of a hotel feels like coming home. Despite the long and egregious hours that working from the road entails, waking up to see a new city or landscape out my window drives immense inspiration for me. 
This year was shaping up to be one of the best, and not because of the travel.  Deep inside me lives a light footedness, a need to roam, to connect and experience, and a need to share the story of my city as far and wide as this world will allow. In March, everything changed. I had no travel in my foreseeable future for the first time in over 20 years. Something measured in nanometers closed borders and halted flights. Grounded!? 
Rising Urgency and Expectations
Like countless others, the COVID-19 lockdown challenged me to create workspaces out of kitchen tables, living room couches, and dark basement corners. Societal pressures driven by traditional and social media were telling me that I should have sourdough rising by 5am with my three children quietly in their places studying on their devices before my own first zoom meeting of each day. 
My need to keep going, keep innovating, keep driving towards survival for my sector rose alongside the world's loaves of sourdough and banana bread. I needed a reprieve and a different perspective that only a hotel room could offer me. A day of work from the Sheraton Cavalier Saskatoon was a perfect solution, not to mention an opportunity for my family to create some memories with a weekend staycation. Mind blown. Why didn't I think of this earlier!? 
 
New Space, New Perspective
Let me tell you, packing my luggage on the morning of my departure was thrilling. Have you ever had to depart on a trip at a ridiculously early hour and wondered why you booked that early morning flight? I know now —  there is magic in being light-footed in those early morning hours. I would never have known that without being grounded for so long. 
I slipped away from the house before anyone was awake, so breakfast was not an option. Arriving at the hotel, I headed straight for the Starbucks. I grabbed a peppermint mocha — it's the holidays after all — and headed for my room. Walking down the hallway brought me to emotion. I miss those hallway meetings with our tourism family when we are all travelling together. 
My room was perfectly set up for a day of productivity, complete with a bag of goodies dubbed "Productivity Kit". Pens, paperclips, note pad, and everything I needed to settle in for the day. With my desk beside the window, looking out towards the South Saskatchewan river, I found myself taking deep breaths of reflection as my sanity began to return. 
The Sheraton boasts the most food outlets within one hotel in Saskatoon, and I don't know how many days through the past eight months have resulted in missed meals because of endless zoom calls and work to be done in between. A quick phone call to room service and I had a beef dip with truffle fries and my door in 15 minutes. There is an added bonus to travel in the age of COVID, and that is speed. One does not have any crowds, lines, or large amounts of hotel guests to compete with for service.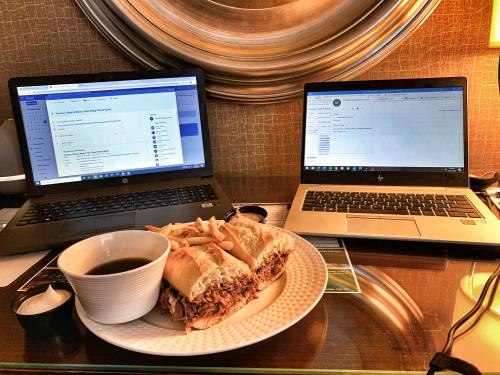 There are so many things that made our work/staycation a huge success. Here are some of the things that separated our routine from the ordinary, and helped us to level up our day-to-day:
Get Outside - With a brief 15-minute break in my call schedule, I walked across the street, past the Meewasin skating rink brimming with laughter and Christmas music, to take a quick breather by the river. I don't think that enough of us spend time near this river. I have been fortunate enough to hear from Indigenous community members about their worldview as it relates to living near such a powerful and substantial body of water. With gratitude for those teachings, I kneeled down to touch the water, to give thanks for the gifts we do have in these compressed and strained times. 


Mindful Moments Become Memories - The moment by the river was a catalyst to more mindful moments, as my partner Derek would say. Have you ever experienced that? A moment that just catches your breath and your attention to pause, reflect, and ground yourself in how fortunate we truly are. When I opened the hotel room door to Derek and our three children who were being surprised by a weekend staycation that would act as our Christmas holidays, mindful was an understatement. Their joyful realization was only the beginning of a stellar weekend as they looked back and forth between me, Derek, and each other, assessing if this was truly their reality or just a dream. Their first question: "Is there a pool!?"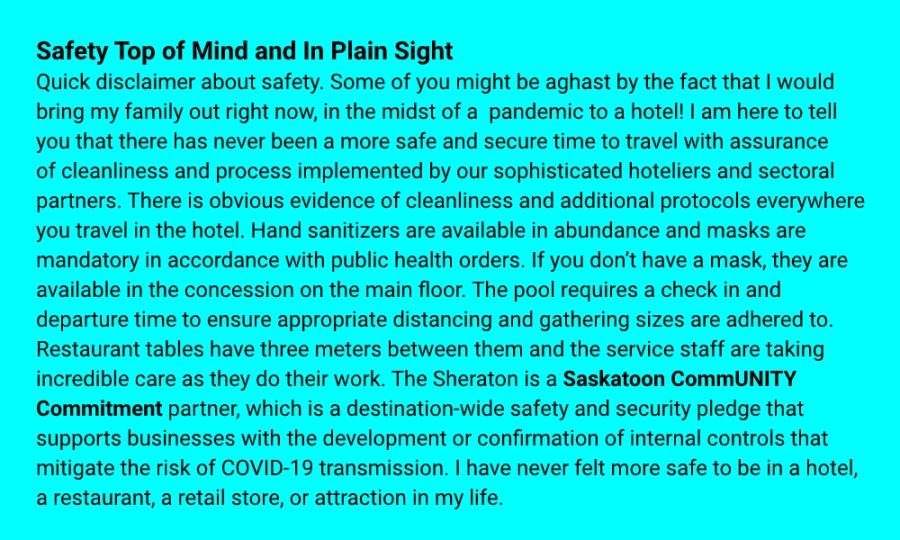 Is There a Pool?
Back to the important stuff. Oh, there is a pool alright. There is actually a full water park complete with a giant water slide, two cold pools, and a large hot tub. I won't lie, I couldn't leave the hot tub on the first night. But, by the second day, Derek and I were having cannonball competitions and racing the kids down the waterslide — no trains though! Our youngest, Shae, is the most emotionally expressive of the three. To see her giant, round blue eyes filled with joy staring up at us as we climbed the water slide stairs filled our souls.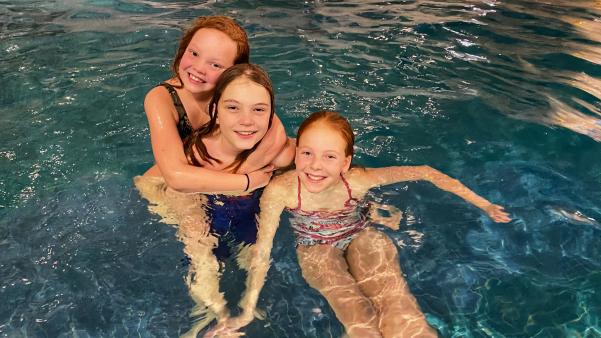 Wellness on the Road
I have always grappled with maintaining well-being when travelling was frequent. I would say now that working from a locked-down or restricted state of being has challenged my wellness routine more than any extensive travel schedule ever has. When you work, eat, sleep, study, teach, and try to relax all in one place, the idea of a 5 am workout becomes less attractive. Waking on Saturday morning for our Christmas morning at 6 am was a sleep-in, but Santa had arrived and we needed to address the situation under the tree. I didn't get up to workout before present madness ensued, but the gym was calling me. Having the entire space to myself for both Saturday and Sunday morning was soul-filling. What an incredible reminder for us not to lose sight of what we need to keep ourselves in balance.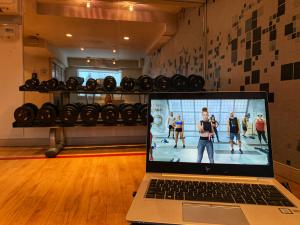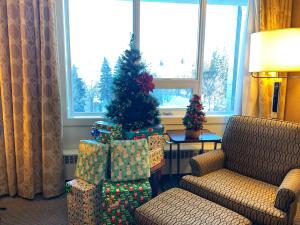 Culinary Experience
From fully loaded waffles to pizza and chicken wings, our family ate so well all weekend. When there are riverbanks to walk, pools to swim in, and movies to watch, there is no time to be sitting in a restaurant. All three meals that we enjoyed in the hotel brought variety, flavour, and quality to our bellies. What an awesome expression of Saskatoon's culinary scene from the comfort of our hotel room. Ava really recommends the waffle, but to eat it quick before little siblings try to take bites!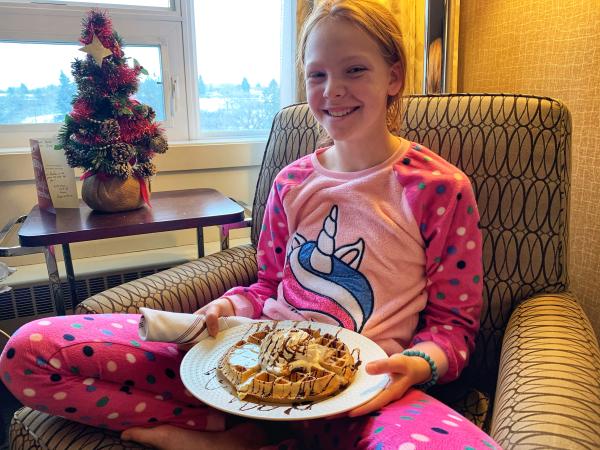 Fresh Space Makes Way for Fresh Ideas
Though I never took the planes, hotels, and travel for granted, the COVID lockdown changed my perception of these things. They went from perks to essentials, as I realized how much these experiences inspire me. By changing my space, a new space opened up inside of me. Old challenges appear as new opportunities, difficult routines transform into freedoms. The weekend we spent at the Sheraton Cavalier Saskatoon was so good for our family and for my work. If you're lacking inspiration, book a room and let the new space shape a new perspective.