A Downtown Saskatoon Family Staycation
My wife and I recently had a baby daughter, our second child. With the extreme cold temperatures in the last month or so, my wife was feeling a little stir crazy. She loves to go for walks along the
My wife and I recently had a baby daughter, our second child.  With the extreme cold temperatures in the last month or so, my wife was feeling a little stir crazy.  She loves to go for walks along the riverbank, but going for a long walk when it's -40, even without a baby, is trying.  So, I suggested we pack up the kids and plant our flag at a hotel downtown for the long weekend, just for a change of scenery. We'd do a little downtown staycation!  Whether you're from Saskatoon and doing a staycation or you're visiting and staying downtown or nearby, you're about to hear some great ideas for things to do downtown. (I don't include the bulk of Riversdale or Broadway Avenue here because our mission was mostly downtown, but wander into those nearby neighbourhoods too!).
We booked a suite at one of the best hotels in Saskatoon, The Marriot by Delta (formerly The Radisson Hotel).  We had a beautiful view of the river, and oddly enough, we could almost see our house.  We had to drive because of the cold and the baby, but normally, you could walk from the hotel to any of our destinations.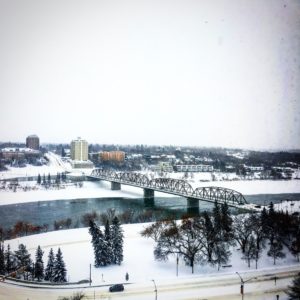 SATURDAY:
I kicked the day off by taking my five-year old son, Luke, to The Lego Movie 2 at The Scotiabank Theatre.  He loved it.  After, Luke and I picked up my wife, Jenny, and my baby daughter, Imogen, and we headed to Midtown Plaza to do a little shopping.  We hit the fashion stores, we perused Sunrise Records, and we popped down to the toy section at The Bay to buy some Star Wars Lego for Luke. We even stopped at The Calendar Store and bought Battleship and Trivial Pursuit for us to enjoy in the hotel room later.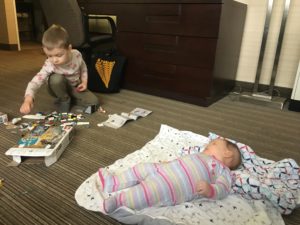 After shopping and relaxing for a bit in the hotel room (and building some Lego), we headed over to one of the best restaurants in Saskatoon for dinner, The Hollows (this was a slight cheat as the restaurant is in Riversdale, not downtown).  The Hollows is a locally owned and operated restaurant, one of the leaders of the new culinary movement in Saskatoon.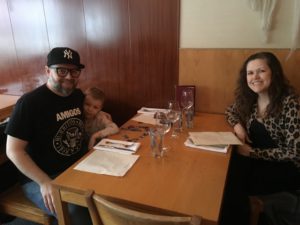 Owners Kyle and Christie traveled the world for years, learning their craft.  They brought their skills back here, using natural and seasonal ingredients to craft culinary fare that has a real Saskatchewan flair.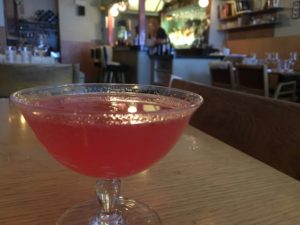 And I'd be remiss if I didn't mention the tantalizing cocktails by bar manager, Adrian Chappell. I had a cocktail and tucked into an amazing Beef Wellington.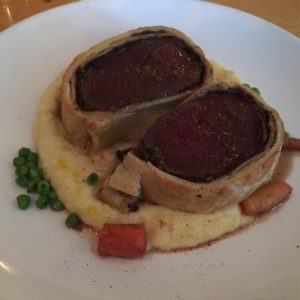 OMG. So. Full.
If we didn't have the kids in tow (and I wasn't stuffed), we could have gone to one of the great downtown nightspots or pubs.  But since this was a family weekend, we headed back to the room where Luke went to bed and Jenny and I cracked out Trivial Pursuit, some tunes, and an adult beverage.
SUNDAY:
Sunday morning, Luke and I got up and headed down to the hotel pool, which was a blast.  Luke's been taking swimming lessons, so we'll take any excuse to chase each other around in the pool.  I also happen to know that The Marriot by Delta is actually renovating the pool area now, and they'll have a huge, amazing new waterslide and facility by July 2019.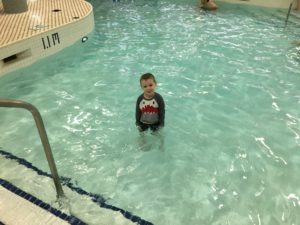 Swimming builds an appetite, so we got cleaned up and grabbed Jenny and Imogen to head over to The Remai Modern, not to eat the artwork, but to have brunch at Shift.  Jenny had a burger, Luke had stuffed French toast with a Saskatoon berry compote, and I got down with a basic breakfast that's anything but basic.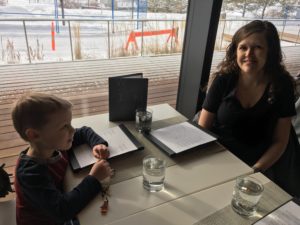 Next, to the museum itself.  We wandered around, touring the world class facility and admiring some beautiful and thought-provoking exhibits.  Luke's favourite was Tomorrow is the Question (by Rirkrit Tiravanija), or as he called it, 'the ping pong table one.' It's a series of ping pong tables that invite the guests to become part of the art.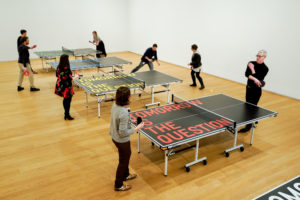 Once we'd seen all the exhibits the museum had to offer, which were some of the best they've had yet, we headed to Luke's favourite part of the museum, the Learning Studio.  It's a free drop in space that operates on the weekends.  There, he and I made some watercolour art together, with materials and instruction provided under the tutelage of learning studio staff.
All this eating, walking around, and arting was making me tired, so we headed back to the hotel to get lazy and play some Battleship.  After a chill out sesh, it was dinner time, and we decided to skip the car, skip the winter jackets, skip bundling up the baby --- and just ride down the elevator to Aroma Restobar.  Aroma isn't just a restaurant for people staying in the hotel --- it stands on its own.  We eat there all the time.  They have a great half price beer and pizza night on Wednesdays, with their famous forno oven creations like The Pig and Fig and The Big Island Drive By, among others.  We cheersed a pint, while Jenny ordered a pizza, and I decided to get my steak on.
When we got back to the hotel room, full from dinner, we put the kids to bed, poured a cocktail at the wetbar, threw on some music, and hooked up the mini-Nintendo to play some Dr. Mario.
HOLIDAY MONDAY:
It was check out day, but we had a few hours, so we decided to order room service for breakfast and watch a movie in the room.  The best part about a staycation is that you can staycate, right?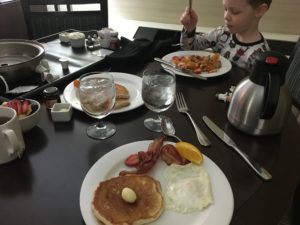 It was an amazing weekend.  You should do yourself a favour and give it a try.  As I said, there is an embarrassment of riches in terms of things to do downtown, on Broadway, or in Riversdale, all within walking distance from most of the great downtown hotels.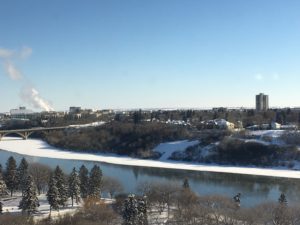 We had to get back to life the next day, but this little winter respite had probably saved us from turning into Jack Nicholson in The Shining.  We packed everything up, and drove back across The Broadway Bridge towards home.
Photos of Tomorrow is the Question courtesy of Remai Modern (photographer: Blaine Campbell).
Photo of Aroma Restobar courtesy of Tourism Saskatoon