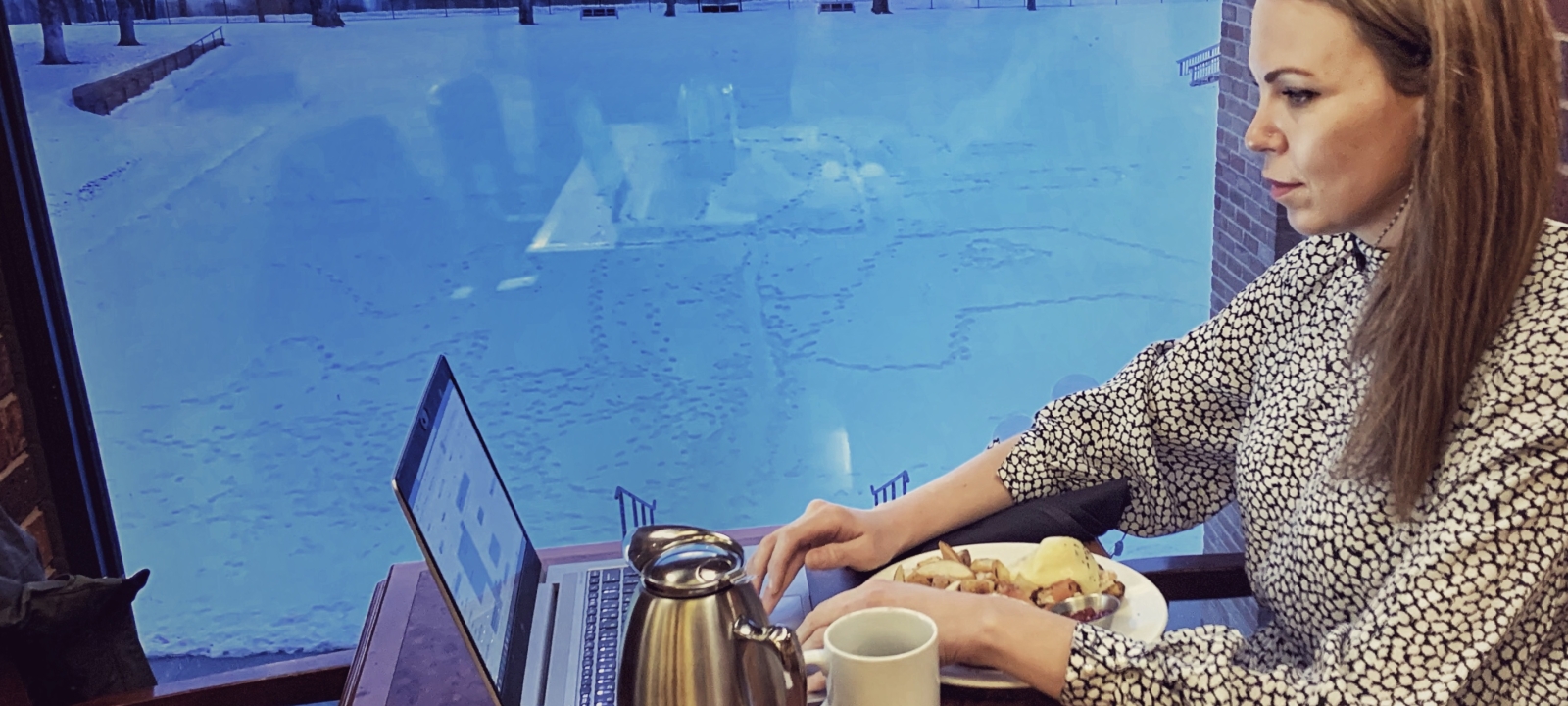 Checking into The Bess, And Right into The Present Moment
"The breeze at dawn has secrets to tell you, don't go back to sleep" ~Rumi Stay Awake I awoke today at 4:30 am with this quote lingering in my consciousness. An early morning wake-up call in the dark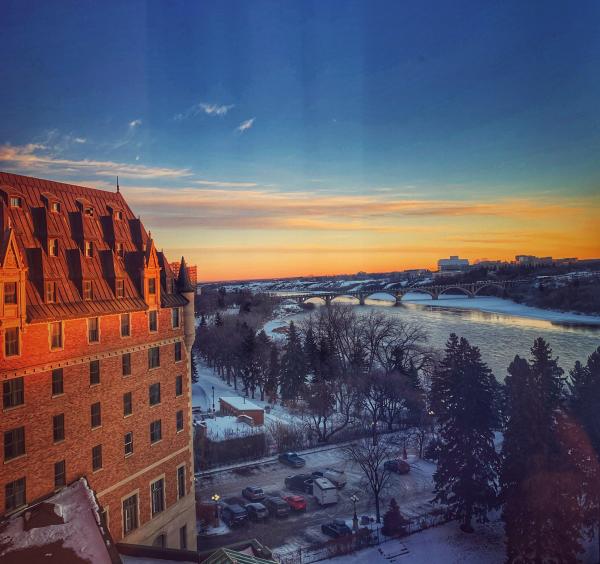 "The breeze at dawn has secrets to tell you, don't go back to sleep" ~Rumi
Stay Awake
I awoke today at 4:30 am with this quote lingering in my consciousness. An early morning wake-up call in the dark days of winter is never 'easy' but there is something so magical about the stillness that comes with the beginning of a day. Morning hours present us all with the opportunity to set an intention, to claim what we really want and walk through the door to the day. In the age of COVID has the home office, constant negative headlines and suffering in our world blurred the clarity of daily intention? I know for me it has and luckily, I can do something to find clarity quick!
As someone who has been in motion from the onset of my career, I am no stranger to early mornings. 5:00 am flights are my preference over an afternoon departure, even when I wake up cursing them. Today was no different. I woke up anticipating travel, an experience awaiting me, and I set my intention to be fully present and to "Be Here Now".
A Castle on the River
I was on my way to The Delta Hotels by Marriott Bessborough where I would immerse myself in their "Work Anywhere Stay Pass" package. A room entirely to myself for a day of work and a beautiful bed to collapse into at the end of it all. Bliss! How fortunate we are to live in a city with a castle on the river and even more so, to be able to walk through the doors and call it home for a night. The lobby of the hotel is so regal and it felt incredible to be met with smiling eyes at the front desk. "Welcome Ms. Clovechok, we are so delighted to have you". Checking in, I was guided through the amenities and locations of everything I would need for the next 36 hours, including all the hotel's enhanced safety protocols. A personalized letter from the General Manager of the hotel, Jason Clark outlines the measures being taken within the hotel to keep all guests safe. There has truly never been a time where hospitality businesses have been more clean and able to provide a safe and secure experience.
Safety Top of Mind and In Plain Sight
Quick disclaimer about continued safety. I am going to keep telling you that there has never been a more safe and secure time to travel with assurance of cleanliness and process implemented by our sophisticated hoteliers and sectoral partners. There is obvious evidence of cleanliness and additional protocols everywhere you travel in the hotel. Hand sanitizers are available in abundance and masks are mandatory in accordance with public health orders. The pool requires a check-in and departure time to ensure appropriate distancing and gathering sizes are adhered to. Restaurant tables have three meters between them and the service staff are taking incredible care as they do their work. The Bessborough is a Saskatoon CommUNITY Commitment partner, which is a destination-wide safety and security pledge that supports businesses with the development or confirmation of internal controls that mitigate the risk of COVID-19 transmission. If you do your part to adhere to all public health recommendations of distancing, masking and frequent handwashing, your safety is secure.
A City on the Edge of Nature
I made my way up to my room where, like most of us, I was about 5 minutes away from a day of zoom calls. But instead of hurrying, I was stopped dead in my tracks as I entered the room. A beautiful, warm, one-bedroom suite with epic views of the South Saskatchewan embraced me like a big, warm hug that I long for every day. I dropped my bags and went right for the window.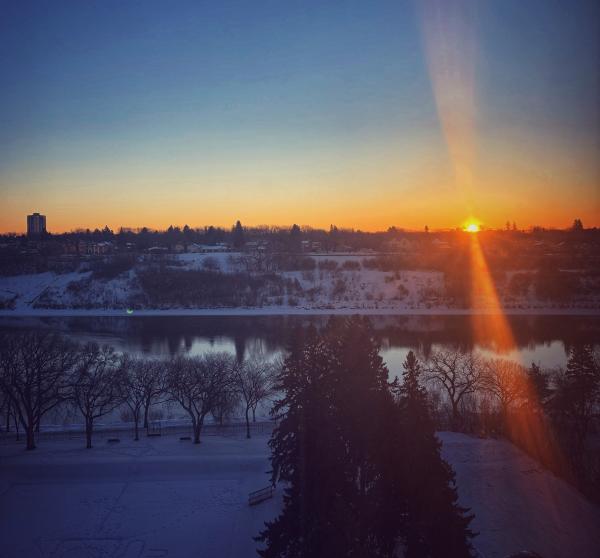 Watching the South Saskatchewan meander through the heart of Saskatoon is calming but I know there is much more happening under the surface. Originating in the Canadian Rockies about halfway to Jasper there is an icefield called The Columbia that is graciously offering this fresh, steady flow of water thick with glacial silt that has, over time, created the many white sand beaches we love to enjoy in summer months. Once the river reaches Saskatoon, it has many stories to tell of its journey through the mountains and into the vast, open prairies. These stories are churning in the river's current beneath its calm surface and though its lessons are many, one is very relevant to us today. This easy looking river can quickly surprise a person who approaches it unaware. To experience this body of river requires incredible presence and attention to the moment at hand and for its user to really be here now.
Songs from the Sunrise
You need to arrive in time for sunrise when you have this experience for yourself. Watching today's sunrise reminded me of that movie City of Angels, with Nicolas Cage and Meg Ryan. You know the one where the angels all gather at sunrise to hear the music which comes from the sun's magic? There could have easily been thousands of angels, naked to the human eye, embracing this spectacular sight. Seeing the sun beaming off the castle was an equally breathless moment and I realized that I was not just in a hotel to stay the night. No, I was having an experience in a destination in and of itself.
I Have Everything I Need
A card awaited me at the living room desk and was written by the GM, Jason. It was an incredibly creative "pop up" card so when I opened it, a little Bessborough castle elevated itself from the card. Not only was the note welcoming, wishing me a productive day but also, a list of places in the hotel to find before I left. The authentic experiencer and cultural explorer in me were giddy to know that I could go and explore the hotel to find these many gems.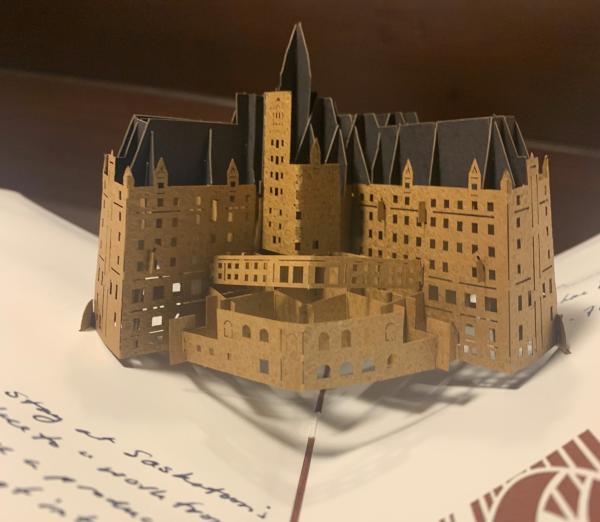 I was perfectly equipped to attend the multitude of virtual discussions and planning sessions scheduled for my day with a basket of office supplies and a hot pot of coffee on the desk. To feel taken care of in such a tumultuous time is heartwarming. There was no break in my schedule and as I glanced towards the window of my living room I saw another note waiting for me by the television. It was a personalized message from the staff alerting me to the abundance of nourishment that was waiting in the fridge. A morning snack, sandwich, and salad for lunch and my favourite flavour of locally made Kombucha. YES!  If I were in my home office on a back-to-back day like today, I would have either not eaten at all or snacked on all the things that don't fuel me. The culinary experience in this hotel is exceptional, both in my room and at breakfast overlooking the gardens and river the following morning. I know I could have gone for oatmeal and a fruit cup but, honestly, the smoked salmon benedict though!?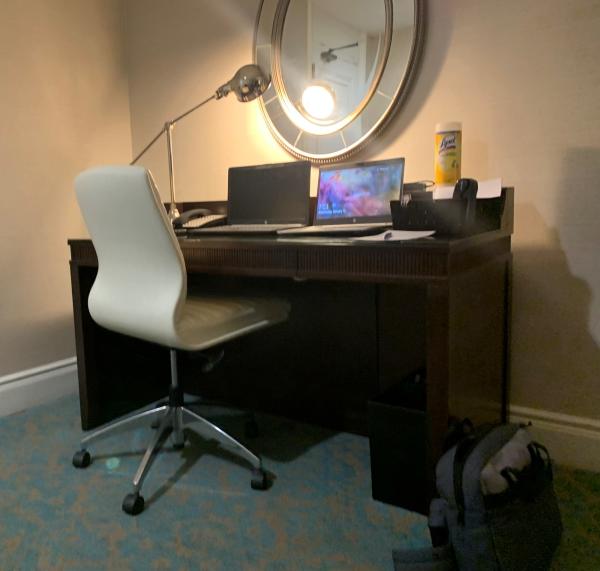 There is Opportunity in Every Crisis
Can you believe that this hotel was opened during the Great Depression? I must have appeared very distracted on my zoom calls as my eyes feasted on the historical photos and small details in my room that only a hotel of this time could offer. The hotel was designed in the collection of Canadian National Hotels which was a division of the Canadian National Railway. This chateau-esque style building was opened in 1935 as a sign of hope and prosperity in some of the darkest, hardest days for humans living through that time. Interestingly and not surprisingly, the Canadian Pacific Railway built a hotel in Regina in 1926 and quickly the Saskatoon business community lobbied the Canadian National Railway to build one here. I find it hilarious that this rivalry between Saskatoon and Regina is still so strong. Can we all lean into this story for a little reassurance that grand things will come from this time?  
Settle in to Self-Care
At the end of my day, I received a call to come downstairs to the lobby, so I donned my mask and walked down and towards the Damara Day Spa where I was greeted by Lisa who was about to give me the best pedicure I have ever had. A surprise spa treatment is always something to be celebrated, but Lisa really took her time to nurture and comfort me. It was so fun to learn about Saskatoon from the perspective of someone who has lived here for so long and has loved every minute of it. Not only was the pedicure off the charts but the locally sourced drink that was waiting beside my pedicure chair was on point! The cocktail was a mixture spiked with gin made from the incredible hands of Barb and John at Black Fox Farm & Distillery, just 20 minutes west of Saskatoon. Did you know they have won the "World's Best Gin" award!? They deserve those accolades and then some with the incredible work they are doing out on their farm. I give huge props to the hotel for allowing their guests to taste one of our most authentic experiences through their culinary offerings!
My wellness experience did not end there. Maybe Lisa could tell how badly I needed to be in the present moment, not looking forward or backwards but to just be here now. This was my very first hot stone massage when Lisa held hot basalt rocks that effortlessly glided across my skin and rested along my spine. The warmth of the rocks and firm pressure of Lisa's hands softened the tension that I so naturally hold daily, as I am sure we all do, bracing ourselves for the next announcement of increasingly hard news. I stood up with ease. The Day Spa is also home to Saskatoon's only Vichy Shower Treatment where you lay upon a wooden bed and allow multiple jets to wash over and massage you. I will be back soon for this.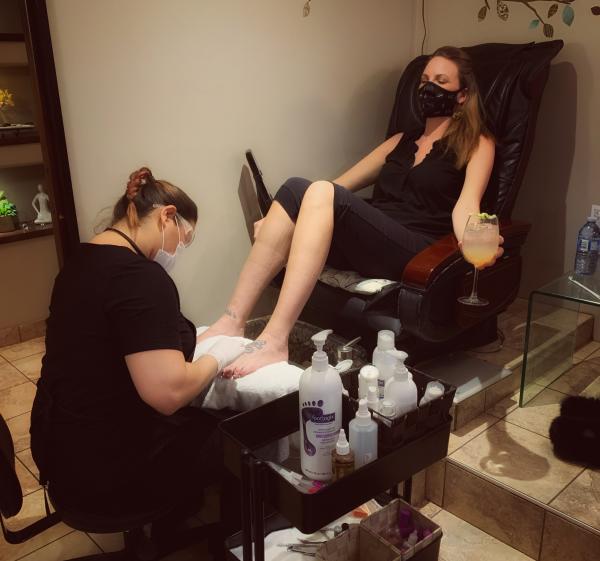 New Mindset, Clear Vision
I returned to my room for the evening not only with a different perspective but with a growing curiosity about the parallels that I can draw between travel and the current situation of global health crisis we are all facing. In travel, there is nothing but uncertainty. Those of us who elect to hop on a plane, journey the oceans on a cruise ship or backpack through remote jungles know that at any moment the trip could be delayed, rerouted, or halted altogether. As a seasoned traveller I have come to possess a blind faith in the process of travel exulting in beliefs like "This is meant to be" or, "This is keeping me safe" or even, "There is an adventure waiting for me in this change". I fondly remember one trip that I took to Membertou, Nova Scotia for the Indigenous Tourism Association of Canada's annual conference in 2016. Our journey home was interrupted by one of the most epic snowstorms I have ever experienced and it took me stopping in every single province with massive delays to finally arrive home in Calgary. The memories I have of that journey are incredible and the people I met along the way remain close friends today. I surrendered to the experience and in remaining present easily made my way home with new connections and lifelong memories.
Constant uncertainty in past travels offered me an opportunity to fully surrender to the flow of life often and now, the current times of uncertainty are calling us all to release our grip and soften into a time where everything is changing rapidly. Let's marvel at this moment rather than jumping ahead trying to control our outcomes. All we have is right now, this moment, these experiences and in that there is so much beauty. We can make a choice to have experiences like these incredible 36 hours at The Bessborough that invite us to be here now, make memories where we can and allow travel to be our teacher again.
To travel is in my bones. As a creator and a maker, I have chosen the lifelong mantra to "Always Go". In travel I can see myself against the mirror of the world and know where I belong, where to contribute and where serve my community.

These days of travel are no different, except that the destination is closer and requires less time to reach. Is the destination ever what we have been seeking, though? Let us remember it is truly in the journey where we find ourselves, find our inspiration and regain our presence.
A Chance to Experience the Every Day in a New Light
Wherever you are right now, be there and know you are doing such an incredible job. I invite you all to allow presence into your life, ground yourself in the uncertainty of our days and get the knack of relaxing in the midst of chaos. The Work From Away experience at The Bess is waiting to help you embrace this opportunity – don't wait, all you have is this moment. Don't go back to sleep.

Be well, friends.  
With love,
Steph