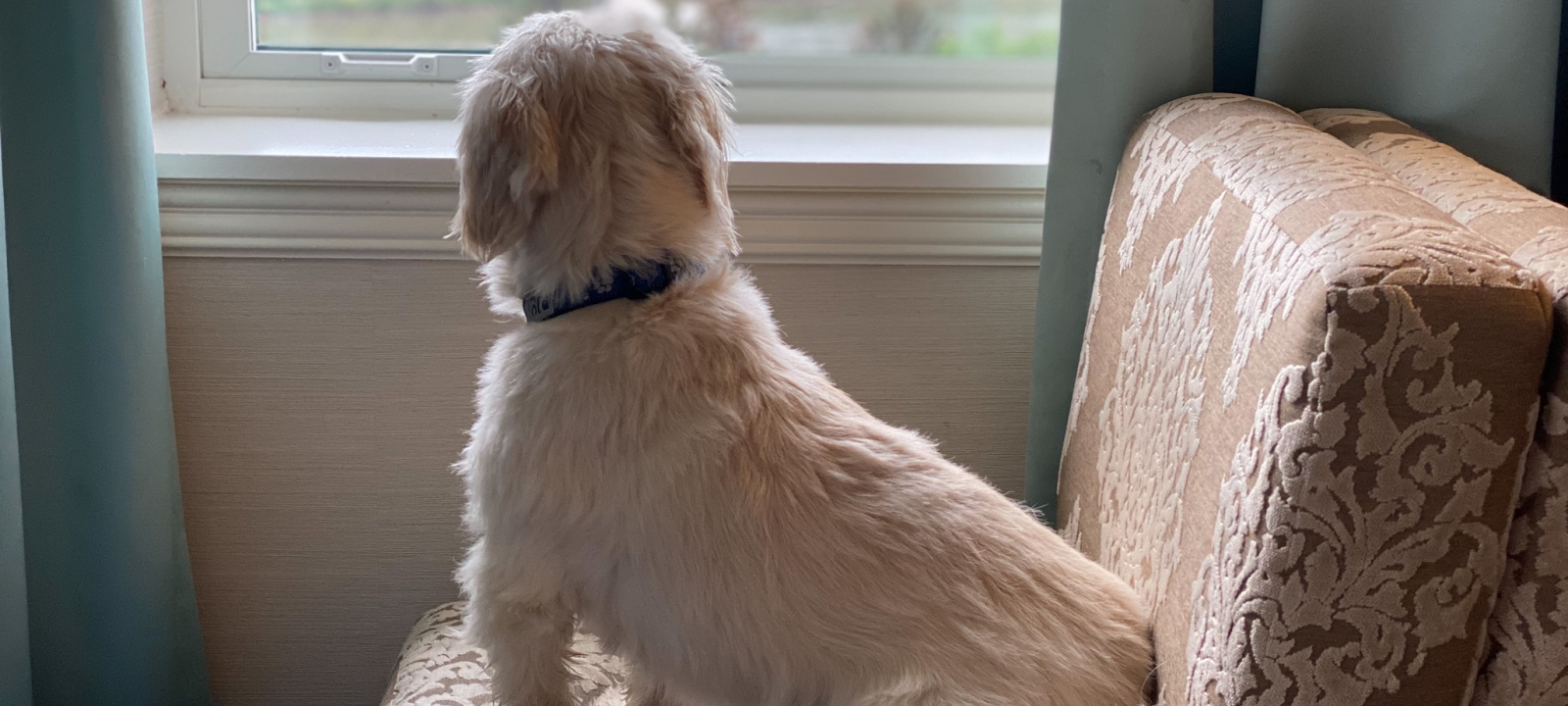 A Night at The Marriott Bessborough for the Boys
It was 6:20 on a quiet Sunday morning. My wife, Jen, and I were sound asleep on a beautiful king-sized bed in a corner room of the Delta Bessborough Hotel. The sun was shining on the South
It was 6:20 on a quiet Sunday morning. My wife, Jen, and I were sound asleep on a beautiful king-sized bed in a corner room of the Delta Bessborough Hotel. The sun was shining on the South Saskatchewan River but there was plenty of time left to sleep. No need to get up early!

However, our two dogs were anxiously waiting to seize every moment of their first staycation in Saskatoon.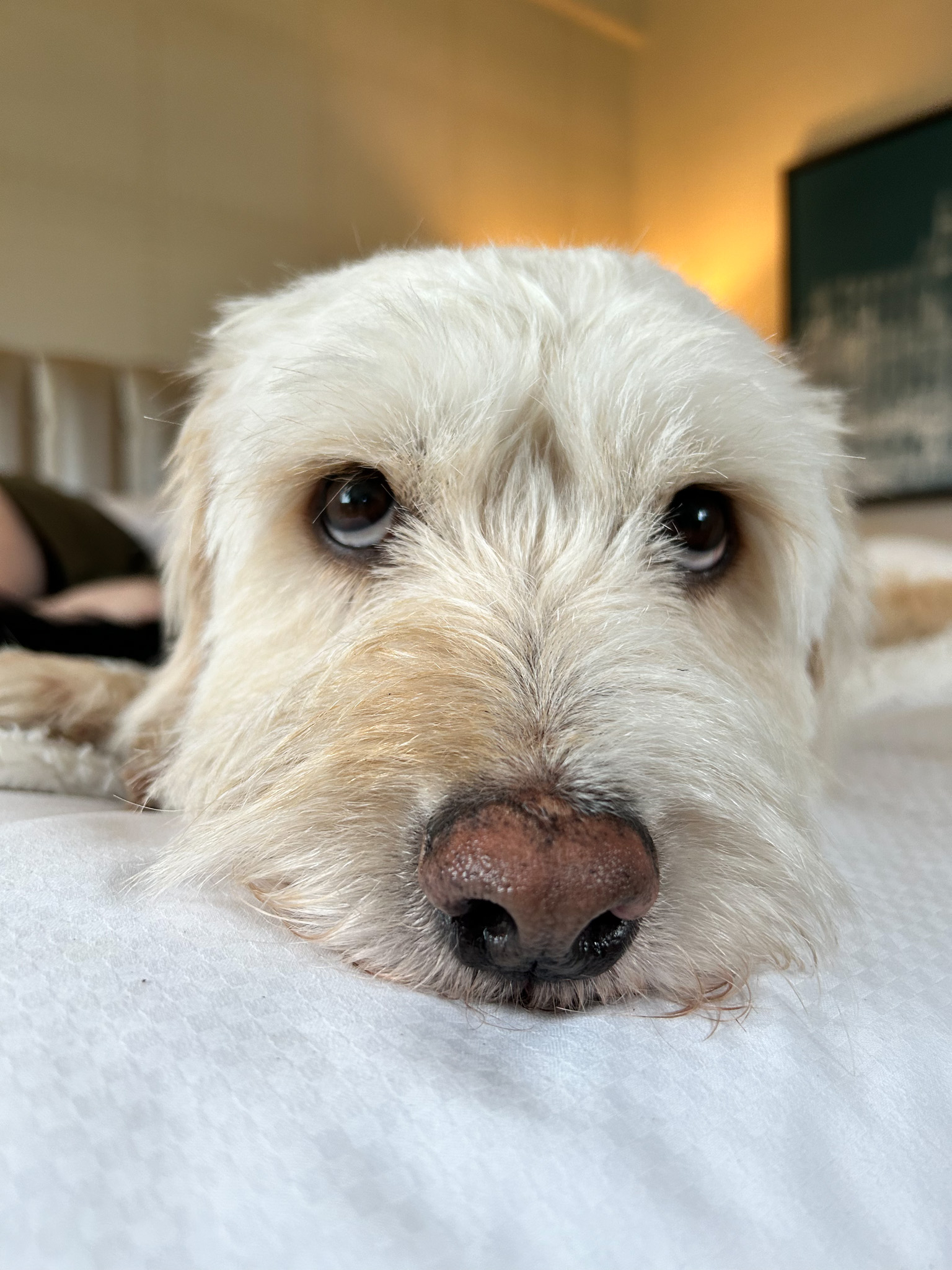 We adopted Sam and Wiley from the North Battleford Humane Society last December. They are wonderful dogs with strong personalities and big hearts. Jen and I love them dearly, but we have worked hard these past seven months developing their social skills and getting them comfortable with other people and dogs.
A staycation seemed not only like a nice reward for us but also a good test to see how the boys would react to new surroundings for a night. What better place than a Saskatoon landmark to enjoy a bit of home away from home?
I was surprised to learn the Bessborough was a pet-friendly hotel. I associate the hotel with big events like weddings and concerts, not with dogs scurrying onto elevators and eagerly sniffing room service dishes left in the hall. However, as Sam and Wiley will attest, it is a wonderful place for dogs to put their paws up to enjoy some luxury and explore downtown Saskatoon.
At 6:21 on that quiet Sunday morning, we let the boys out of their travel kennels and they quickly jumped on the bed. So much for sleeping in.
Jen got their breakfast ready while I grabbed their leashes in preparation for a walk by the river and of course exploring the hallowed grounds of the Bessborough.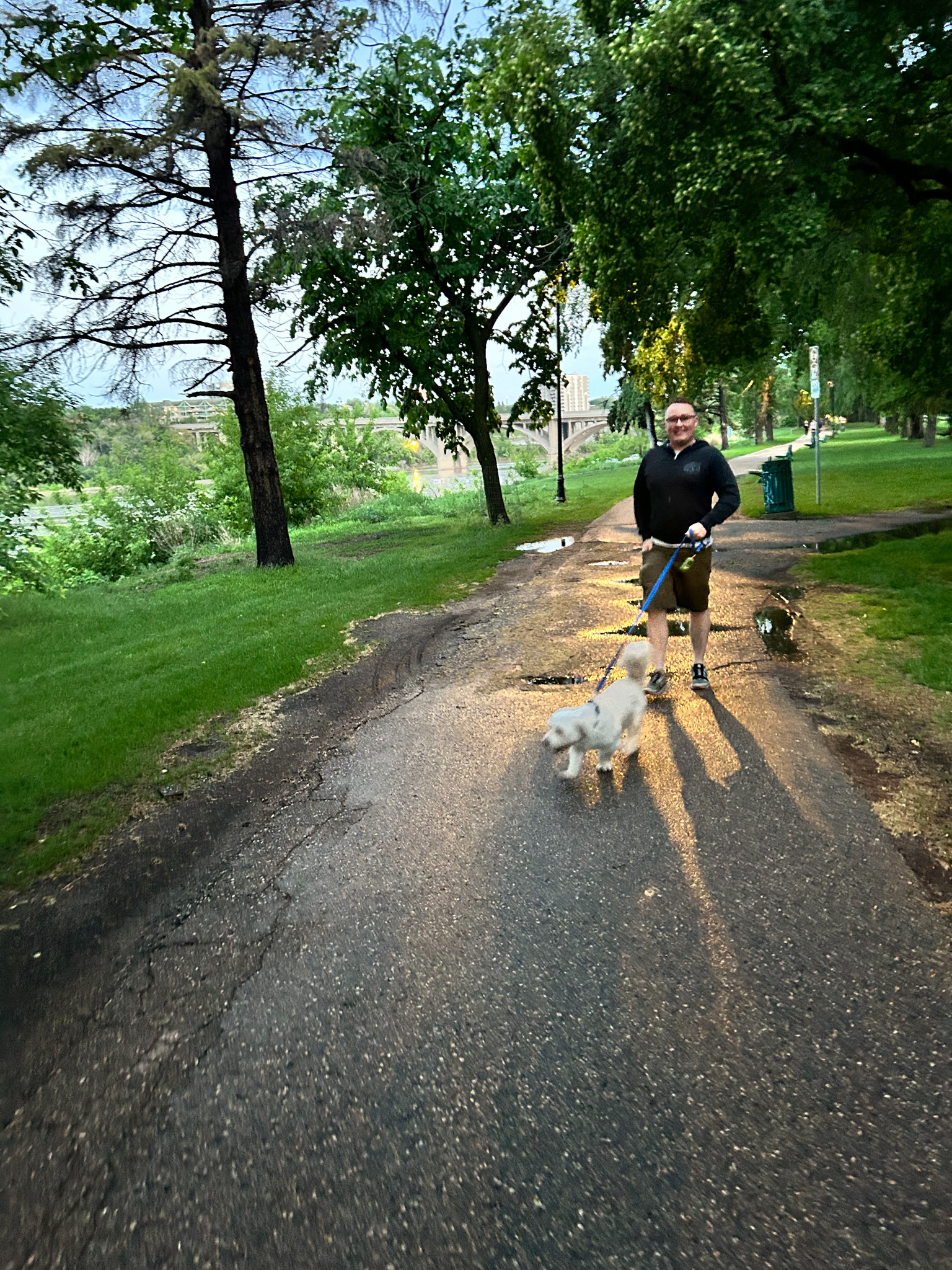 Our community is so lucky to have such a beautiful river valley to explore and to have an organization like the Meewasin Valley Authority to protect it. The paths were quiet as we walked the boys along the river, stopping occasionally to bark at the Canada Geese, and then we did a perimeter scan of the Bessborough Gardens.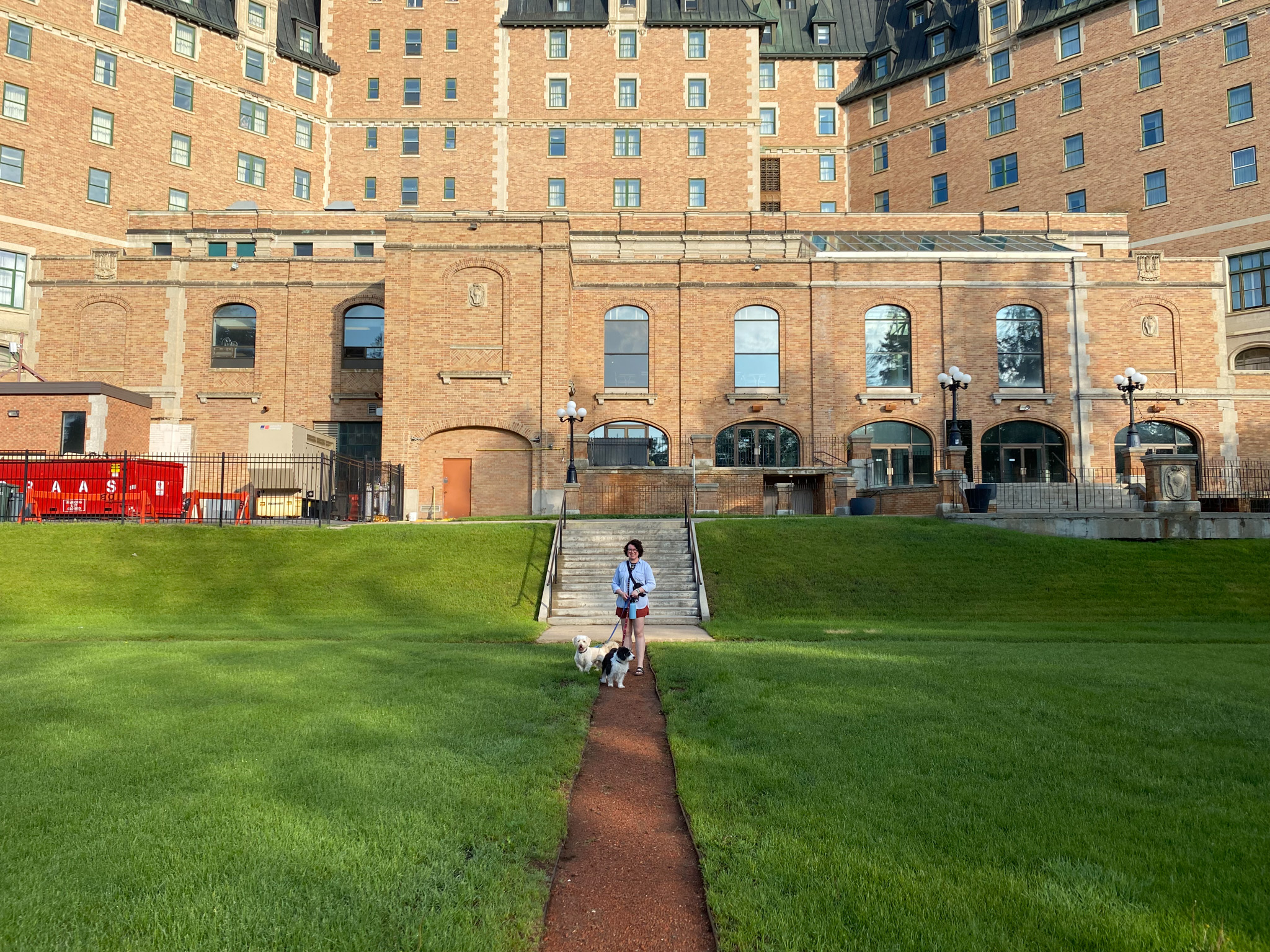 It was really neat to walk Sam and Wiley in a space where we have seen so many memorable concerts over the years. St. Vincent and Feist are two the many SaskTel Saskatchewan Jazz Festival concerts that were replaying in my mind as Sam and Wiley explored the gardens. I have no doubt every backyard from now on is going to pale in comparison to the Bessborough gardens for the boys!
As we walked through the lobby on our way back to the room, both staff behind the desk were excited to meet Sam and Wiley and one staff person quickly grabbed a box of Milk Bones. What service! When we arrived to our room, they perched themselves on a chair that overlooked the river and took in the view. I think it is safe to say the boys could get used to this.
It's fun being a tourist in your own city. It gives you a chance to view your community through a different lens and notice details that normally get lost in the daily reality of work and running your kids to appointments and scrambling to get groceries for supper. Being a tourist allowed us the chance to exhale for a weekend.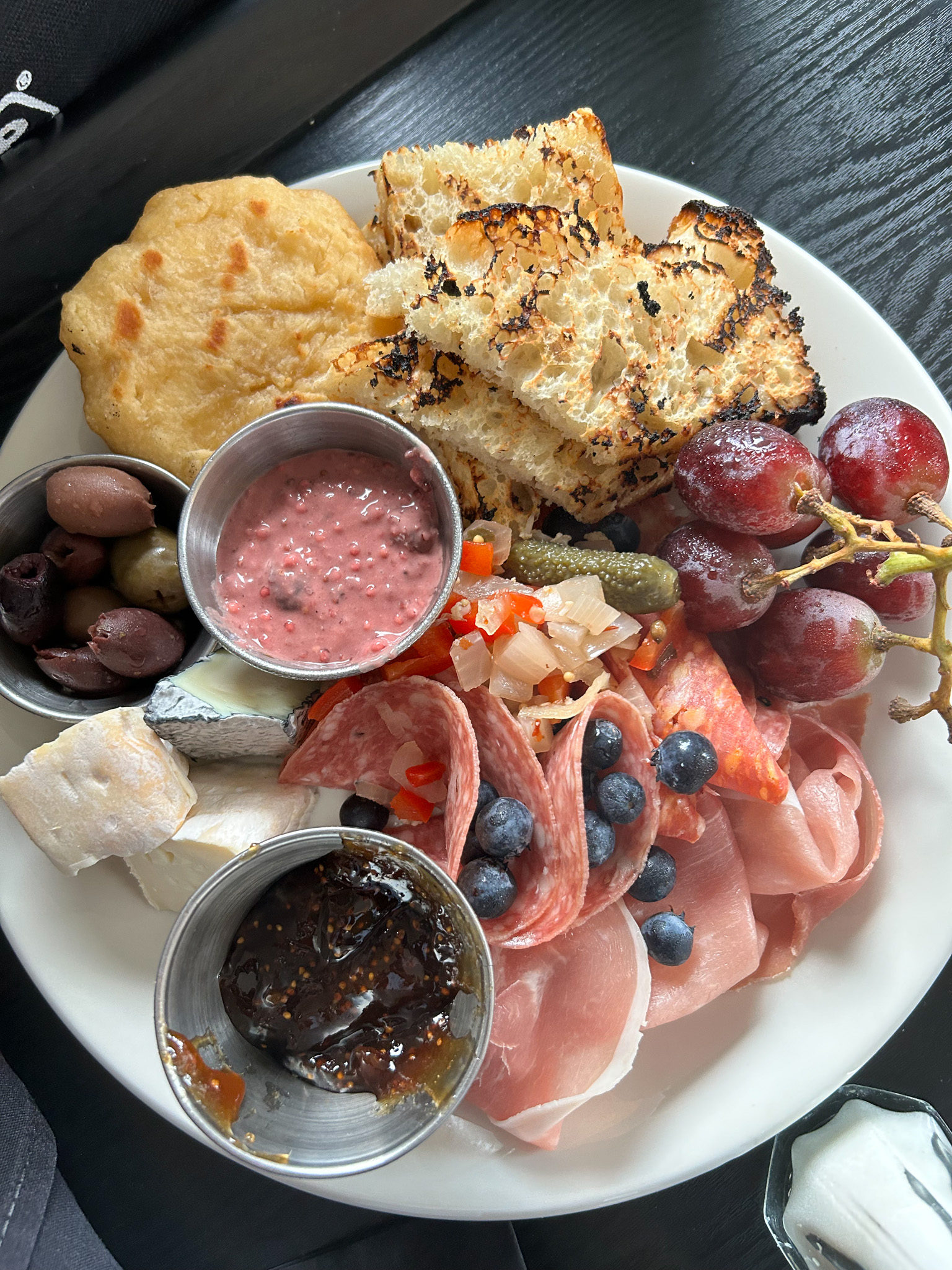 For supper on Saturday night, we called for room service and ordered a delicious charcuterie tray that included bannock and Saskatoon berry mustard along with a couple of cans of High Key Beer (their new downtown taproom is beautiful and definitely worth a visit this summer).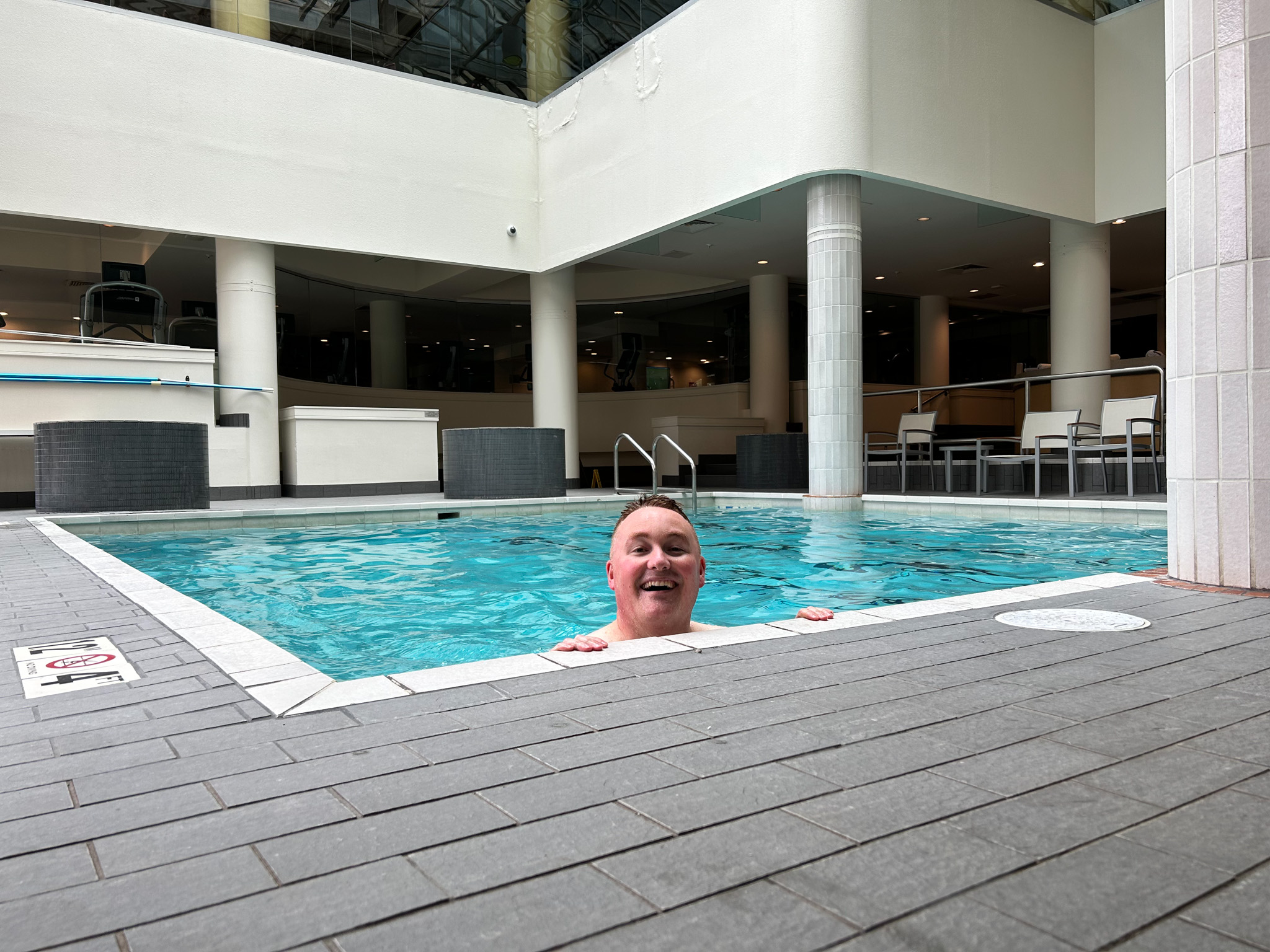 We had the pool to ourselves to do a few laps and then enjoyed a sauna afterwards. We also admired the view of the University Bridge after a classic prairie thunderstorm blew through the city. A rainbow emerged above the Jim Pattison Children's Hospital which was such a great reminder of just how beautiful our city is.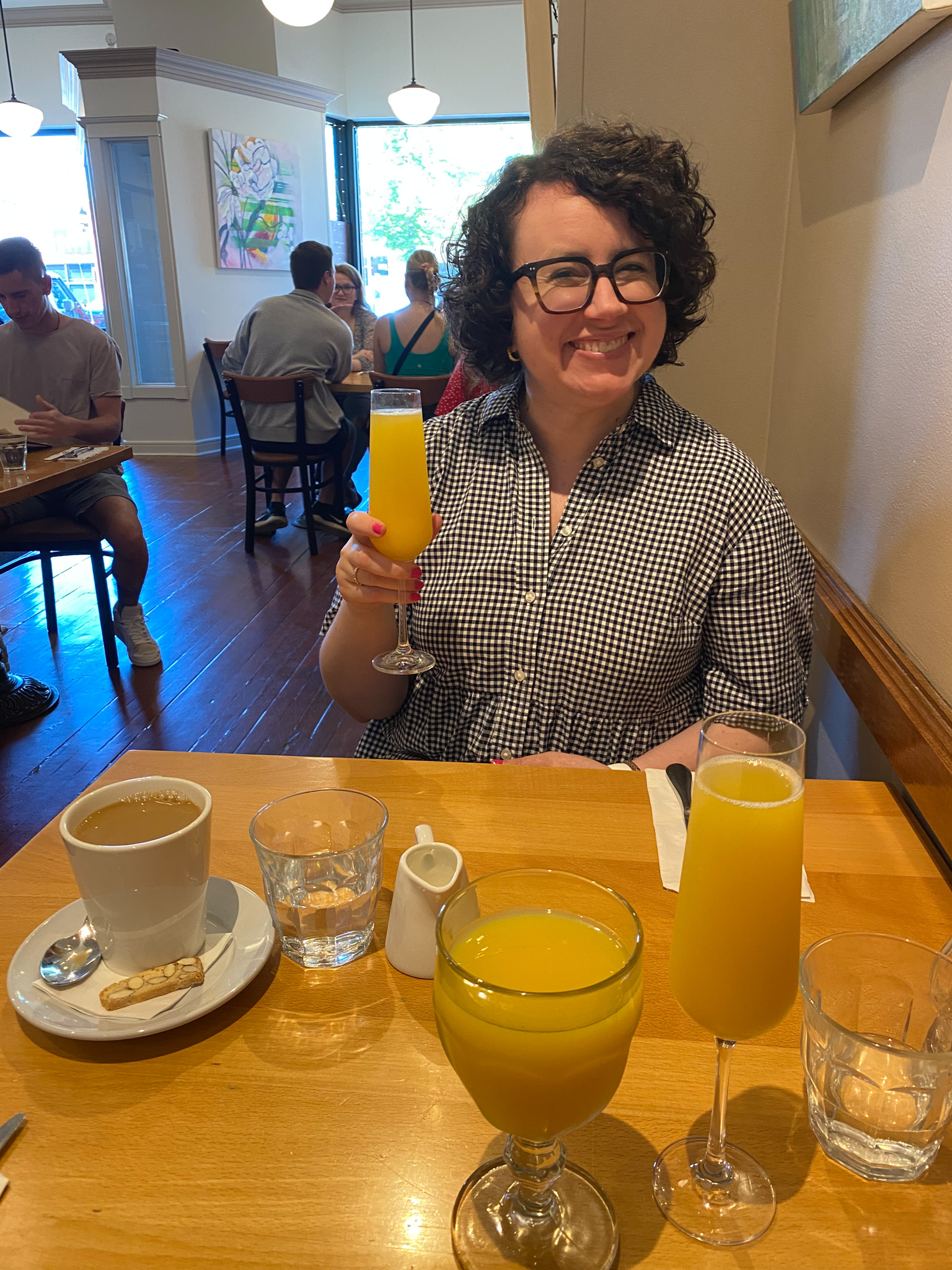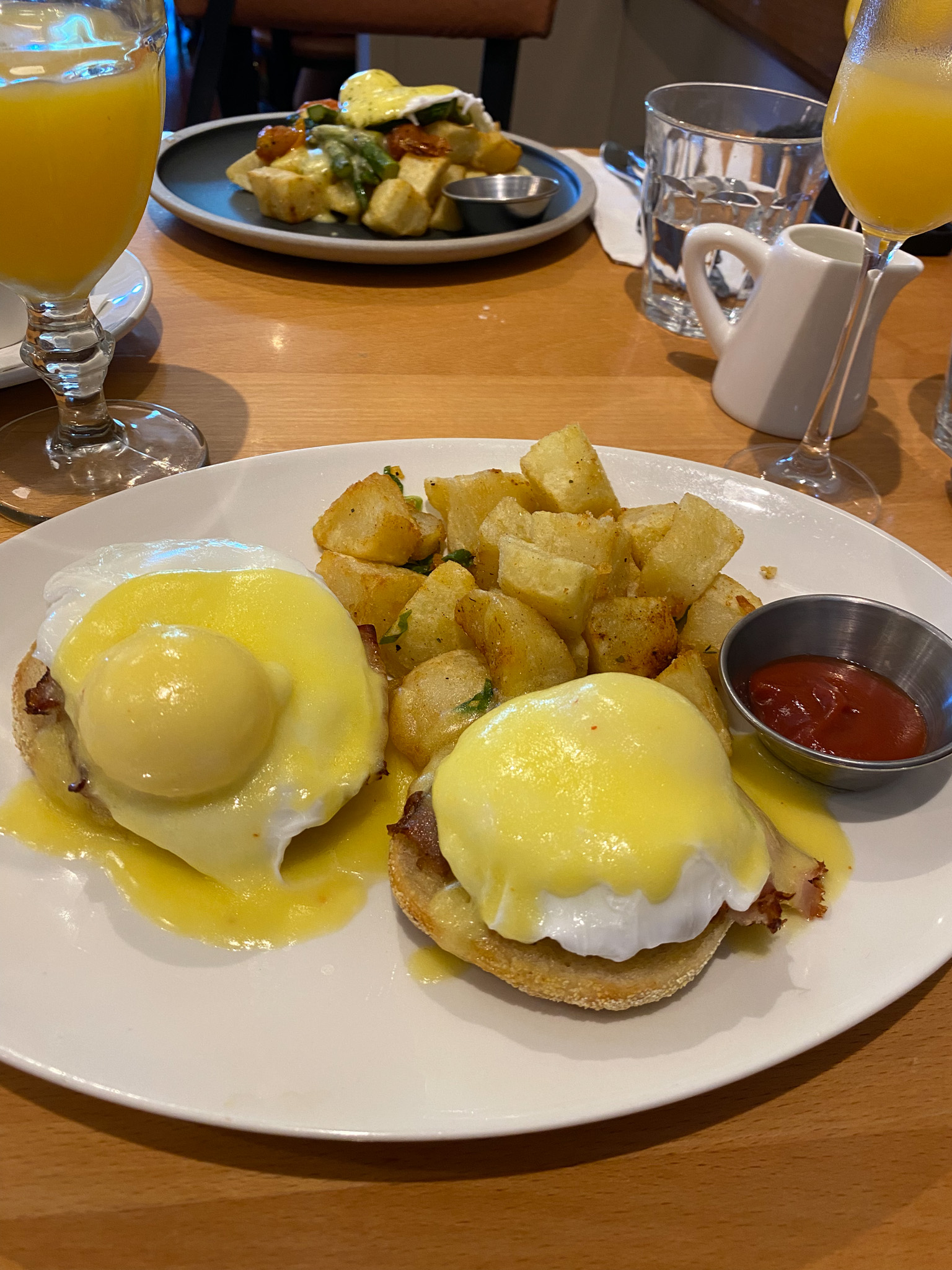 Breakfast? Check. Walk along the river? Check. Making new friends in the hotel lobby? Check. It was busy Sunday morning for Sam and Wylie and they were ready for a nap. We packed our bags, dropped them off at our home, and continued our staycation by making our way to Calories for brunch.
There are many, many outstanding options for brunch in Saskatoon. In fact, it can be overwhelming trying to decide where to go for eggs benedict on a Sunday, but Calories never disappoints with its amazing menu and excellent service. Plus, you have the chance to order an incredible dessert to enjoy later in the day. Did I order a piece of cheesecake after my eggs benedict and pear scone? Yes, yes I did.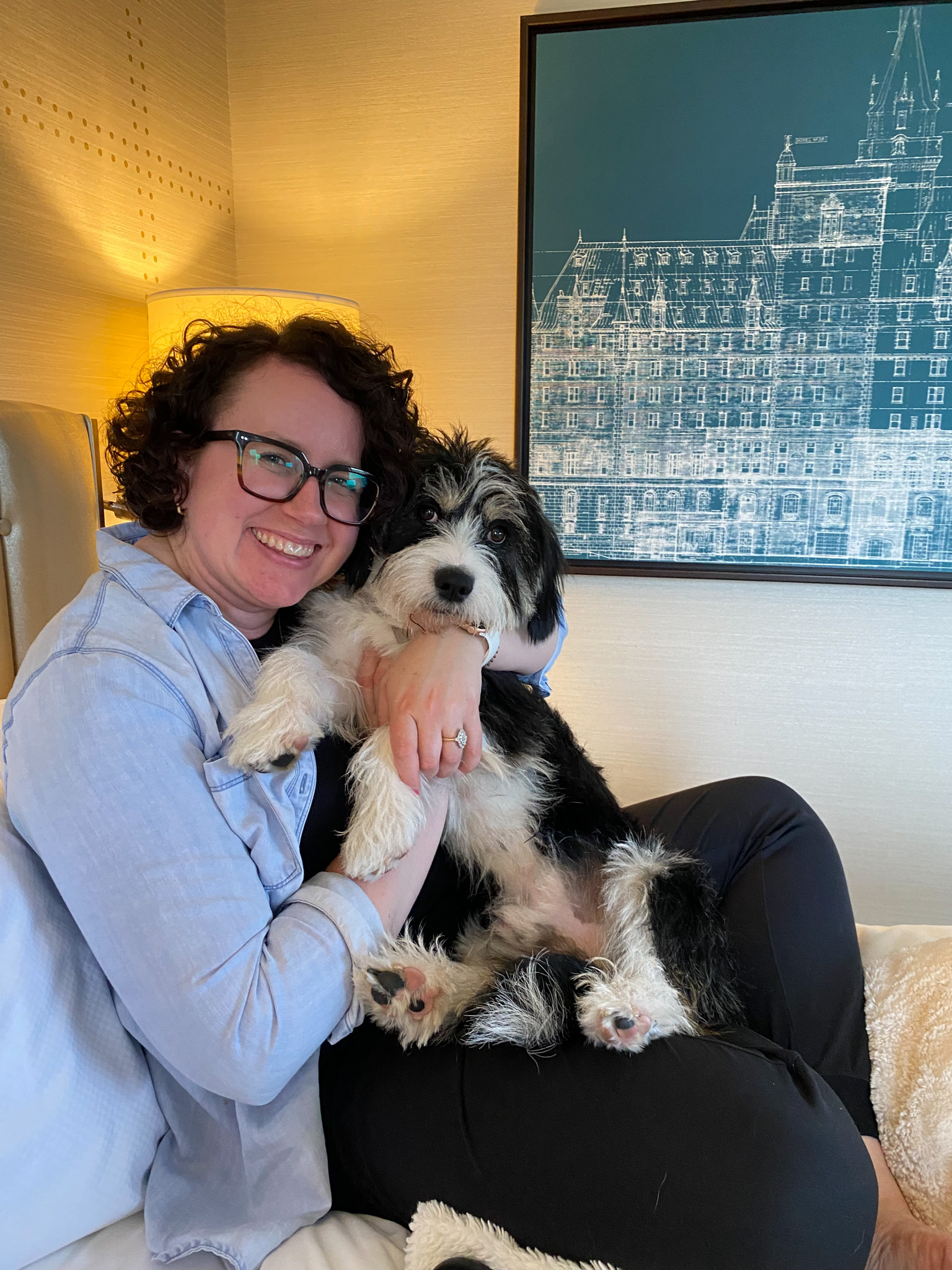 A Saskatchewan summer gives people the opportunity to explore everything our province has to offer. Whether it's a weekend in Waskesiu or camping under the dark skies of Grasslands National Park, there really is something for everyone to experience. However, there's a certain charm that comes with exploring your home through the eyes of a tourist. And if your family includes a dog, I would highly recommend a weekend at Bessborough hotel.
I just hope your dogs sleeps in past 6:20 in the morning!