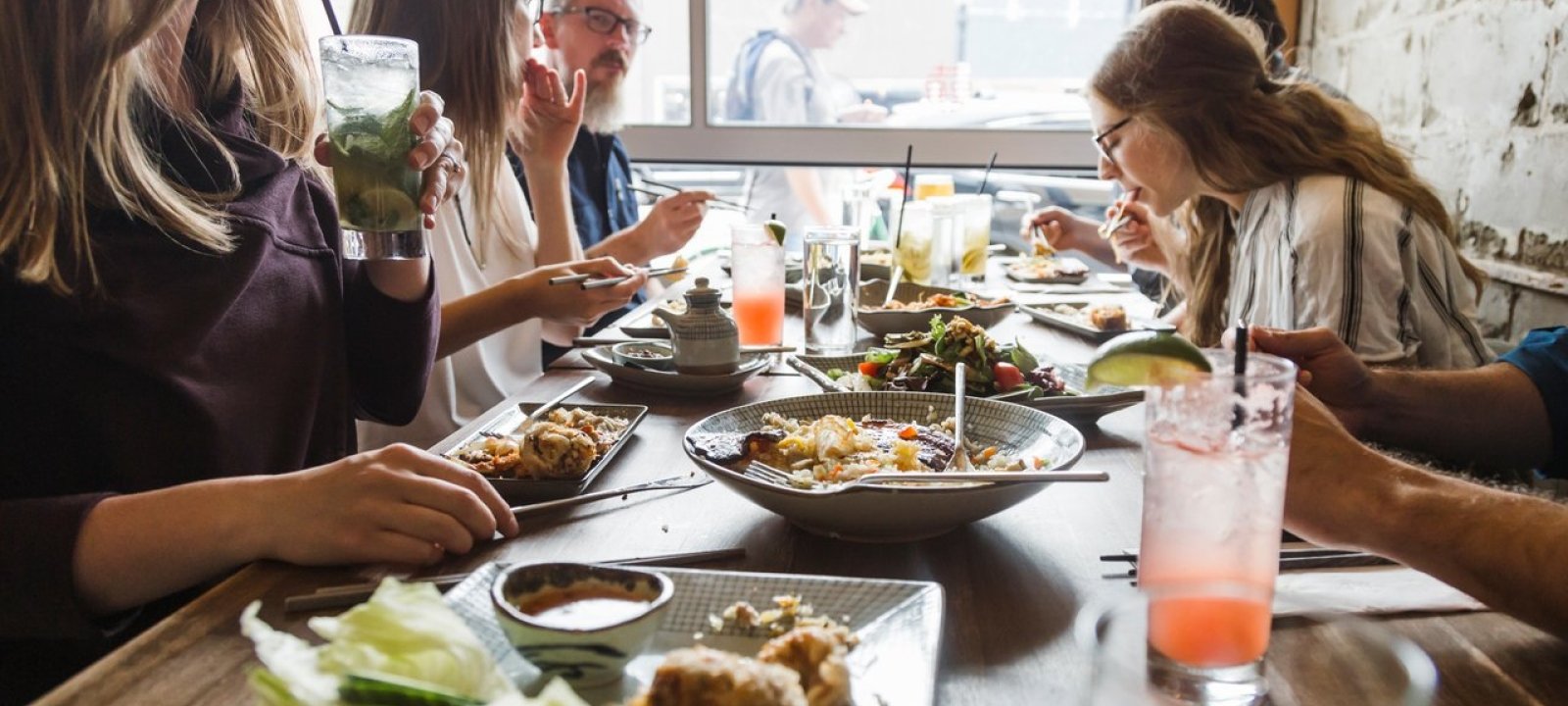 9 YXE restaurants that source local ingredients
When dining out in YXE, you may notice a common theme on the food and drink menus of many local restaurants: Saskatchewan ingredients! From Diefenbaker trout sourced right from Lake Diefenbaker, to
When dining out in YXE, you may notice a common theme on the food and drink menus of many local restaurants: Saskatchewan ingredients! From Diefenbaker trout sourced right from Lake Diefenbaker, to wild mushrooms grown in Saskatchewan's north, to cocktails handcrafted with locally-made spirits, the YXE food scene has it all. Here are 9 Saskatoon restaurants that place local ingredients front and centre — perfect for your next meal out.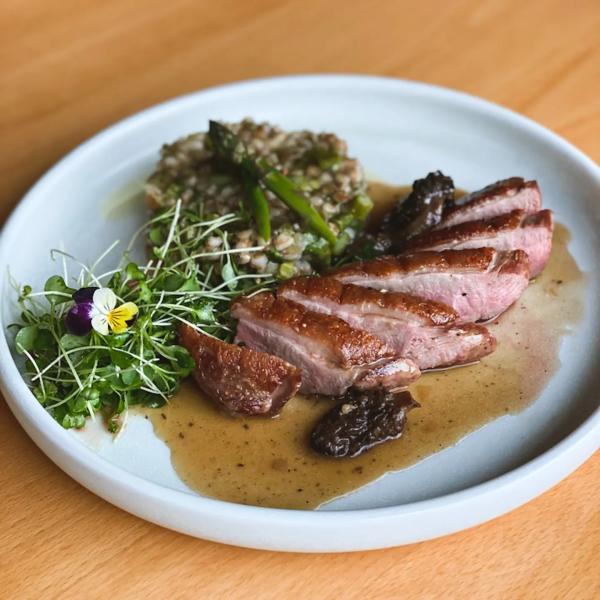 Photo via Taszia Thakur
Calories has been a Broadway Avenue staple since 1986, and over the years they've become known for their strong commitment to working with provincial ingredients. Chef and co-owner Taszia Thakur even says that sometimes they have as many as 15 local farmers, foragers and fisherman making deliveries, all in one day! Calories' menu features ingredients from many Saskatchewan suppliers, including produce from Our Farm YXE, meat from Cool Springs Ranch and wild rice from Riese's Canadian Lake Wild Rice.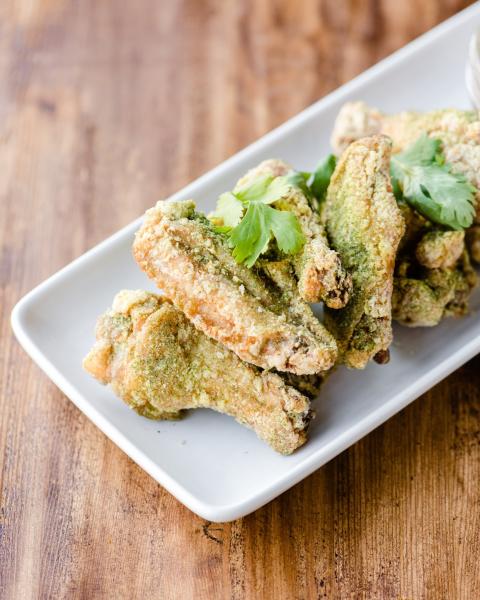 Photo via Bob Deutscher
Founded by Top Chef Canada winner chef Dale MacKay and acclaimed mixologist Christopher Cho, Grassroots Restaurant Group owns and operates five restaurants in the province, three of which are in Saskatoon: Ayden Kitchen & Bar, Sticks and Stones and Little Grouse on the Prairie. The Grassroots team works alongside many local suppliers, including sourcing chicken and pork from Pine View Farms and produce from Dunlop Farms, just to name a few. They also do plenty of in-house preserving to ensure Saskatchewan produce is on all of their menus throughout the year.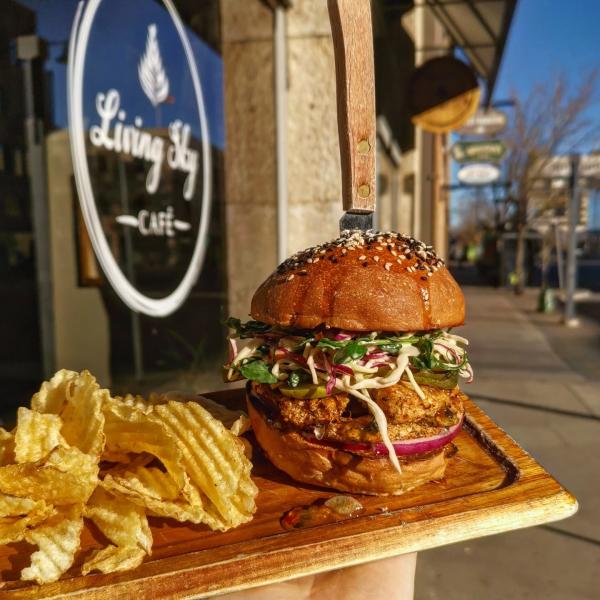 Photo via Taylor Morrison
Located downtown, Living Sky Cafe serves breakfast and lunch, alongside freshly-baked goodies. Meat is sourced from Drake Meats, while produce comes from growers like Grassland Greens and Crocus Hill Garden — which also takes care of Living Sky's compost program. As well, locally-roasted coffee is always on the menu, from Venn Coffee Roasters and Road Coffee Co. in YXE.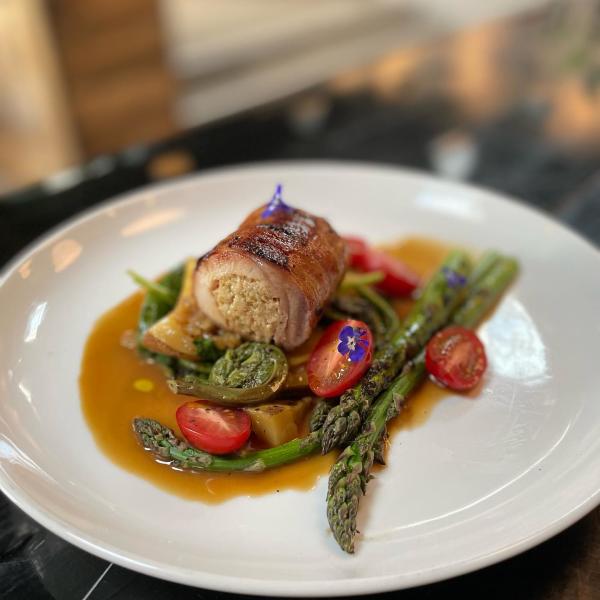 Photo via Lacey Sellinger
Known for their farm-to-table focus and seasonal menu, Odla works in collaboration with Farm One Forty, which is located just outside Saskatoon and supplies the restaurant with ethically-raised meat, seasonal produce and honey. Odla's team also works closely with many other Saskatchewan suppliers, including Kaleidoscope Vegetable Gardens, Prairie Sun Orchard, Simpkins Market Garden, and more.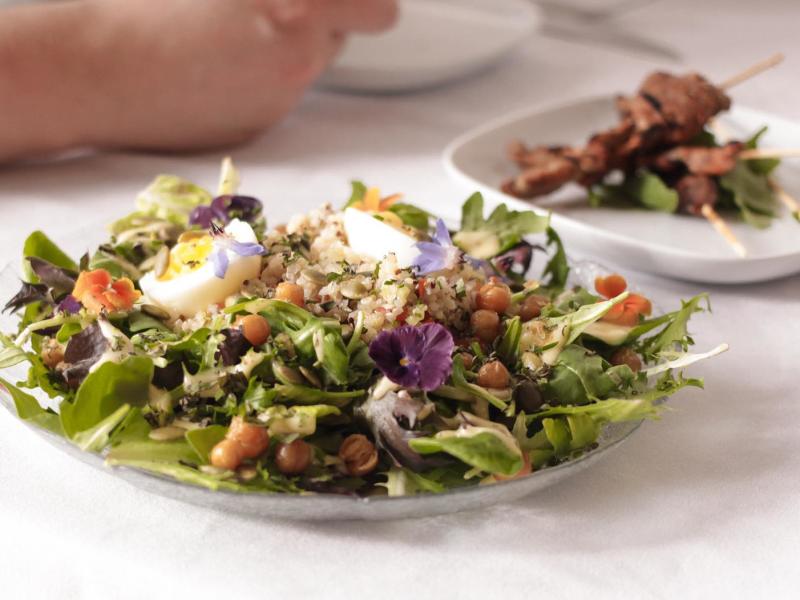 Photo via Tannis Miller & Darby Sutherland
St. Tropez Bistro is a lovely spot in downtown Saskatoon that works with several Saskatchewan suppliers. On their menu, you'll find lamb sourced from Little Timber Ranch, pork and beef from Farm One Forty, and chicken from Peregrine Farm. St. Tropez also has a rooftop garden that spans approximately 1100 square feet and supplies the restaurant with fresh produce and herbs.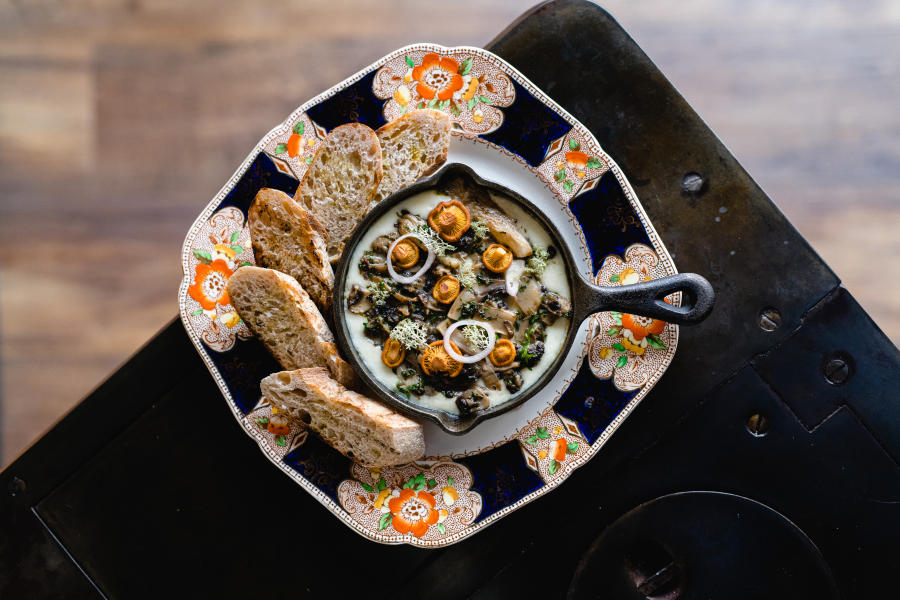 Photo via Bob Deutscher
At Hearth, local suppliers and ingredients form the foundation of their food and beverage menus. Spirits are sourced from Black Fox Farm & Distillery and Stumbletown Distilling, in addition to beer from several Saskatchewan micro-breweries. They work closely with many food suppliers too, including Spring Creek Gardens, Three Foragers Bee Co., Fonos Fish, and other local foragers, who supply wild mushrooms for the restaurant. (The mushroom appetizer on Hearth's menu is a must-try, complete with melty cheese and served with crostini!)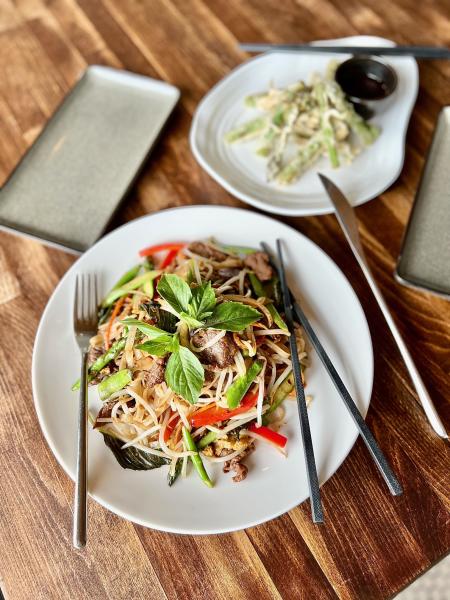 Photo via Rachel Kong
Odd Couple sources chicken and pork from Pine View Farms outside of Saskatoon, including an Asian pork sausage that they make specifically for the restaurant, in collaboration with Pine View. Seasonal produce also makes a regular appearance on the food menu. This spring, for example, they used asparagus from Simpkins Market Garden in a drunken noodle dish alongside Thai basil and beef, and created tempura asparagus, served with a house-made spicy vegan Kung Pao sauce.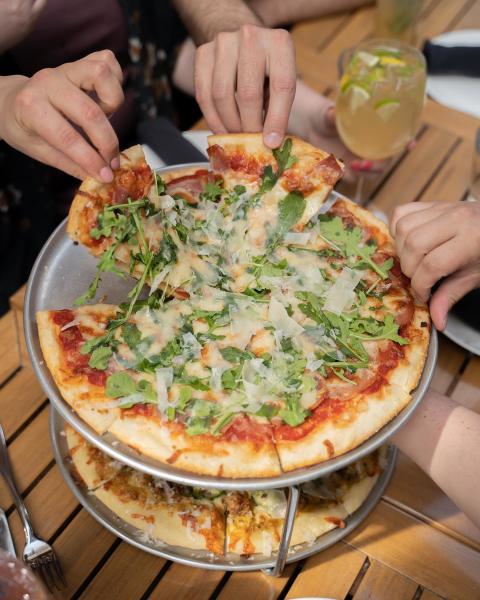 Photo via Chad Reynolds at Golden Media Co
Owned by Carmen and Brad Hamm, Taste Hospitality Group operates UNA Pizza + Wine on Broadway Avenue and sister restaurants Picaro Cocktails & Tacos and Cohen's Beer Republic in Riversdale. At all of their restaurants they work with local suppliers, including True North Micro Farms, Three Foragers Bee Co., Grandora Gardens, and more. Taste also owns The Cure Artisanal Charcuterie, which supplies their restaurants and many other local partners with cured meat, sausage and all the charcuterie fixings.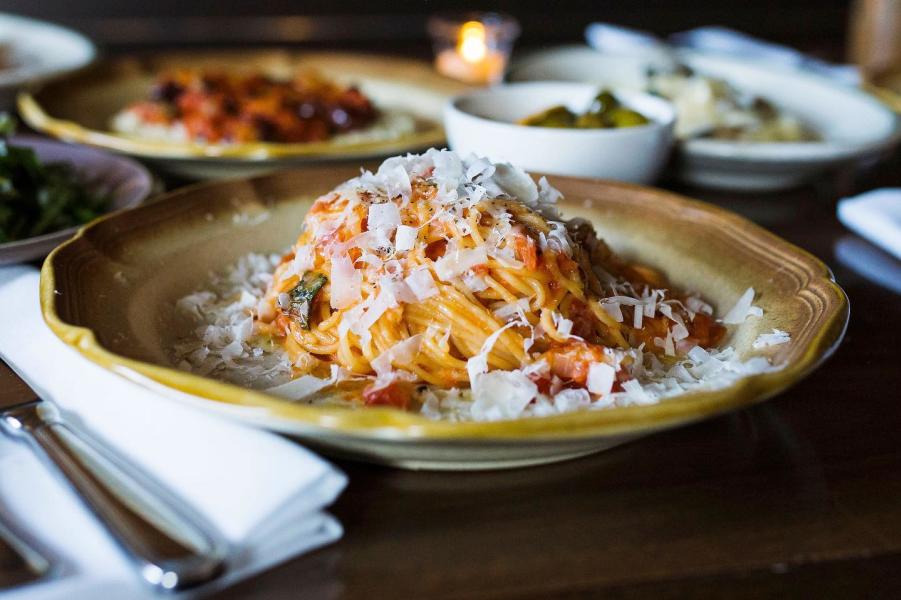 Photo via Carey Shaw
Primal's focus on whole animal butchery and using Saskatchewan heritage grains for their handmade pasta has made it a favourite in YXE. Recently, owners and chefs Kyle Michael and Christie Peters opened a second business, Pop Wine Bar, with a focus on charcuterie, cheese, oysters and of course, wine. At both restaurants, they work with a number of local suppliers, including Bison Ridge Farms, Kitako Lake Honey, Pine View Farms and more.