7 Hidden Trails of Saskatoon
When people think about Saskatoon, the first thing they think of is how flat it is. However, those that are willing to look around will know that there is more to Saskatoon beyond grasslands and
When people think about Saskatoon, the first thing they think of is how flat it is. However, those that are willing to look around will know that there is more to Saskatoon beyond grasslands and meadows. Look no further! In the past 10 years of making Saskatoon my home, I've come across some hidden gems that offer beautiful views and a chance to connect with nature. Get ready to explore the hidden trails of Saskatoon.
1. Chad & Joey's Single-Track Trail
If you take frequent walks within the Broadway neighbourhood, you're just a stone's throw away from Chad & Joey's single-track trail. From the Broadway Bridge painted rock hangout, you'll see an opening that will lead you to the lower trails. From here, you can walk about 5km towards the Circle Drive North Bridge. This technical trail will take you through three of the city's bridges, the University of Saskatchewan, the old ski jump, and the weir. This single-track trail has narrow spots and features steep terrain, so watch out for other trail users. Mountain bikers and trail runners are usually seen on these trails.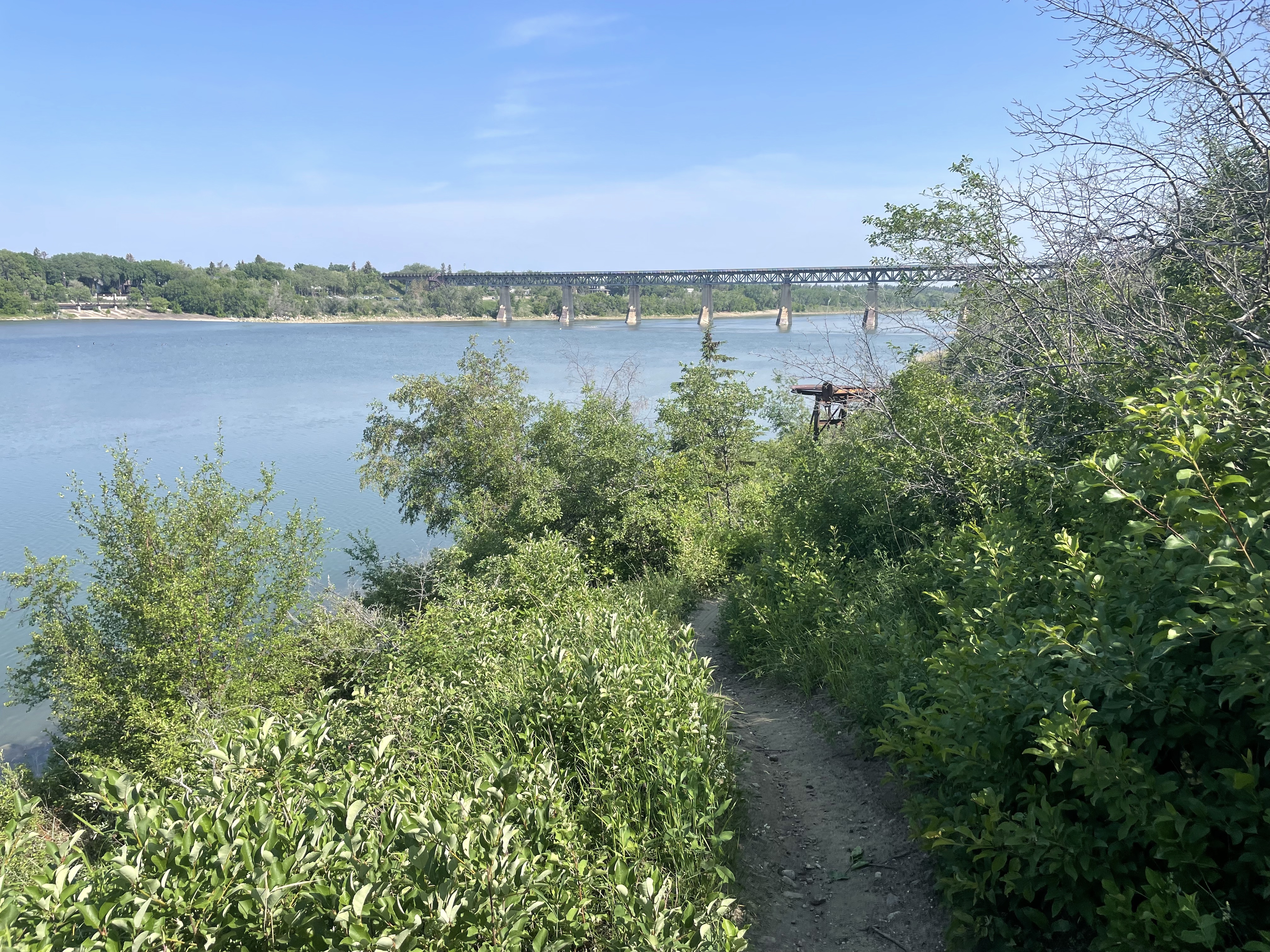 If you get to the weir, you may also spot some locals fishing or sightseeing some pelicans. Among the trails in Saskatoon, this is my personal favourite because it provides challenging terrain for trail running.
2. Gabriel Dumont Park Trail
This gravel trail is a hidden gem in Saskatoon, located in the Nutana neighborhood. The trail is around 2.4 km long and offers beautiful views of the South Saskatchewan River. With its scenic views, it's no surprise that runners and bikers frequent this trail. There's also a playground and BBQ stations near the parking lot, making it ideal for families looking to picnic or enjoy the outdoors.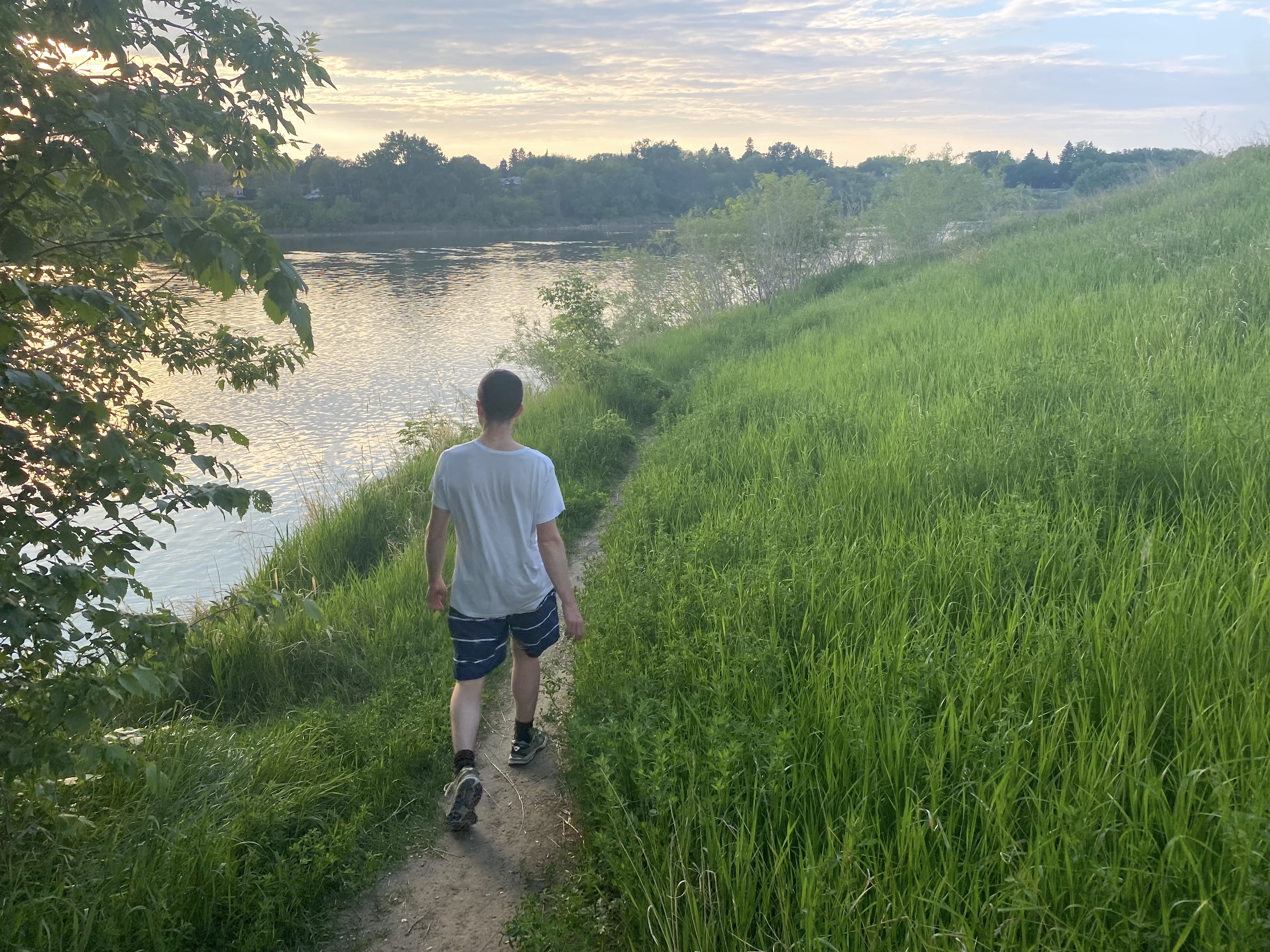 Within the park, you'll see a lot of single-track trails on both sides of the main trail. Enjoy the gentle slopes of the lower trail and maybe pick some berries along the way.
Further towards the South Circle Drive Bridge, you may be lucky to see some deer in the early morning or late evening. Be careful taking an evening stroll because there are frequent fox sightings in the area.
3. Gordie Howe Bridge to Cartwright Street
If Gabriel Dumont Park is too short for you, continue up the zigzagging trail, where you'll find a bench to rest at. This will give you a good view of the Grand Trunk Train Bridge. Trains pass through frequently, and it's a nice place to watch the sunset.
From the Grand Trunk Bridge, follow the main trail that will eventually lead to Cartwright Street. This path is a great route when you're walking your dogs since it eventually connects to Chief Whitecap Park.
For more challenging trails, use the G1 and G2 trails. These are the lower single-track trails that feature rolling hills used for both biking and running.
4. Chief Whitecap Park Trails
Within Chief Whitecap Off-Leash Dog Park, you can walk the main loop which most dogs and locals frequent. For a more rugged hike, take the lower trails where you'll find an almost endless network of trails. There's a certain spot closer to the entrance where you will find some chickadees and bird feed generously supplied by locals. Grab some of the bird feed and wait for the chickadees to eat the seeds from your hand. Closer to the river shores, you can find an abundance of secluded beach spots.
Most locals know about the off-leash dog park, but if you venture further south beyond the park towards the Riverside Country Club, you'll find the new extension of the Meewasin trail. These upper trails are best visited closer to sunset. This trail will take you to scenic open fields which Saskatchewan is best known for. You'll find some benches where you can admire the picturesque view of the South Saskatchewan River below.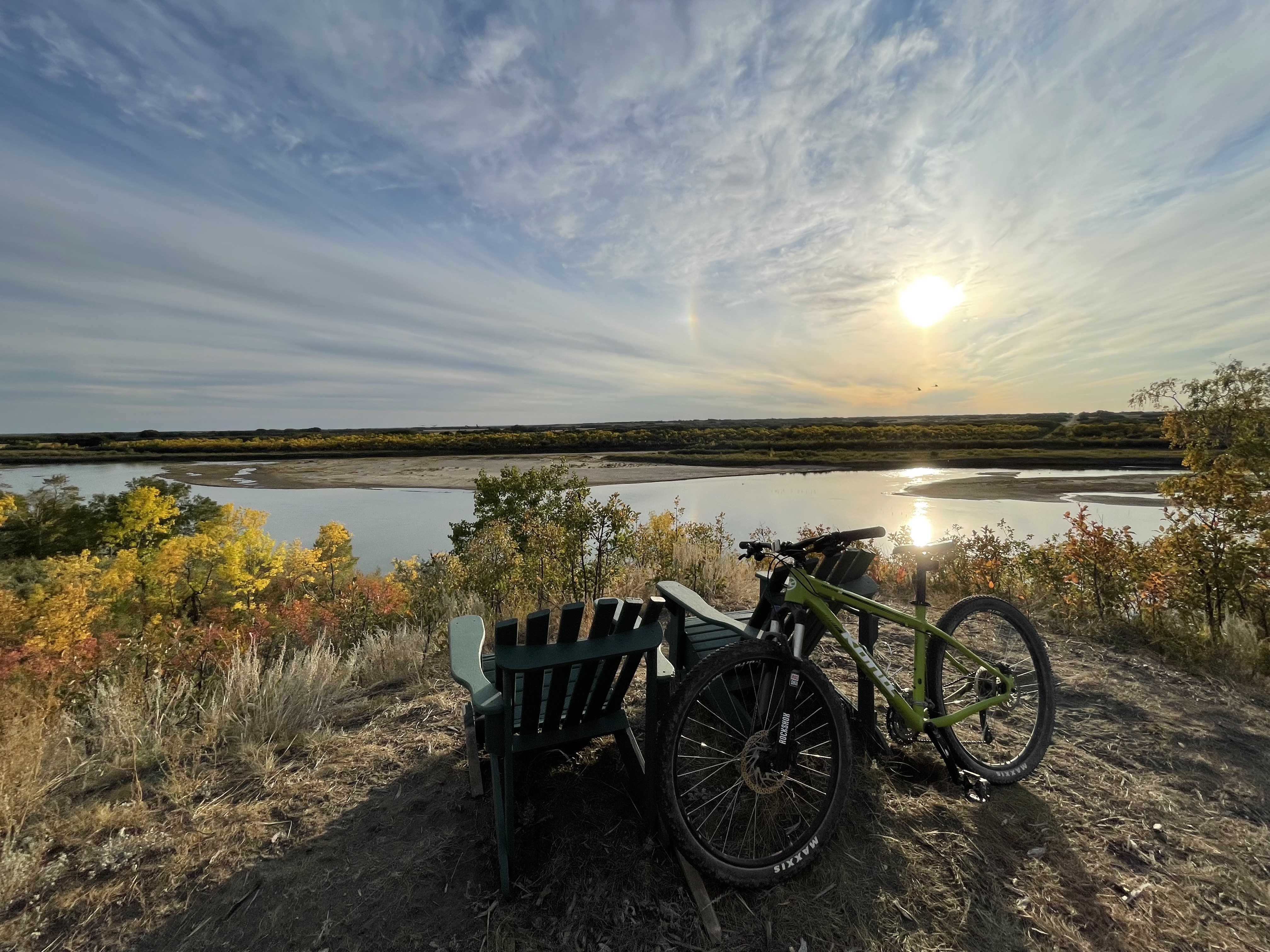 Continuing on, you'll find the statue of Chief Whitecap, one of the most prominent leaders of the Whitecap Dakota First Nation, who played a pivotal role in the development of Saskatoon. While hiking, you may also notice some concrete walls and dirt mounds. One fun fact is that this part of the park used to be a rifle range for the military.
5. Peturrson's Ravine
The Peturrson's Ravine is part of the Sutherland network of trails that start at Crocus Prairie Park. From this trail, you can access the Crocus Prarie bog and the Northeast swale.
The main trail is called the Meewasin Trail Peturrson's Ravine Trail, it's a wider gravel trail where you may spot some furry friends taking their afternoon stroll. If you're up for some technical trails, go down to the Upper Peturrson's Ravine Trail or the Lower Peturrson's Ravine Trail. Both are single-track trails that are popular for mountain biking in the summer or snowshoeing in the winter.
Just a tip - visit the Crocus Prarie bog when the season changes to spring, and you may be lucky to find some ice crystals by the river. These ice formations are mesmerizing to look at and observe.
6. High Roller, Stove, Ravine, & Corkscrew Single-Track
If you want to amp up the adrenaline after finishing Peturrson's Ravine, I recommend the other single-track trails near Crocus Prairie Park. You'll find four signs signaling the start and end of different sections of each of these very fun yet technical trails: High Roller, Stove, Ravine, and Corkscrew.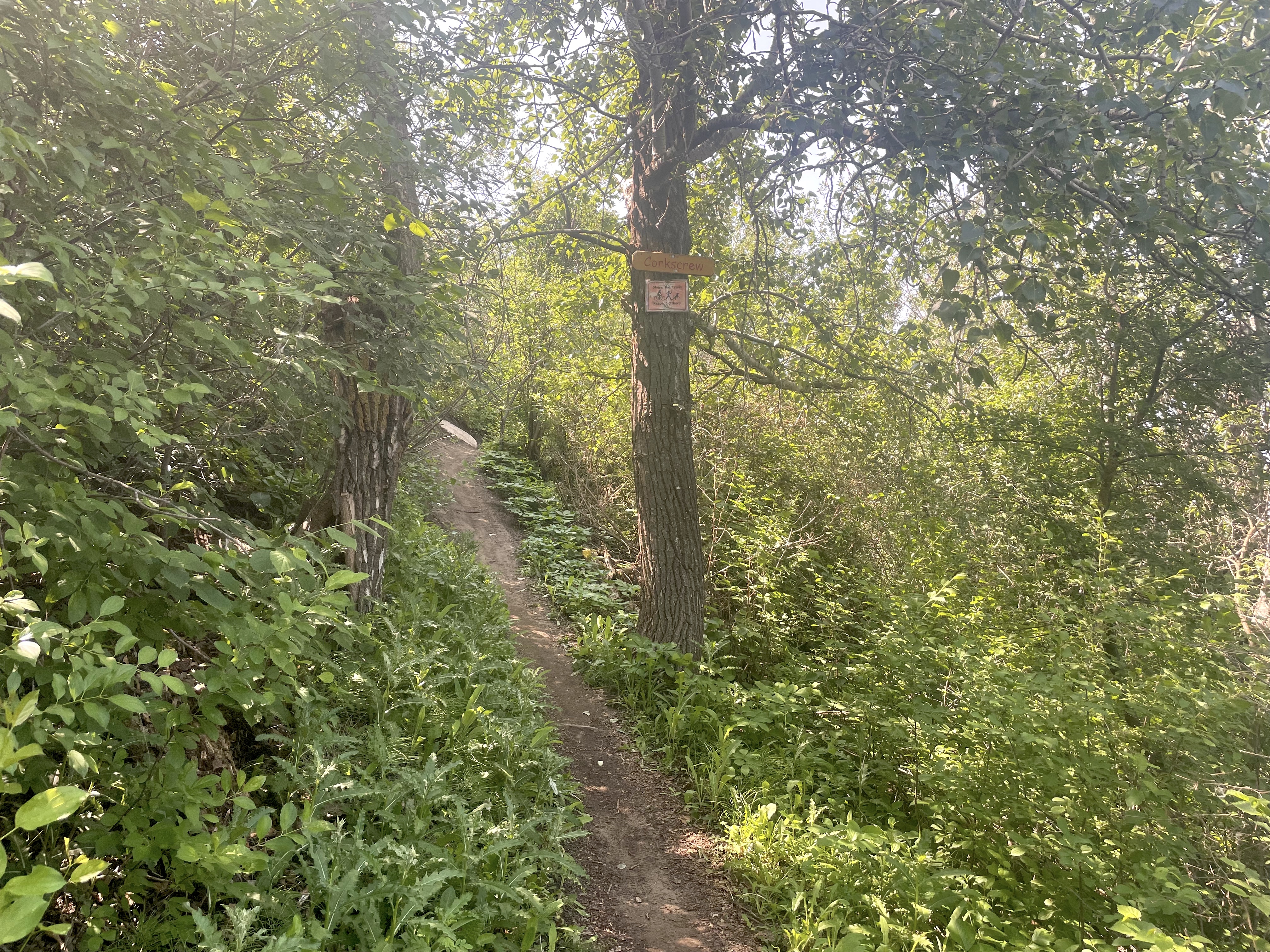 These trails are more technical compared to Chad and Joey's and you'll find tight turns and steep uphills to be common. You may also find some memorabilia along the way like a broken money vault. In the winter, these trails are very slippery so careful when accessing them for snowshoeing.
7. Cranberry Flats Conservation Area
While technically not within the city limits, the Cranberry Flats Conversation Area is a worthy mention. It offers miles of trails for walking, running, and hiking. Some trails are more challenging than others, but all offer beautiful views of the surrounding nature. Taking the main route from the entrance will directly lead you to the valley lookout and the boardwalk. From this viewpoint, you'll be able to see Wilson Island, which was home to a sea cadet camp from 1943 to 1951 under the command of Lieutenant P.K. Wilton.
If you're feeling adventurous though, take the trails on the right from the entrance that take you on a loop that will eventually lead to the boardwalk. If you go past the boardwalk and follow the river upstream, you'll find some berry bushes where you can forage for chokecherries and even wild raspberries and blueberries. These trails feature nice single-track trails and some sandy sections that locals enjoy.
If you go too far upstream, you may find yourself at one of Saskatoon's best beaches. Word of warning though that this is a popular nude beach. Before you get there, you'll find an obscure sign warning you that you're about to enter a clothing-optional territory.
Finishing Thoughts
Saskatoon may be known for its flat prairies, but there are hidden trails waiting to be explored by those who are willing to venture beyond the city's surface. From Chad & Joey's technical single-track trail to the sandy Cranberry Flats Conservation Area, there is a trail for everyone. Not only do these trails offer beautiful views of the surrounding nature, but they also provide a chance to connect with nature and challenge oneself. Get outside and explore the great trails of Saskatoon!