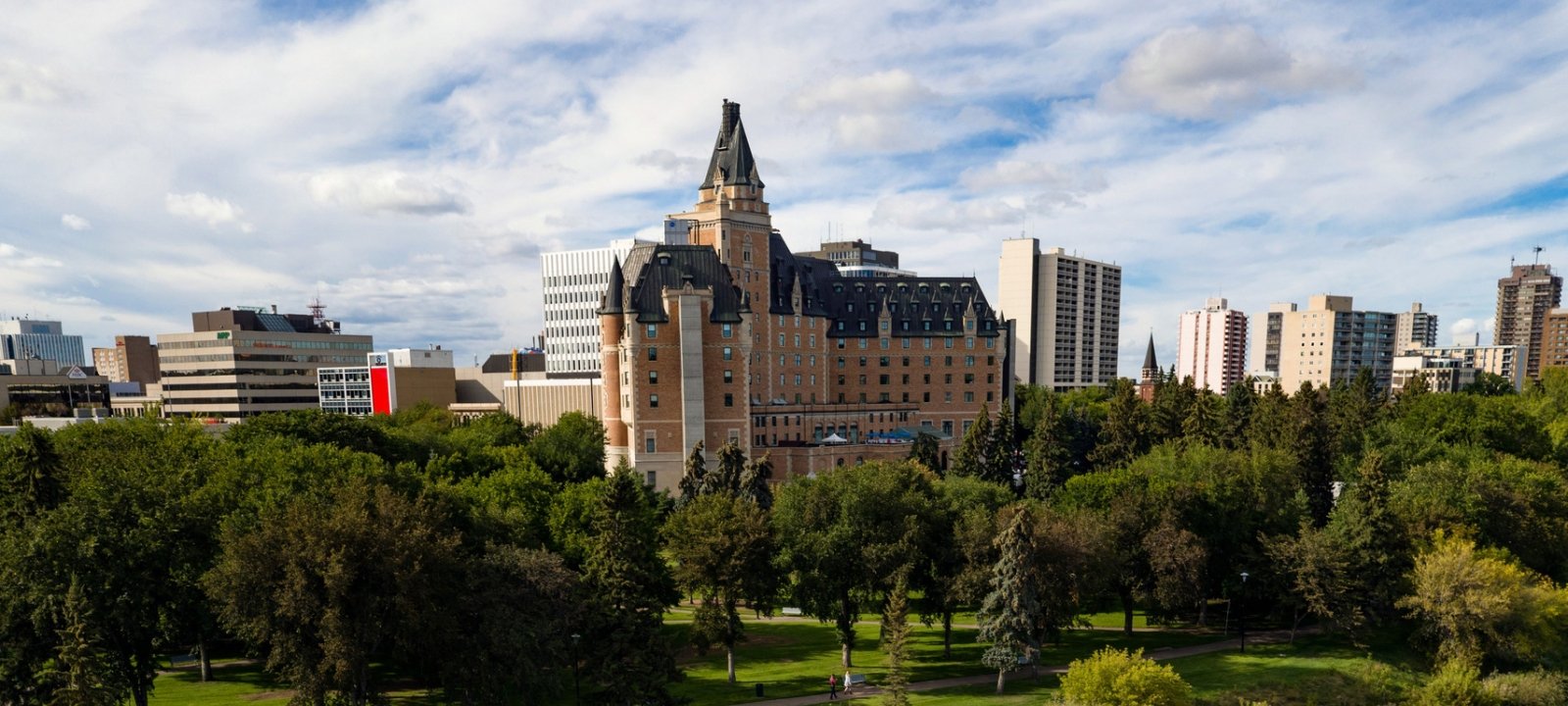 5 Reasons to Love Saskatoon
Entertainment
,
Families
,
Outdoors & Adventure
Saskatoon has had a recent –and much needed – awakening to its potential. We're finally kicking off our training wheels of being regarded as a hip, big city and ready to ride on our own. Yes, the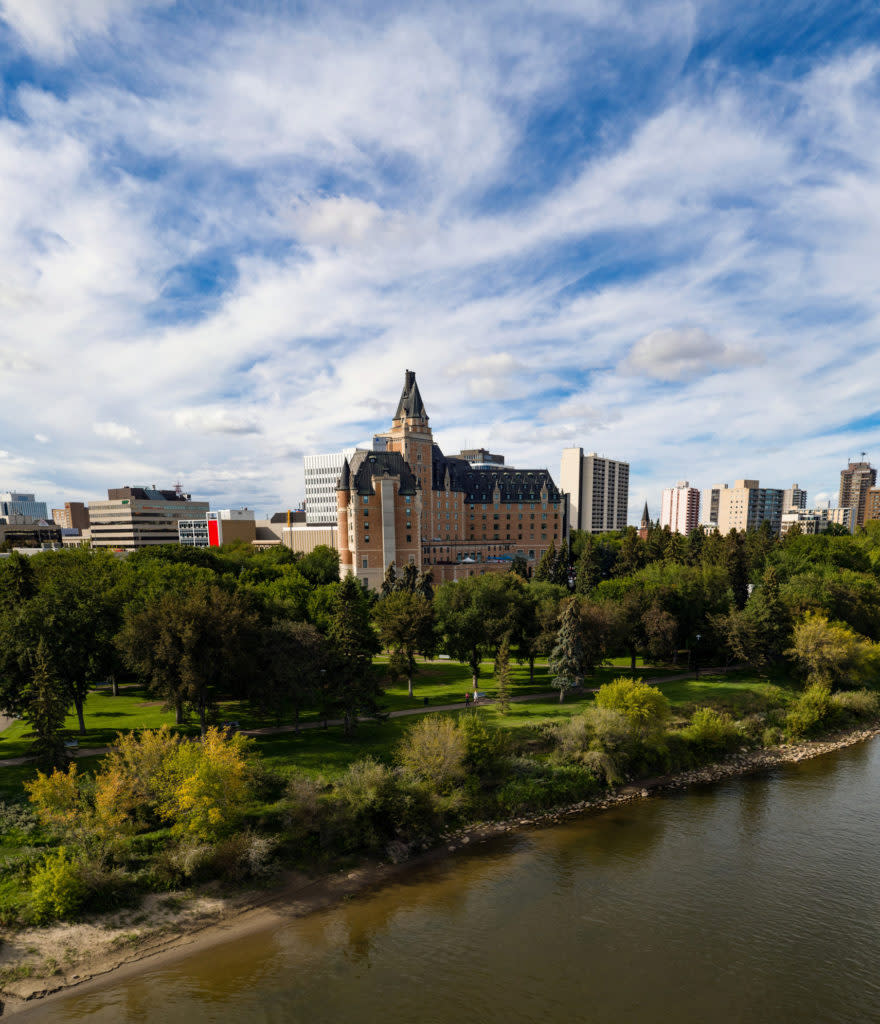 Saskatoon has had a recent –and much needed – awakening to its potential. We're finally kicking off our training wheels of being regarded as a hip, big city and ready to ride on our own. Yes, the biggest city in Saskatchewan has been buzzing for a few years now with renewed optimism, confidence and homegrown character. Whether it's a tourist's first visit or a former resident moving back home, there's validity when people say It feels good to be in Saskatoon.
Here are my five reasons to love the Paris of the Prairies:
The People
Good places keep good people. Saskatoon would not be what it is without the amazing and diverse people that inhabit it. Whether it is the University of Saskatchewan's presence that continues to attract a hip and intellectual energy, the contrast of frigid winter to searing summer that demands a humble optimism or the simple openness of the small-town prairie spirit, Saskatonian's have true character.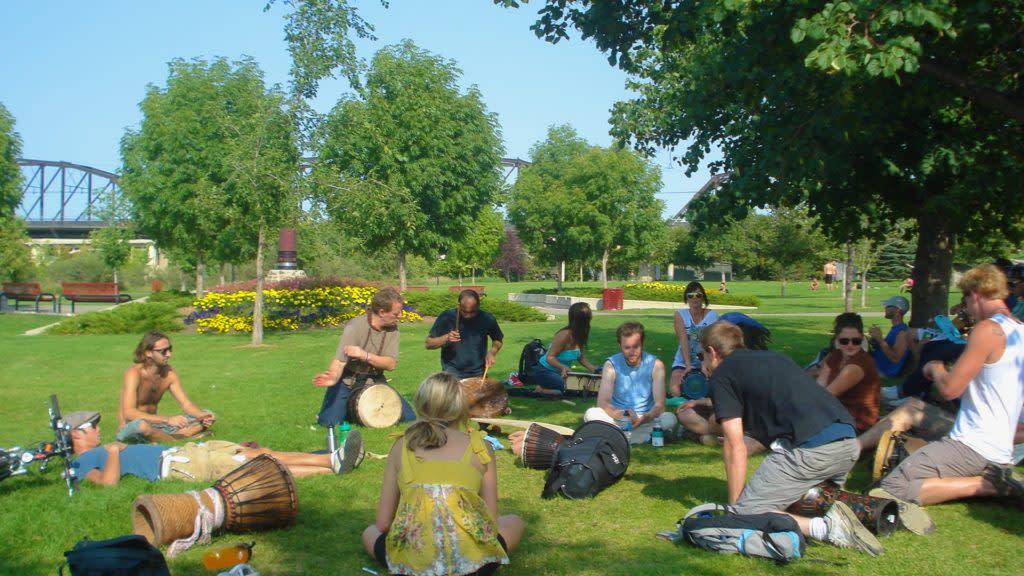 People gather for a Sunday in Rotary Park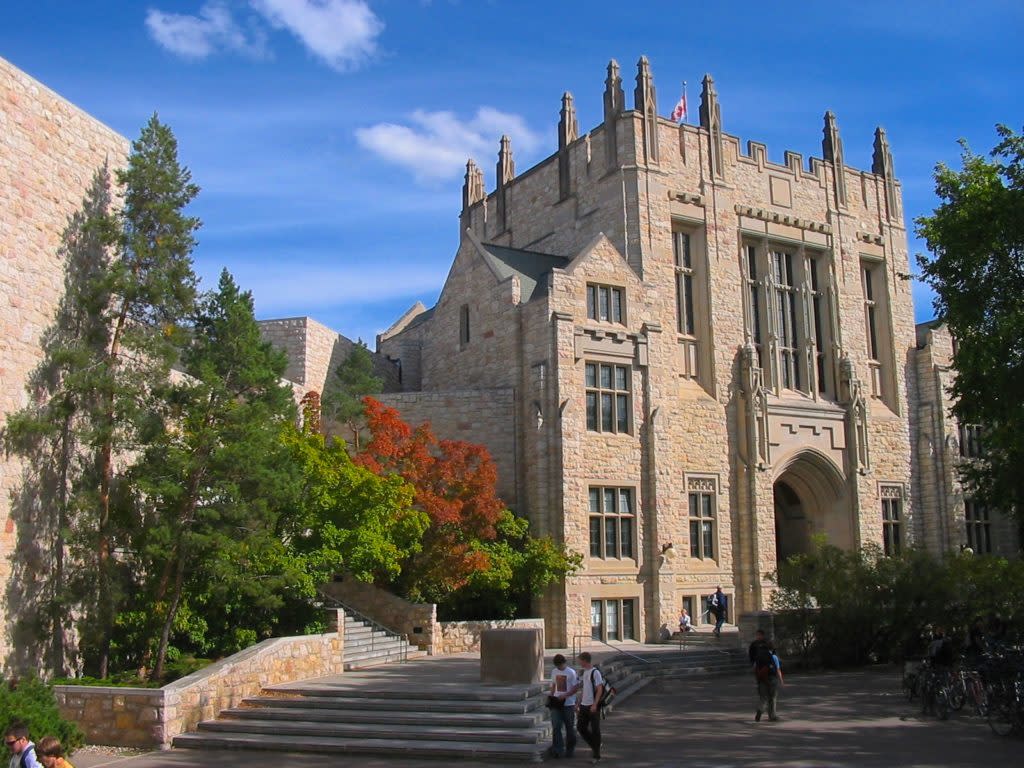 Students on the University of Saskatchewan Campus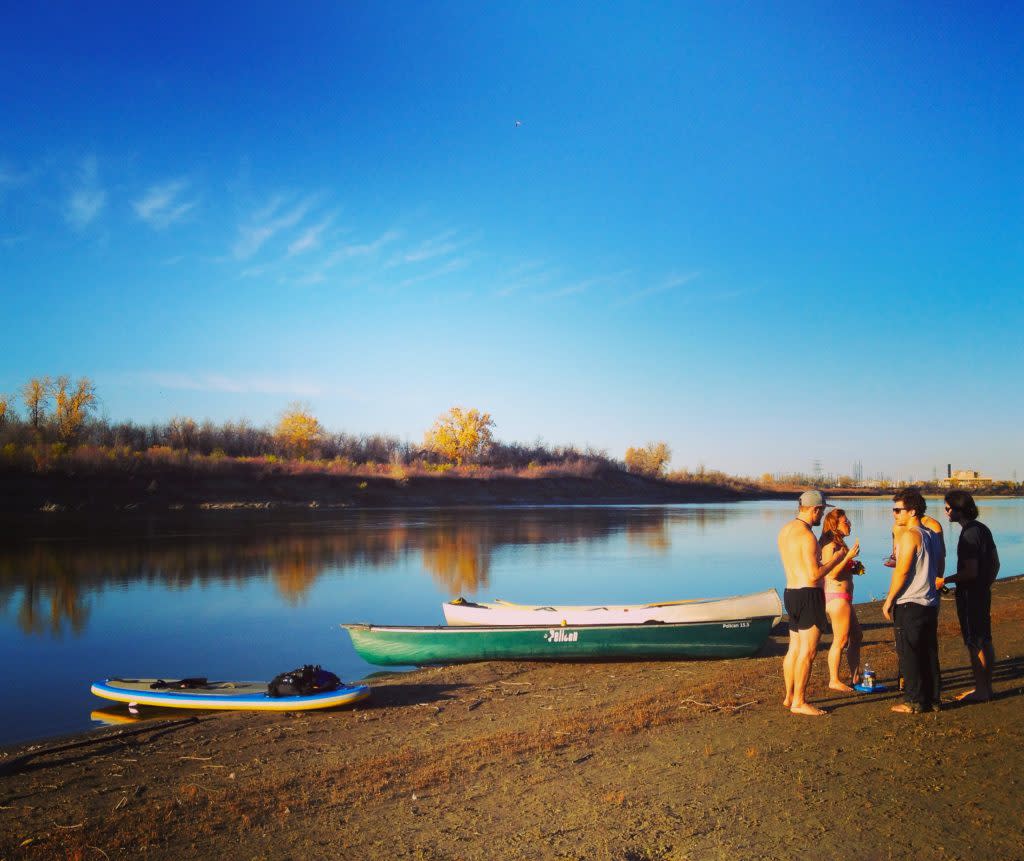 A group of Saskatonians making the most of a beautiful fall day on a canoe trip into the city
The Size
250,000 is a unique number. People have debated for decades whether Saskatoon is a big city in-waiting or simply an oversized town, but for many it's the perfect size.  I'm not just referring to the fact you can generally drive anywhere in town in under 20 minutes (good luck with that Calgary…) or the fact that we are still big enough to pull in world class concerts and events (Elton John, The Juno Awards, IIHF World Junior Championships, etc.) but I'm alluding to what the size of our city does to its people. A city of our size forces people to be engaged and involved with all events and functions. They simply wouldn't happen otherwise. Living in a big city you go out to see what the city is doing – in Saskatoon you make something happen. This is why Saskatoon has one of the highest volunteer per capita ratios in the world. Good luck throwing a party that makes a dent in Toronto's nightlife…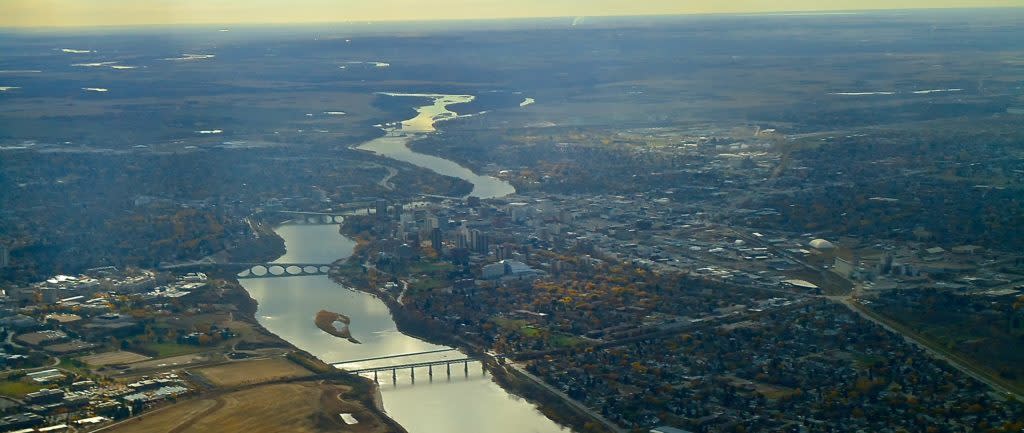 An aerial view of the City of Bridges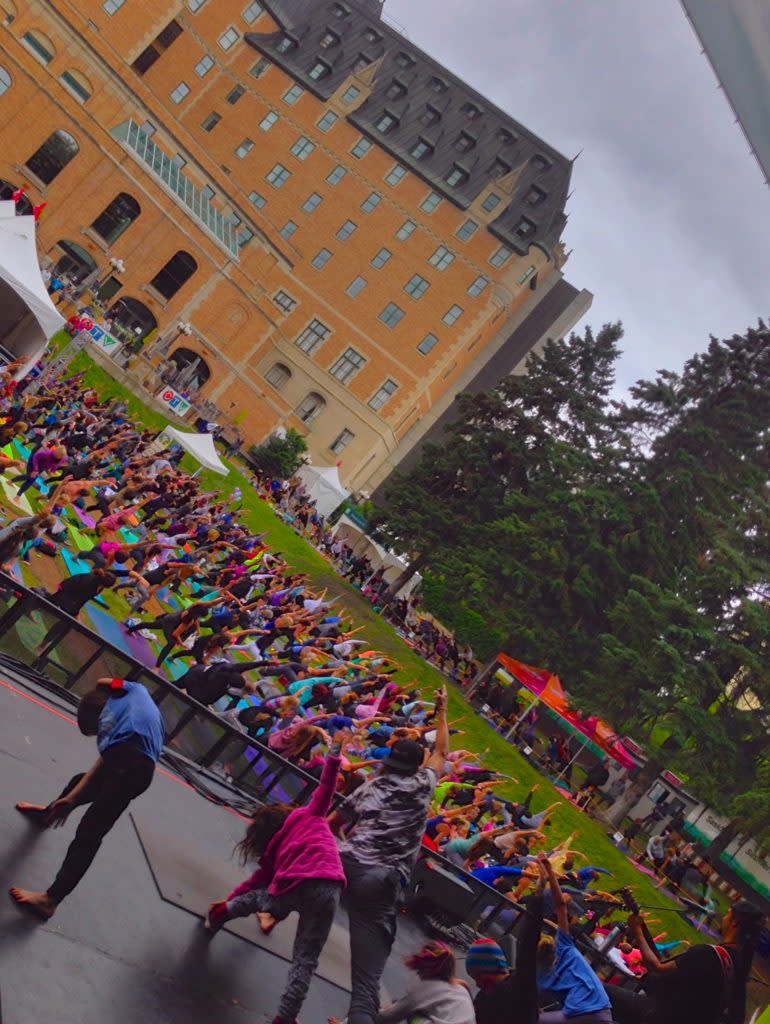 Ryan Leier leads a free yoga class as part of the Saskatchewan JazzFest - run annually with over  400 volunteers.
The Canadian flag gets passed around Sasktel Centre when Saskatoon hosted the 2017 CCMA Awards
The Music
Not the first thing most out-of-towners think of when visiting the City of Bridges – but for those that are from here, they know our music scene is one of our best kept secrets. ToonTown (er, TuneTown) has raised the diverse sounds from Joni Mitchell and The Sheepdogs to The Deep Dark Woods and One Bad Son with recent success stories including Bombargo, Close Talker and The Dead South. When a musician grows out of the distant shadows cast by the big music scenes of Toronto or New York, one instinctively calls on others in order for survival. This forms the basis of Saskatoon's music community – open, accessible and constructive for the collective goal of making good music and getting it heard. With plenty of festivals in the summer (like Sasktel Saskatchewan Jazz Festival) and being home to notorious independent venues on the tour circuit (like Capitol Music Club and Amigos), Saskatoon's local acts are frequently showcased alongside international heavy-weight artists – and they deserve it.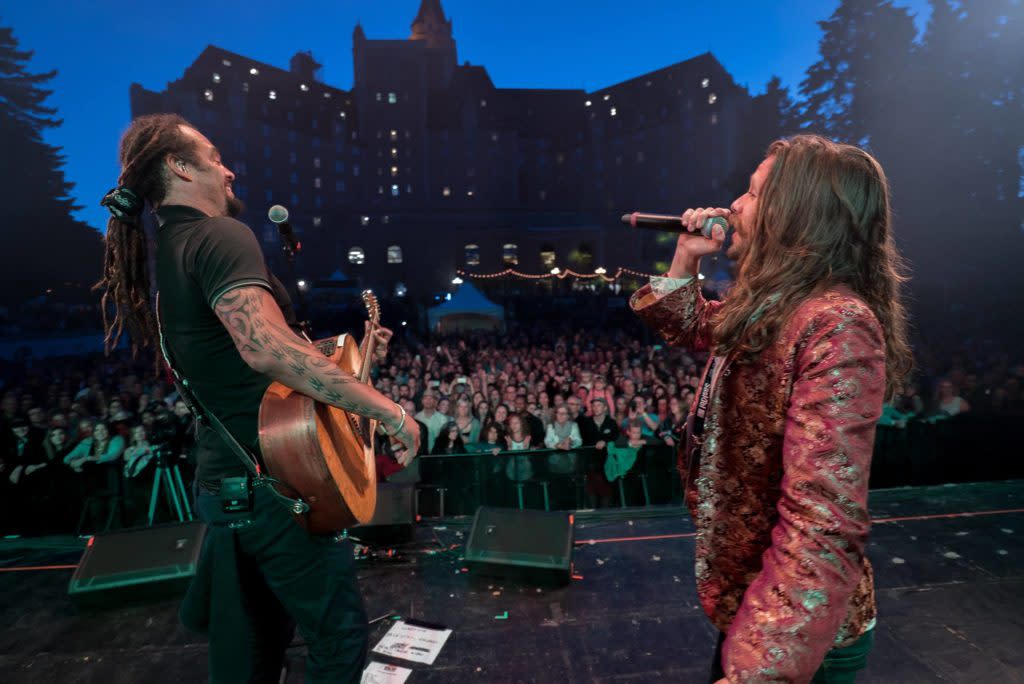 Nathan Thoen, of Saskatoon's Bombargo, is invited on stage with Michael Franti during the Sasktel Saskatchewan Jazz Festival.
The Capitol Music Club's Tuesday Open Mic has been the city standard for both local and touring musicians to jam and test new songs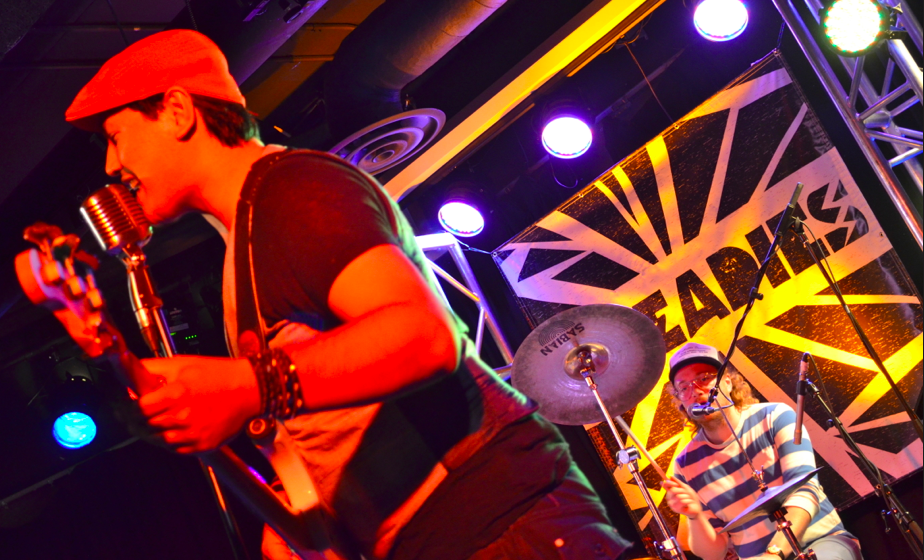 Earl Periera, front man of the Steadies, has been a key member of the Saskatoon music scene and helping up and coming bands since founding the band Wide Mouth Mason.
The River
The original settlers and native people that named the Saskatchewan River (after its swift flowing waters) were aware of its importance to a community and the Bridge City wouldn't be what it is without it. Big cities like Toronto that are built next to a body of water, you would never know because the water becomes a destination rather than integral part of the city. In Saskatoon, our river valley provides a backbone to our identity because it runs directly through its center. The South Saskatchewan River is visited and crossed daily by majority residents in both commute and recreation. Through the Meewasin Valley Authority, Saskatoon has had the luxury of maintained river trails, nature conservation and public green space that is located throughout over a dozen neighbourhoods. We even have numerous sandbar beaches downtown that the city is finally acknowledging could be better harnessed for public use and enjoyment*. No matter the season, you know you're Saskatooning when your day is spent in the sun along the river.
*In contrast, Brisbane in Australia pays millions to have an artificial sandy beach in their downtown. We have numerous naturally!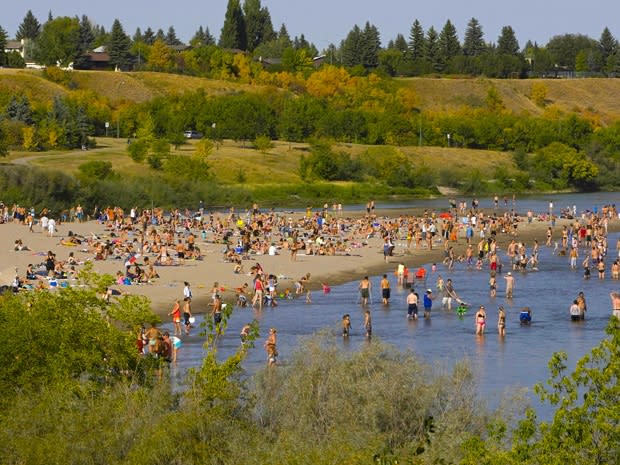 Saskatonians flock to one of the river's sand bars north of Circle Drive (Photo: GREG PENDER/STAR PHOENIX)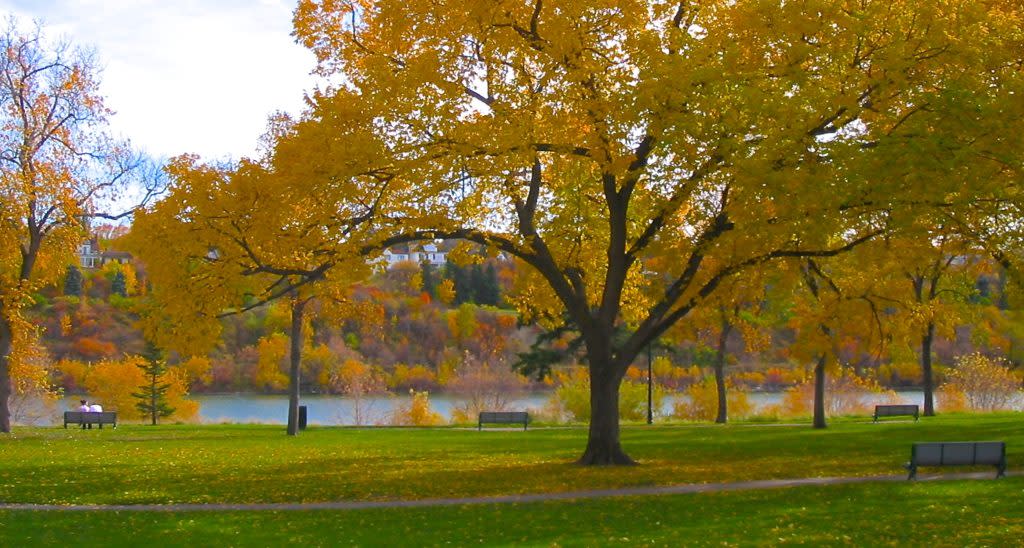 The Vimy Memorial Park in autumn along the Meewasin Trail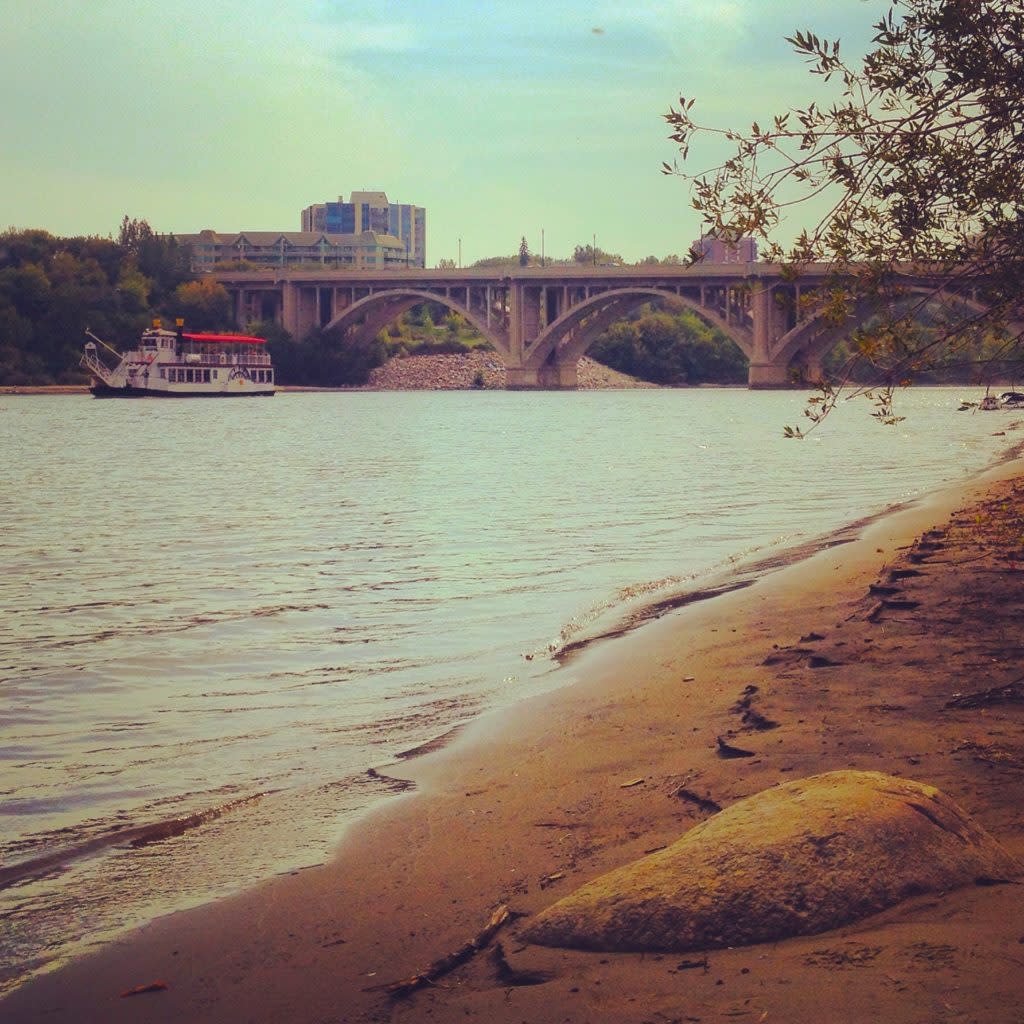 The Prairie Lilly ferry of Saskatoon rolls past the Broadway Bridge
The Collaborative Creative Spirit
Saskatoon was founded on the pioneer and entrepreneurial spirit of its people – and it's more alive and relevant than ever in the 21st century. There's been a higher demand in our city for authentic art, local culture and culinary expression. Independent business and local individuals have heeded that call. Whereas niche markets in bigger cities can be difficult and cutthroat to break into, Saskatoon sustains a collaborative spirit that invites others to build the scene rather than compete in it. The result is a lively downtown core filled with top notch restaurants, booming new craft beer market, new love of public murals, a brand new modern art museum, and various community initiatives like Nuit Blanche and YXEats that seek to harness and showcase our local originality. Saskatoon is happily finding the sweet spot of being a hip city on the prairie.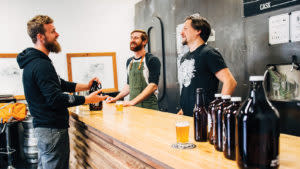 9 Mile Legacy, one of the many new breweries that have heeded the call to quench the city's thirst for local, craft beer in Saskatoon.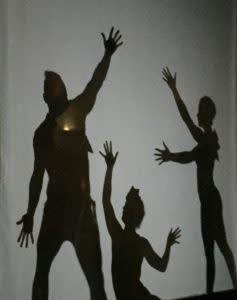 A shadow performance by SaskAcro during the Nuit Blanche event that takes over several districts for one night in Saskatoon.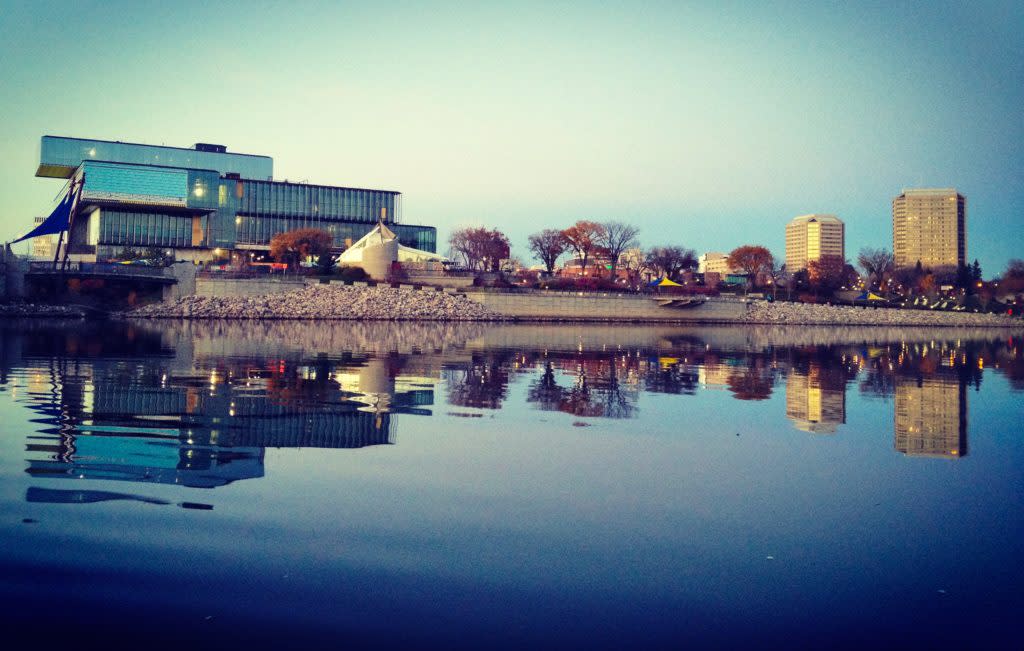 The construction of the soon to be open Remai Modern along Saskatoon's River Landing
In summary, all five reasons I love Saskatoon are related and come back to one thing: the engagement of our people. Maybe it's the years of dealing with the outsider assumption that our city simply holds space between the expanse of Calgary and Winnipeg. But our years of being the underdog are gone now that the Bridge City's beginning to hit the full stride of our city swagger. We're re-connecting our relationship with the place we call home and willing to contribute to see where we can take it next. Like most relationships, you get out what you put in. So get out and enjoy. Saskatoon deserves nothing less.
~~~