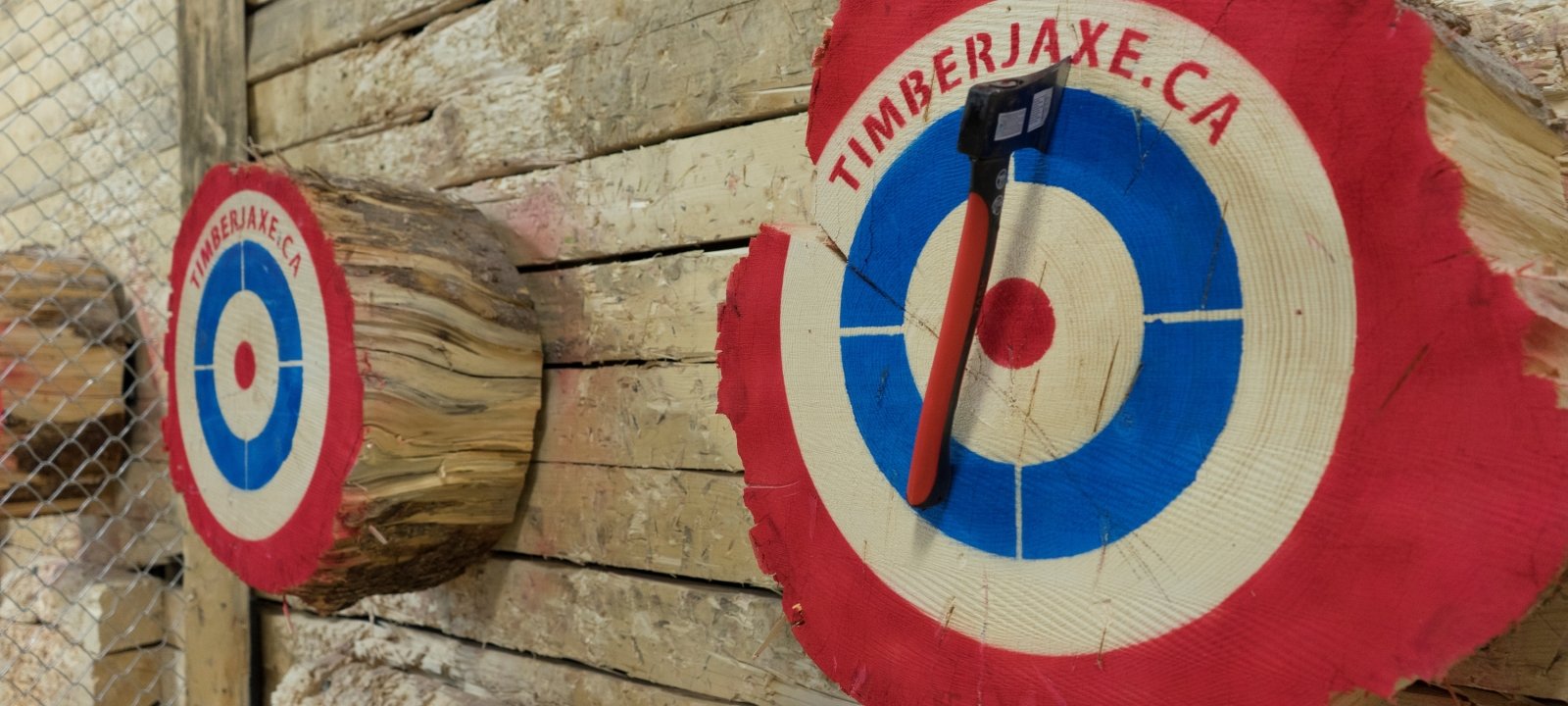 5 Indoor Places To Play In Saskatoon
With the seasonal weather unpredictable, many families (mine included), are looking for ways to entertain indoors. Luckily Saskatoon has many options. Here are five fun indoor places to go be a kid
With the seasonal weather unpredictable, many families (mine included), are looking for ways to entertain indoors. Luckily Saskatoon has many options. Here are five fun indoor places to go be a kid with your kids, or significant other, or alone…we don't judge.
FLYNN'S FOREST INDOOR PLAYGROUND
A favourite for toddlers to 12-year-olds, Flynn's Forest in the Sutherland neighborhood is a super entertaining indoor playground. Themed as a forest with adorable foxes lurking about, the play structure has multiple areas that suit kids of varying abilities, and challenges them as they grow. It also gets them nice and sweaty as they freely run around testing out the various areas that encourage exploration and imagination.
Some of the most popular areas are the ever-changing interactive game floor and the tube slides. Laura Debusschere, who owns Flynn's Forest along with her husband Mark, told me that their triple slide is not only popular with young children, but with adults as well. While I didn't get a photo of myself beating my son down the slide, believe me it happened, and I'm still gloating.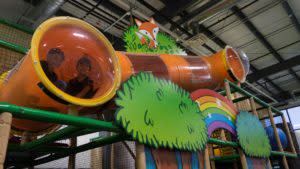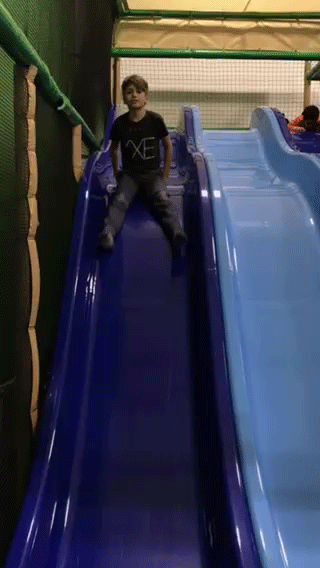 If you can walk, you can rock climb at Grip It. Or so says owner Jay Holowach as I nervously get ready to try out their easy-to-use auto belays with my kids.
Their nine auto belays are the perfect way for those new to rock climbing to get their feet wet or at least off the floor. There were people of all ages at Grip It when we tested it out, some in the bouldering room, some in the towers, which go as high as 50' and are changed up every six months (I'll have to work my way up to that), and some in the auto belay room for beginners like my kids and me.
Drop-ins are welcome, and from the length of time it took to drag my kids out of Grip It, I know we'll be dropping back in very soon.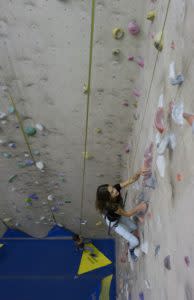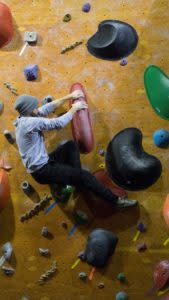 My son was counting down until his 10th birthday this fall, not only because he would be double digits like his older siblings, but because now he was old enough to go axe throwing. From 10 to 70+ years old, there is nothing more gratifying than a bullseye.
Opened March 2017 just north of downtown, Timberjaxe provides entertainment, and let's face it, some pretty amazing confidence building. Spend 1 – 1 ½ hours here with your family for a date night, birthday party, stag/stagette, splurge club or for corporate team building. Co-owner Tim Abramoff even tells me that they've started a new axe-throwing league.
While I feel like I might need some more target practice before joining a league, my three kids caught on pretty quickly and are already asking/nagging to go again.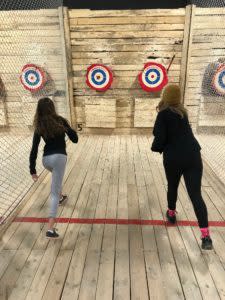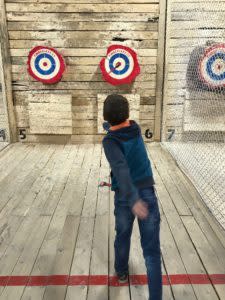 When the new Wilson's Lifestyle Centre opened in the eastside neighbourhood of Brighton, Mayor Charlie Clark was one of the first to test out their Stoked Centre SkyRail and SkyTrail, ziplining in for the ribbon cutting ceremony.
There are many activities in the Stoked Centre that provide hours of entertainment, including the ropes course and zipline, a seasonal area full of bouncy houses, and go-karts (read more below). On the SkyRail and SkyTrail, my kids balanced on ropes and beams and flew overhead on the zipline, as they wound their way around and around the course.
Be aware, with kids high above, they may not make eye contact for hours for fear they will be summoned to go. Or maybe that's just my kids.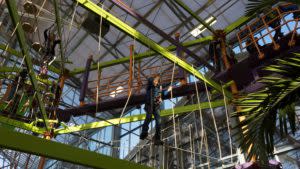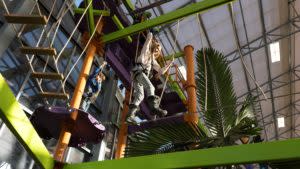 Suiting up in jumpsuits and helmets, my kids almost looked like real race car drivers. For the 10 minutes racing around the indoor go kart track at Wilson Lifestyle Centre, they felt like they were.
The electric cars can be controlled by the staff, so parents need not worry about their child getting too much speed when out on the track. Those 52" and up can race alongside up to nine others on the track. I felt a little bit jealous that I was stuck on the sidelines taking photos as my kids were fully in competition mode putting pedal to the metal. When their race was done, they told me that their hearts were pumping and that it was exhilarating. When they removed their helmets, their ear to ear grins were proof that they had a ton of fun.