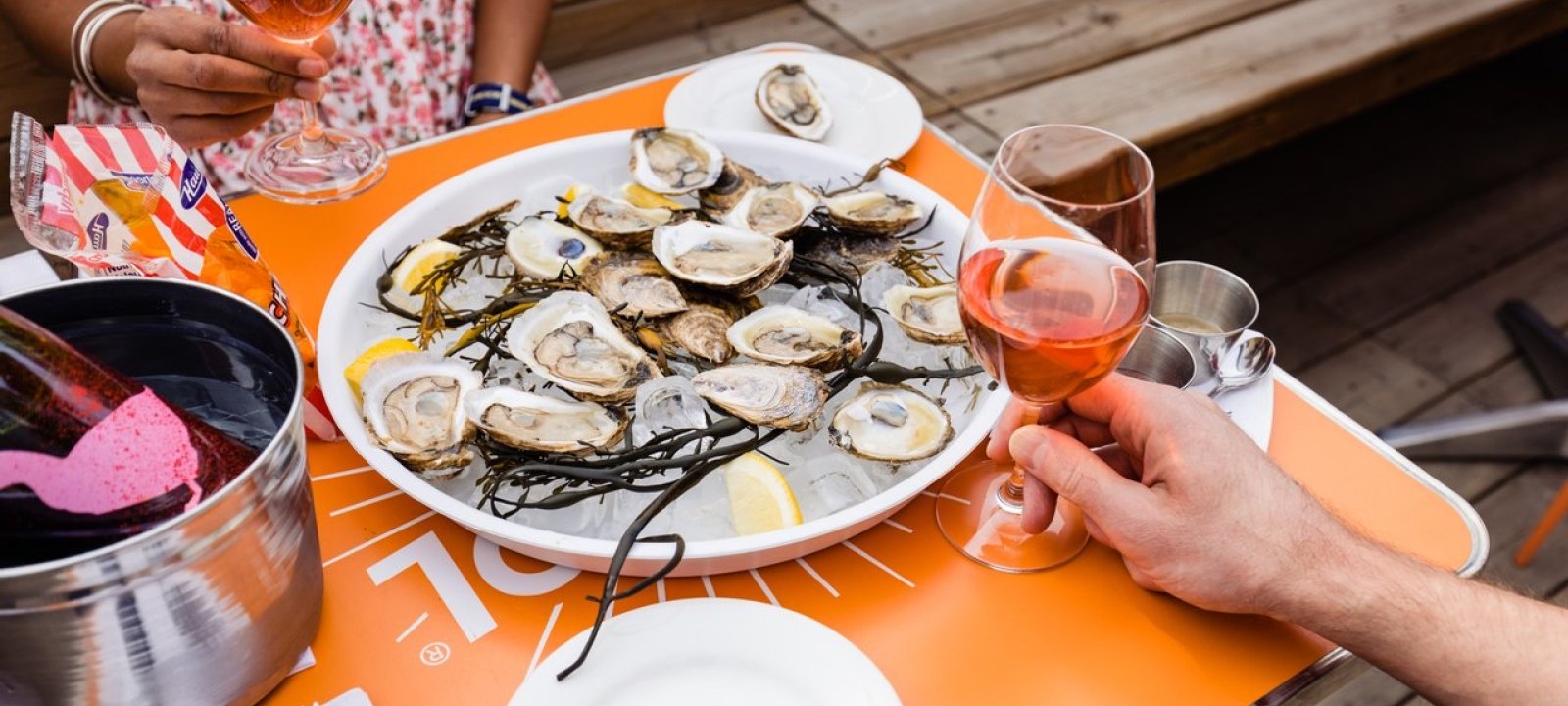 48 hours in Saskatoon with cookbook author Dan Clapson
Being born and raised in Saskatoon, I've had the pleasure of watching this beautiful city's food scene grow and evolve over the years. Even though I now call Calgary home, I truly look forward to
Being born and raised in Saskatoon, I've had the pleasure of watching this beautiful city's food scene grow and evolve over the years. Even though I now call Calgary home, I truly look forward to every visit back home, regardless of the season.
If you've never been to the city before, here's my itinerary for a no-fail 48 hours in Saskatoon.
Day 1
Breakfast - The Night Oven

Photo credit: Discover Saskatoon 
Arguably one of the most unique bakeries in the country thanks to owner Bryn Rawlyk and team creating thoughtful pastries using house-ground flour (a rarity as far as small-scale Canadian bakeries go), you'll be hard-pressed to find something you don't love at The Night Oven.
If I am grabbing a quick coffee and baked good to go, I always opt for the vegetarian sausage roll which has such a wonderful filling that is reminiscent of a hearty Christmas stuffing. The warming spices make this especially perfect to enjoy on a chilly day.
Lunch - Bannock Express
This fast-casual spot on 22nd Street serves up no-frills comfort food such as bannock burgers and bannock tacos and, obviously, straight-up bannock too. The thing that sets this place apart is its community-minded approach where marginalized Saskatoon residents can pop in and utilize a community donation board to get free access to food and drinks.
Dinner - Primal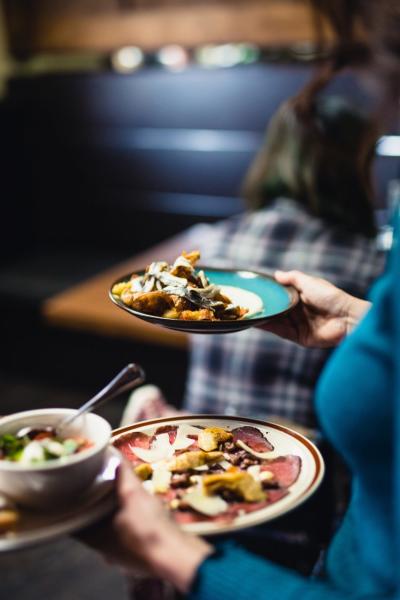 Photo credit: Discover Saskatoon 
A charming, dimly-lit room with warm wood accents creates a perfect atmosphere for dinner here at Primal. Try signature dishes such as the bison carpaccio with pickled walnuts and fried artichokes or the pork and beef heart bolognese on house-made tagliatelle, but whatever you opt for, make sure to end the night with some tiramisu.
Drinks - POP Wine Bar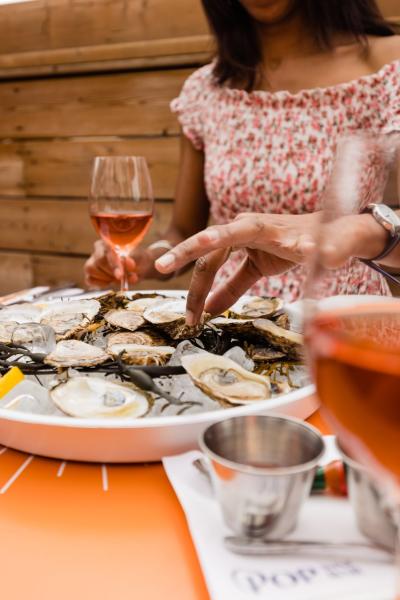 Photo credit: Discover Saskatoon 
This fun cocktail and natural wine bar has become a favourite of locals since opening last year. Owned by Christie Peters and Kyle Michael, the menu is not nearly as robust as Primal (just down the road), but there's still plenty of dishes to go along with whatever you're imbibing (try the Sea buckthorn Mai Tai).
Order the house-made pizza pop, you won't regret it!
Day 2
Breakfast - Fuddruckers
While this is technically an American restaurant chain, this long-standing franchise has stood the test of time since opening in 1986. House-ground burger patties, freshly-baked sesame seed buns and a smattering of indulgent baked goods like their iconic cinnamon buns are just a few reasons why its easy to love this spot.
Before my dad moved away from Saskatoon, we would have a standing breakfast here, and I still pop in for a Denver sandwich…and a cinnamon bun to go, obviously.
Lunch - Szechuan Kitchen
Don't let the Chinese-cuisine-implied name fool you as this spot serves up some seriously tasty Vietnamese food on Broadway Avenue. To be honest, I'd eat a bowl of their sate pho for breakfast, lunch and dinner every day if it was appropriate to do so.
Spring rolls in Saskatoon in general are very different than other cities in North America, being more akin to an Asian-style sausage roll than the typical vegetable-leaning wheat-wrapper-style spring roll. The crispy rice paper outer layer and salty, meaty filling is a winning combination.
Dinner - Hearth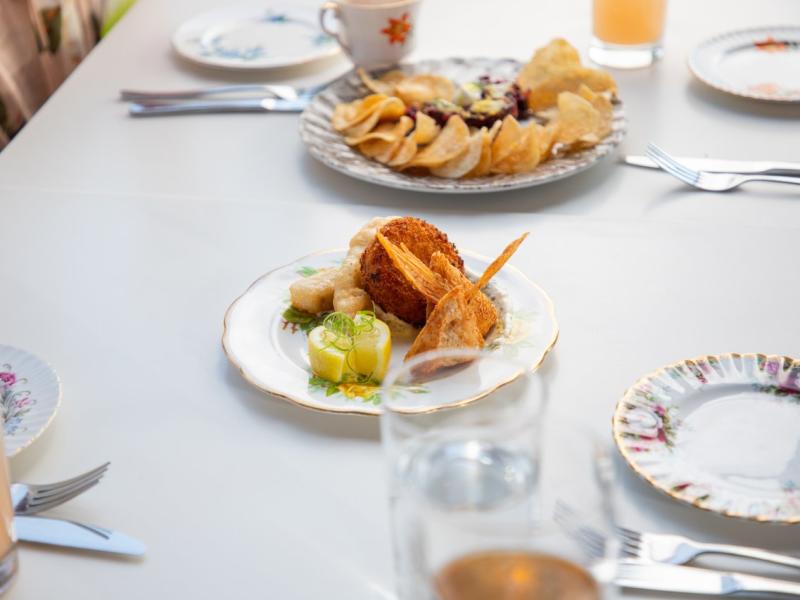 Photo credit: Discover Saskatoon 
Now settled in its new home inside the Remai Modern, there is much to love about the contemporary Prairie restaurant concept Hearth. Its co-owners Thayne Robstad and Beth Rogers are famous locally for their foraged mushrooms and mornay dish, but the menu has plenty of hits beyond that such as their onion rings and chicken liver mousse (deliciously indulgent), "popcorn" fries, cured pike with confit potatoes and lemon and so much more.
Their cocktails are also on point here, so make sure to order one or two.
Drinks - Shelter Brewing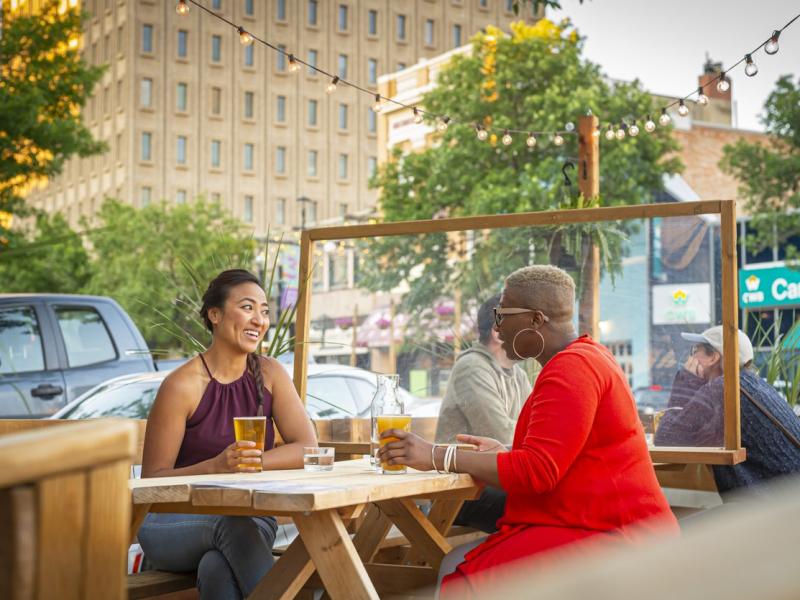 Photo credit: Discover Saskatoon 
This small microbrewery in the heart of Saskatoon boasts an understated-yet-cozy design and reliably refreshing brews. The Sea Buckthorn Pineapple Sunrise Sour is a bright and bold stand out on their menu currently.
If you're feeling peckish as well, Dylan and Cam's tacos and burritos are always up for the ordering.