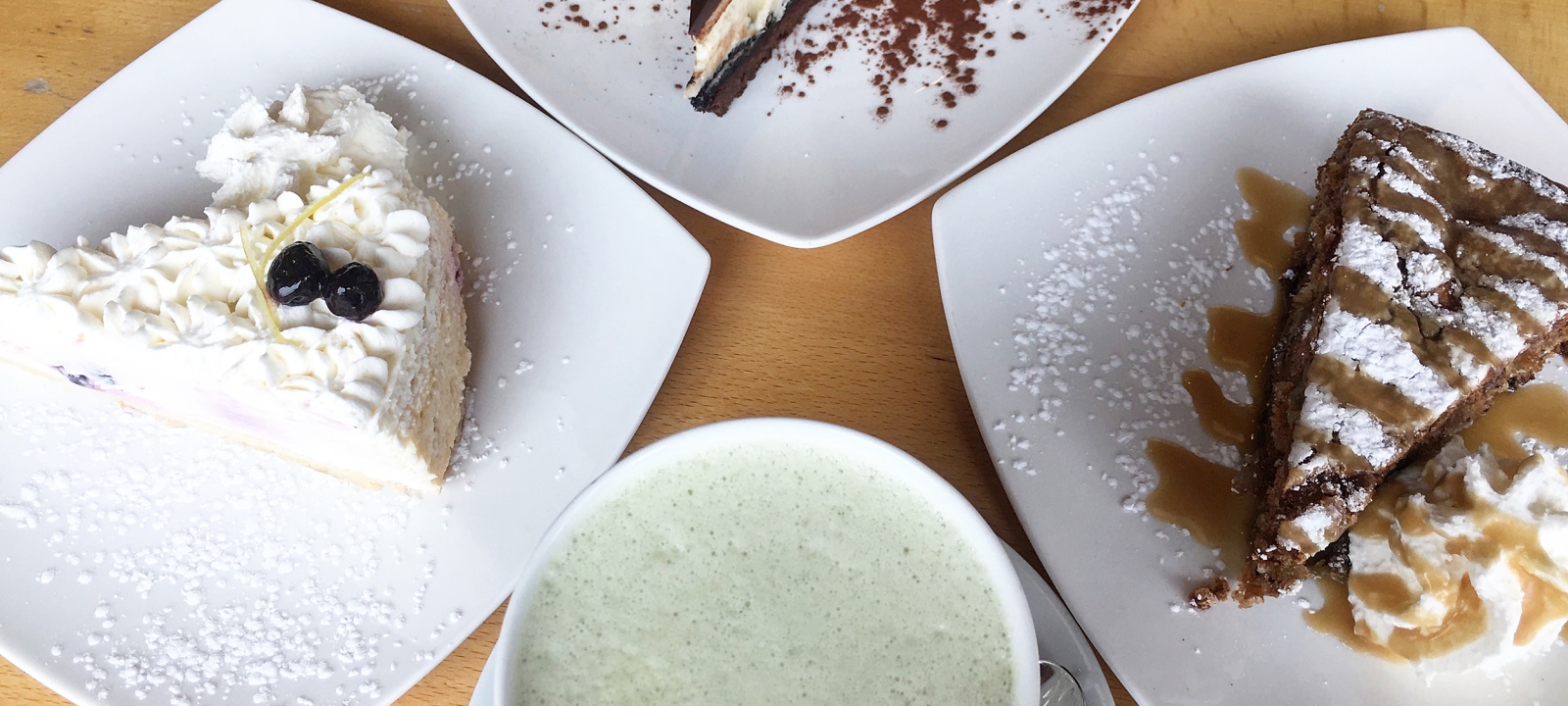 36(ish) Hours to Eat in Saskatoon 
For years I'd been hearing about the burgeoning food scene in the City of Saskatoon. "It's so good. You've got to try the restaurants there," I heard, repeatedly! So when I got the opportunity, I did
For years I'd been hearing about the burgeoning food scene in the City of Saskatoon.
"It's so good. You've got to try the restaurants there," I heard, repeatedly!
So when I got the opportunity, I did just that.
From Edmonton, Saskatoon is a quick 5-hour drive or 1-hour flight. It's an easy trip for weekend eats and after the 36(ish) hours we spent there, I'm happy to report that everything I'd been told about Saskatoon's food offerings in these recent years, are soooo right.
Below are highlights of where my husband Mike and I ate during our whirlwind, food-focused Saskatooning trip to Toontown!
Park Cafe
Stepping into the Park Cafe & Diner will take you back to a simpler time. There are retro metal counter stools, vinyl seats, old signs, posters and other kitschy memorabilia from the '50s & '60s that line the walls, along with old photos of Saskatoon! Here you'll have a comforting, home-cooked breakfast. If you're a fan of eggs benedicts, try their Benny, Murphy & The Boys. As straight-up and classic an eggs benny can be. Also enjoyed at our table: the Bridge Party (two pieces of French toast with hashbrowns and your choice of bacon, ham, or sausage) and the Bacon Lover's Breakfast (featuring, you guessed it... different types of bacon with eggs, hashbrowns and toast).
The Odd Couple
Satisfying yolkporn-aficionados everywhere, our lunch at The Odd Couple, an Asian-inspired eatery run by a father-son duo (they're the odd couple!), was amazing. The Bacon Fried Rice is a must-order, featuring maple-glazed cherry wood smoked bacon, house-made Chinese BBQ pork and a delightfully runny sunny side egg over rice (it's one of many dishes on the menu topped with runny eggs. Delicious!)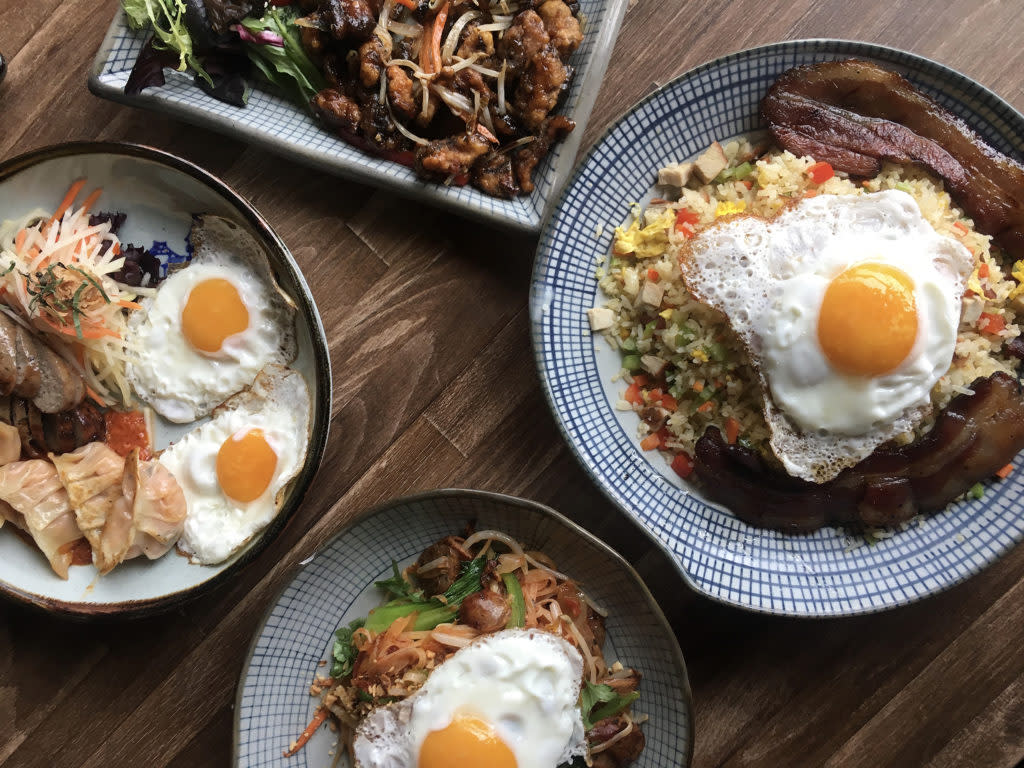 Eggs on eggs on eggs at The Odd Couple in Riversdale.
If you're a fan of Old Fashioneds, you've got to try the "Odd Fashioned" here— a sweet twist on a classic, featuring fresh squeezed Mandarin orange juice. For dessert we shared the Hong Kong-style egg waffle with rum caramelized bananas (yaaas), grilled pineapple and ice cream.
Sticks and Stones
Brought to Saskatoonians (is that what the people of Saskatoon are called?) by the Grassroots Restaurant Group, Sticks and Stones is part of the same family as Ayden Kitchen & Bar and Little Grouse on the Prairie. All three of these restaurants have some pretty solid reputation in Saskatoon's dining scene (the "you've got to try the restaurants in Saskatoon!" comments I get are typically followed by recommendations for these three spots).
Led by chef Dale MacKay, who won Top Chef Canada's inaugural season in 2011 (and who you could probably argue helped bring a lot of attention to Saskatoon's food scene), Sticks and Stones is another pretty Asian-inspired spot with a menu that ranges form ramen to rolls, steamed buns to fried chicken.
Highlights from our meal: the braised pork belly steamed buns with lettuce and mayo (to. die. for.) and the spicy Korean Fried Chicken. The YXE rolls (because, when in YXE, how can you not get rolls called YXE?) were also delicious-- featuring smoked trout, crispy trout skin, avocado, cucumber and puffed wild rice. I also slurped up the Spicy Ramen broth, which had a lot of Korean chili and kimchi flavours.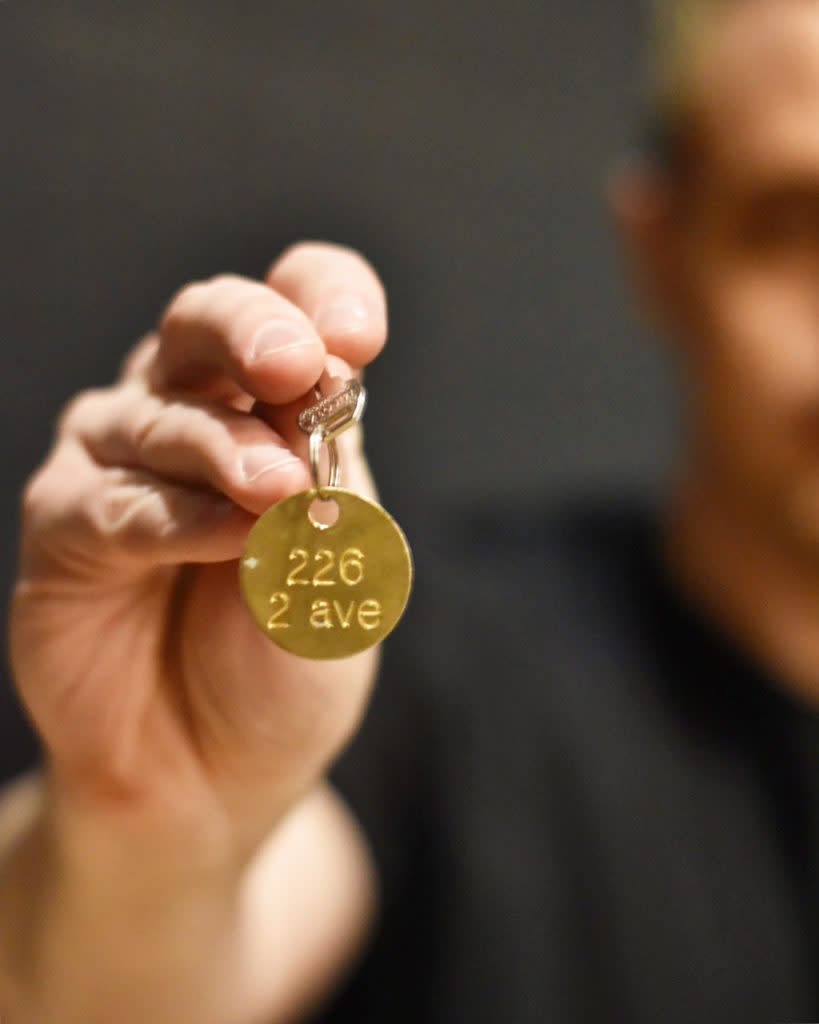 They key to the secret cocktail menu at Sticks and Stones!
Sticks and Stones serves up some great cocktails too.
Something fun they did when they opened April 2017, was give out a few special "keys" that if later presented, would unlock a special cocktail menu. People who got the keys were encouraged to pass on the keys to someone else after they used it so you never know who's going to pop in with a key to unlock the special menu, which describes drinks as riddles so the surprise continues even after you order your drink. Pretty fun idea.
Baba's Perogies
It's not the trendiest spot in Saskatoon but it is one of the tastiest (and that's really most important!) Baba's Perogies' claim to fame is perhaps three-fold: They make a killer mushroom dill dip. Their hand-pinched perogies are actually made by real Ukrainian babas.
And they are home to what they believe (and we'll take their word for it) is the world's only drive-thru perogy restaurant!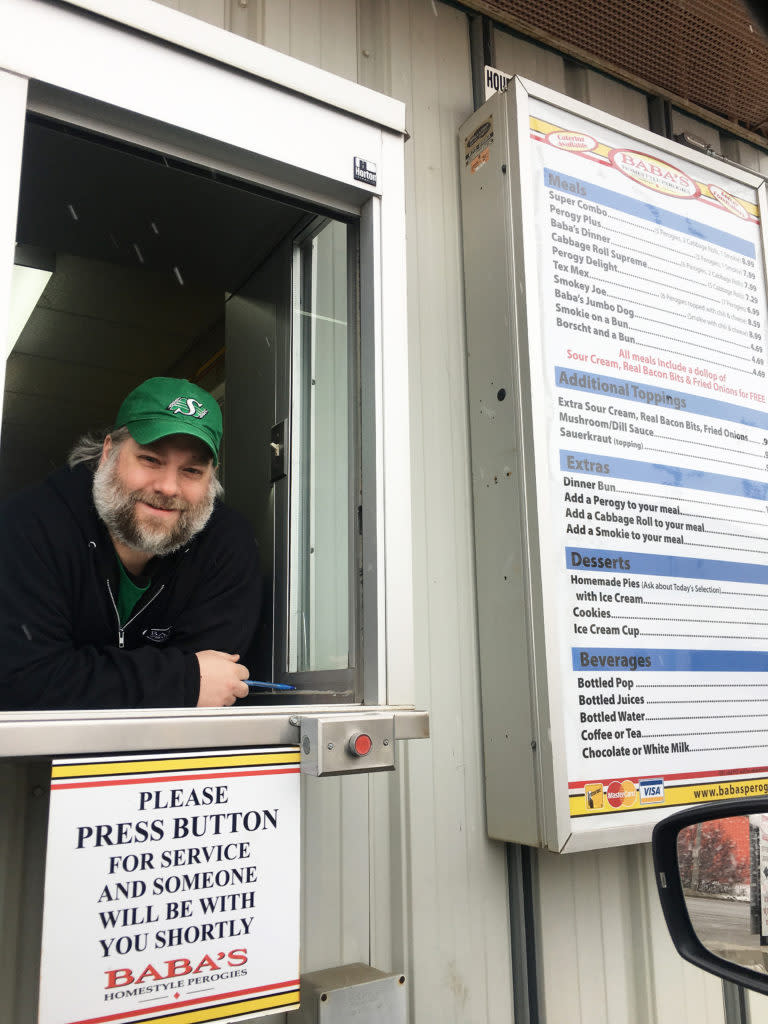 Say hello to Rob from Baba's Homestyle Perogies!
Cool, right? Drive up, order the Super Combo (5 perogies, 2 cabbage rolls, and 1 smokie), and enjoy! All meals a Baba's Homestyle Perogies also include a dollop of sour cream, real bacon bits and fried onions. YUM!
Three Treasures
Cool. Hip. Weird. Chill. These are just a few words to describe the vibe at Three Treasures Tonics & Elixirs. This tiny spot in the heart of downtown Saskatoon serves up elixirs, tonics, herbal remedies, superfoods and teas that are all meant to be very good for you.
There are said to be three primary energies in the human body and in nature: Jing (essence), Qi (vitality-- and pronounced like "chee"), and Shen (spirit). To attain true health and happiness, people should value, nourish, and protect these three treasures. Those three things are the Three Treasures this place is named after!
I absolutely LOVED my "Hello Gorgeous" elixir, which is described as a Supreme Beauty Tonic that "cultivates beauty from the inside out." Featuring reishi tea, pearl powder, longan fruit (yum!), tremella, tocotrienols, rose water, rose petals, coconut butter, beet root powder, honey, himalayan pink salt and vanilla, this $10 tonic was tasty and good for me. Why aren't elixirs and tonics part of more people's day?
The Hollows
Located in the lovely Riversdale neighbourhood of Saskatoon (a topic of another Saskatooning blog post I'll be writing!), The Hollows is another local hot spot we visited for brunch. If you show up 10 minutes after they open—that's too late, there will be a line-up for a table, it's that popular! The Hollows is about butchering, brining, curing, and smoking their meats in house. They're also all about whole animal butchery - trying to use all parts of the animal, which is also a theme at their other local (and very popular) restaurant Primal.
Something funny about The Hollows is that it's located in what was an old Chinese restaurant in Saskatoon's  historic Golden Dragon building. When they moved in, they didn't change the decor! So it still looks and feels very much like a Chinese restaurant (lanterns and all), even though the food is far from it.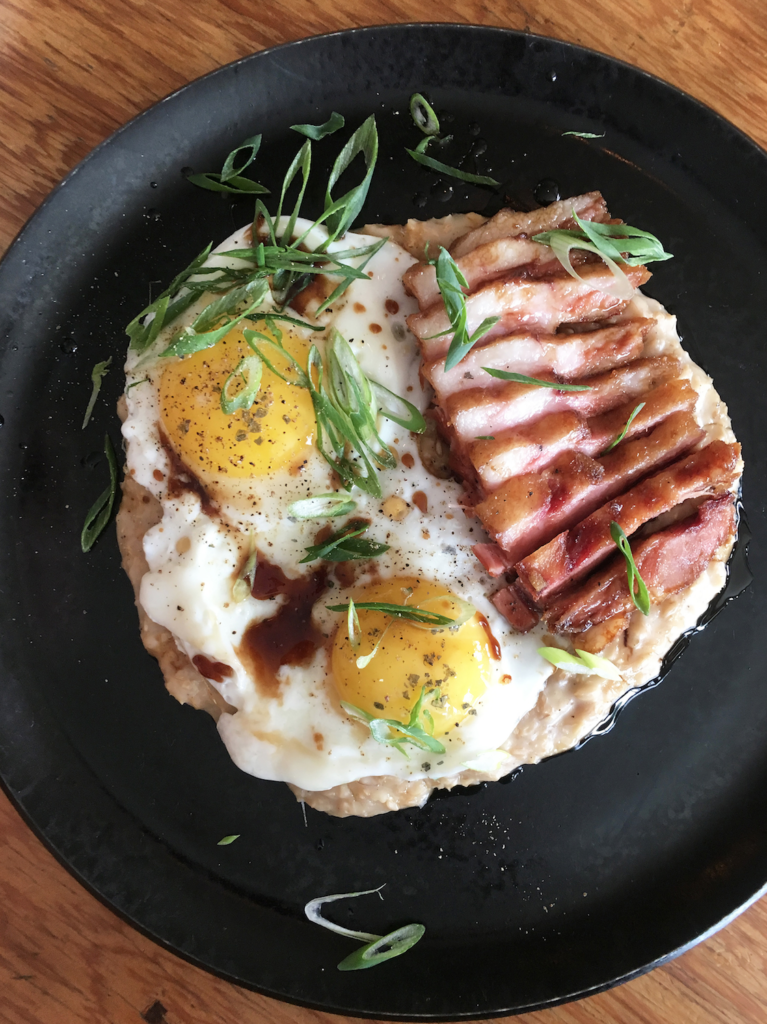 Brunchin' at The Hollows!
I loved the Pork Jowls (cured and smoked pork cheeks) I had with my brunch (though wasn't as much a fan of the oats underneath). Mike loved their Breakfast Poutine (there isn't a breakfast poutine anywhere that we wouldn't order!) and their Chicken & Waffles was also delicious.
What became the theme of all the places we ate in Saskatoon, and also evident here at The Hollows, was our desire to return to try even more dishes!
Black Fox Farm & Distillery
A short drive outside of town took us to the Black Fox Farm & Distillery, home of the World's Best Gin (their oaked gin won the title!) and the cutest dog ever (Gladys!!!)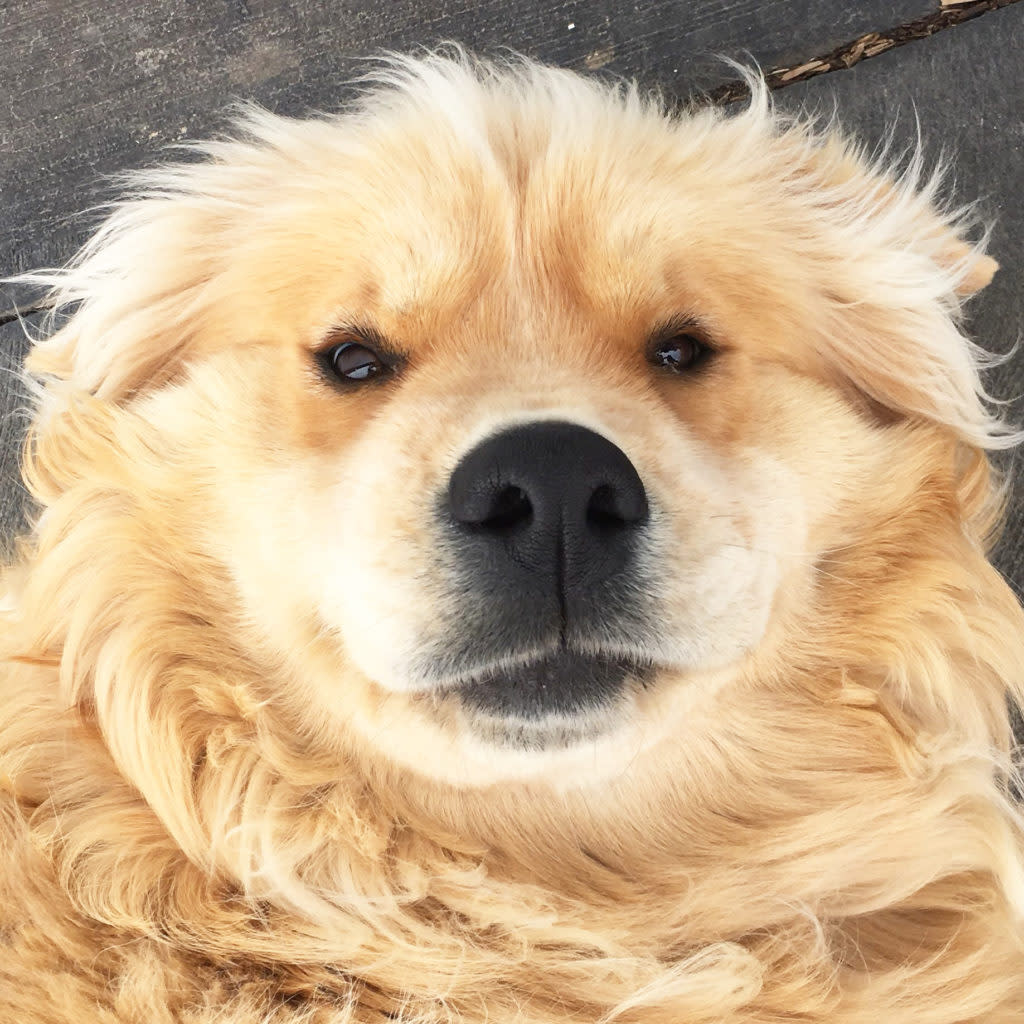 Gladys from Black Fox Farm & Distillery is the SWEETEST!
Black Fox is one of the few farm-to-still distilleries in North America. Founders John and Barb were grain farmers turned distillers and they grow 90% of what is used in their products, from honey to berries to pumpkin flowers.
Other neat things we learned about Black Fox: they put on a lot of festivals throughout the year (mark your calendar for the Gin Festival which takes place in June!) and they really care about their environmental impact. They actually reuse nearly 95% of their water and also put their spent grains and fruit back into the fields as fertilizer!
Come for a tasting, come for a tour. This was a great 'drink' stop on our eating adventure. Mike even went home with their cucumber gin (Black Fox Gin #7)!
Calories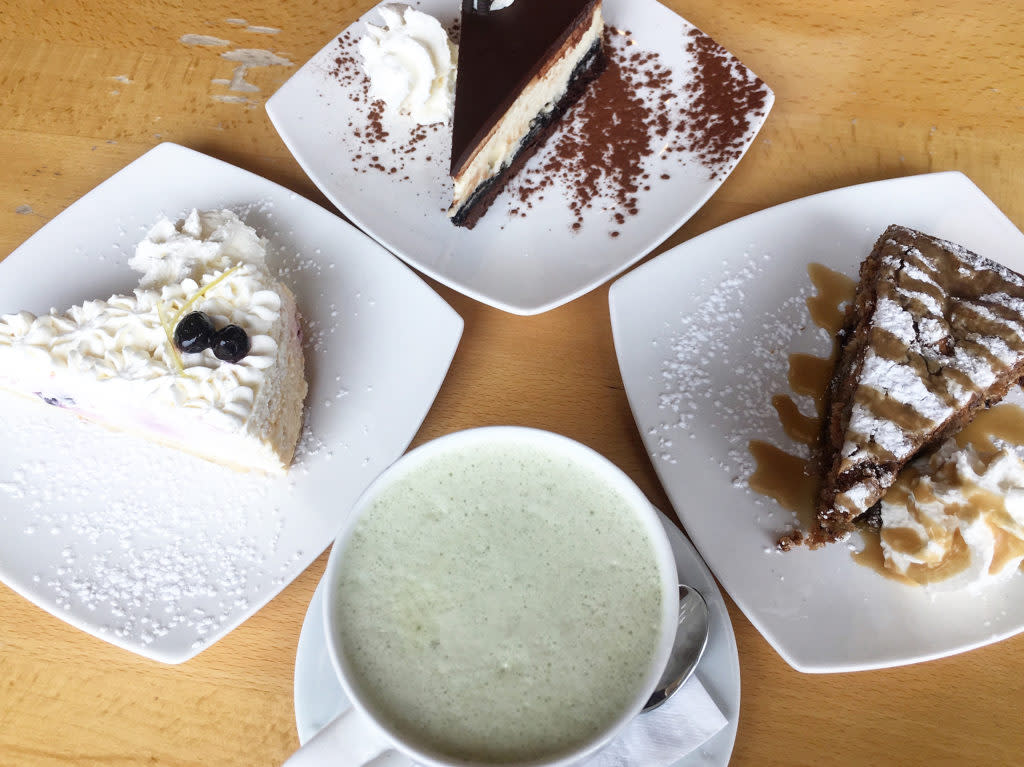 Indulge a bit at Calories!
Does anyone else giggle at the thought of getting dessert at a place called Calories? In our final hours in Saskatoon, we indulged in dessert at Calories, a staple of Saskatoon's popular Broadway district for more than 30 years. You can't make a visit to Saskatoon without having Saskatoon berries so my sweet treat was their Saskatoon Berry Lemon Yogurt Cheesecake!
Calories is not only a bakery though; they do a lot of farm-to-fork cuisine, building great relationships with local growers and suppliers. Chefs here love to forage for their ingredients, and menus change seasonally! They also feature the work of local artists in their space. When we went, there were love letters everywhere—part of a love letters art project.
--
So. It's safe to say we got a pretty great sample of what Saskatoon's food scene has to offer—so much so that I'm already trying to find a weekend this summer where we can come back.
There are so many places we weren't able to visit (36ish hours is simply not enough time to spend in Saskatoon!) but we were so impressed with what we were able to try, and so excited to return.
Linda
"Like" Lindork - Linda Hoang on Facebook