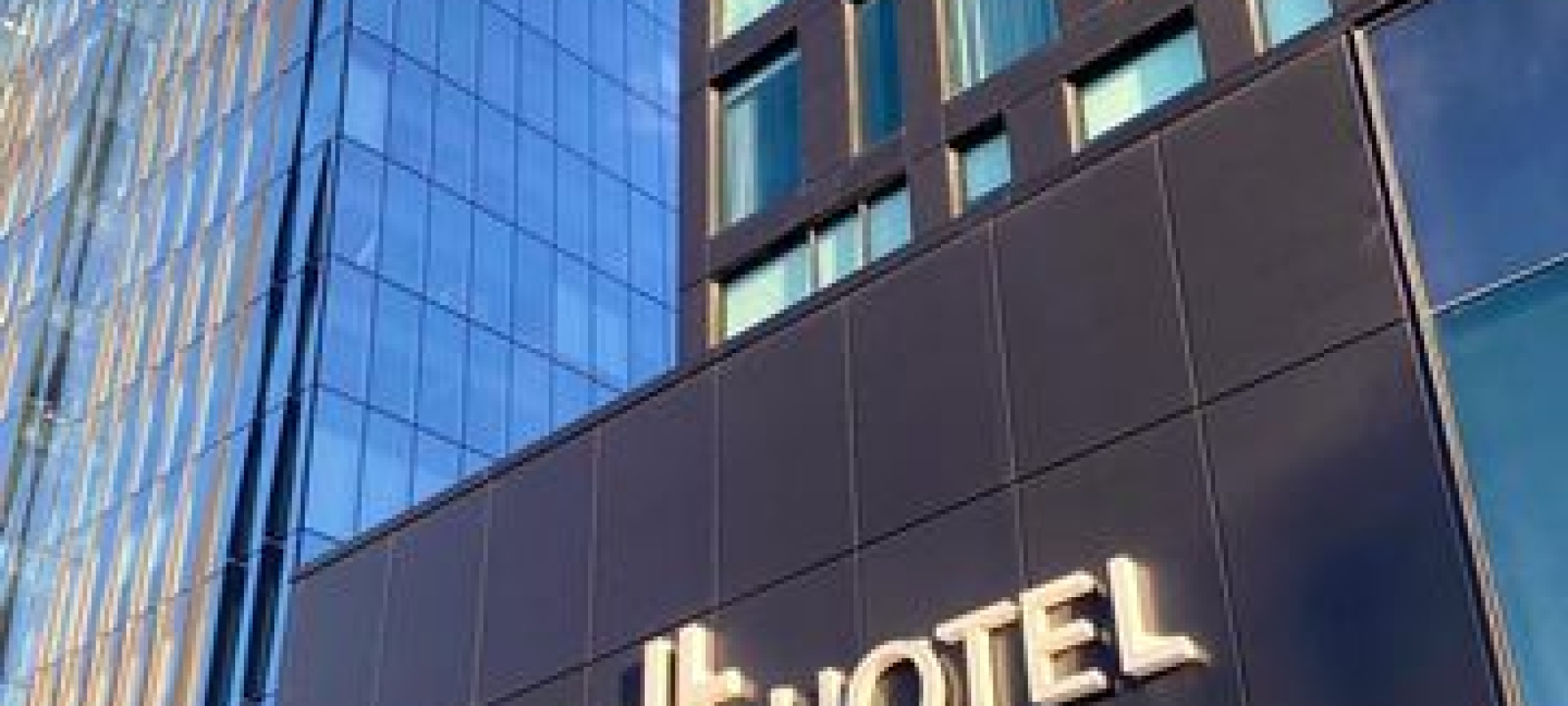 Weekend getaway for parents of two toddlers
Accommodations
,
Food & Drink
,
Families
Like other parents of young children, my husband and I spend a lot of time at home. We've both worked from home for several years – long before the pandemic started that trend – and only recently have
Like other parents of young children, my husband and I spend a lot of time at home.
We've both worked from home for several years – long before the pandemic started that trend – and only recently have made the change to hybrid work. Unsurprisingly, it's literally been years since we have been away from the kiddos, together.
Sound familiar?
Well, we decided it was finally time to do something about it. So, we booked a weekend "away" together, where we could explore a few new spots in the city and get to enjoy each other's company – alone.
We knew we wanted to try something new and a little different, a little alternative, so we thought why not check out one of Saskatoon's newest Hotels – The Alt Hotel!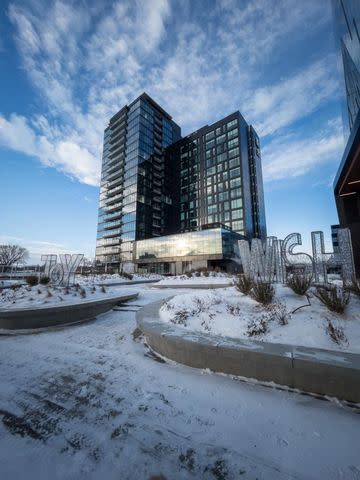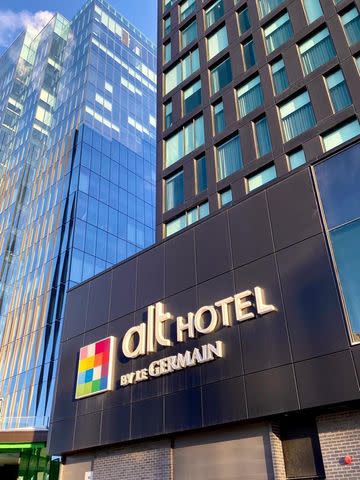 The Alt – An Alternative Kind of Stay
One of the best parts about the stay at the Alt is that you're a stone's throw away from some of Saskatoon's most iconic attractions.
Located downtown on the KW Nasser Plaza, the hotel is just steps away from the river, footsteps away from the Remai Modern, and, perhaps the best part, is surrounded by delicious restaurants like OEB Breakfast Co., Good Earth Coffeehouse, and one of the trendiest treat spots – The Shoppe.
Suffice to say, we were excited to check-in!
Now, if you haven't seen the Alt before… it's just so cool – inside and out.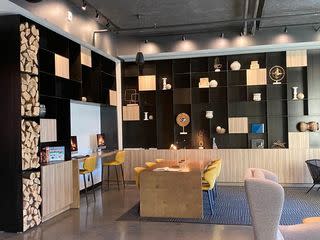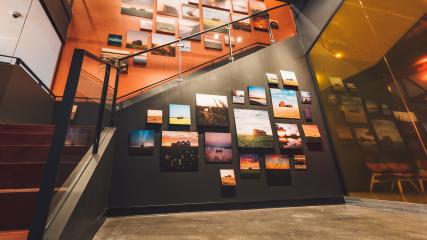 The moment we walked in we were struck by the hotel's unique ambiance. First off, just like the outside of the building, the Alt has a unique colour scheme that's based around this dark concrete. The Alt lobby puts this dark material to great effect, putting it against bright splashes of orange.
Filled with ample seating, the lobby felt almost futuristic with its geometric furniture and designs. Though the Alt's vibe was certainly different from other hotels, we were greeted by a familiar warmth from their lobby staff.
Our room was also unique, filled with natural wood features, these modern lamps, and, of course, an amazing view of the Saskatchewan River.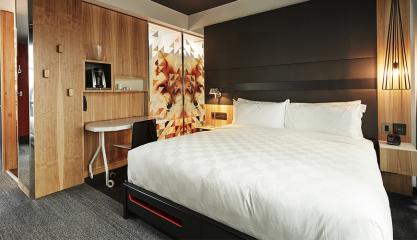 The most underrated part?
The room even had a Chromecast so we could continue our favourite shows that we started at home.
­The Date – Bokeh and a Movie
When you stay at the Alt you have a million places you can eat – you're downtown Saskatoon, after all.
But even with all that choice, we had our mindset on the Alt's renowned restaurant: Bokeh on the Plaza.
We went early and were (luckily) the only ones there at that time, so we chose a cozy corner right next to floor-to-ceiling windows to sit. The sun began to set over the river just as our drinks (Flat Lander cider from Crossmount and a glass of the Black Chook Shiraz) arrived and we had the most stunning view – it was so romantic!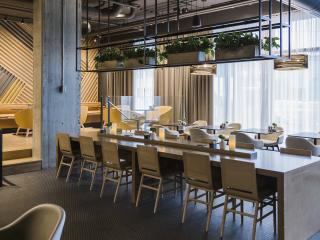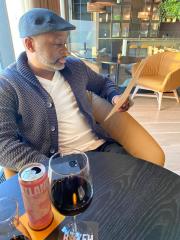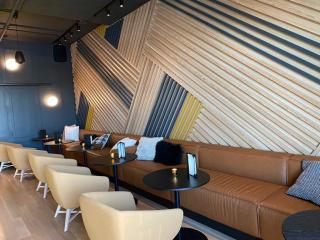 We shared one of their boards to start, every single morsel was heavenly and perfectly paired with the various dips and spreads like honey, house-made mustard, and local cheeses. If you enjoy charcuterie boards with a local flair, then you will love Bokeh's menu!
Normally, I don't even think about restaurant music. But we enjoyed Bokeh's music that played while we waited for our main courses so much we added it to our personal playlists! It's called Instrumental R&B on Spotify if you want to check it out!
Now, our main courses were amazing. I had slow-roasted chicken thighs with a dandelion black pepper glaze, with blistered sundried tomatoes and spinach walnut goat cheese risotto on the side. My husband had the smoked salmon with green tea sesame rice, salted plum, sweet pickled daikon – I'm not sure who enjoyed theirs more!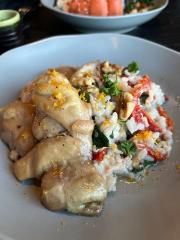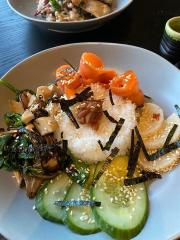 After we finished at Bokeh, we decided that all we needed to cap off the great day was a movie and some popcorn. We ended up watching the new Spiderman movie – shh, don't tell our kids.
Obviously Excellent Breakfast at OEB
After a wonderful night's rest, it was time to think about what we were going to eat for breakfast. Since it was -30 out, we decided we didn't want to go far, so we trudged across the plaza to OEB Breakfast Co.
Just like at Bokeh, while we were waiting for breakfast, we sat at a table overlooking the river while the sun was just coming up – so beautiful.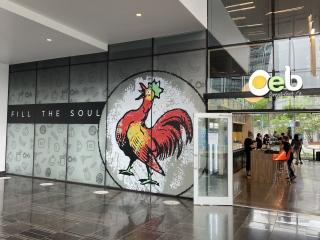 And honestly, our meals were so darn good. I had the Lobster Scramble (to die ford) and my husband had the Huevos In'na Burrito. Our experience was made all the much better by our lovely server, who was obviously passionate about OEB and their menu.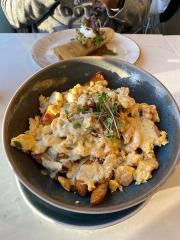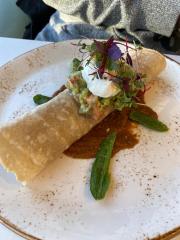 After our breakfast, we went back to the Alt to check out. We almost wanted to book another night but had to pick up our dog from the sitter. We wish we knew that the Alt is pet friendly when we booked!
All in all, our stay in the Alt Hotel was lovely, entirely unique, and –
Most importantly­ – entirely kid-free. We will definitely be returning!