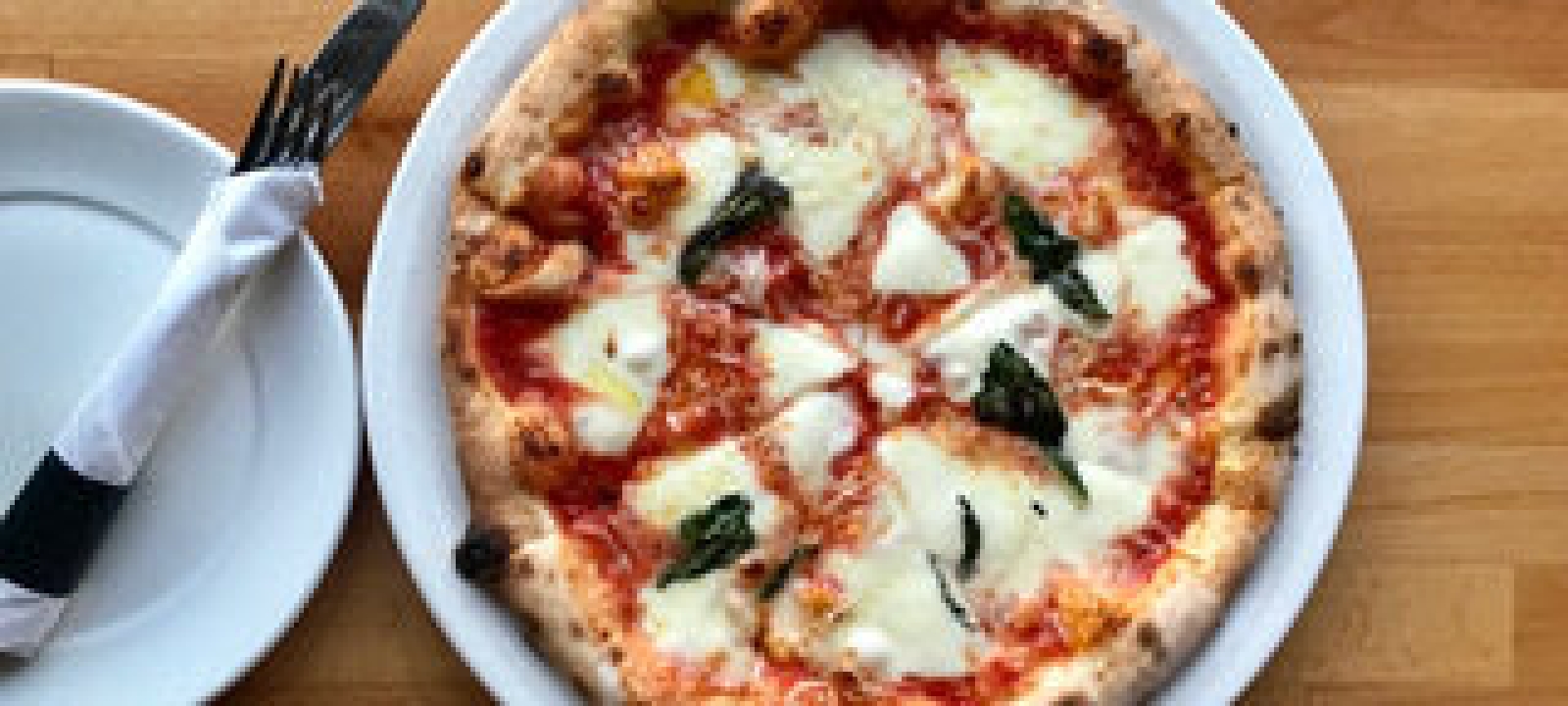 Quest for the Best: Pizza in Saskatoon
When the Moon Hits Your Eye Like a Big Pizza Pie, That's Amore: Your Guide to the Best Saskatoon Pizzas I love pizza. Carbs. Cheese. A mixture of tangy tomato and salt. Fortunately for me—and you
When the Moon Hits Your Eye Like a Big Pizza Pie, That's Amore: Your Guide to the Best Saskatoon Pizzas
I love pizza. Carbs. Cheese. A mixture of tangy tomato and salt. Fortunately for me—and you too—we have some great places around the city to do some #Saskatooning and to get your pizza on. I've compiled a list of my favourite local pizza joints in Saskatoon, each of which has great drinks, perfect pizza, and good times. They'll always have a pizza my heart, and will surely have a pizza yours, too.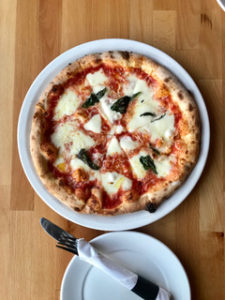 Oh, Una. A classic (and favourite). I admittedly spend way too much time at Una, and I know it will only increase in the summer months! Their pizzas have a thin, semi-crispy crust, and are always baked to perfection. My favourite is the 4-Maggi, which has provolone picante, friulano, fior di latte mozza, and caciocavallo cheese, and is topped with local honey and truffle oil. This pizza, in my unprofessional opinion, pairs well with the white sangria and their lovely patio, which is heated for cooler nights!
Thirteen Pies specializes in Brooklyn-style pizzas, and in classic NYC form, they offer pizza by the slice (which is ¼ of a pizza—they don't play around)! I love the trendy vibe here! The restaurant is open until 1am Tuesday-Wednesday, until 2am on Thursdays, and until 3am Friday-Sunday! This is the place to be if you're downtown late at night. In addition to the delicious and great for sharing pizzas, they have a killer cocktail menu, too! The Mars Attacks is my favourite pizza here—great for vegetarians!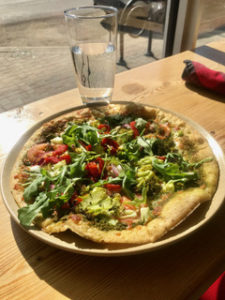 This is the Primavera pizza at Leyda's. With pesto, arugula, tomato, peppers, broccoli, and mozza, it's a great light option going into warmer weather!
Everything served at Ledya's is gluten-free and nut-free, which is great for those who have some dietary restrictions. Their pizza has a thin, crispy crust, and all of the toppings are plentiful and so fresh! They have a cute patio for warmer weather, and lots of natural light in the space. If you're wandering around Riversdale on a sunny day, stop by Leyda's for a BBQ Chicken or Primavera pizza! You won't be disappointed.
Wow Pizza is located on College Drive right across from the University of Saskatchewan—in other words the perfect location. They make super affordable and speedy pizzas that won't break the bank and are the exact pick me up you need after or during a long day on campus for class/work/whatever you've got going on in the area! The 3 Cheese Spinach pizza, made with mozza, cheddar, and feta (I love me some good feta), is unreal. In addition to pizza, they have nachos, wings, salads, and pasta, so there's something for everyone here! They're open until midnight Sunday-Thursday and until 2am on Friday and Saturday. In other words, they're your new go-to for late-night study sessions (especially since they deliver!).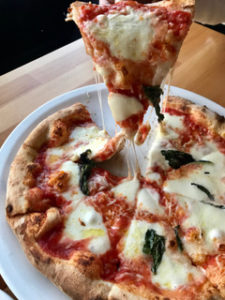 The Margherita pizza from Christies! The sauce is nice and tangy, and the crust is light and fluffy (which means it's that much easier to eat the whole pizza!). 10/10 recommend.
With authentic wood-fired pizzas and Italian coffees, Christies is my go-to place to snack and socialize while also getting some work done. The space has lots of natural light and cute, romantic string lights—so relaxing! I'm a huge fan of their Margherita pizza. Despite being super cheesy, the pizza isn't very heavy, which compliments the latte you'll definitely want to have. It's a great spot to grab some pizza, with the chill Broadway vibe that you know and love.
The Night Oven offers dine-in and take-out pizza once a week: on Friday nights! The pizza toppings change every week, but they always have one vegetation option, one meat option, and a good ol' classic cheese. Baking their pizzas in their woodfire oven, their pizzas are unreal! I'm still dreaming about one with apple, brie, rosemary, walnuts, and extra virgin olive oil that they had a few weeks back. This is the cutest Friday night date night you can get.
Aroma Resto Bar is a great option for pizza in downtown Saskatoon, and is super accommodating for large parties. Their pizzas are nice and rich, which is great for sharing! The vibe is pretty casual, and you can get a great beer (or pitcher of sangria, which I highly recommend) here too. If you're out for a walk by the river and get a little hungry, you can't go wrong swinging by Aroma afterwards.