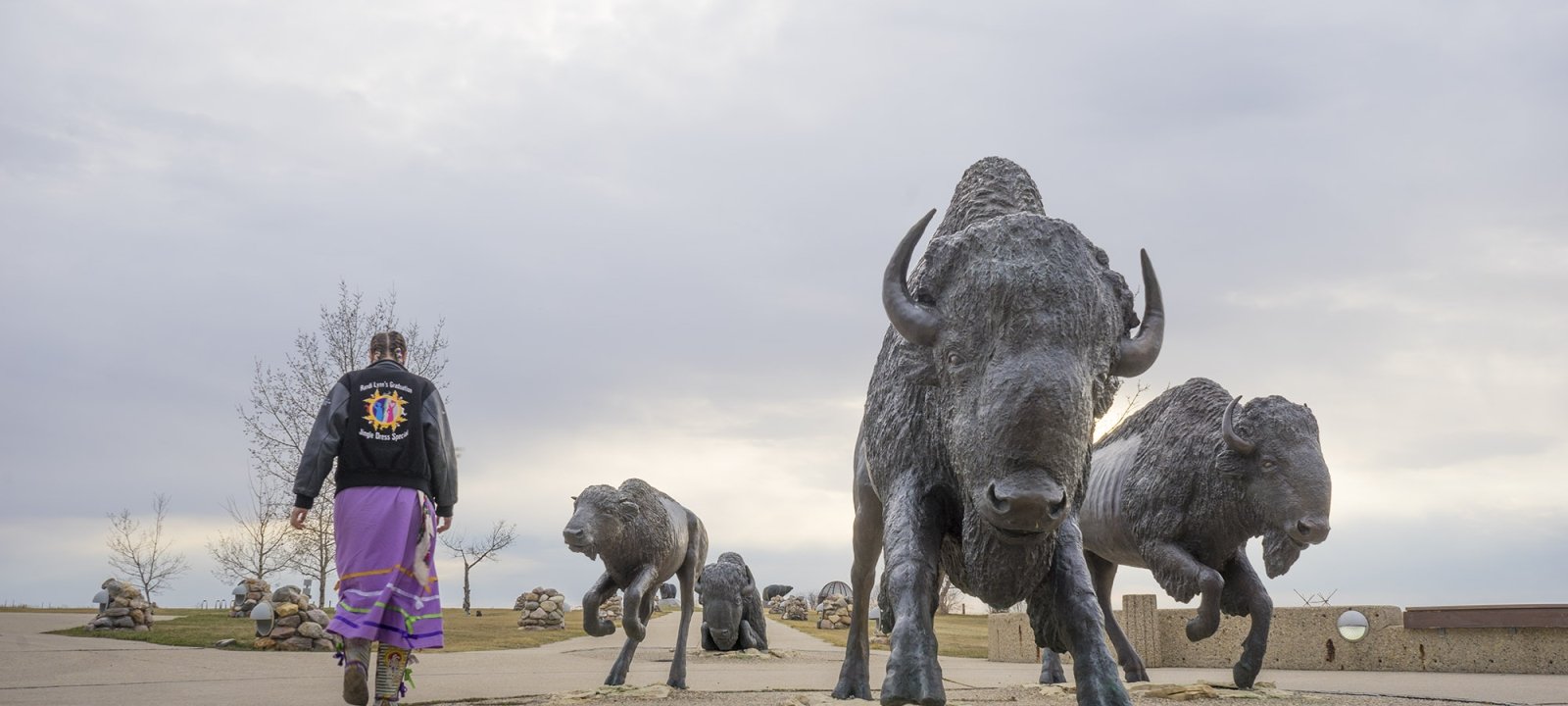 A Guide to Saskatoon's Statues of People and their Stories – Part 2
A month ago I spent a day wandering the city learning more about the history behind some of Saskatoon's statues. I wrote a piece about it here on the blog but there were so many to visit and several I
A month ago I spent a day wandering the city learning more about the history behind some of Saskatoon's statues.
I wrote a piece about it here on the blog but there were so many to visit and several I learned about afterward. So I decided to spend another afternoon seeking out a few more statues and their stories.
Here are 9 more of Saskatoon's famous statues and sculptures.
1. Spirit of Alliance
Location: Roundabout on Avenue A and Spadina Crescent (near the Farmer's Market)
It's only four years old. The Spirit of Alliance statue near the Farmer's Market was installed in 2014. His Royal Highness Prince Edward, Earl of Wessex, as well as Chief Darcy Bear of the Whitecap Dakota First Nation and former Saskatoon Mayor Don Atchison unveiled the War of 1812 statue. It commemorates and acknowledges the multicultural allies who fought in the war in the defense of Canada.
2. The Founders Location: Spadina Crescent & 3rd Avenue (in front of the Traffic Bridge)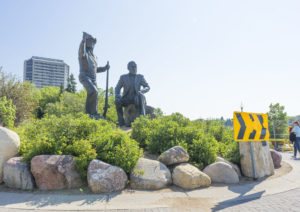 The statue of Chief Whitecap and John Lake represents Saskatoon's two founding fathers. It depicts the two men overlooking the South Saskatchewan River 125 years ago and planning for a new settlement including the neighbourhoods of Nutana, Riversdale and Saskatoon which eventually joined to form the city of Saskatoon.
3. Wanuskewin Statues
Location:Front entrance to Wanuskewin Heritage Park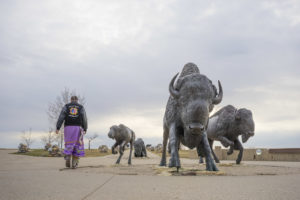 There are a series of statues in the entryway at Wanuskewin Heritage Park that tells the story of the Northern Plains indigenous people and how they hunted the bison that roamed Saskatchewan. Hunters herded bison and drove them over a cliff where tribe members waited below to harvest and use each part of the animal. (There are several more statues inside the Heritage Park building, each with their own unique story).
4. Saskatoon Firefighter Memorial Location: Fire Hall 6, 3309 Taylor Street (before the north-east side of Taylor overpass)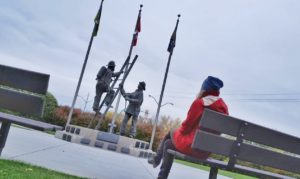 The bronze statue outside of Fire Hall 6 on Taylor Street East depicts two firefighters in action. The memorial is dedicated to all the firefighters who have given their lives to protect Saskatoon's citizens.
5. Girl and her Dog Location - 639 Broadway Ave, between 12th St & 11th St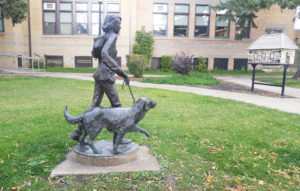 On cold winter days, it's not surprising to see the statue of a woman and her dog dressed in yarn leg warmers and a sweater to keep warm. The statue, located in front of Ecole Victoria School, was designed by artist Bill Epp in 1989 to commemorate the school's 100th anniversary.
6. Stolen Sister Location: 25th Street East, between Ontario Avenue and Pacific Avenue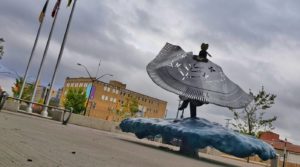 A sculpture of a woman dancing on a cloud with a shawl transforming into eagle's wings honours missing and murdered indigenous women. Located in front of the City of Saskatoon Police Services headquarters, the statue depicts Amber Redman who went missing in 2005. The statue is a beacon to all the women and their families and communities that they are not forgotten.
7. Lesya Urkianka
Location: 15 Campus Drive, University of Saskatchewan (near the Murray Library entrance)
Lesya Ukrainka was a famous Ukrainian poet who wrote on patriotism, human dignity and personal integrity. In 1976, a statue of Ukrainka was made in Kyiv, Ukraine by sculptor Halyna Kal'chenko and unveiled on campus at the University of Saskatchewan. It was originally commissioned by the Association for Cultural Relations with Ukrainians Abroad and thought to be Soviet propaganda but was accepted by the U of S as an important marker of Ukrainian heritage and culture on campus.
8. Tribute to Youth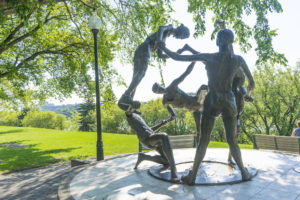 Location: Spadina Crescent & 23rd Street
Another statue unveiled by royalty (the Duke and Duchess of York in 1989), the statue of five adolescents performing acrobatics along the river waterfront represents the youth of Saskatoon.
9. Embrace 
Location: behind the Diefenbaker Centre, University of Saskatchewan (near the South Saskatchewan River)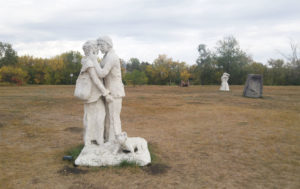 The sculpture garden in the northwest corner of campus, beside the Diefenbaker Centre, holds a variety of different and interesting pieces of artwork. One in particular is a statue of a man and woman embracing. Most of the statues are made of limestone which is the same material that many of the on-campus buildings are constructed of. The garden was founded in 1993 and is open to the public.