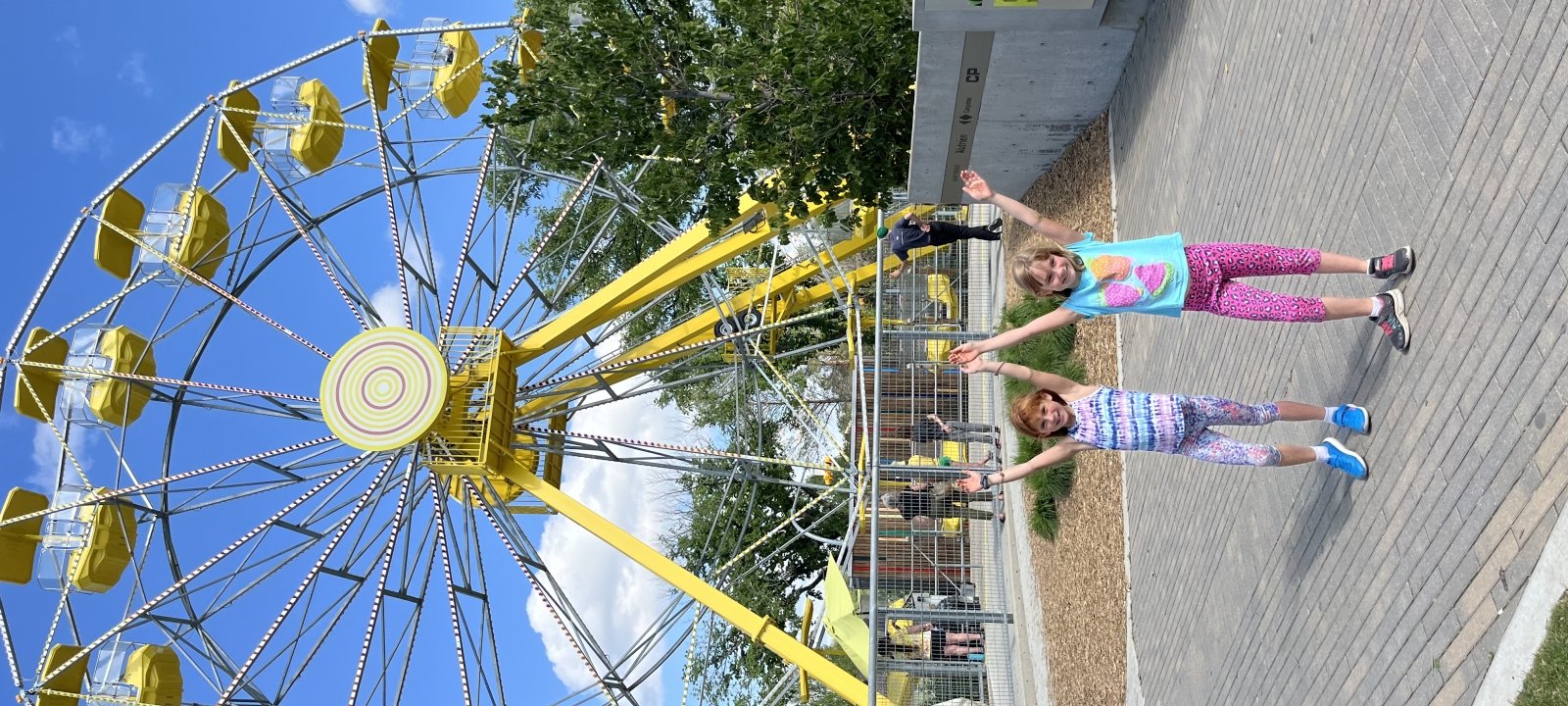 10 Things Kids Love in Saskatoon
Looking for a great spot for a weekend getaway that won't break the bank AND that your kids will LOVE? Look no further than Saskatoon! Also known as "the Paris of the Prairies" and Canada's "Bridge
Looking for a great spot for a weekend getaway that won't break the bank AND that your kids will LOVE? Look no further than Saskatoon! Also known as "the Paris of the Prairies" and Canada's "Bridge City", this quaint Saskatchewan city won us over with its beauty, charm and kid-friendly fun!
My daughters started asking to visit Saskatoon when they learned about the city in Grade 2 Social Studies. Daughter #1 and I had the chance to visit in February 2023 when her ringette team participated in a tournament in Saskatoon. Our free time between games was spent exploring playgrounds and we found so many gems! (Be sure to check our list of the Best Playgrounds in Saskatoon!)
When the girls and I were looking for a destination for an end-of-school getaway, we jumped at the chance to revisit Saskatoon! We figured a summer visit meant we'd find even more fun – and boy were we right!
There are so many family-friendly options in Saskatoon – read on for 5 things I love about Saskatoon and the girls' top 10 list of the fun things we did!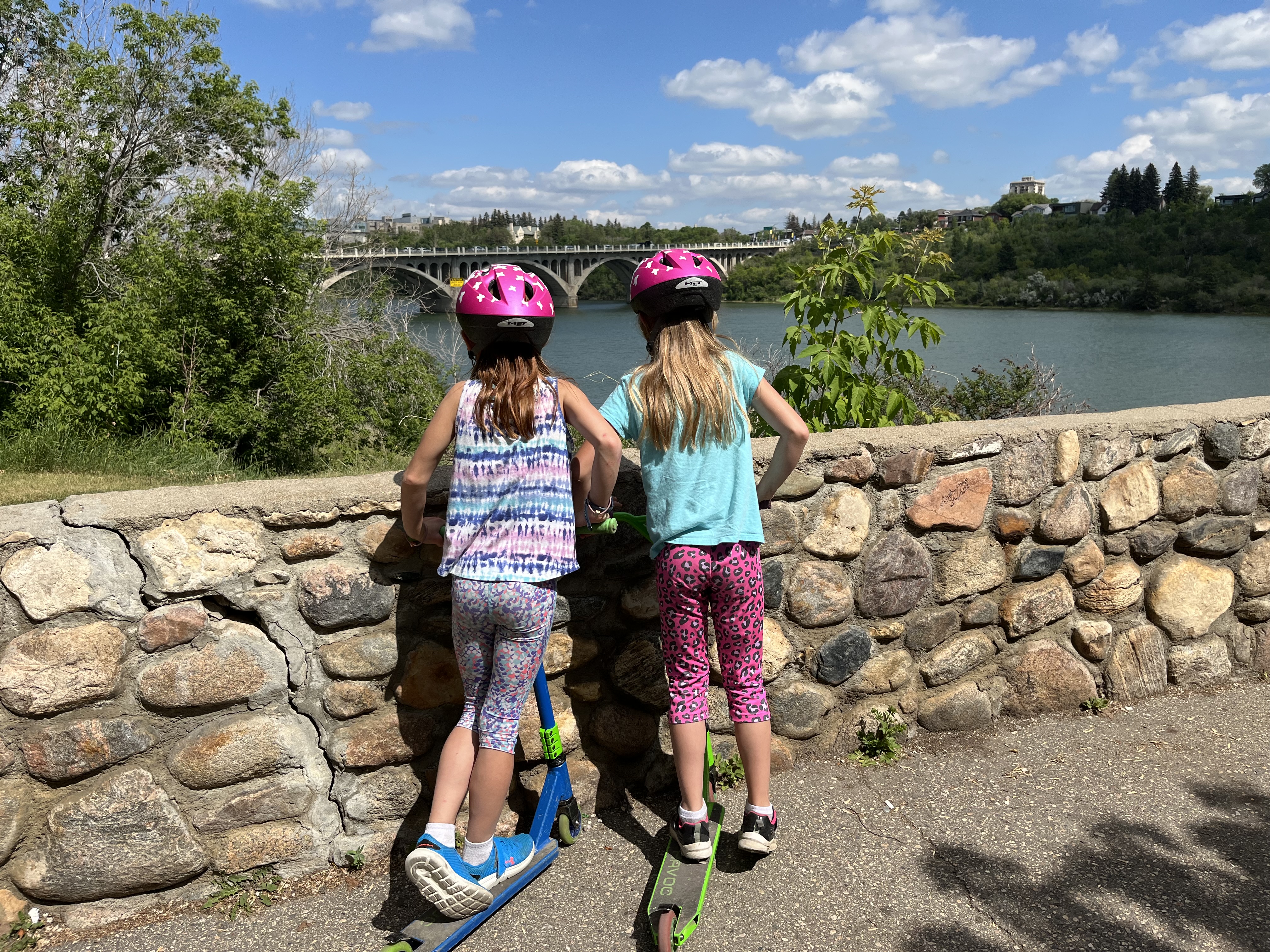 Bringing the girls' scooters was a great decision! Photo by Edmonton Playgrounds.
Five things I love about Saskatoon
1. It's affordable! From hotel fees to food, we found Saskatoon to be a budget-friendly destination! Family passes to the venues we visited were also reasonably priced!
2. It's walkable! The river valley pathways are extensive and we explored in every direction – including across the river on some of the city's 8 bridges! We brought the girls' scooters and helmets to Saskatoon, and it was a great decision. We stayed right downtown at the beautiful Delta Hotels Saskatoon Downtown, and we couldn't have asked for a better location.
3. It's close! Saskatoon is just a little over 5 hours from our house. Not much different than a getaway to the mountains.
4. It's an easy drive! Take the divided Highway 16 all the way to Saskatoon. There are even perfectly-spaced stops at communities like Vegreville, Lloydminster and North Battleford.
5. It never felt crowded! We visited at the start of summer, during Jazzfest and other community events, and though venues were well-attended, we never felt like we were packed into places or waiting in long lines!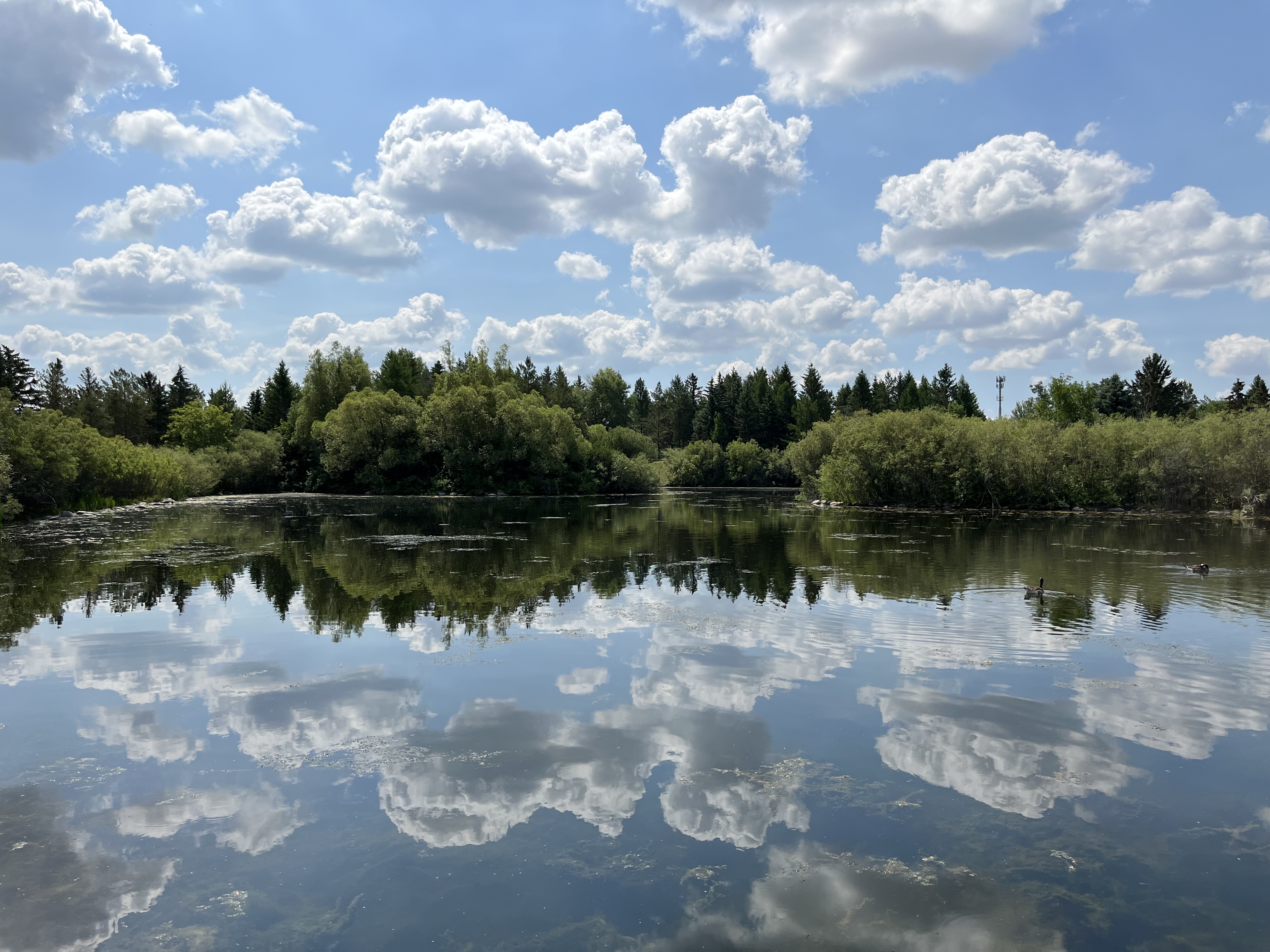 Can you believe this view is right in the heart of Saskatoon? Forestry Farm Park & Zoo. Photoby Edmonton Playgrounds.
Ten things the girls love about Saskatoon!
1. Nutrien Wonderhub
Hands down, this was the top draw! We spent more time at the Nutrien Wonderhub than we did anywhere else in Saskatoon, and WOW did the girls LOVE it! Cosmic Commotion was their favourite part by far – it's a giant net structure in which kids can tunnel and climb. The girls kept coming back to it to play. They also loved the "Airways" air pressure tubes (You can also find them at THIS Edmonton-area indoor playground), the various role-playing features in Toon Town (including a flower shop, ice cream truck, construction zone, farm, stage and more!), and the Create Space which allowed for free play and loose parts crafting in the lower level! We even got to take home our creations! The Wonderhub is packed with kid-friendly fun, including "Little Bridges", an adorable area for the tiniest explorers!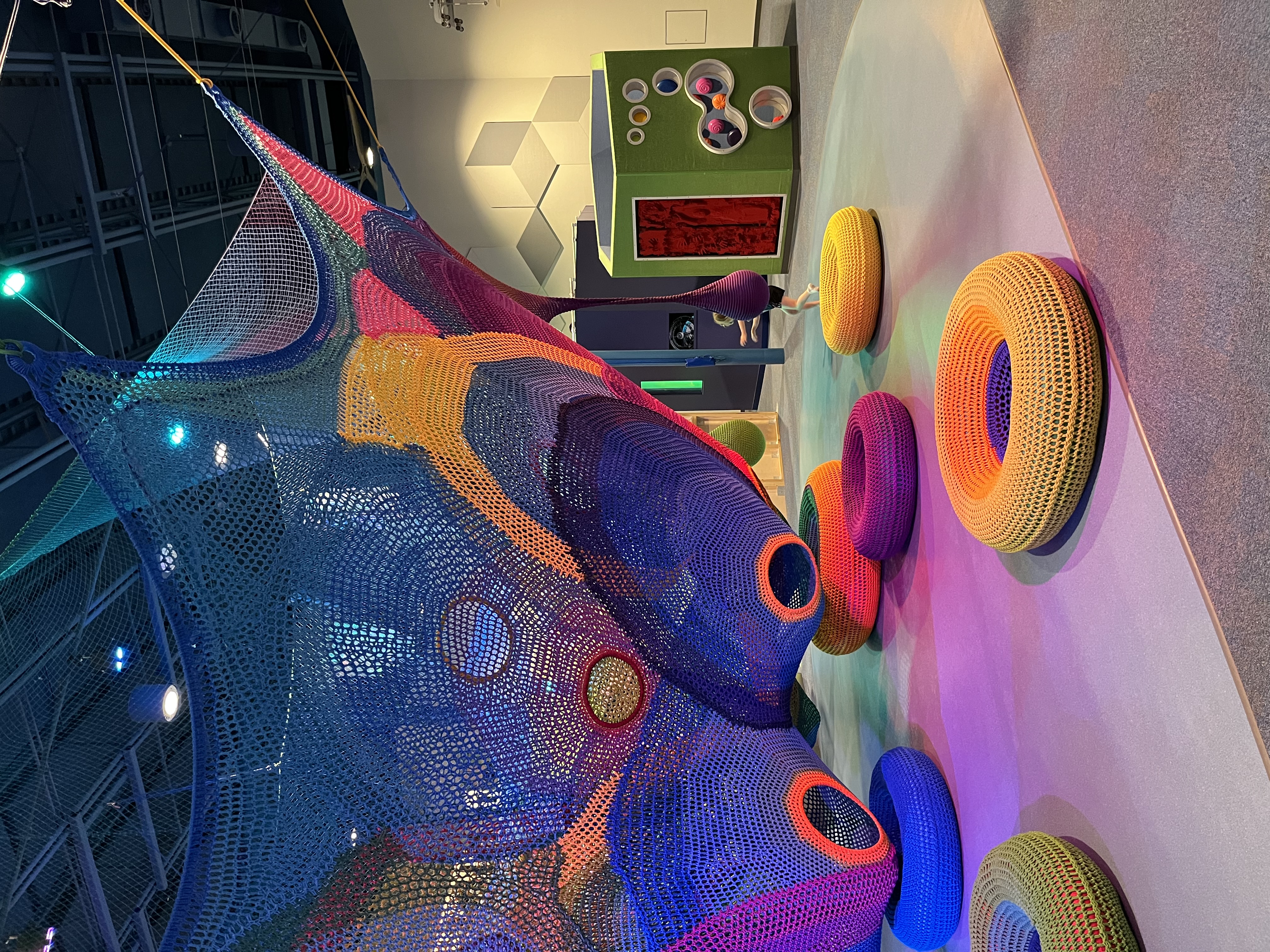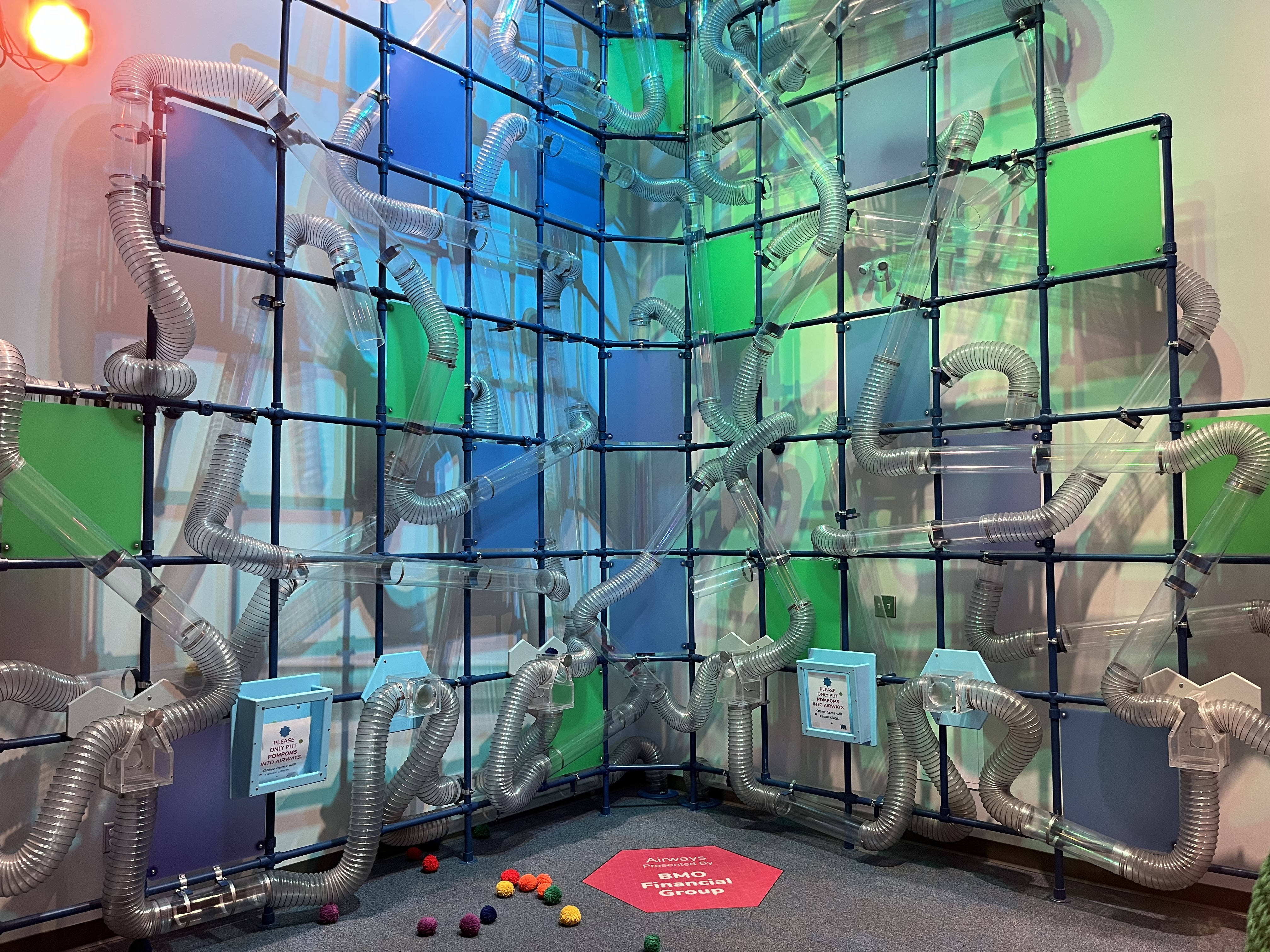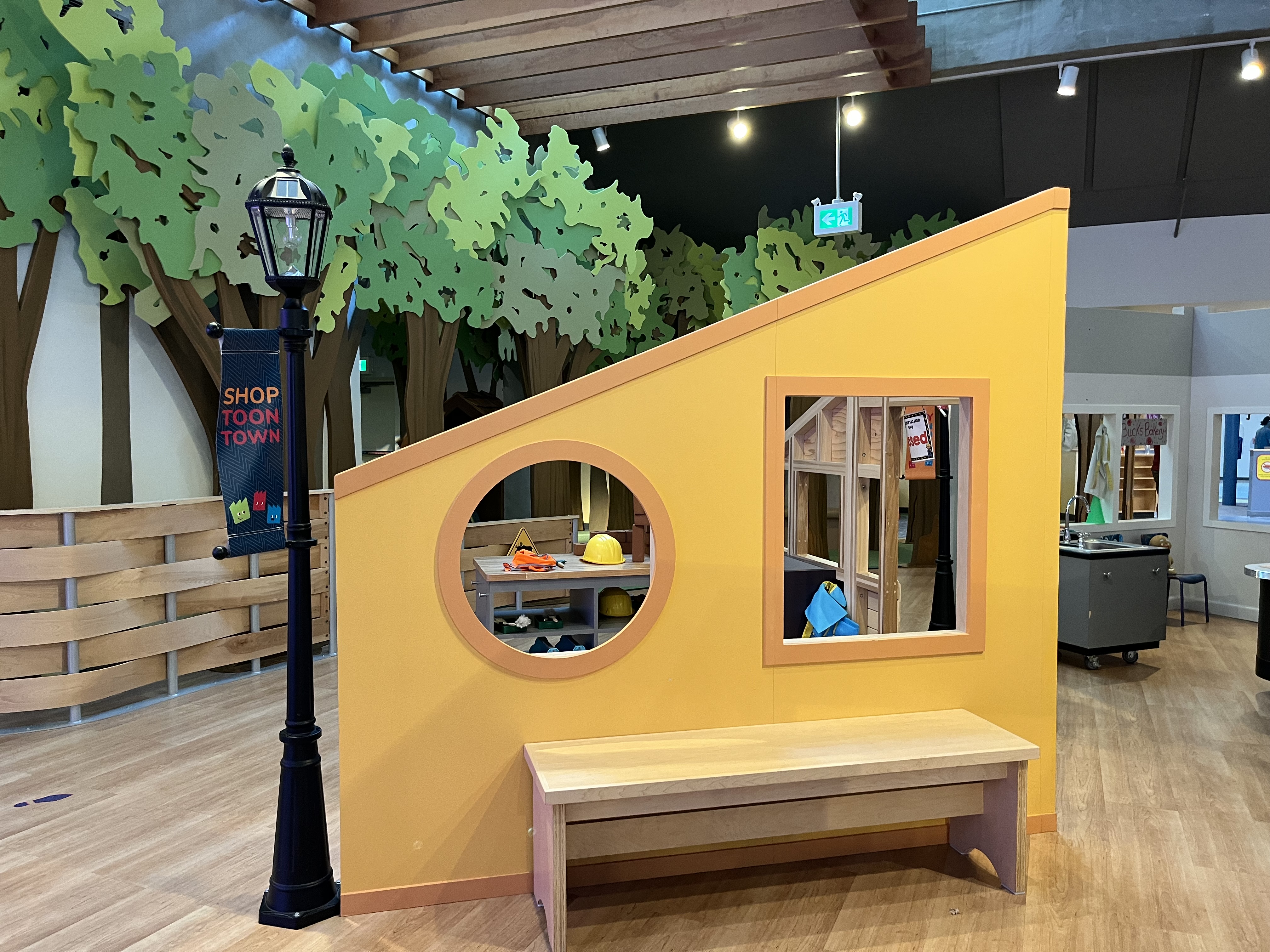 2. Nutrien Playland and Kinsmen Park
That bright yellow Ferris wheel that's perched in Saskatoon's river valley? It's part of Nutrien Playland, a family-friendly destination! You can pay to ride the Ferris wheel, carousel and CP trail that circles Kinsmen Park, and you can play for free at the fabulous playground!
The playground is simply outstanding – it features a double cable track zipline, a dutch disc (a rare spinning platform – we also found one at THIS amazing Calgary playground), a series of log climbers, a neat slide, a concrete dome, green snake-like balance beams and more! There is also a lovely spray deck and spray park.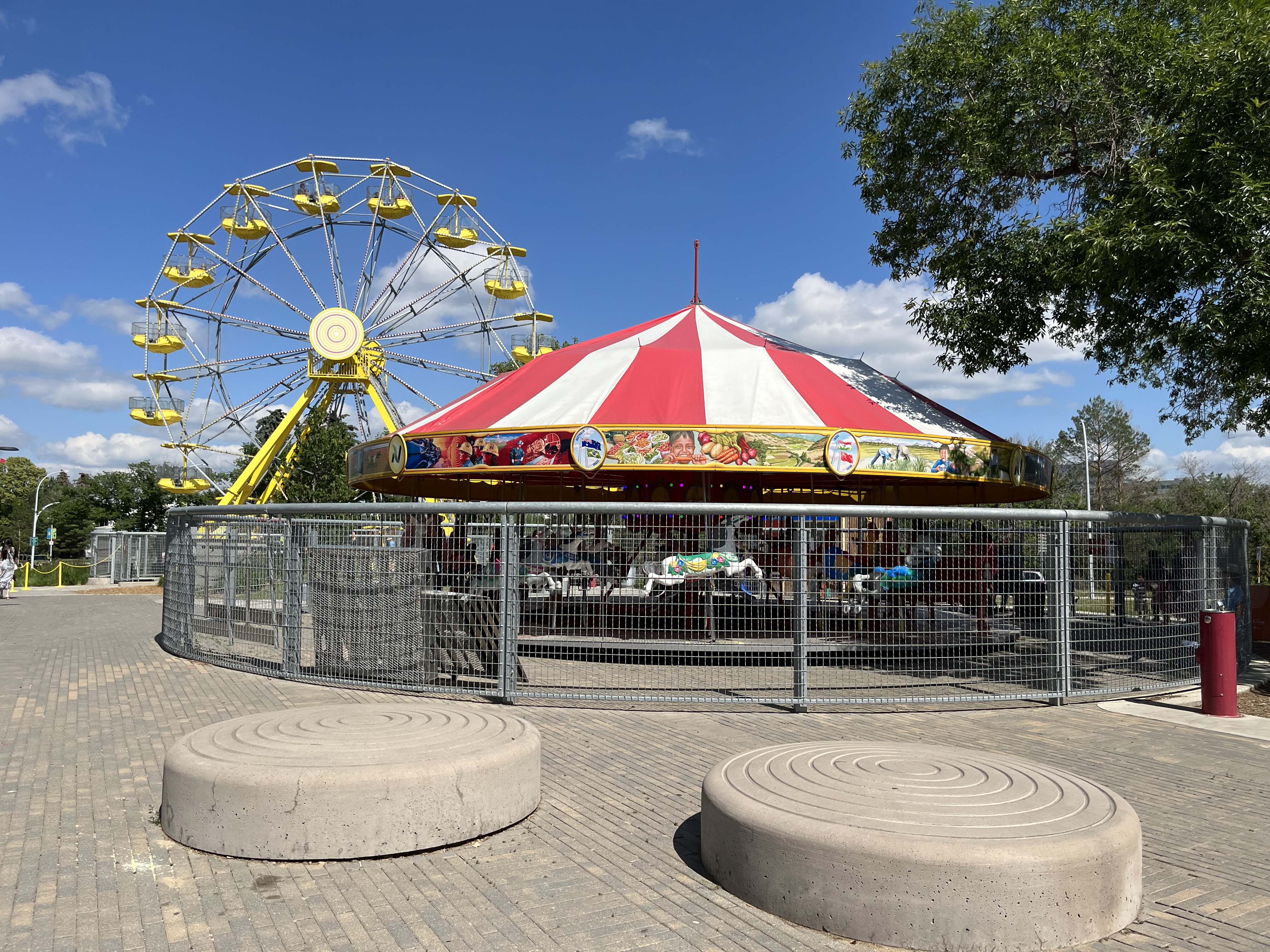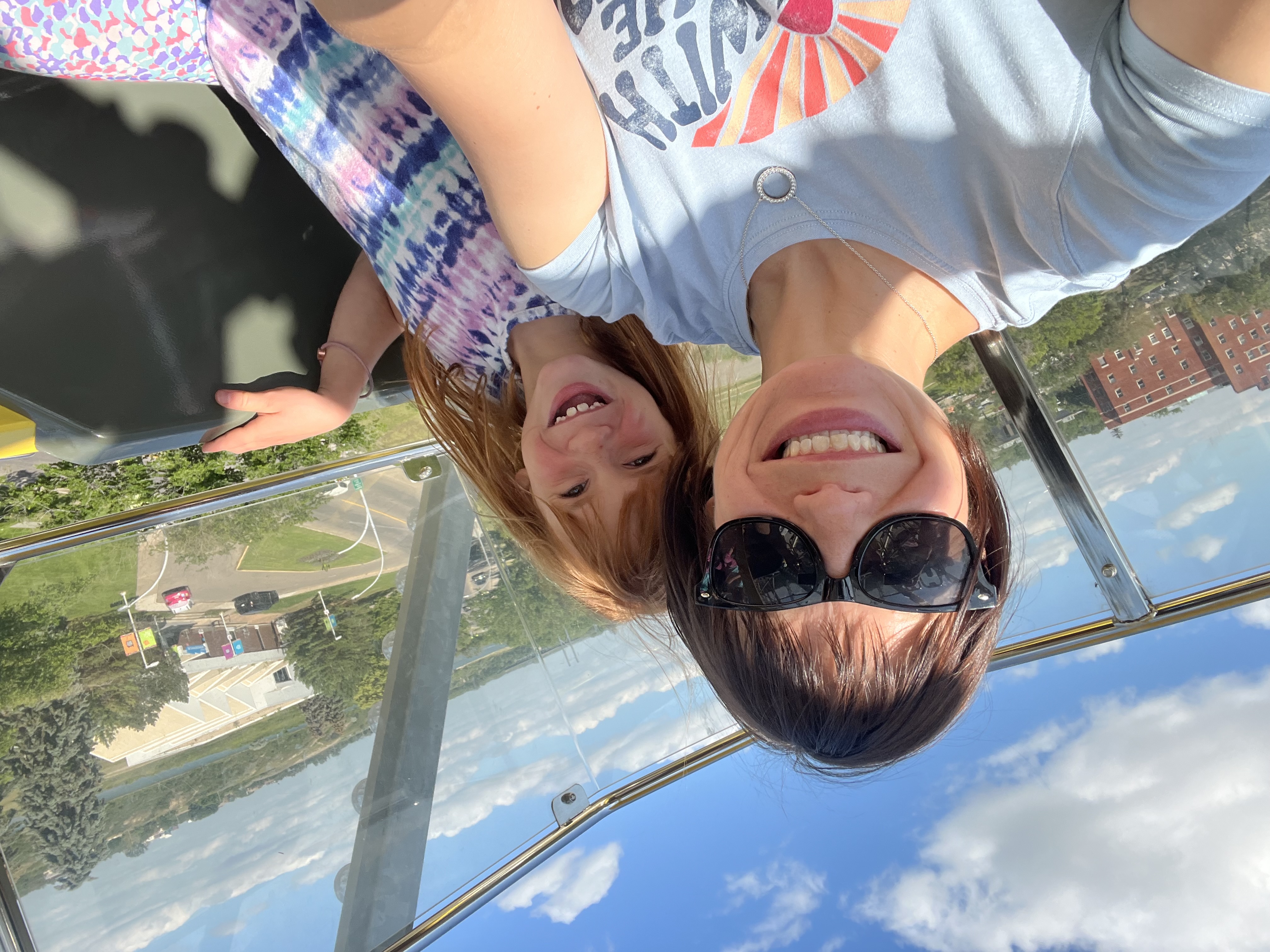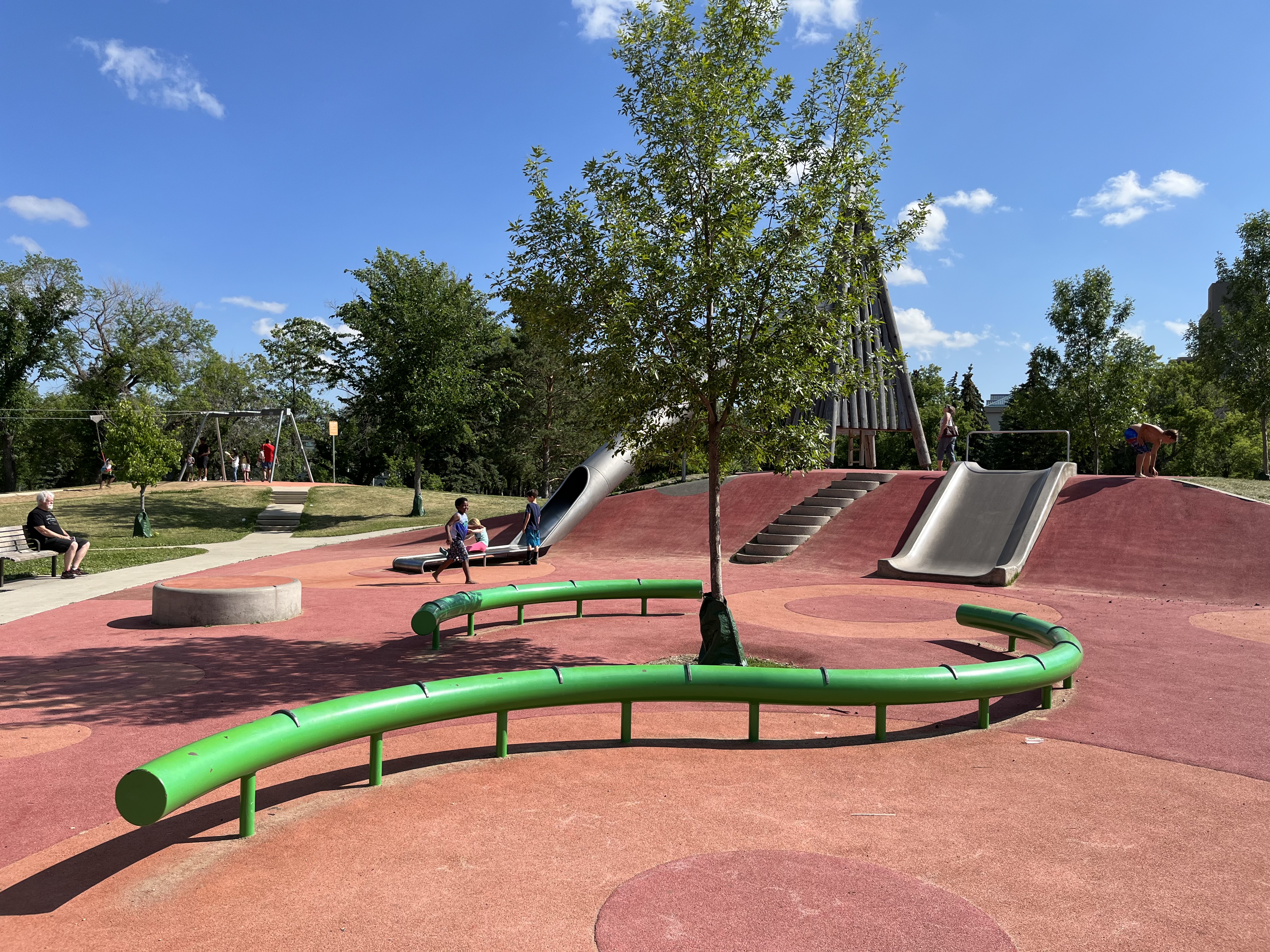 3. Brighton Core Park
Being the playground people we are, we had to seek out some of Saskatoon's Best Playgrounds. Brighton Core Park is right at the top of the list. This is a massive, inclusive playground with rubber base throughout, a ramped main structure and even an in-ground merry-go-round. Brighton Core park doesn't end there! You'll also find a toddler park; a spray park and THE BIGGEST AND BEST fitness playground we've ever seen. We challenged each other to races through all the obstacles and had so much fun!
Brighton Core park is situated on a large green space. The neighbourhood is also home to a pond, walking trails, a great sledding hill and there are a few more pocket playgrounds, too!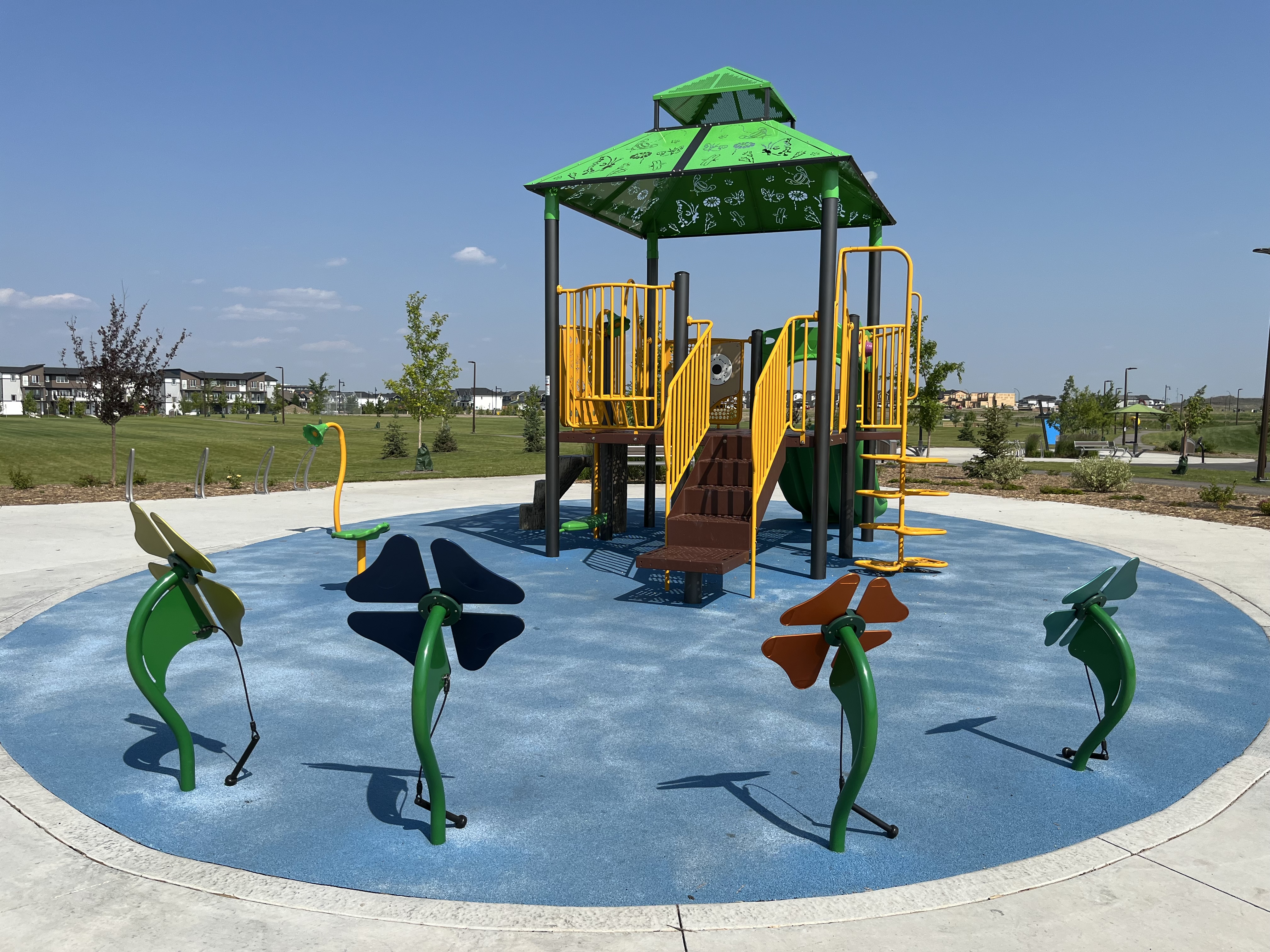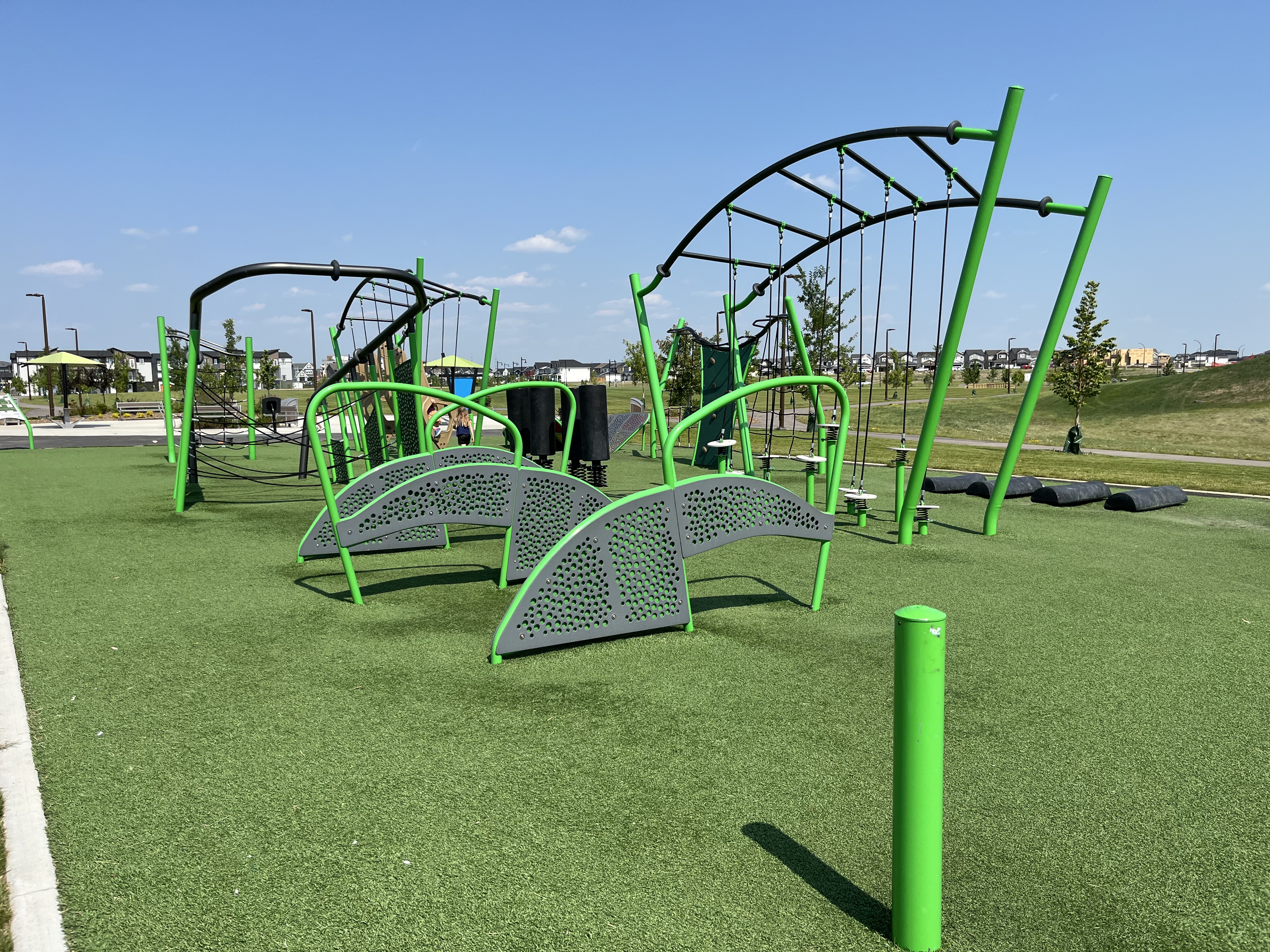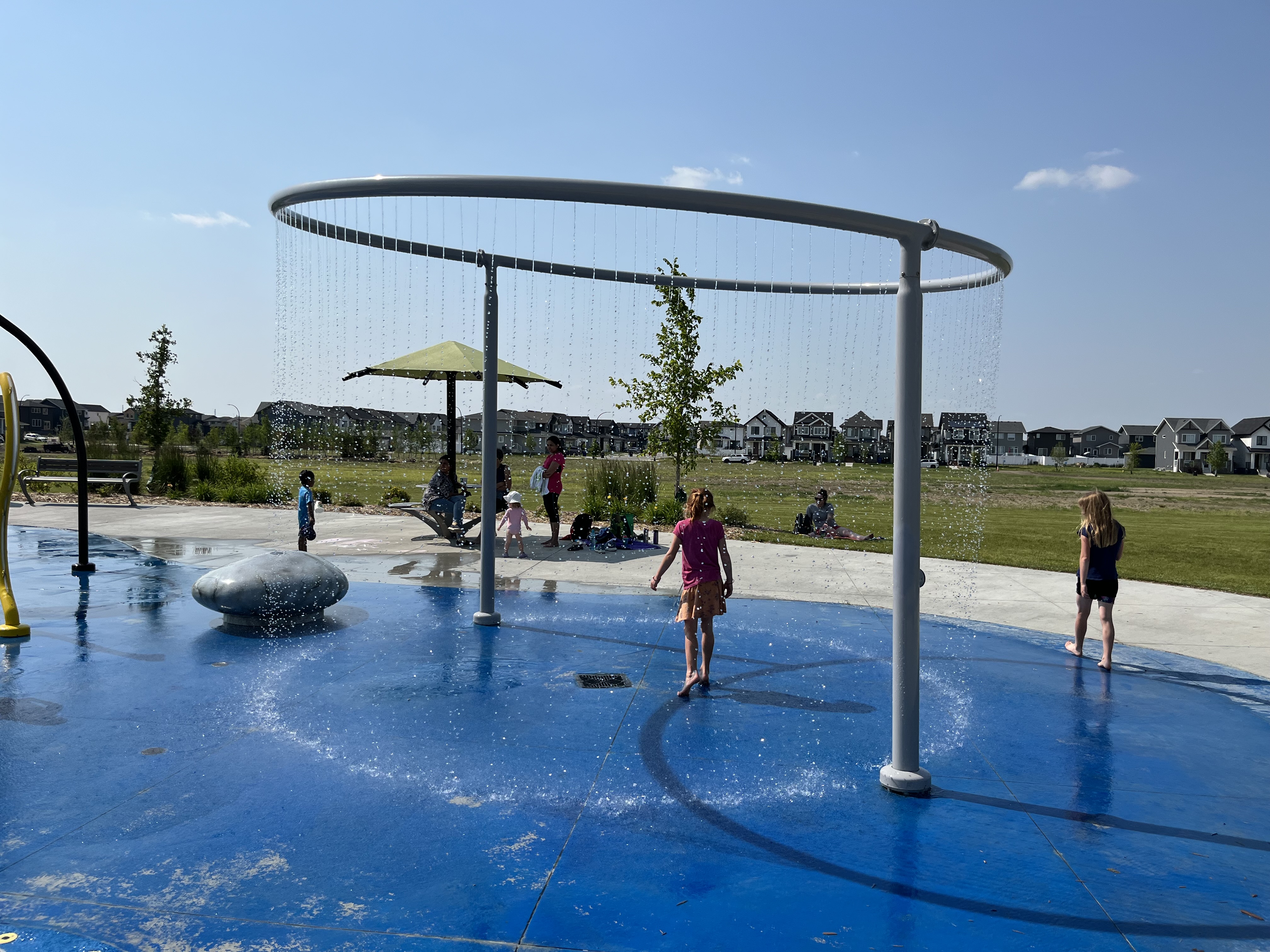 4. Forestry Farm Park & Zoo
Saskatoon Forestry Farm Park & Zoo offers a great chance for kids to get up close and personal with a variety of animals. Critters we found here that we don't have at the Edmonton Valley Zoo include grizzly bears, bald eagles, dingos, and bison. The highlight for us was the butterfly house – a variety of beautiful butterflies flew around us and we got to watch them feeding on fruit! The zoo is also home to the Orano Fun Zone – a great inclusive playground that the girls loved!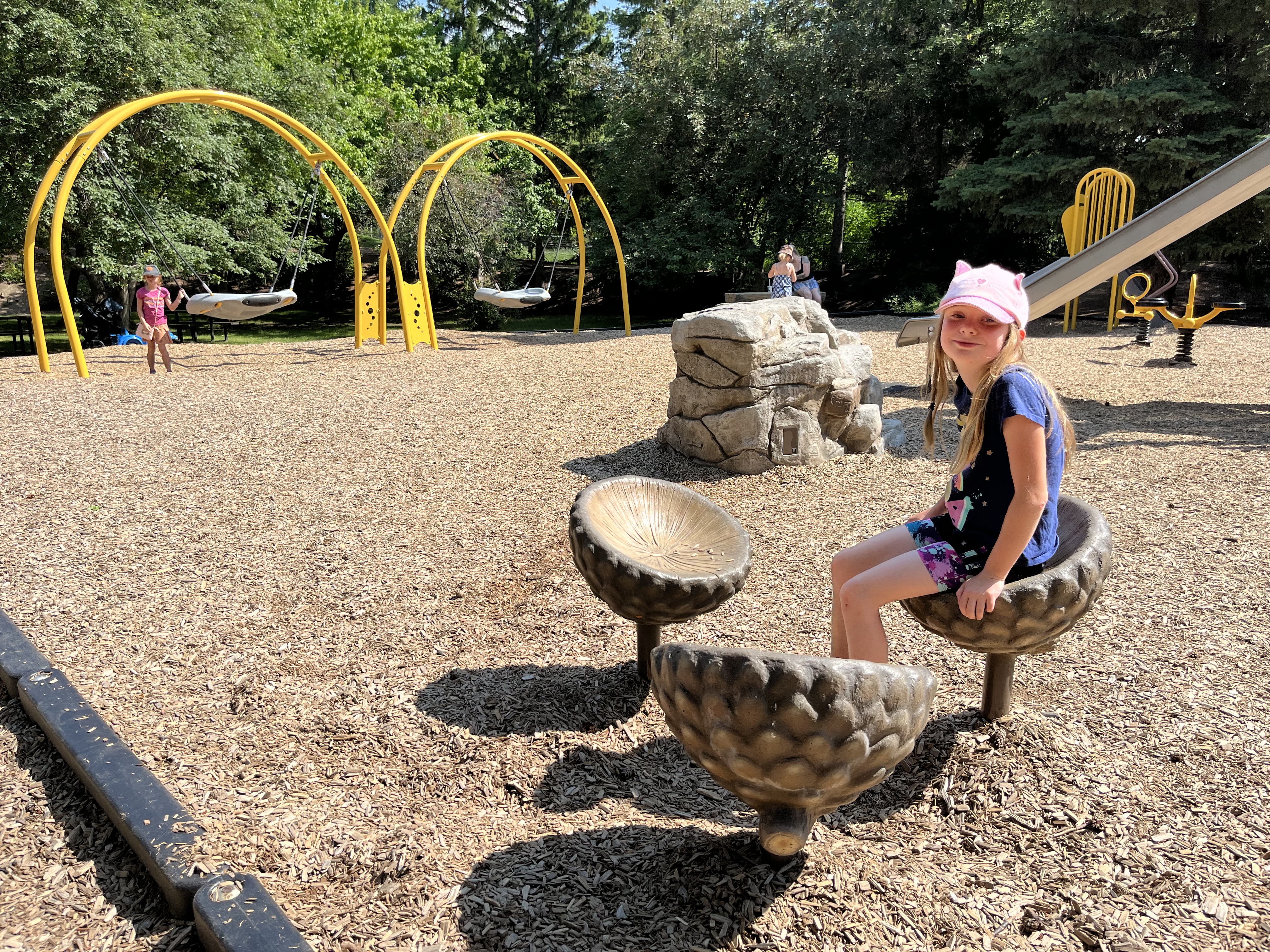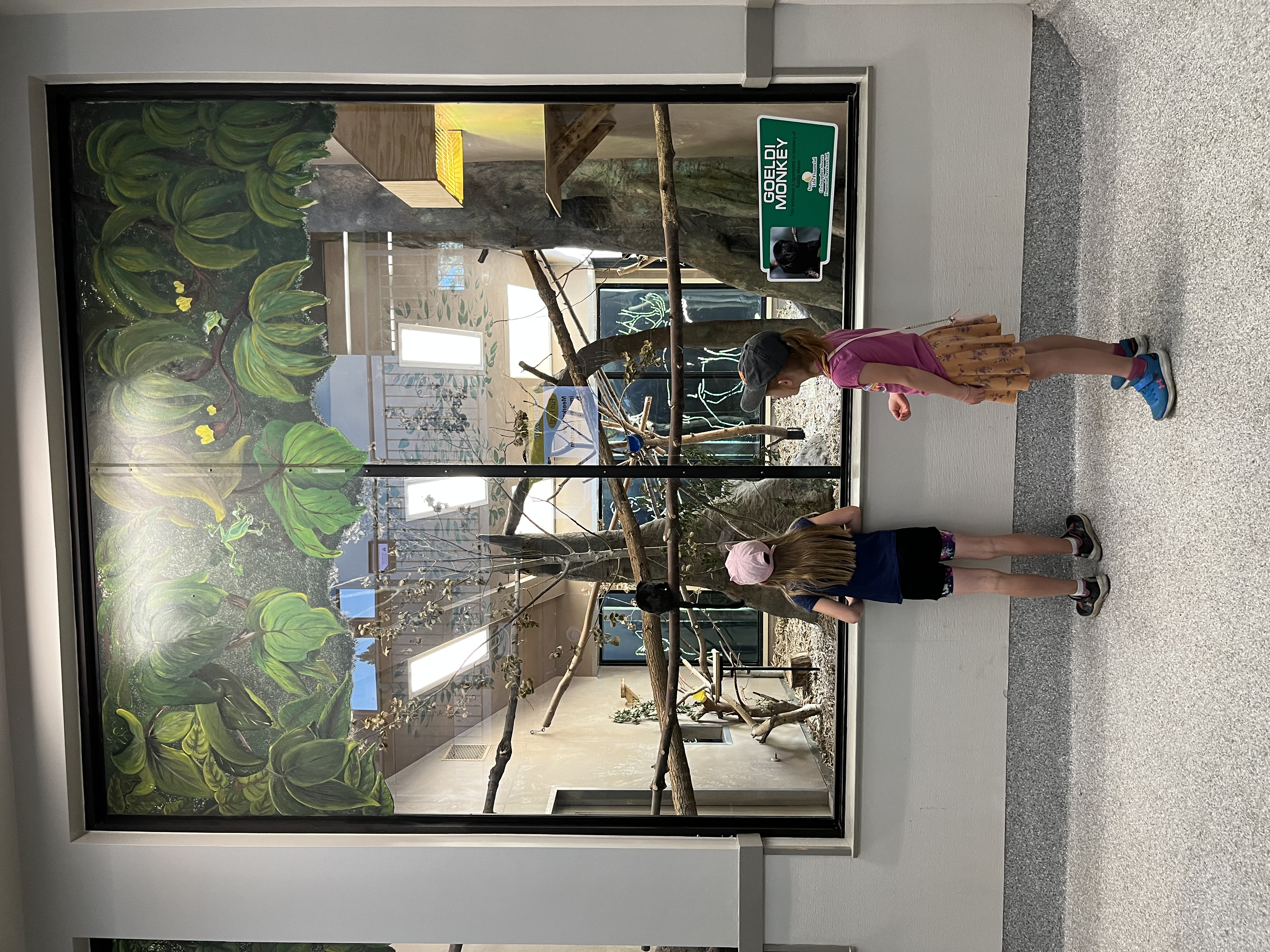 5. The food and (more importantly) the ice cream!
We dined like queens on our trip to Saskatoon! Our top choices were Aroma, right inside our Delta Hotels Saskatoon Downtown. Not only was the food delicious and the service great, but there was a bonus! At the end of our meal, our server told the girls that they could choose a toy from the surprise bin – score!
Scarlet was a short stroll from our hotel and the perfect introduction to dining in Saskatoon. We sat out on the patio and watched people strolling the city's gorgeous river trails. The Cave was throwback fun – not only did we sit in a cave to enjoy our meal, we also got to tour this unique restaurant and check out its waterfall and stalagmites.
Several of our followers sent us tips about the best ice cream spots in Saskatoon. We tried Homestead Ice Cream and Fable Ice Cream. Homestead feels like a throwback 50's diner and the menu stretches from one side of the building to the other! Fable is beautiful and offers just a handful of flavours done to perfection. We loved both experiences and especially loved that we scootered to both spots!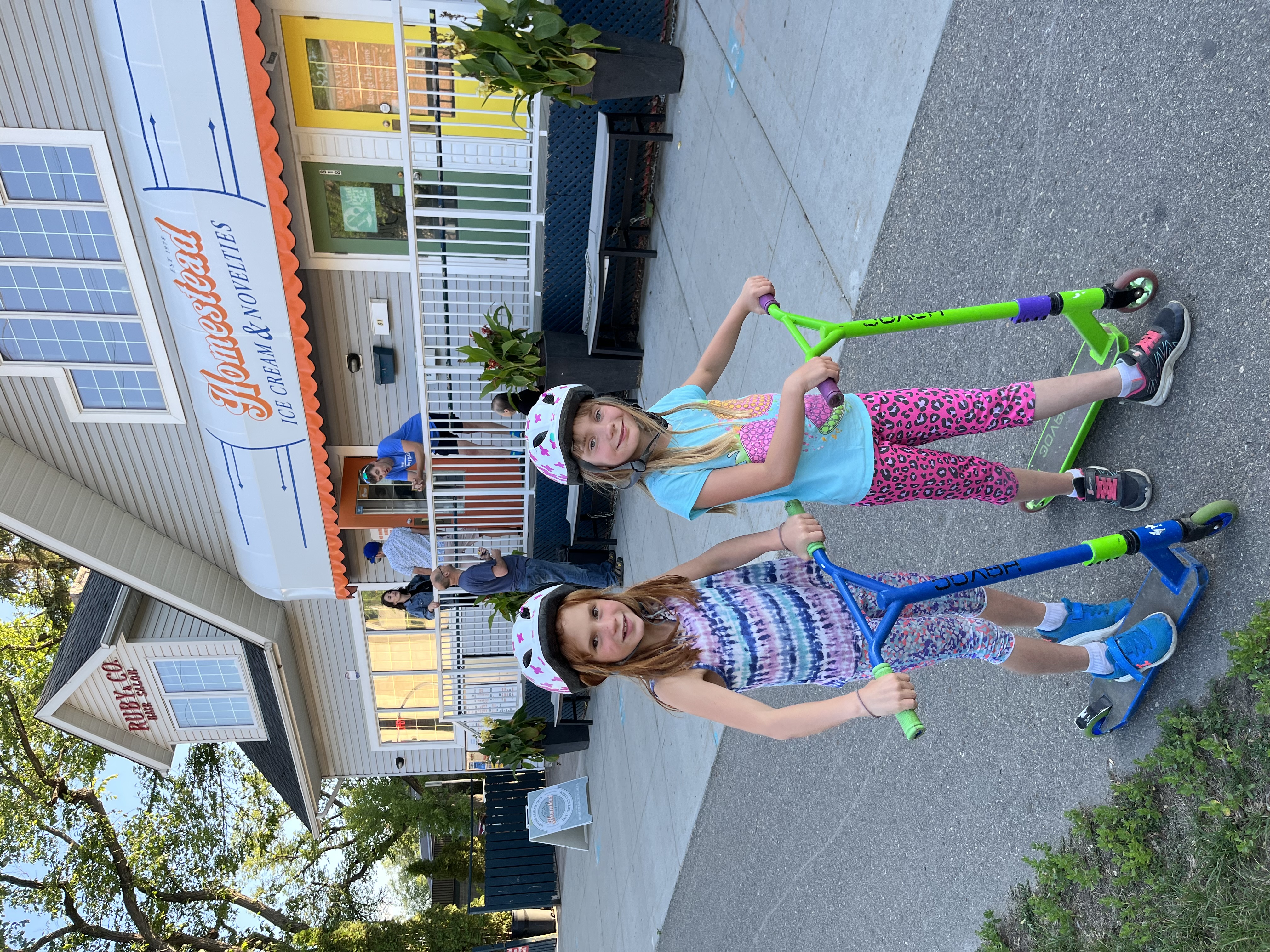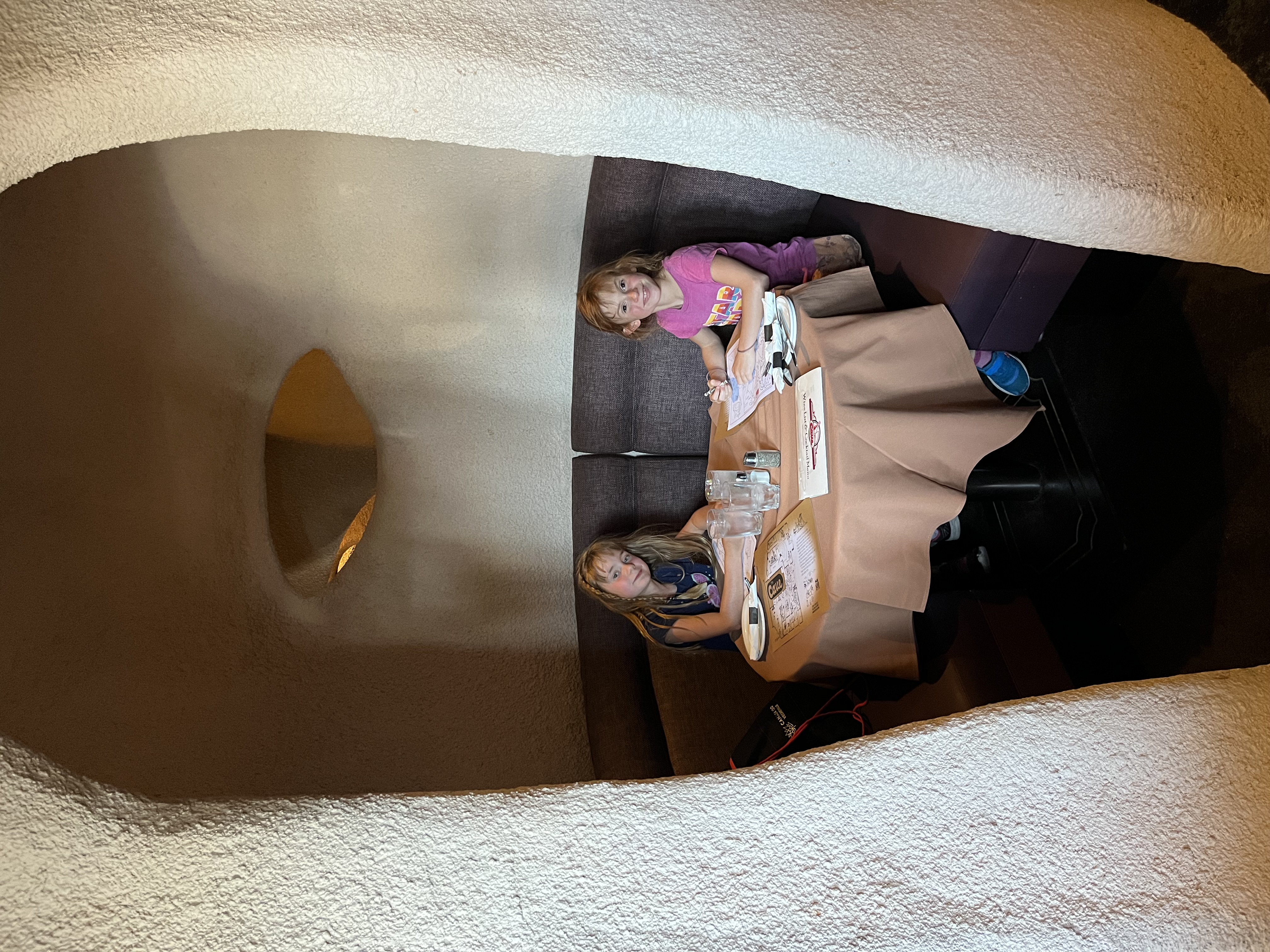 6. The Painted Rocks
On our scoot to the aforementioned Homestead, we took a slight detour on the south side of the Broadway Bridge to check out something google maps listed as the "Painted Rock Hangout". From the pedestrian trails down to the river, there are boulders upon boulders, nearly all of which are painted. We saw a giant strawberry, numerous cats, and a rock proclaiming this to be the "Summer of Dave"! (There is also a beach located just a little east of the rocks)
As we continued to scoot and stroll around town we found that most of the river valley's rocky embankments are full of painted rocks! What a cool, colourful way for artists of all ages to brighten the city!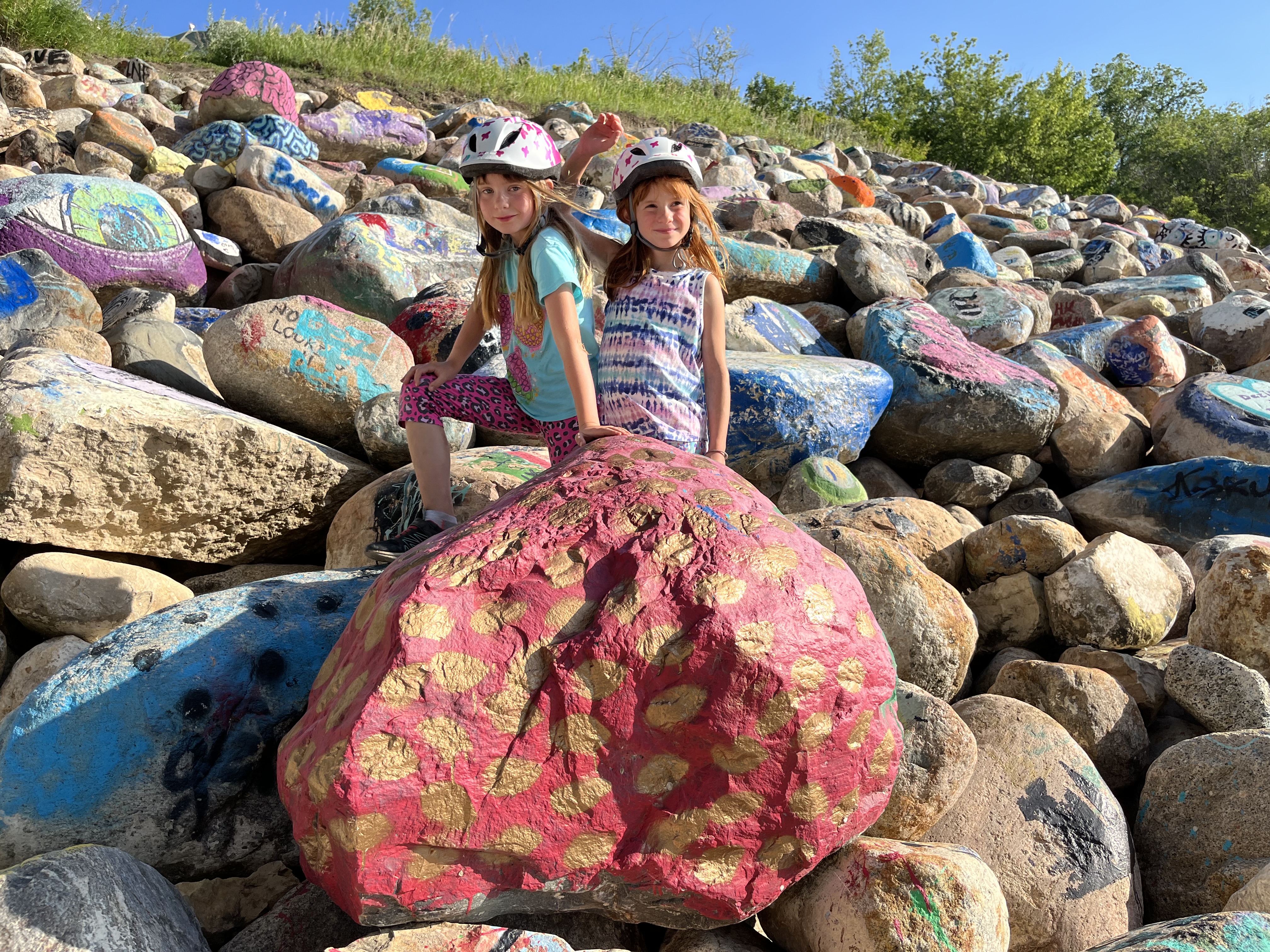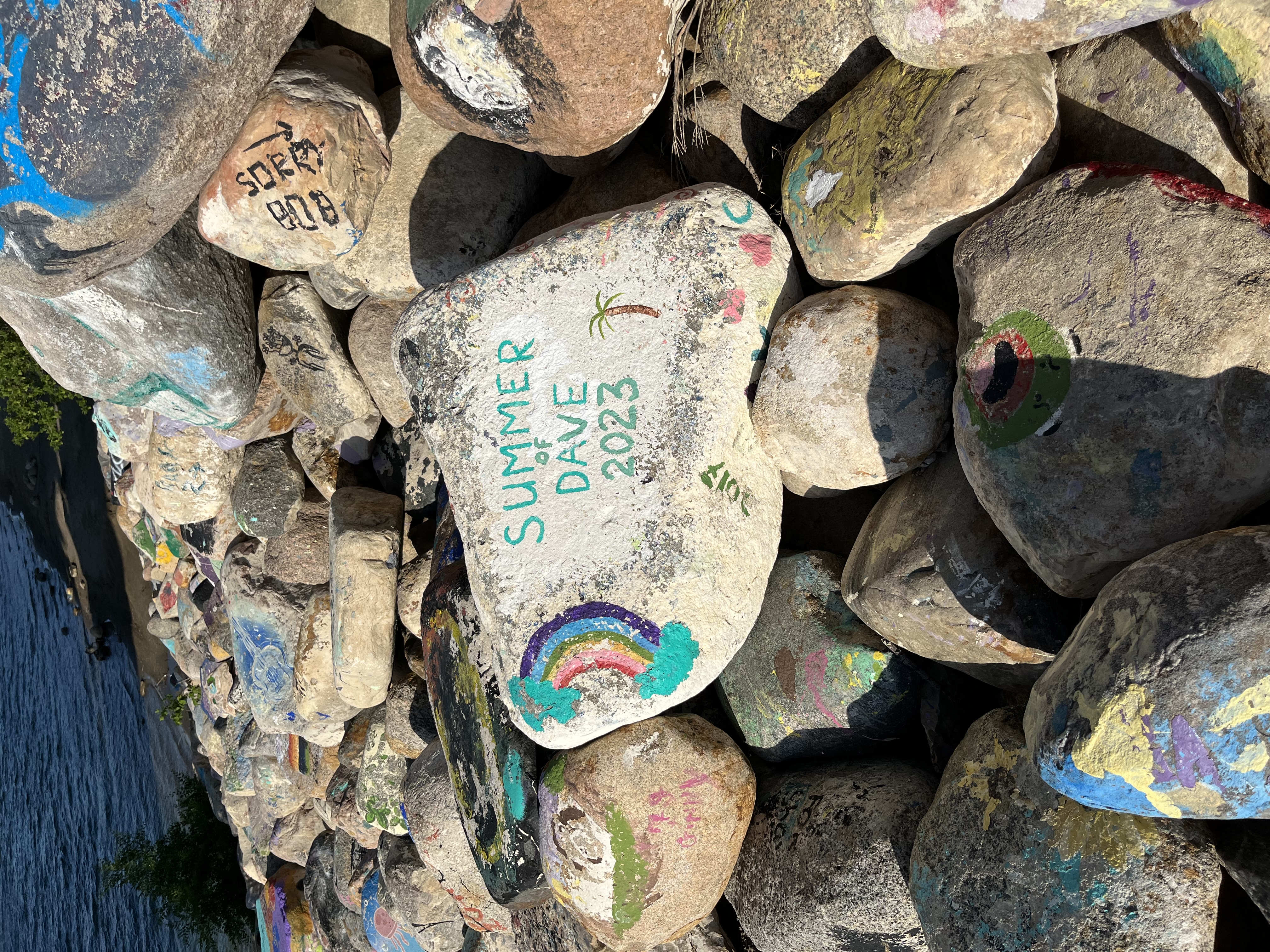 7. River Basin Spray Park
A tipster suggested we add this to our itinerary and it turned out to be very close to our hotel! River Basin Spray Park is a traditional spray park that offers a built-in geography lesson! It's basically a map of central Alberta, Saskatchewan and Manitoba, highlighting the river systems and other top features.
We first came upon the spray park one morning before the water was on for the day. We decided to return that night and when we did, we discovered that the Prairie Lily, Saskatoon's riverboat, was docked at the landing with a jazz band on board! Jazz Fest was on in Saskatoon and people were sitting on benches and picnic blankets, dancing on the landing, and splashing in the spray park. It was one of many beautiful moments from our trip that made me truly fall in love with this sweet prairie city!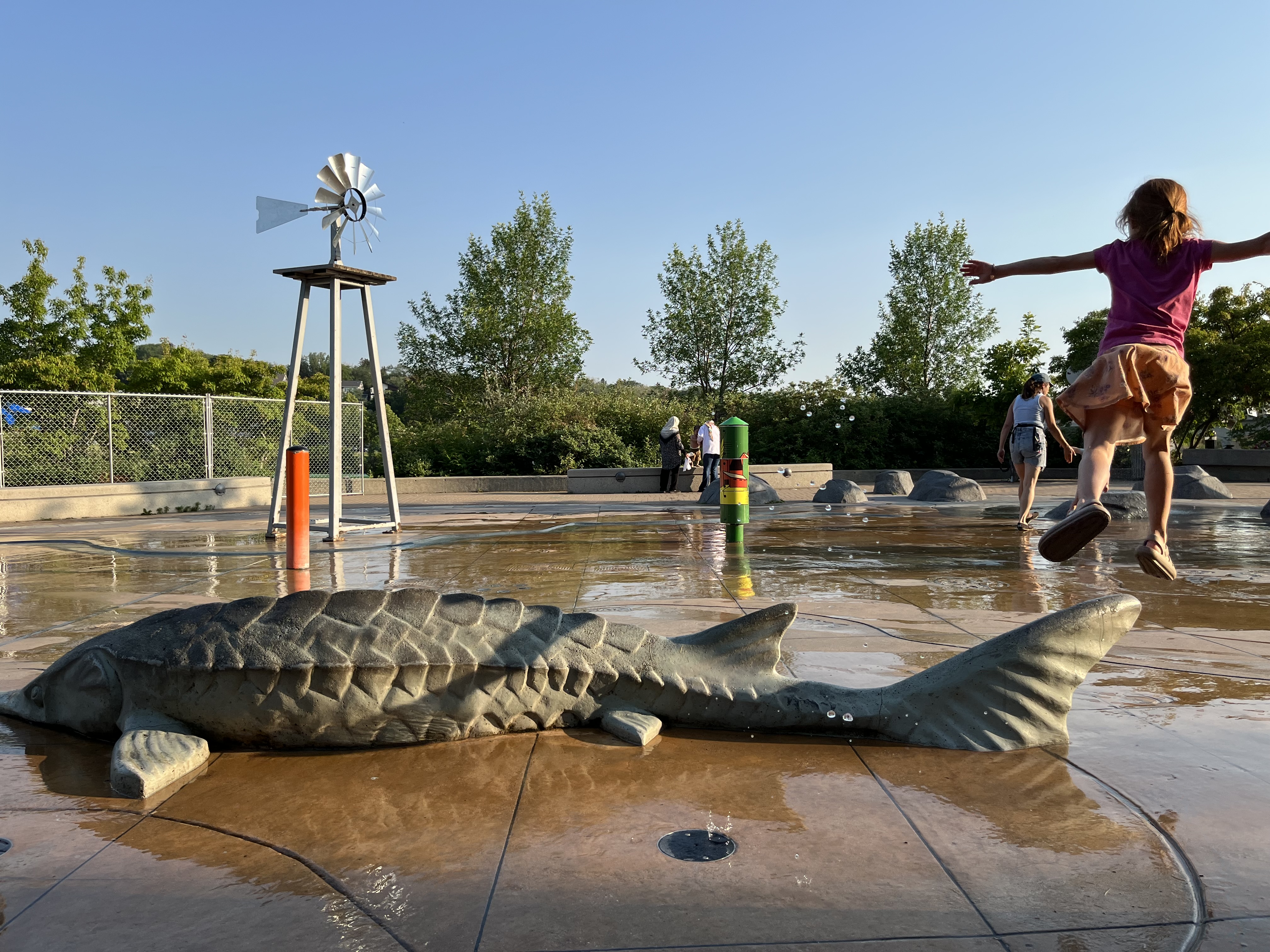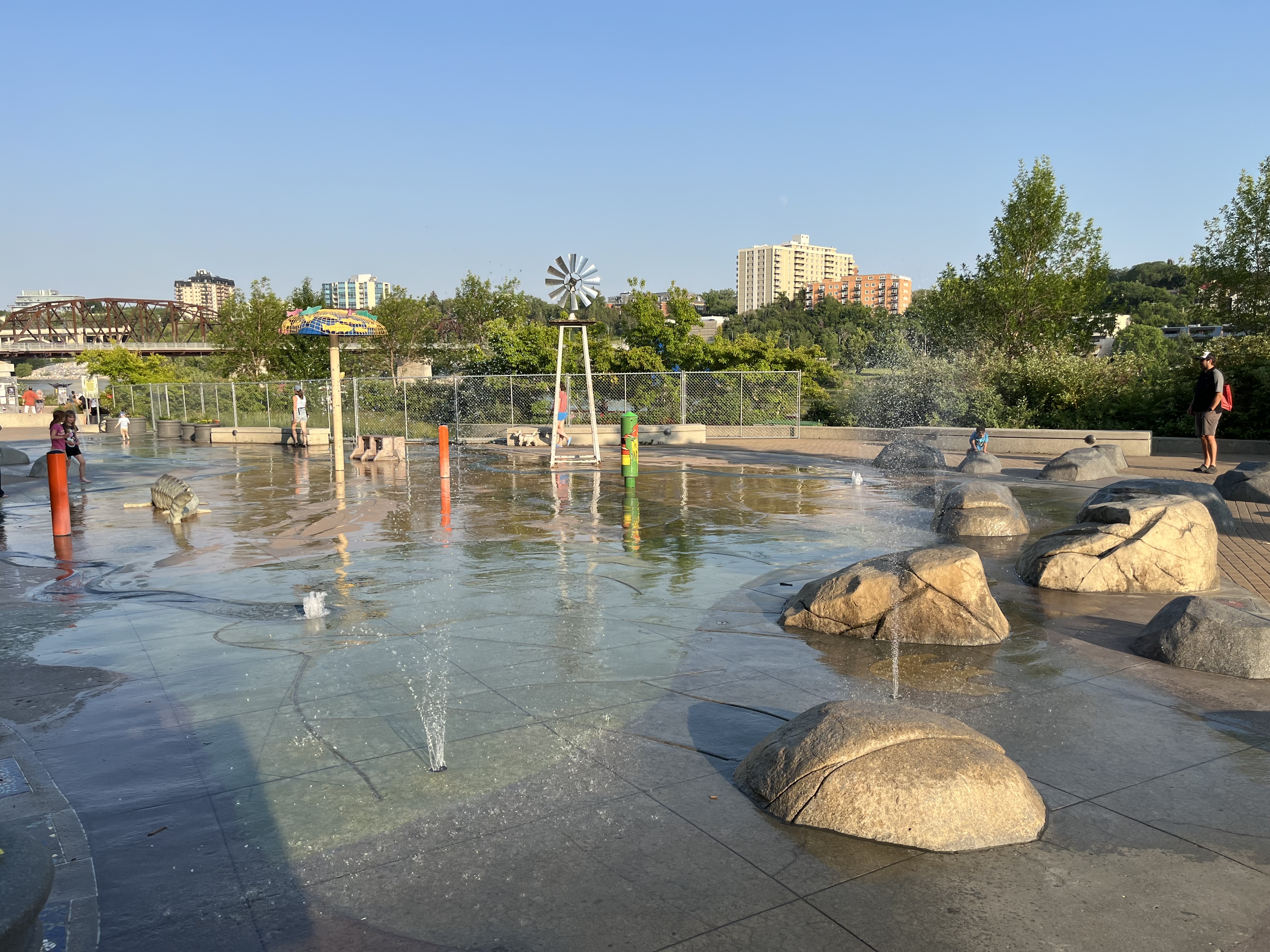 8. Wanuskewin
Wanuskewin is a national historic site situated just on the outskirts of Saskatoon. It's been a sacred gathering space for more than 6,000 years and is the longest-running archaeological dig in our Country. The interpretive centre at Wanuskewin includes a museum, an art gallery, a shop with beautiful Indigenous creations and spaces that look out over the Opimihāw Creek. There are kilometres of trails to explore and visitors can view the bison that live at the site.
Wanuskewin is also home to an absolutely beautiful playground designed by Earthscape Play. (Earthscape has designed a handful of Edmonton playgrounds including the Howling Coyote playground in Laurier Park) We had so much fun playing in this stunning wooden playground!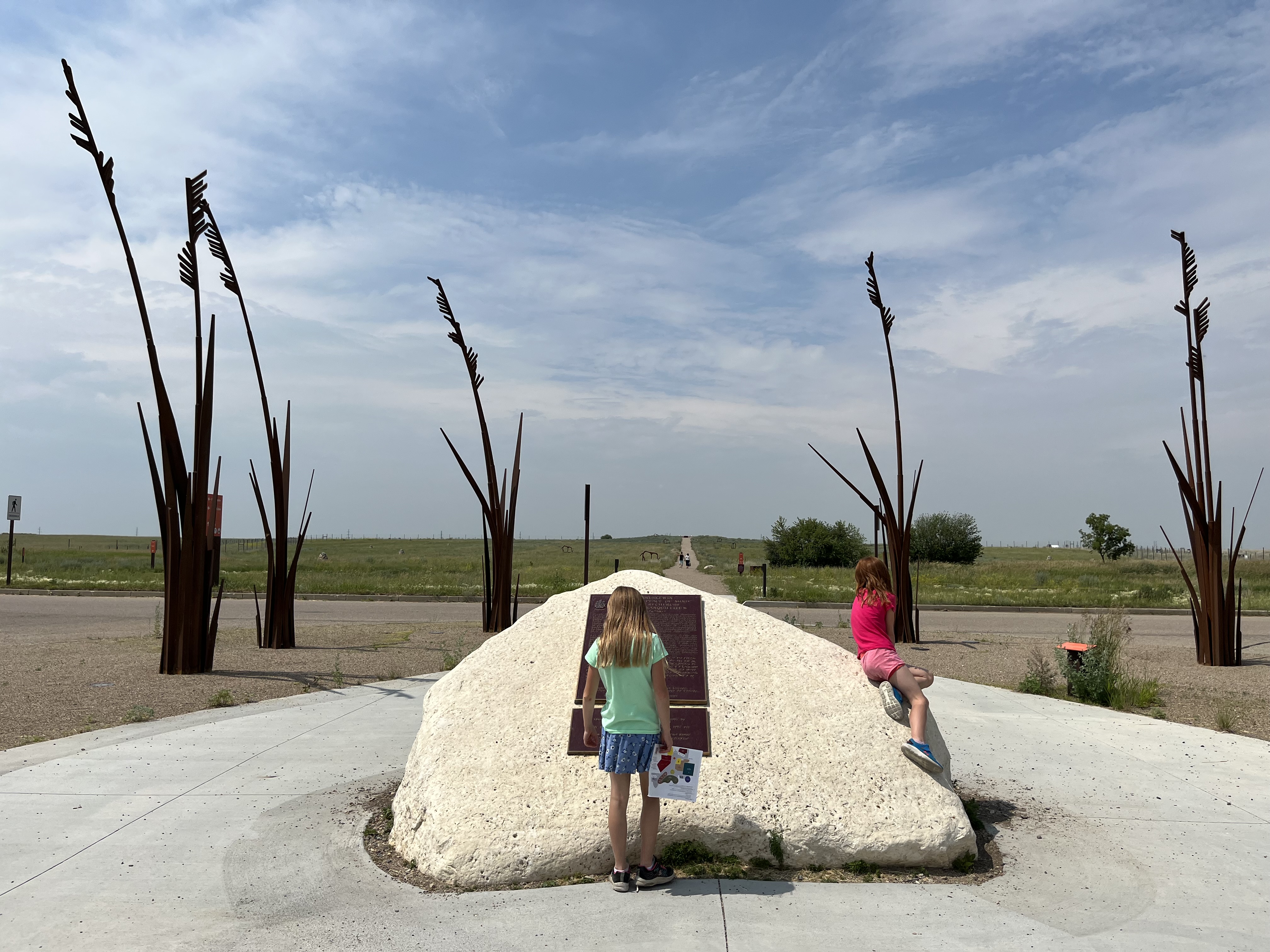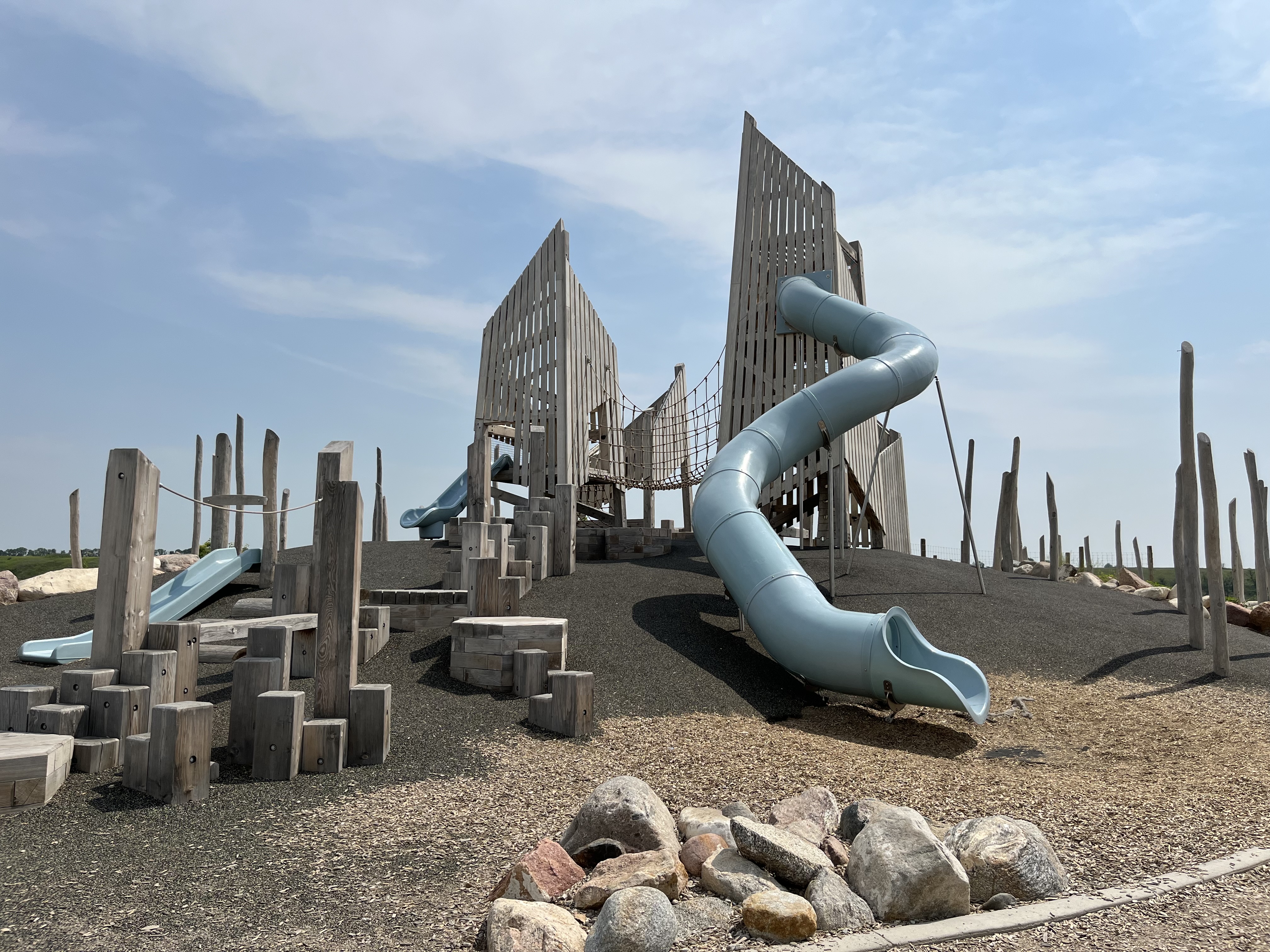 9. Public Art
Art is everywhere in Saskatoon! We spotted statues from the car as we toured the city and scootered past more in the river valley! The girls really loved a series of silhouette children playing in Kinsmen Park. (There was also a story walk on-site during our visit!) An international art pop-up also happened to be in Saskatoon when we were there – so we snapped photos with the RedBall project, by artist Kurt Perschke.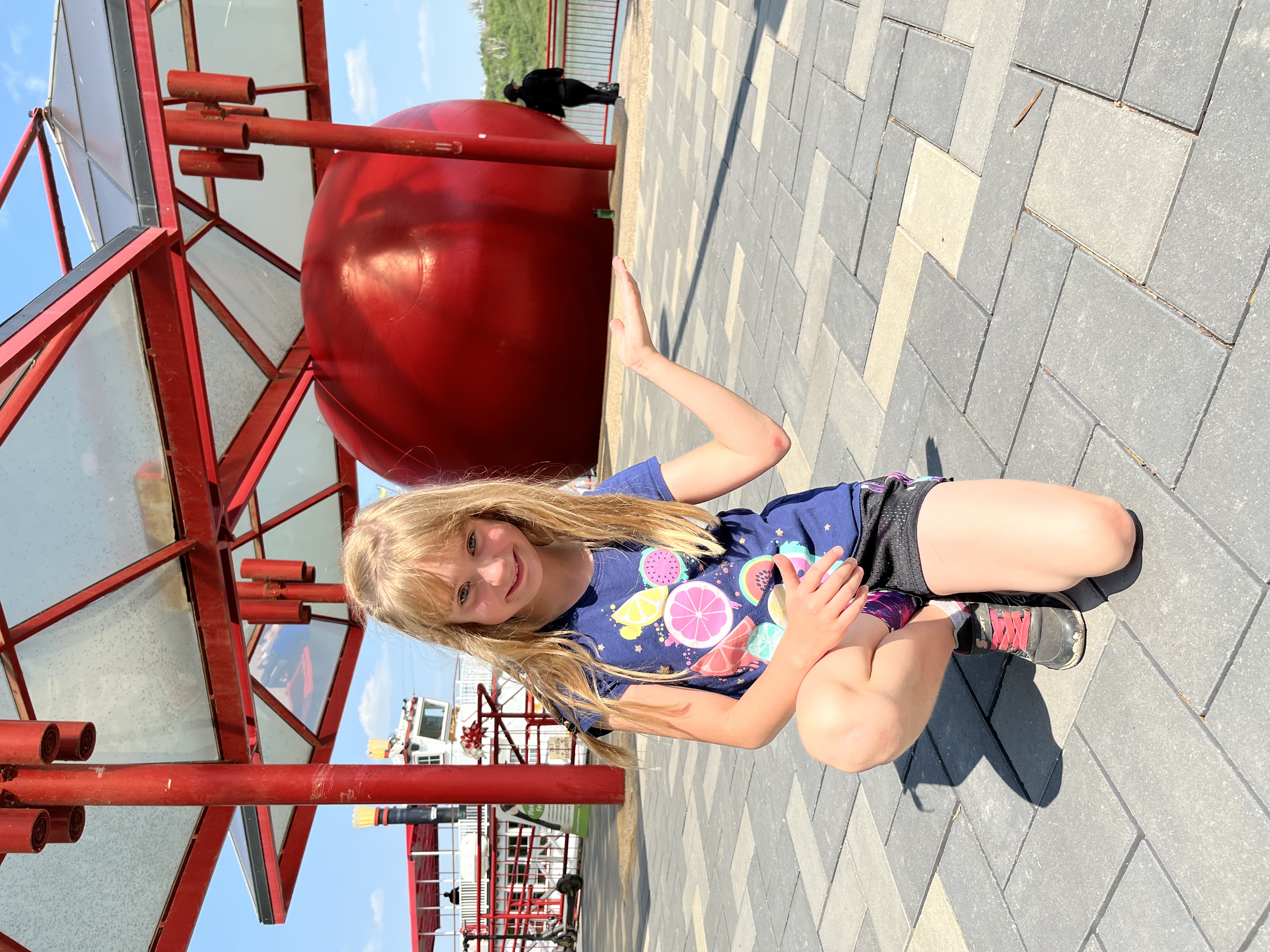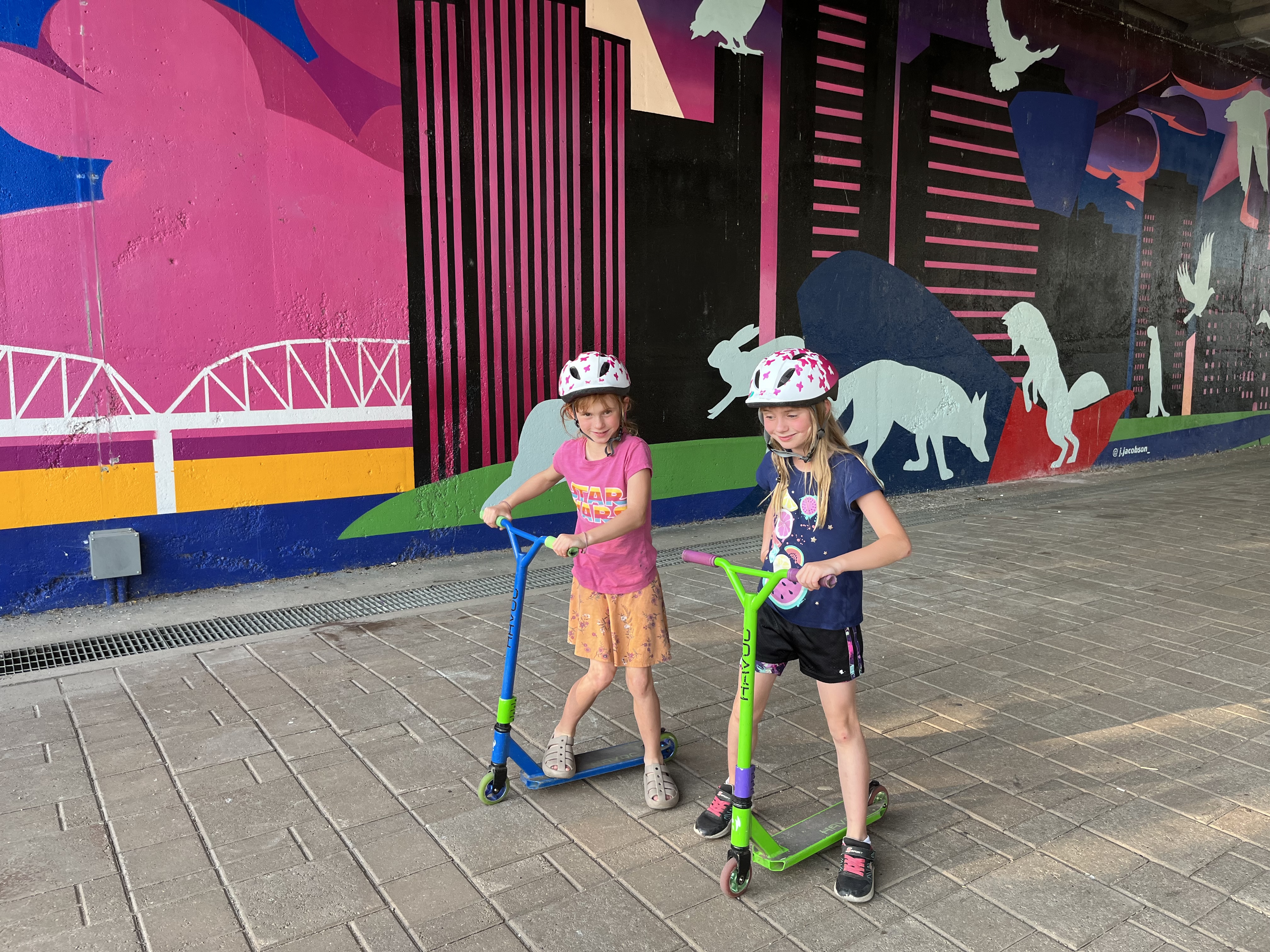 10. Mar's Mini Golf
As we scoured the Discover Saskatoon website ahead of our trip, the bright colours and whimsical creatures of Mar's Mini Golf stood out to the girls and they insisted we add it to the list. This 18-hole glow-in-the-dark mini golf course was truly a lot of fun and I'm proud to say that I even got a hole-in-one! This was also a nice indoor escape that allowed us to cool off in the middle of a really hot summer day!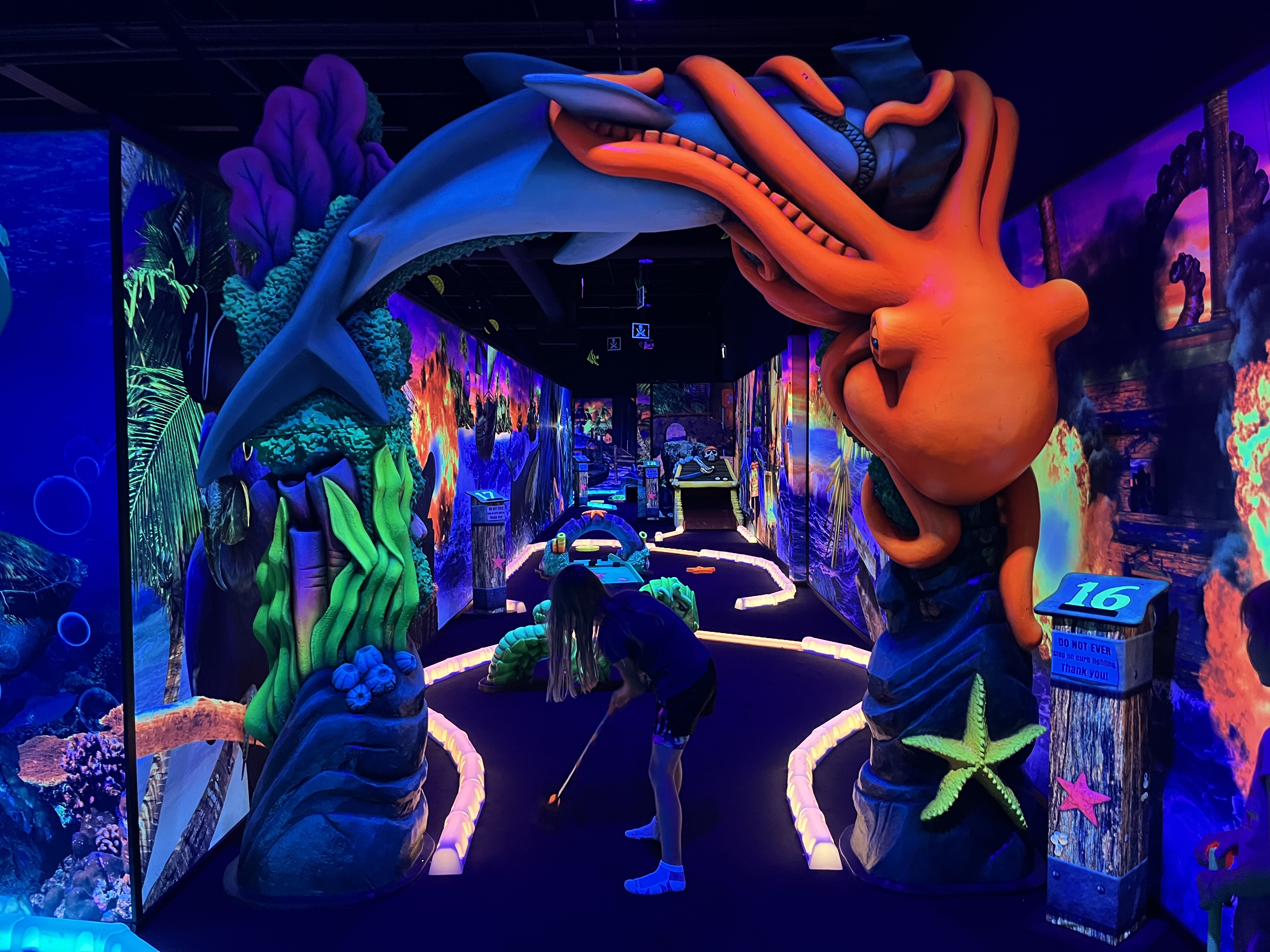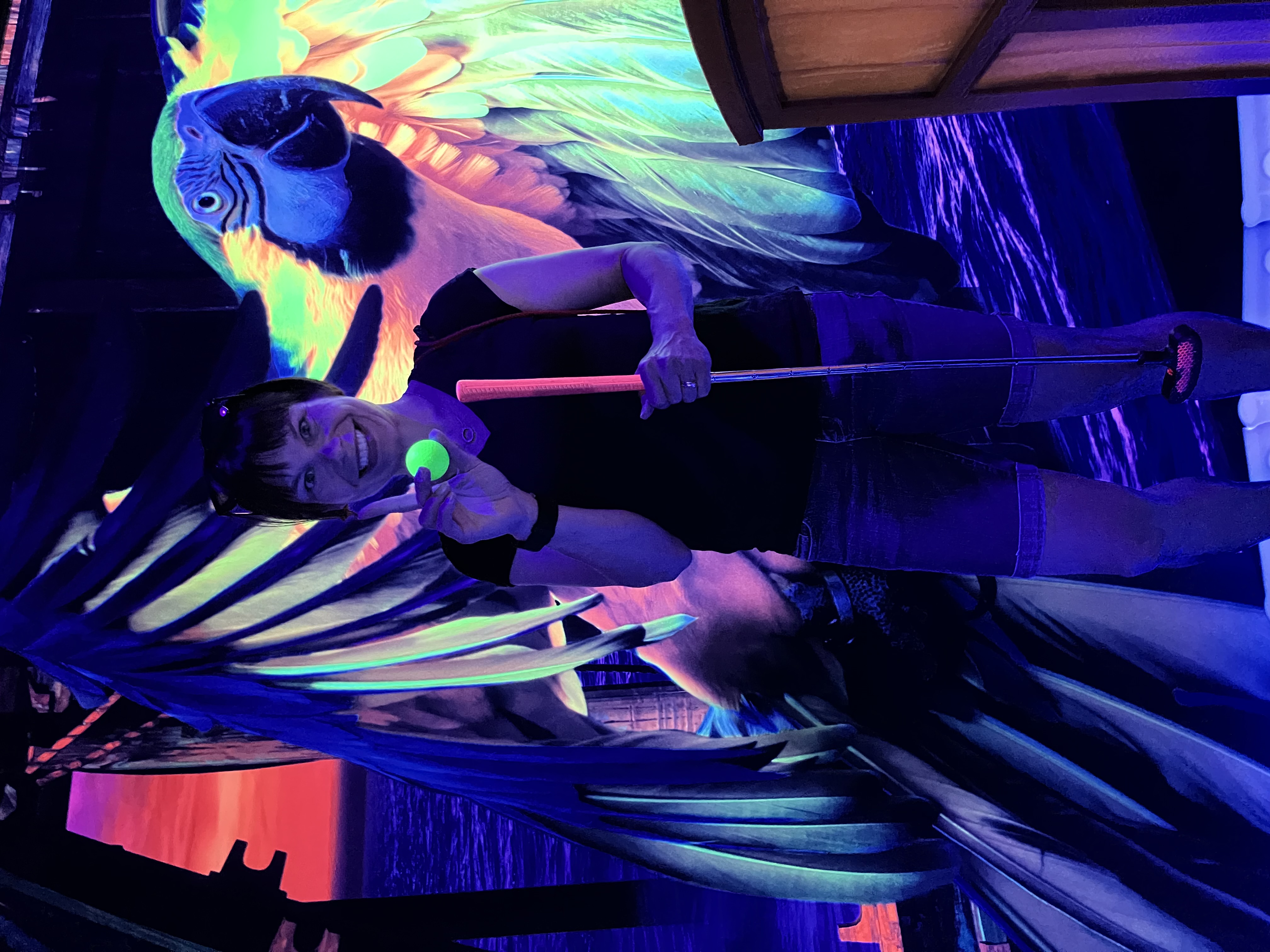 Our visit to Saskatoon was hosted and we are truly grateful to Discover Saskatoon for their hospitality! We stayed at Delta Hotels Saskatoon Downtown, which I can't recommend enough! A bright, beautiful and modern hotel, the Delta provided everything we needed and more! The waterpark is amazing – two pools, a hot tub and THE BEST waterslide! The workout centre is spacious and well-equipped. The rooms are clean, comfortable and stylish and the location can't be beat. We will be back!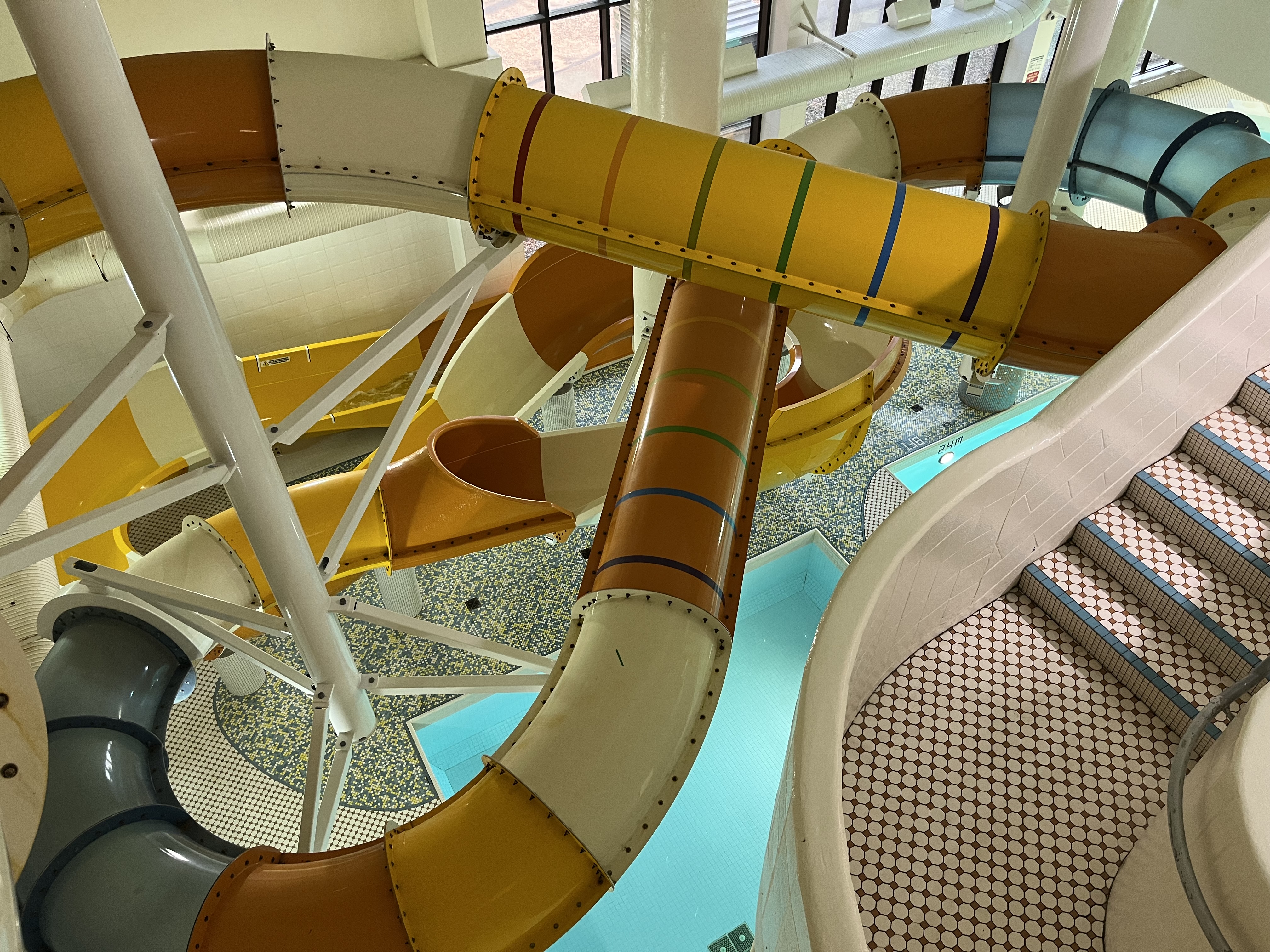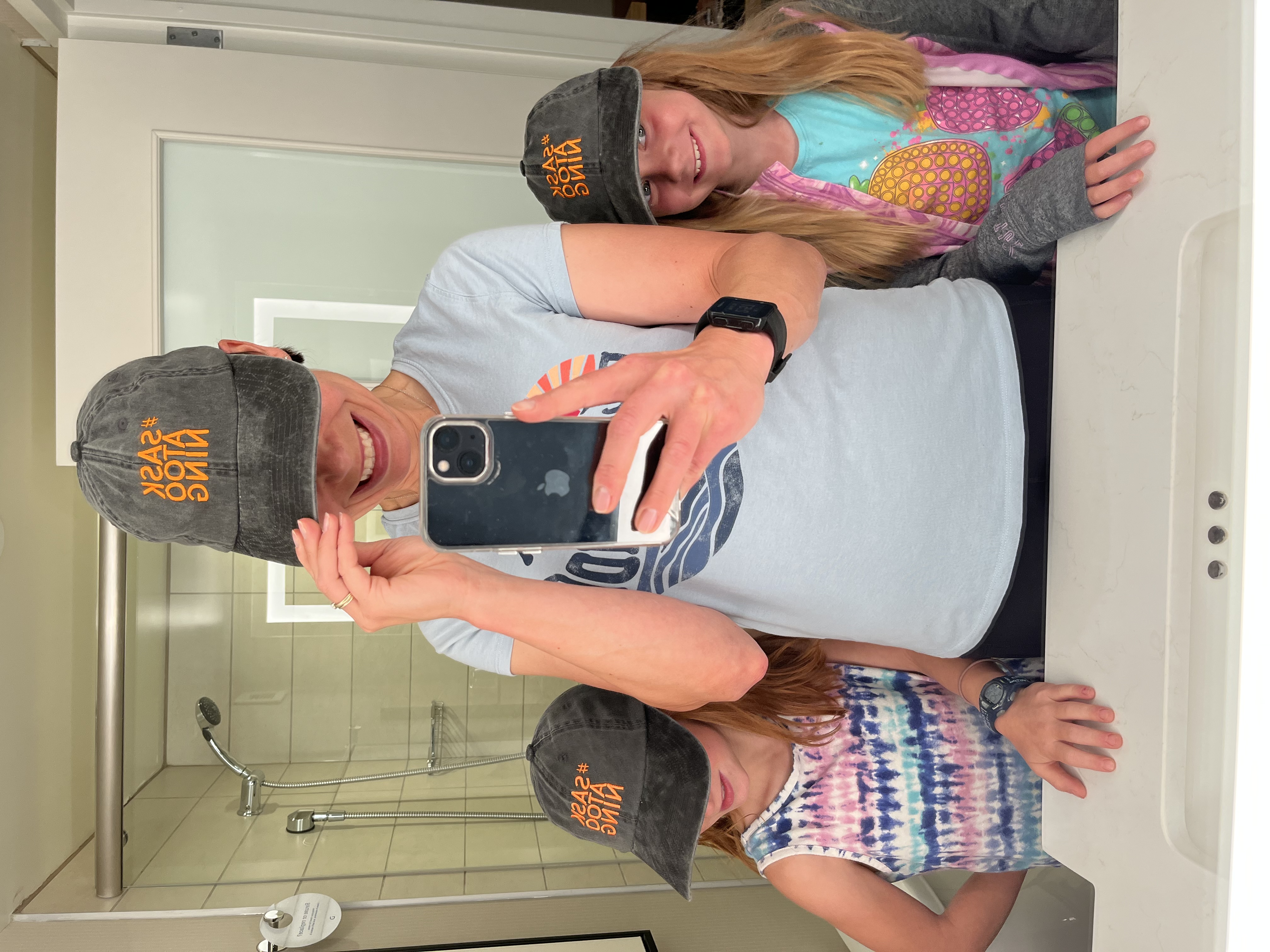 Thank you, Discover Saskatoon, for your hospitality! We loved #Saskatooning with you! Photo by Edmonton Playgrounds.
Read the original blog post here.