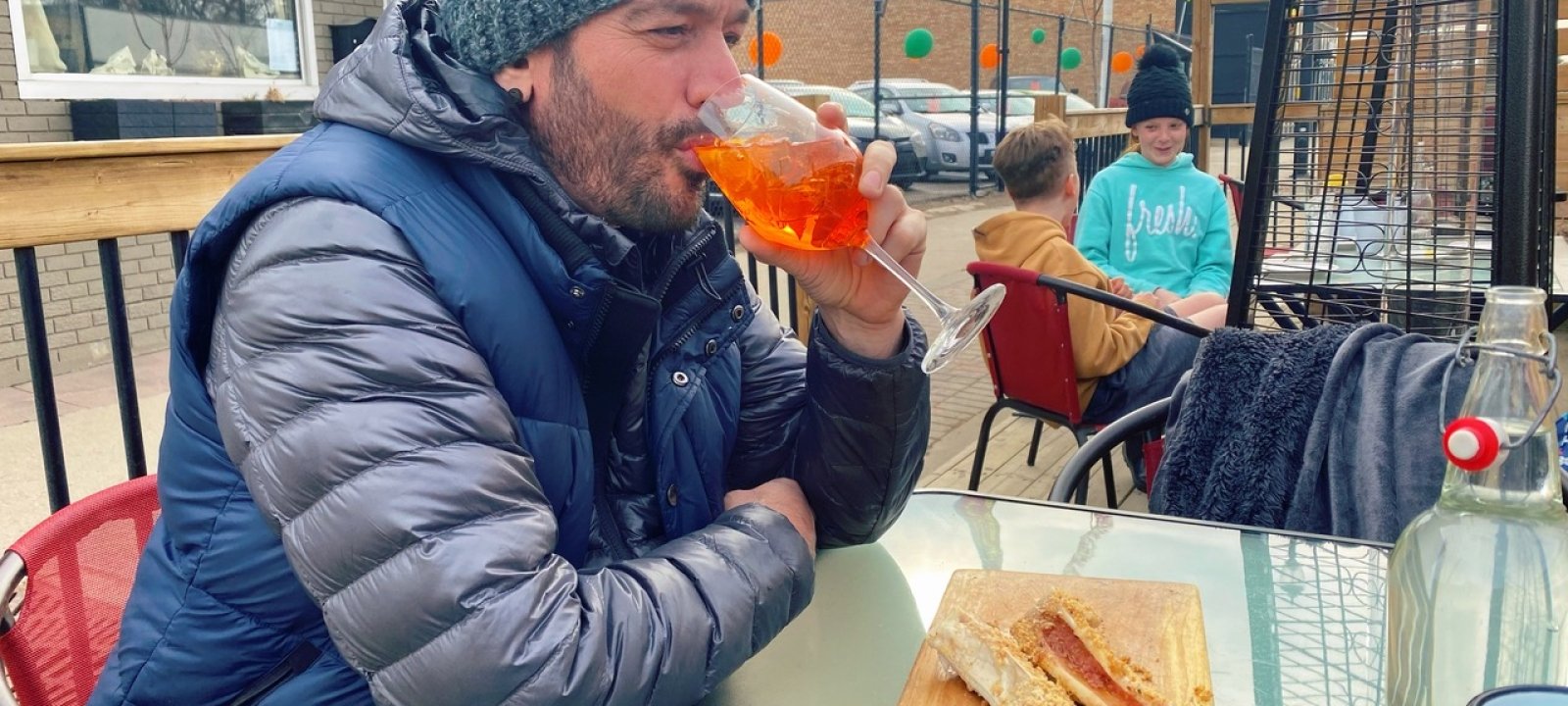 Ahhhhh…the warmth of spring sunshine. It's amazing, isn't it? And I think it would be fair to say that you appreciate it even more after another pandemic-filled winter. We've been pretty fortunate
Ahhhhh…the warmth of spring sunshine. It's amazing, isn't it? And I think it would be fair to say that you appreciate it even more after another pandemic-filled winter.
We've been pretty fortunate weather-wise in 2021 so far. I just saw my Instagram stories memories from this time last year…and I was with Steph and the kids tobogganing. I love sliding down the hill…but we're all more than ready to put the sleds away for the year.
That warmth has me craving to be outside. I'm sure you're like me thinking a delicious bite and a drink on a patio is the perfect place to soak up that spring sunshine. I consider myself very lucky to be asked to write a blog about some patios in our fair city as they all begin to open. Ummm sure….I'll take that gig!
Thirsty Scholar
The Thirsty Scholar is one of those places of comfort. Why? Because the building has some history and used to be a favourite for my radio friends and me to go hang out. And what's not to like about the vibe of a good 'ol Irish Pub?
Covid-19 has led our family to start a tradition of Friday Pizza and Movie Night. And while we've tried many a great pizza in our city, I had never thought of the Thirsty Scholar as a place to order. Well, that has now changed. I was super impressed with their handmade pulled pork pizza! Oh my…the tangy sauce made perfect the combination of tender pork, onions, cheese and a light crust. I am also a fan of their twist on regular pub food, like duck tacos, perogie wrappers, truffle fries and cleverly designed poutine! I also had to try their Fresh Mango Heat Wings. A bit of sweet and a bit of heat…so good!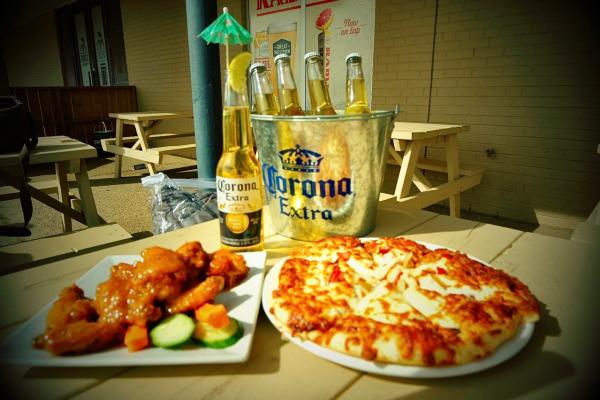 Birmingham's Vodka Ale House
First things first…they have SWINGS! The swings give a very cool and unique feel to the patio experience.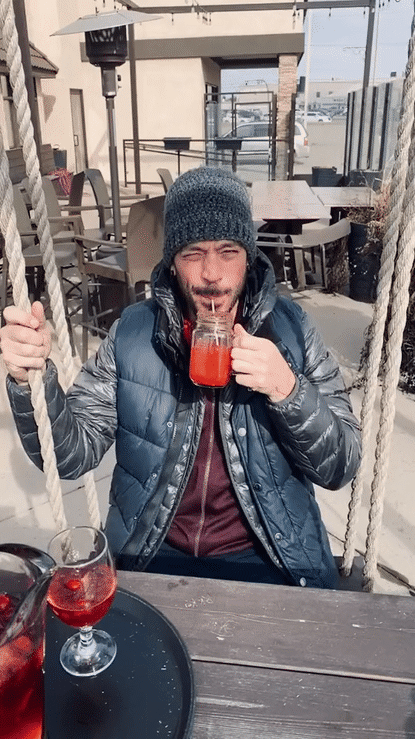 I've spent many a night hosting trivia and events at Birmingham's. I've always liked the feel of the room as soon as I walk through those big brown doors. Birmingham's is home to Saskatchewan's original dill pickle vodka and you must try it in their caesars. But the choice is yours, considering they have over one hundred vodkas to choose from. You'll enjoy the great selection of eats. Might I suggest the warm Asian noodle salad: pan-fried Asian noodles in a mild teriyaki sauce, topped with red and green peppers, shredded carrot, green onion, and crispy sweet chili chicken chunks. All served with garlic parmesan bread. Mmmmmm. Oh, and don't forget, it's Sangria Season!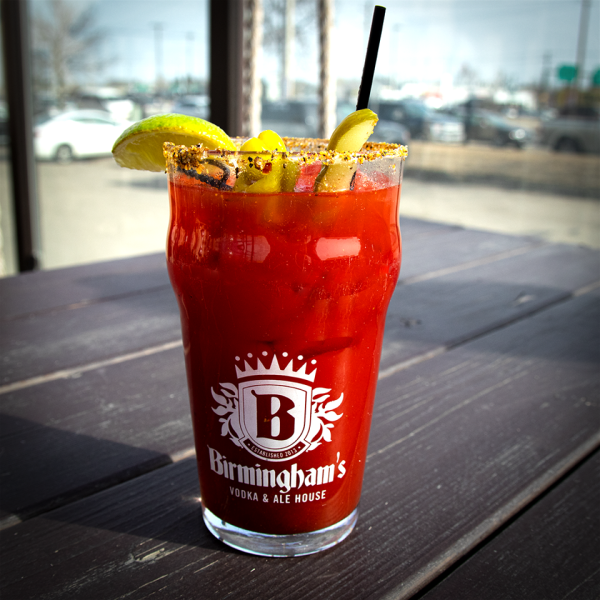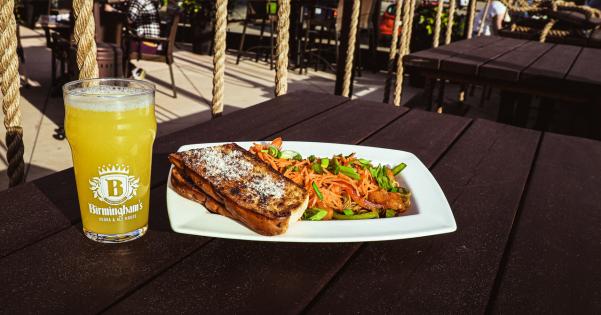 Primal
I learned a lot about Chanterelle mushrooms on the Flat Out Food docuseries that featured Primal owner and chef Christie Peters. I highly recommend you check it out Wednesdays on CityTV.  Primal's patio sits right on 20th Street and I like getting lost in the gaze of the hustle and bustle of the traffic. The bone marrow with gremolata, horseradish and ciabatta was delectable! And you can't do Primal's patio without trying one of their cocktails. The Aperol Spritz made my tastebuds holler with joy! It's put together with Aperol, Prosecco, soda, orange and olive. For a bit of bite, try the Sicilian Sour! Plymouth gin, rhubarb syrup, lemon and smoked olive oil. Sitting on this patio can easily feel like you're taking in a bit of Italy.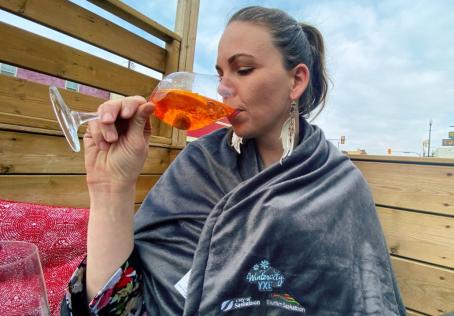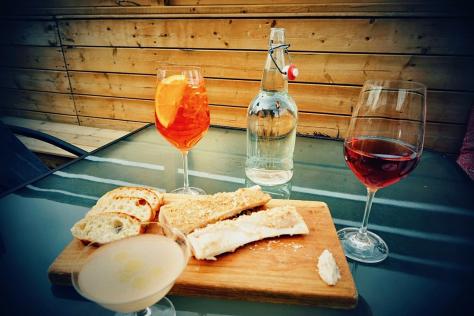 Parlor
Parlor owners Jason Strohan and Cher Diller do everything with quality and care in mind, as locally sourced as possible and from scratch! 2nd Avenue is transforming into a downtown restaurant/lounge/patio hub. Nine restaurants in one block! I don't know about you, but I feel really good about eating and drinking local fare. It helps our economy and the folks behind it while nourishing us with fresh, locally grown and produced food.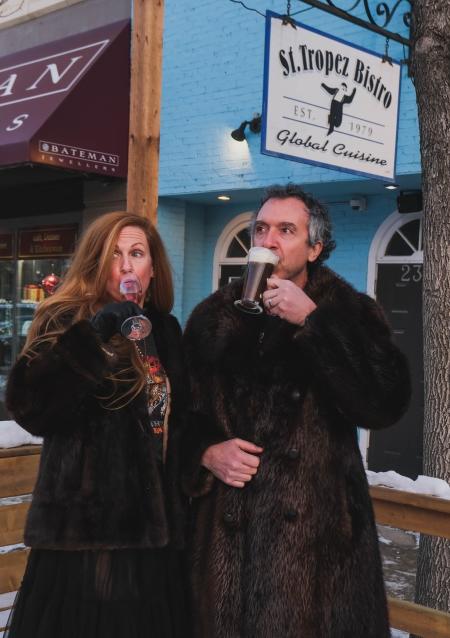 My taste buds were in overdrive while we devoured their charcuterie board that included pickled pumpkin and fresh herbs from their garden in the restaurant. It won't be long until their rooftop garden is producing heaps of produce for their menu. The spinach balls with sweet hot mustard and creamy dill sauce are to die for. Even your kids will love them. I also tried the Murasaki cocktail to celebrate Parlor's pairing with Persephone Theatre's One Hour Photo running virtually from April 8th – 18th.  This combination of Black Fox Haskap Gin, Henkell Rose, Lemon Honey Cordial and a dehydrated Lemon Wheel is showstopping! 
I was never one to go for a bone marrow snack and to drink cocktails. I come from the beer and a burger way of thinking. But let me tell you, now that I've learned more about the stories and the people behind these flavoursome local dishes and drinks, my tastes have expanded. Now I get excited to try something new, different and created by passionate individuals in our community. Happy patio hopping and no matter what you order, enjoy soaking up that marvelous spring sunshine!