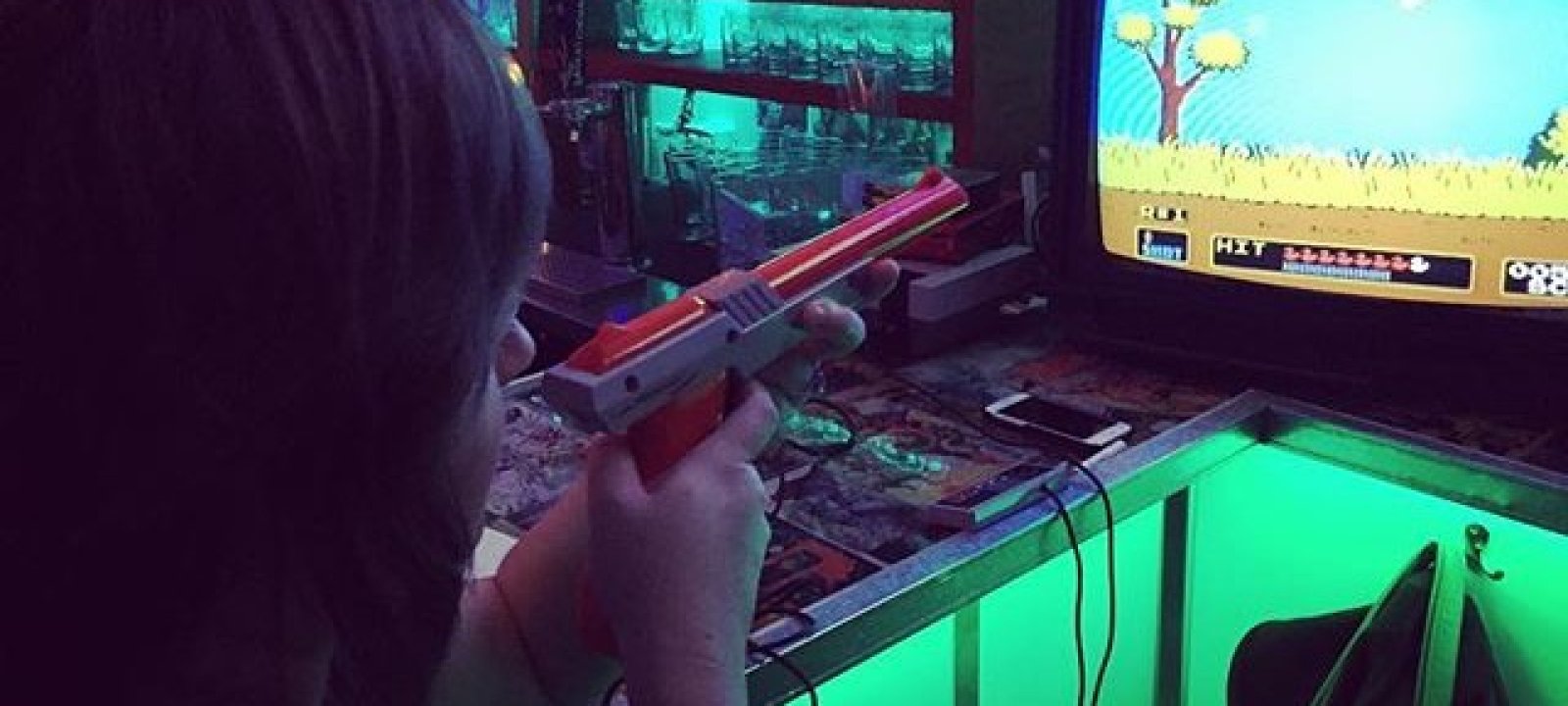 Gaming Night Out!
Entertainment
,
Families
,
Food & Drink
By now you must have noticed that the geeks have inherited the Earth, or at least, they've taken over popular entertainment. One only needs to take a look at the television or Hollywood releases to
By now you must have noticed that the geeks have inherited the Earth, or at least, they've taken over popular entertainment. One only needs to take a look at the television or Hollywood releases to see things from comic books to video games capturing our zeitgeist. And that trend hasn't escaped Saskatoon, with events like Sask Expo, our own answer to ComicCon, being hugely successful.
It has also touched an area of the city that has been undergoing a revitalization of sorts, the neighborhood of Riversdale. A series of food and drink establishments that revolve around geek culture has developed on 20th Street, in what I affectionately call, 'Nerd Row.' These are places you can go to grab a drink or a bite to eat, often in atmospheres filled with Star Wars, superheroes, and game memorabilia. The real draw though is the gaming --- each Nerd Row joint offers some manner of playing, from video games to board games. Usually, you pay a small fee to access the games.
And, in fact, these dens of geekery and fun don't just exist on 20th Street --- there are a couple of other hotspots in the city that are bringing gaming out of dimly lit basements and into Saskatoon nightlife, so we'll look at a couple of those as well. (Note that some of these places are 19+, so you might want to check before you throw the kids in the mix and head down).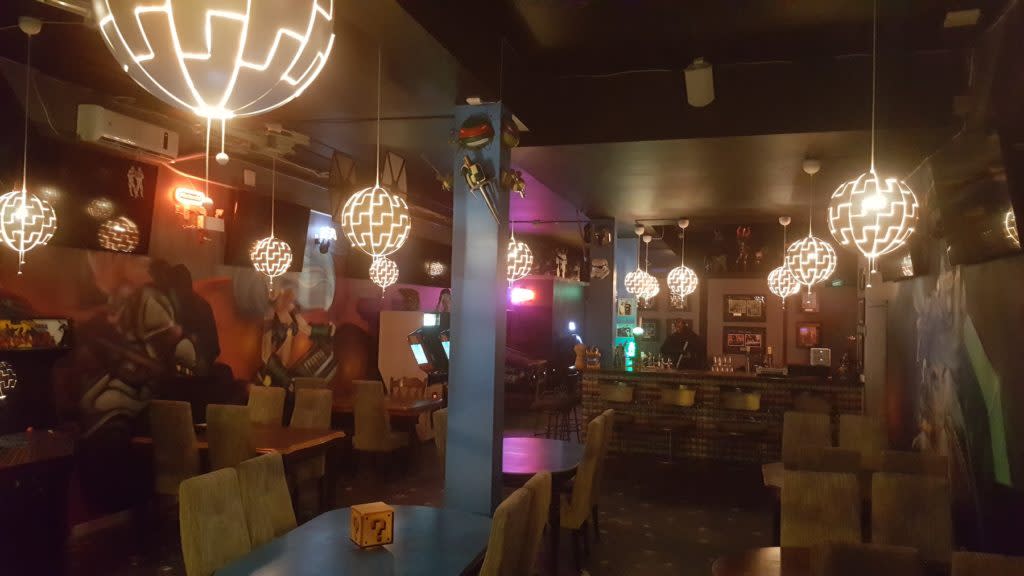 Mana Bar - 523 20th Street
manabaryxe.com
With video games at the table, some tabletop games, and even some pinball machines, Mana Bar is a fun night out. They're licensed, with some delicious elixirs and potions (and a menu on a scroll, in keeping with the magic potion theme). They also serve some pretty amazing waffles and other goodies.  They have all kinds of theme nights for things like Minecraft, and you can also watch streams of events like the North American League of Legends Championship Series. The old school tabletop games were especially popular with the group that I was with and we had a Mario Kart game at the table, with several people playing head-to-head.d.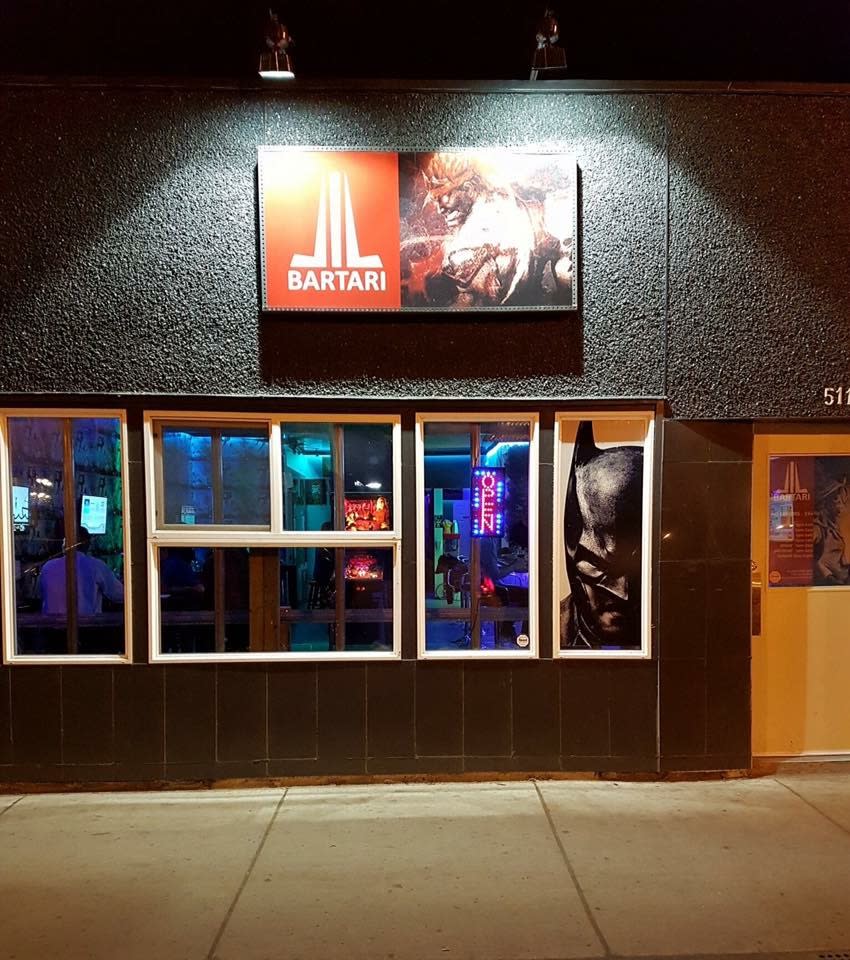 Photo: Clifton Chakita
Bartari Videogame Restaurant and Bar - 511 20th Street
Bartari.net
Just a few doors down from Mana Bar, is Bartari. Bartari is also focused on the video game crowd, boasting a bevy of both new and retro game machines. They have a menu of bar food, appetizers and a few burgers. They also have what they call a 'Cereal Bar,' a selection of your favourite sugary childhood cereals, which to me goes hand in hand with gaming and nostalgia. When I was a kid, Saturday mornings were about sugary cereal, cartoons, and Atari. And of course, they have a selection of beer, specialty cocktails, and shots on hand to liven things up. Trust me, a multi-player game gets a lot louder when you've each had a few.
"The social element that we create is what's different from playing at home," says Jen from Bartari. "Being in an atmosphere with other people gaming, eating, and drinking is extremely fun. There's a lot of excitement and energy in the building, which can't be duplicated at home. Every weekend is packed; with our VIP room, outfitted with couches and large screen TV, booked for birthdays or bachelor parties. We have gaming decor everywhere, from our video game-themed menus and our comic book bar top, to the Mario murals in the bathrooms --- this is our effort to extend the experience throughout all areas of the building."
https://www.instagram.com/p/BDet6lOqbxI/?taken-by=kingmeboardgamery
King Me Boardgamery - 527 20th Street
kingmeboardgamery.com
I've been really into Settlers of Catan lately, but you can choose from an amazing assortment of board games at King Me Boardgamery (you can see the massive list for yourself online). This is a very family-friendly environment, not licensed, with a decent selection of coffees, teas, Italian Soda, and regular ole' soda. And what goes better with a board game than a snack? King Me serves popcorn, candy, chips, and cookies, as well as paninis if you're seeking a refuel. This is a great place to try new games that you may end up purchasing as well, but also a fun change of atmosphere from your boring old family living room.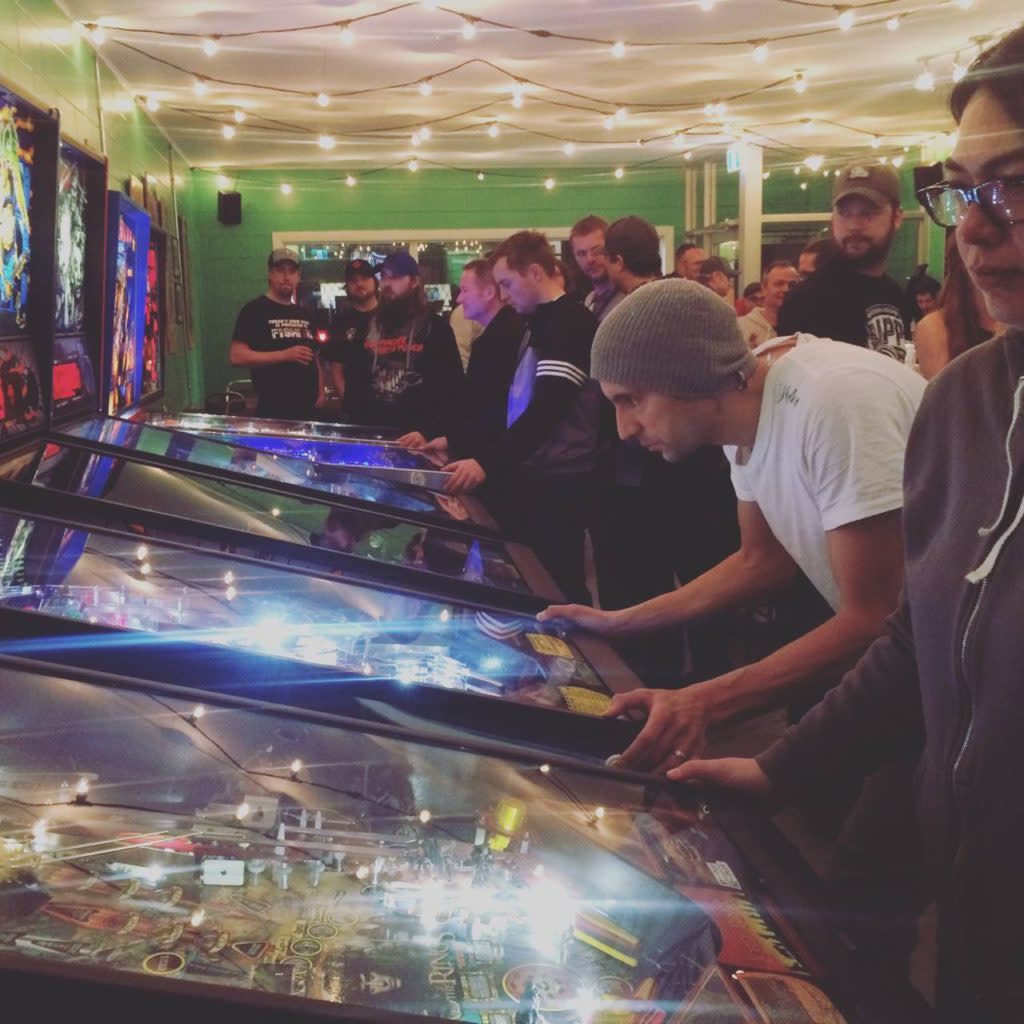 Photo: Britt Lang
Pokey's Pinball Café - 211B 33rd Street
I haven't been to Pokey's yet (I think the grand opening is tonight!). It's not on the official Nerd Row --- you have to tilt on over to 33rd Street. And as you may have guessed from the name, Pokey's focuses on classic pinball games. I always like pinball games as a kid, since I wasn't great at arcade games. My quarter would last a lot longer (insert your own Pinball Wizard joke). Pokey's has a wealth of games, including some more recent franchise games, from Metallica to The Walking Dead. More interestingly, is the café side of Pokey's, where they are apparently serving Cuban food, like Cubanos, a pressed Cuban sandwich.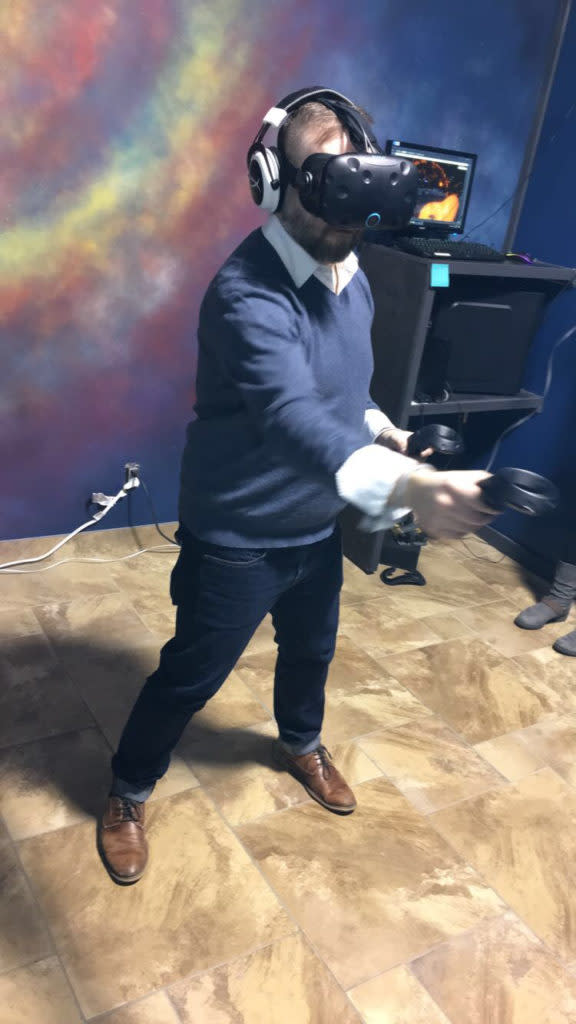 Aspect Virtual Gaming - 2218 Millar Avenue
VR is a hot new thing that seems to be finally making strides in terms of technology and playability (I haven't tried the Playstation version yet, but I've heard some good things). I got a sneak preview tour of Aspect Virtual Gaming, which is now open and gearing up to do cool things. They have several different types of VR interfaces, from console-based computer stations to big rooms and race simulators. I got a chance to play a few games in one of the big rooms and it was pretty fantastic. I fought an onslaught of zombies, before I panicked and got overrun. It's freaky when they come up behind you! Aspect doesn't serve food or booze yet, but they have plans to very soon. It's a great place for group or singles play. And like any of these places, you don't have to be a 'gamer' to check them out. Aspect VR has plenty of programs for people that aren't experts in video gaming, including kids and grandpa and grandma. Saskatchewan doesn't have anyone else doing VR on this scale.
I think the inclusivity of all of these gaming restaurants and bars is great. We nerds come from a culture that was traditionally not a cool thing (more like something you'd get stuffed in a locker for). The idea that everyone is welcome to head down to these establishments for some button mashing, regardless of your gaming skill, age, or anything else, is a very Saskatoon idea to me.