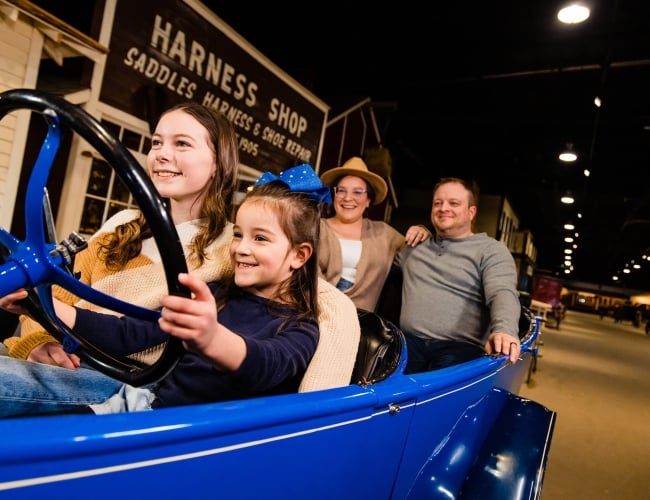 Four Days of Family Fun in Saskatoon
From the high heat of summer to the coldest days of winter, keeping the kids entertained is a breeze here in Saskatoon. 
Playgrounds, skating rinks, splash pads, and river trails provide endless opportunities for fun and adventure, while family-friendly hotels offer the perfect home away from home for parents and kids alike.
Day One
Your first day in Saskatoon is all about setting your crew up for a successful vacation by getting the little ones settled into a routine — which starts with finding your perfect home-away-from-home. Thankfully, our city is home to a top-notch selection of family-friendly hotels, including the Travelodge Hotel by Wyndham Saskatoon.
Conveniently located a short ten-minute drive from the airport, the hotel offers an inviting array of connecting rooms and family-style suites. Perhaps most exciting of all, the Travelodge is home to their signature Aqua Adventure Water Park, Saskatoon's largest indoor water park. Two technicolour waterslides offer 400 feet of thrilling aquatic fun, while a soothing hot tub provides the perfect place for grown-ups to relax and unwind at the end of a busy travel day.
Day Two
Stand eye-to-eye with a grizzly bear, make friends with a mob of meerkats, and kick off your second day of family fun with a trip to the Saskatoon Forestry Farm Park & Zoo. Open 364 days a year (closed only on Christmas), Saskatchewan's only CAZA-accredited zoo is the perfect place to inspire a lifelong love of the animal world.
Learn about important conservation efforts as you make your way through an impressive array of exhibits featuring adorable furry and feathered friends, reptiles, and more. Groups of up to two adults and five kids can take advantage of the zoo's special family rates, while preschool kids aged five and under visit for free. And if your little herd starts to get hungry, the zoo's on-site Buckeye Cafe offers a great selection of dining options sure to satisfy grown-ups and kids alike.
Day Three
The best family vacations combine entertainment with education; there are no shortage of kid-friendly options in Saskatoon. Spend your morning wandering the immersive exhibits of the Western Development Museum. Take a step back in time as you stroll through their Boomtown installation and learn all about the Saskatchewan of a bygone age.
Next up:  Nutrien Wonderhub, the perfect stop for kids and pre-teens. The museum welcomes children of all backgrounds and abilities to explore, experiment, and interact with the natural and built world through interactive, age-appropriate exhibits and installations. Remember to pack socks — Nutrien Wonderhub is a shoe-free facility!
Day Four
In one of the sunniest cities in Canada, it can sometimes feel like a shame to spend the day indoors, so head on out with the family to enjoy the river trails of Saskatoon. Whether walking, biking, or riding scooters in summer or snowshoeing, kick-sledding, or cross-country skiing in winter, the trails along the banks of the South Saskatchewan River make the perfect playground for family fun in the great outdoors.
Not a signature sunny day? Opt for the kid-friendly indoor adventures on offer at Flynn's Forest Indoor Playground. This 6,000-square-foot facility features a forest-themed play structure complete with a triple slide, two tube slides, interactive play floor, eight-foot climbing wall, and sports court. There's also a designated area just for toddlers, so even the smallest of kids can get in on the fun. And if all this excitement has worked up an appetite, their canteen is stocked with delicious, healthy snacks like popcorn, cheese, yogurt, and fruit cups.