Global Market Place Pop-Up Shop
• BAKED GOODS • BOOKS • HANDMADE CRAFTS • GIFTS & MORE •
Join us for a delightful shopping experience at Market Mall (in the Food Court area), where the Women's Business Hub, a dynamic initiative by the Saskatoon Open Door Society, invites you to discover and support the entrepreneurial spirit of newcomers in our community.
About Women's Business Hub: The Women's Business Hub, a vital component of the Saskatoon Open Door Society, is committed to empowering newcomers as they embark on their entrepreneurial journey in Canada. Our mission is to provide valuable resources, guidance, and support to help these driven individuals transform their business dreams into reality. We believe in fostering economic independence and self-sufficiency, ultimately contributing to the vibrant diversity of our local business landscape.

Pop-Up Market Highlights:
Shop Local: Explore a diverse array of products and services created by the talented entrepreneurs who have received guidance and support from the Women's Business Hub. From handcrafted goods to unique culinary delights, you'll find a wide selection of one-of-a-kind items.
Support Newcomers: Your purchases directly support newcomers who have worked diligently to establish their businesses in a new environment. Every transaction contributes to their success and integration into the community.
Cultural Richness: Immerse yourself in a cultural tapestry of offerings, reflecting the diverse backgrounds and experiences of our entrepreneurs. Discover the flavors, traditions, and stories behind each product.
2325 PRESTON AVE S
Saskatoon SK
Canada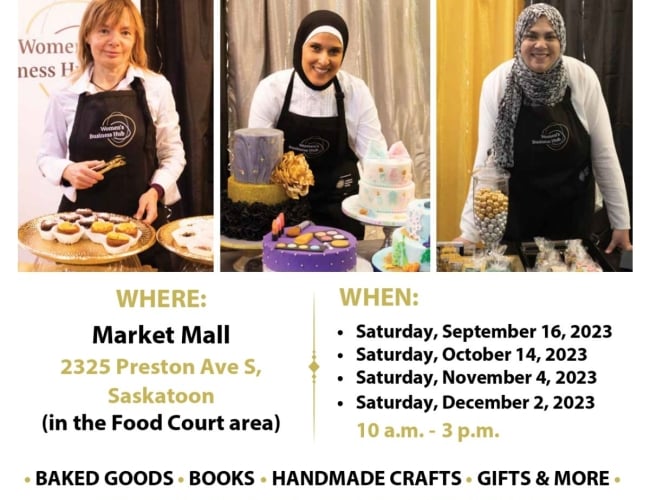 Address:
2325 PRESTON AVE S
Saskatoon SK
Canada