Cirque du Soleil Corteo
Corteo, Cirque du Soleil's most enchanting arena production, is back in North America and heading to Saskatoon, set to charm audiences for the very first time. Corteo, which means cortege in Italian, is a joyous procession, a festive parade imagined by a clown. Combining acrobatic feats, comedy and acting, the show plunges spectators into a theatrical world of fun and spontaneity situated in a mysterious space between heaven and earth.
The stage is central in the arena and divides the venue in two with each half of the audience facing the other half, giving a unique perspective to the audience and the performers. A never seen before atmosphere at a Cirque du Soleil arena show. The set curtains, inspired by the Eiffel Tower, and the central curtains, which were hand-painted, give a grandiose feel to the stage. This sets the tone for the poetry of Corteo.
Performance schedule
Thursday, December 21st, 2023 at 7:30 p.m.
Friday, December 22nd, 2023 at 7:00 p.m.
Saturday, December 23rd, 2023 at 11:00 a.m. & 3:00 p.m. & 7:00 p.m.
Sunday, December 24th, 2023 at 1:00 p.m.
101-3515 THATCHER AVENUE
Saskatoon SK S7R 1C4
Canada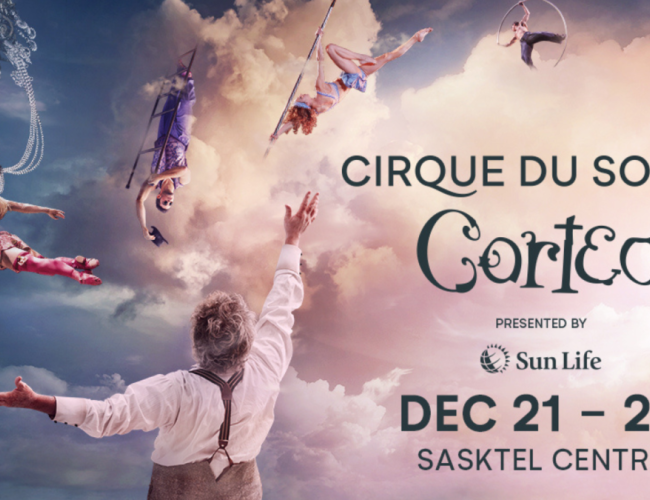 Date:
Thu, Dec 21 - Sun, Dec 24 2023
Address:
101-3515 THATCHER AVENUE
Saskatoon SK S7R 1C4
Canada
Time:
Multiple times available
Price:
TICKET PRICES VARY, PLEASE REFER TO TICKETMASTER WEBSITE