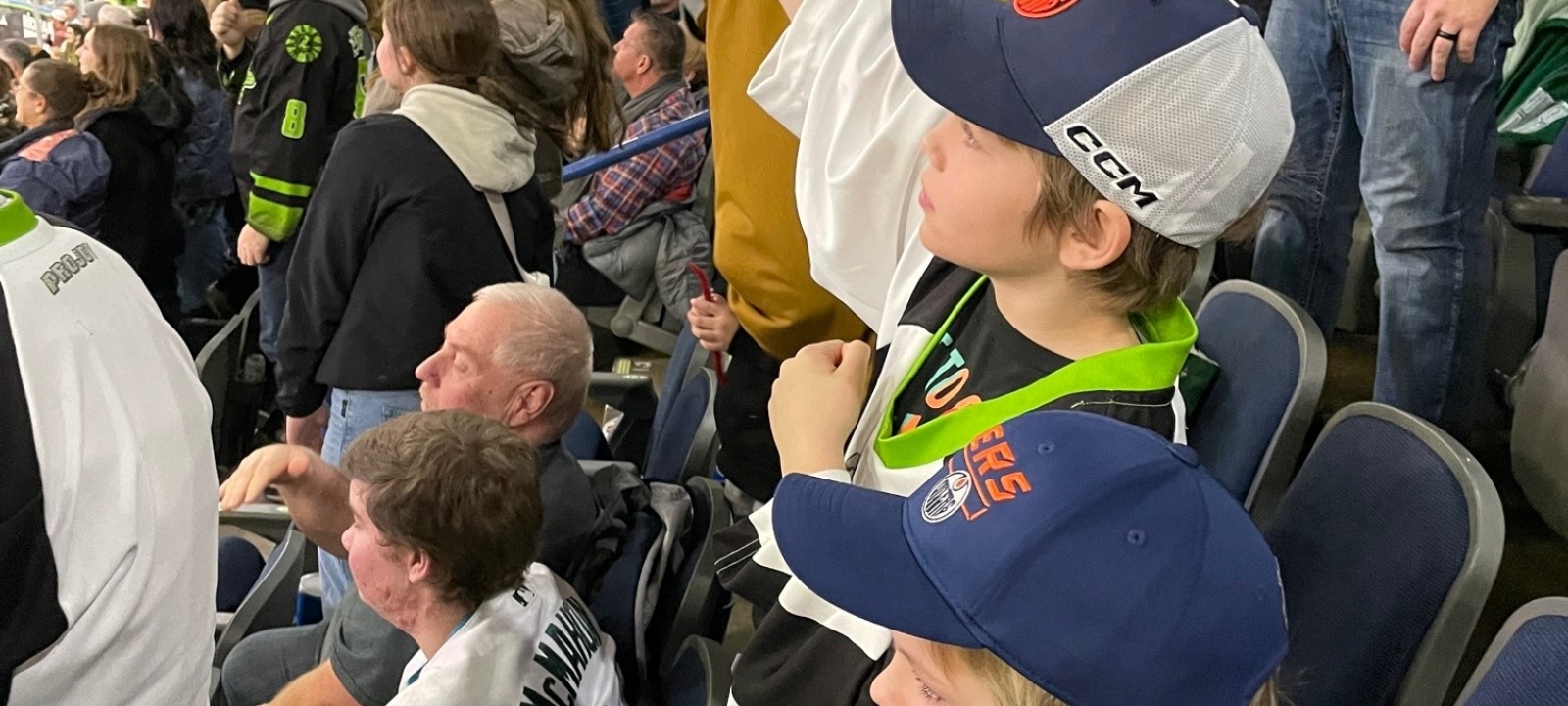 Boys Night Out – A Father's Guide to a Rush Game with the Kids
When you're a father of two, it's winter time, and you want to try something new, I suggest taking your kids to a Saskatchewan Rush game! I honestly never thought about it before, but was pleasantly
When you're a father of two, it's winter time, and you want to try something new, I suggest taking your kids to a Saskatchewan Rush game! I honestly never thought about it before, but was pleasantly surprised. For this Rush game, I brought my two sons, aged 5 and 8, as well as my friend (a NEW father to be in 2023). This night, I was going to see how well the boys would handle such the spectacle of a Rush game and maybe even teach my friend a trick or two about managing kids!
Food/Beverage 
Ok, first tip if you are planning to eat-out before the game, know this: The closer you get to the Sasktel Centre, the busier restaurants are. Finding suitable options for kids can be tricky so leave early and go somewhere further away while accounting for the drive time to the game. By doing this, you can ensure you get a table and find food your kids will love to eat. Alternatively, you could eat at Sasktel as they have many delicious options as well.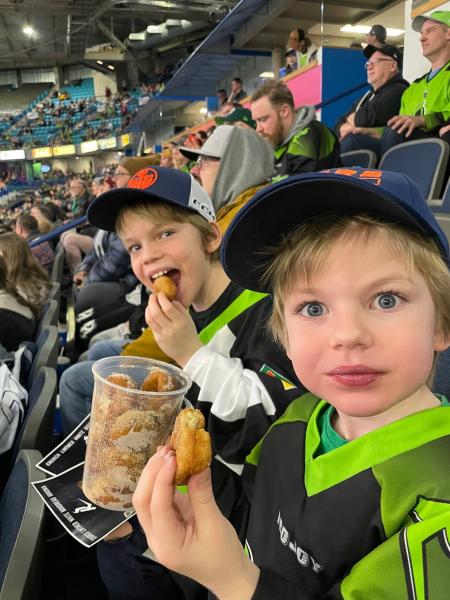 Let's talk mini-doughnuts. IMO the sugar/cinnamon doughnuts are the clear-cut favorites, and it's for good reason…they're AWESOME Side note: don't let your 5-year-old hold the bucket of doughnuts unless you're willing to risk them dropping onto the ground behind the seats in front of you (face palm)(#neveragain).
Popcorn… always a safe play and great for sharing. If you ask me, the bag of popcorn easily trumps the open bag of popcorn because you can easily keep it tied up and even save it for later. When you're dealing with kids, spills inevitably happen to the best of us, but this can be avoided.
O16 beer is a major sponsor at Sasktel, and that's fine with me. I guess my only tip when it comes to this is to keep in mind that you're watching the kids tonight, so take it easy. It's easy to get caught up in all the fun but setting a limit is a must! Everyone needs to get home safe, and when you're at an event with kids, it's all about them, not you.  Final tip: I think the draft beer beats the can any day of the week. It's fresher than canned beer, and it comes with a nice little lid. I have a mustache, and there's nothing worse than having hair plucked out of your face due to a can's tab. (sad face)
Bathroom breaks (always stop)
This is a no-brainer but it's always good to have a reminder. Whenever you walk past a toilet, make the kids go. By the time you get your snacks/drinks, squeeze past people in the row, and find your seats, you don't want to have to get up again in 2 minutes to take the kids for a wee. Always be two steps ahead of them!
50/50 - still better odds than the lotto max
My wife knows this about me already, but from time-to-time, I like to flirt with "Lady Luck." When it comes to the 50/50 at these events, and I know my odds are low, but I still like to play. Usually, I only play with $20, just to put my name in the hat, but never more than that. I've never won a 50/50, but it's still better odds than the Lotto Max AND I know where my money is going (Saskatoon Blades Education Fund). I can feel good about that.
Action/Laughter & Fun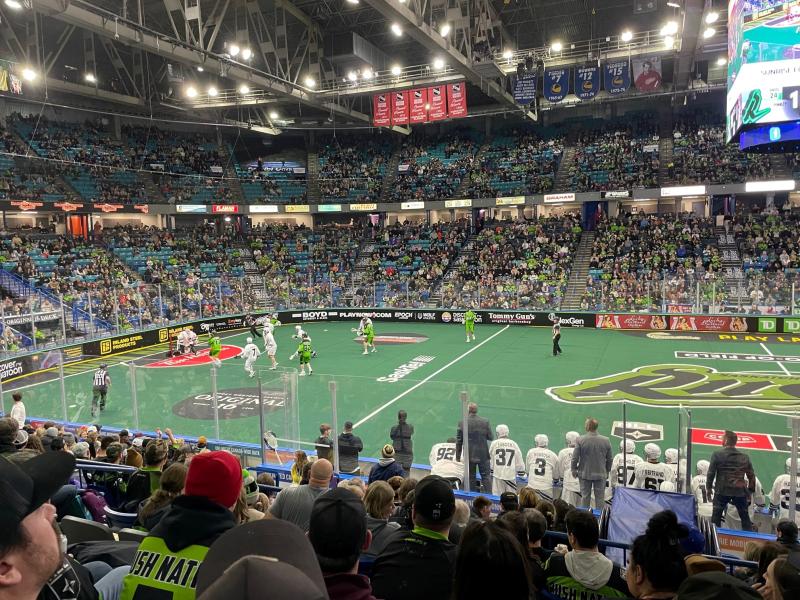 If you're unfamiliar with box lacrosse (like me), you don't have to worry because the game will hook you in the first 3 minutes. A fast-paced game that feels like hockey but with a major twist. With tons of goals (final score 15-10 for the Rush), big saves, massive hits and even a little drama, the game keeps you glued. The event itself is also exciting with playful interviews and commentary. Watching the jumbotron during stopped play is always a must because you never know what you'll see.
Now, I have to talk about the elephant in the room. Every time the Rush scores a goal a tradition takes place. Based on the infamous Mathew McConaughey cameo from the Wolf of Wall Street, when a goal is scored for the Rush, everyone rises to their feet to beat their chest and hum along to the rhythm. At first, I laughed about this and just watched everyone but by the time they had scored their third goal, I could see my kids already on board, and I too got in on it. It's a unique and playful tradition that I've never seen before, but I can tell you, it's hard not to love. You really get the feeling that "you get more out of the experience, the more you give into it."
Swag – wheel of savings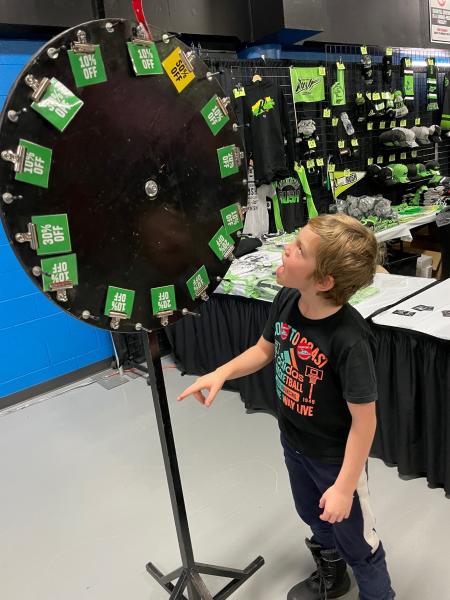 It's not every day I take my boys out for an evening like this so of course, we had to get some sort of memento. When we waited in line, we were delighted to get the chance to spin the Rush wheel to win some savings for our swag. The kids loved it, and although we only saved 10% with our spin, it still meant we saved on taxes (woop woop).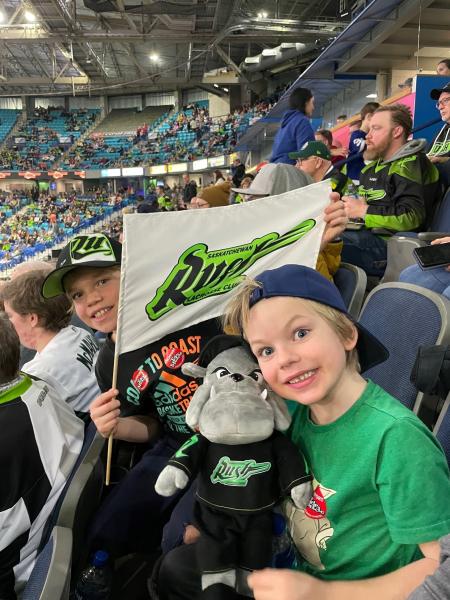 There were many options in the shop, and I let my kids choose. In the end, they went with a Rush hat and a Bruiser the Bulldog stuffed toy. I was happy to see them both so excited and proud to be official Rush fans. However, only when I was leaving the swag shop did I learn that there was a shop in Saskatoon called The FEZ (105-2803 Faithfull Ave), which I'll definitely check out before next game!
Goodnight!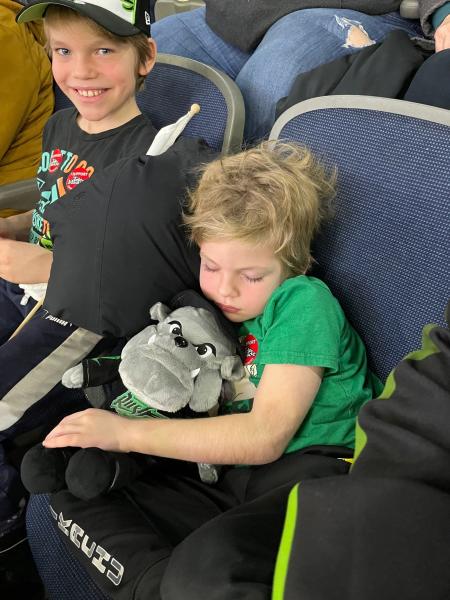 The game was high-flying, and everything was exciting, but it was roughly around 9:00 pm, when my 5-year-old started to crash (fall asleep). Perhaps, the sugar had worn off, or he had just tuckered from all the action of the evening, but regardless, he had fallen asleep in his seat. My 8-year old on the other hand, continued cheering all the way until the final horn and barely sat down for the last 5 mins of the game.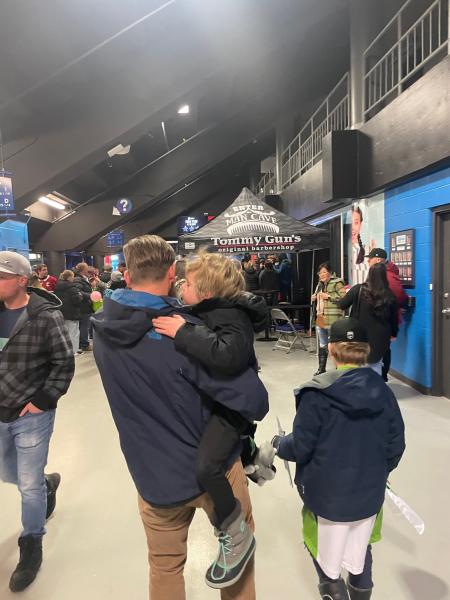 While carrying my little boy out to the car and walking beside my oldest, I felt good about sharing this experience with them and wondered if they'd remember this night at the Rush game. With their new experiences and learning of this sport, I asked myself if it was worth it (Bringing my kids to a Rush game)? Well, the next morning when I went downstairs to start making a pot of coffee, I saw my two boys. They were both sitting on the sofa with all their Rush gear and posters from the game, all spread out, and they were still excited from the night. It was then I knew it was worth it because they took that Rush magic home with them.